Visiting Arches National Park in winter is an absolute treat. Seeing the red rock arches dusted in fluffy white snow will simply take your breathe away. And the best part? The horrid crowds of spring, summer, and fall are long gone.
Despite the chilly temps and shorter days, you can still make the most of your time in this magnificent red rock wonderland during the winter months.
In fact, Arches in winter is so fantastic, it's become a tradition in my family. We've been visiting Arches National Park in winter for several years in a row. We'll be returning again this year for the New Year.
When it comes to getting outside like a pro, not a tourist, I'm a bit of an expert. I've got over 6 years of experience writing for the outdoor industry. Now I blog about visiting amazing places like Arches National Park for a living. Since I'm outside literally every week, you can feel confident that you won't find better info about visiting Arches National Park in winter anywhere else on the web.
About this Guide to Arches National Park in Winter
Inside this guide to visiting Arches in winter, you'll get expert advice on how to beat the crowds, stay safe, and have a wonderful time exploring this other-worldly landscape. Here's what you'll find inside:
The top reasons to visit Arches National Park in Winter
Info about winter closures in Arches National Park
Helpful tips about the weather in Arches during the winter
Practical info about visiting Arches National Park
Things to Do in Arches National Park this winter including how to beat the crowds at some of the park's biggest attractions.
Tips for visiting Arches in December
What to wear
What to pack for a day in Arches National Park in the winter.
Expert tips for visitng the park
Where to stay
Additional planning resources
Why Visit Arches in Winter?
My answer is always, why not visit Arches National Park in winter? Seriously. There are very few reasons why you shouldn't come out and explore the park for the snowy season. Yea, it's cold and the days are short, but you can still see all the highlights.
Fewer crowds. If you're like me, you don't want to spend your time in a sea of tourists when you explore nature. Winter is the low season for Moab and Arches – meaning you'll get some of the top attractions without the lines of people and crazy traffic.
Sure, there are still some crowds – Arches is the most popular national park in Utah. But you can have famous attractions like Landscape Arch and Delicate Arch all to yourself if you plan your day right.
The snow is absolutely magical. Yes. It does snow in Arches (more on that in a second). But it's not enough to really ruin your day. In fact, it's just enough to really bring the beautiful red-rock landscapes to life.
The sunrises and sunsets are stunning. Something about the crisp mountain air and views of the distant snow-capped La Sal mountains creates a dreamy scene during the winter in Arches National Park.
Does Arches National Park Close in the Winter?
Arches National Park is open year-round – including the winter. However, the park's visitor center has reduced hours (open from 8 am to 4:30 pm daily, closed on Christmas). Ranger programs also stop in the winter months.
However hikes in Arches, viewpoints, and the scenic drive all remain open. Occasionally the main road into the park will close if the weather is really bad – but it's pretty rare. Maybe once a season with a big snowstorm the park will be closed for snow removal.
What is the Weather in Arches Like in Winter?
Winters in Moab can be very chilly despite the desert landscape. However, if the sun is out and the wind is calm (most winter days) then the weather in Arches is quite pleasant during the winter.
The biggest difference you'll notice in the temperature isn't the actual reading on the thermometer – it's the dry air. A dry climate feels warmer than a wet one. Thanks to the dry air, Arches National Park in winter can feel quite rejuvenating and warm – especially if it's not windy.
December in Arches: High 41F low of 20F (5c/-7c)
January in Arches: High 40F low 18F (5c/-8c)
February in Arches: High 49F low of 25F (9c/-4c)
Pro Tip: Keep an eye out for windchill. If the winds are blowing, it can feel brutally cold in Arches during the winter, so be sure to pack a parka and a wind layer!
Does it Snow in Arches National Park?
Yes! The snow is one of the things that makes winter in Arches – and Moab in general – so special. Dustings of snow overnight aren't entirely uncommon. In fact, if you spend about a week in Moab in the winter, you'll likely see a small dusting of snow.
Snow totals are very low for Arches – only about 8.9 inches per year. So if it does snow, expect a thin dusting of the white fluff that will likely melt away in the sun after just a few hours.
Thanks to the dry, cool air, snow tends to linger in shady areas – looking just as fresh as it did when it first fell. So if you don't catch snow while you're visiting Arches, you may still be able to see some of the arches that see less light dusted in white.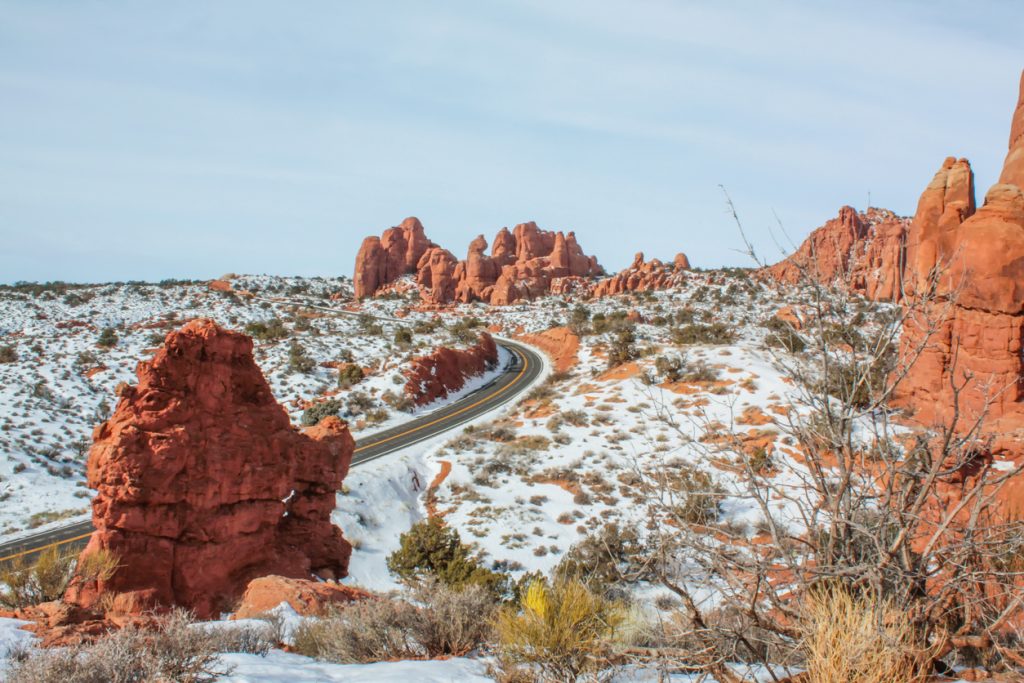 Practical Info About Visiting Arches in Winter
There are a few important things to know about visiting Arches National Park, even in the winter.
First, it's $30 to enter the park per day. There are no ins-and-outs – meaning you can't leave and come back on the same entry ticket, you'll have to pay again.
Pro Tip: If you're spending multiple days in Arches or visiting other national parks within 12 months, consider getting an America the Beautiful Pass. It's $85 for 12 months and grants you unlimited access to all the national parks and recreation areas in the US for 12 months.
Arches National Park is not dog-friendly. In fact, you are not allowed to take your pup outside of your vehicle aside from parking areas. Leave Fido at home if you want to make the most of your visit.
Arches National Park is considered Ute and Paiute land. Many native tribes consider the arches and hoodoos to be sentient beings who continue to provide aid and resources to native peoples. Visit with respect.
You don't need a fancy vehicle to visit Arches National Park. All roads are paved or suitable for 2wd vehicles throughout the park. There are toilets (vault style) at most trailheads.
Pro Tip: There is no cell service in the park, so be sure to download maps and GPS coordinates before heading out.
Moab is about a 10-minute drive from the park. You can pop in for lunch, but it's best to bring a packed lunch so you don't have to re-enter the park and deal with lines. There are no restaurants or food services in the park during the winter. There is a small shop in the visitor's center that has some camping necessities and souvenirs.
Things to Do in Arches National Park in Winter
Visiting Arches National Park certainly tops the list of some of the best things to do in Moab. Winter visits to this iconic landscape are no exception. Here's a look at some of the must-do activities in Arches.
Can You Hike in Arches National Park in Winter?
Yes! In fact, one of the best ways to enjoy Arches in winter is to head out on a scenic hike. Most of the trails in Arches National Park are well-suited to beginners. They are short, easy, and well-marked. However, be sure to carry a GPS with you so you can stay found! Here are a few must-hike trails in Arches for the winter.
Delicate Arch in Winter
Arguably one of the best hikes in Moab, the Delicate Arch hike is an absolute must-do. It's on the state license plate and a huge draw for the park.
The arch is surprisingly large and sits perfectly in a huge amphitheater of rock. The hike to Delicate Arch is short (3 miles) but somewhat steep compared to other trails in the park. It gets a moderate rating, but if you've hiked even just a little bit it's an easy hike.
Pro Tip: In winter, the crowds are fewer but definitely still existent. The parking lot will certainly fill up by mid-day. For the best chance at solitude, visit Delicate Arch at sunrise.
Estimated Time: 2 hours
Devil's Garden and Landscape Arch in Winter
Spanning a whopping 165 feet across, Landscape Arch is a sight to behold! This impossibly thin natural arch will capture your attention. Seeing it surrounded by snow in winter is really special. The easy 1.9-mile trail leads to a viewpoint (you can't walk up to the arch due to rockfall hazards).
There are several other arches in the area, mostly down small spur trails. If you visit all of them the entire journey is about three miles.
Avid hikers who want a bit of adventure should consider the Devil's Garden Loop – a 7.9-mile challenging trail that requires you to scramble up and over rocks. Be sure to bring a GPS, as this is one of the few poorly marked trails in the area. Also, don't attempt if there is a lot of ice because a fall could cause serious injury.
Estimated Time: 1 hour for Landscape Arch, 4 hours for the entire Devil's Garden Loop.
Park Avenue
For a completely different side of Arches, head to Park Avenue. Located near the beginning of the road into the park, Park Avenue is an excellent way to enjoy Arches National Park in winter. Usually bustling with tourists, this wide canyon trail sees very little traffic in the winter.
At only 1.8 miles it's an easy jaunt through a "street" of huge towers that feel like skyscrapers. You'll get a different feel for the park, and get to enjoy the magic of Moab along the way.
Estimated Time: 1 hour
The Windows and Double Arch
The Windows and Double Arch trails are super simple and accessible for all abilities. As one of the more popular areas in the park, you'll typically find crowds here, even in winter. Sunrise provides some solitude (but if given the choice, I'd go for Delicate Arch at sunrise).
However, the Windows and Double Arch are famous for their dramatic sunset scenes. With the snowy La Sal Mountains as a backdrop – it's a must-do hike. You can easily reach the Double Arch and then head over to the Windows in a 1.2 to 1.5-mile loop.
Estimated Time: 1 hour
Go for a Scenic Drive
If you're into relaxing scenic drives, then you're in luck. Arches Scenic Drive, the main road in and out of the park, just happens to also be one of the most scenic drives in Moab. So if you want to experience the park from the comfort of a heated car, be sure to drive the park's main road for incredible views.
There are several viewpoints along the way (more on that in a second), and you can always stop for a quick hike to stretch your legs!
Photography in Arches National Park in Winter
Thanks to the crisp air, winter in Arches is an excellent time to indulge in your photography. Winter offers up an excellent time to shoot photos in Arches. The smokey, dirt haze of summer and fall are long gone and there is plenty of space to set up your tripod.
However, you'll want to be well prepared for the cold – especially if you're into astrophotography. Bring hand warmers, layers, and a thermos with a hot drink!
Catch a Sunrise
Seeing the sunrise in Arches National Park simply delights the soul. Over the years, I've witnessed many sunrises in the park and it's my absolute favorite time of day.
The big advantage of catching a sunrise in Arches in winter is that you'll likely have the place to yourself. It's best to visit some of the top attractions in Arches for sunrise, so you can score some of that sweet desert solitude. A few must-visit places for sunrise include:
Delicate Arch
The Windows (if you don't want people in your shot)
Courthouse Towers
Landscape Arch
Turret Arch
Double Arch
Pro Tip: Take advantage of the shorter days. When you visit Arches National Park in winter, you can set the alarm for just a little later since the sun typically rises later in the morning compared to the busier seasons.
The Best Spots for Sunset in Arches in Winter
Another magical time of day is to see a sunset in Arches National Park. Sunset spots tend to be more crowded, simply because more people are awake. But that doesn't mean you should skip sunset. Here are a few of the best spots to catch the setting sun.
The windows, just past the rock formations. You'll see the sunset over the La Sals
Balanced Rock
Fiery Furnace Overlook
Delicate Arch (some people say the photography is better, I personally disagree – it's also far more crowded this time of day)
Where to Stargaze in Arches
Astrophotography and stargazing are popular pastimes in Arches – even during the winter. Bring a blanket, big puffy parka, toasty thermos, gloves, hat…the works!
Your reward? Absolutely stunning dark skies. Here are a few awesome spots for stargazing:
Garden of Eaden Viewpoint
Panorama Point
Balanced Rock
Double Arch
Pro Tip: The best time for stargazing is during a new moon. However, if you're here for a full moon – stay in the park long enough to see a moonrise. The gentle light from the moon brings the rock formations to life.
Unmissable Arches Viewpoints for Winter
Hiking isn't your thing? Don't stress – there are several beautiful viewpoints to scope out in Arches National Park. What makes the winter season so special is the crisp air and snowy scenes. These viewpoints don't require much walking (if any) and deliver beautiful scenes:
Courthouse Towers
La Sal Viewpoint
Balanced Rock
Petrefied Dunes
Garden fo Eden
Panorama Point
Lower Delicate Arch Viewoint
Fiery Furnace Overlook
How is Arches National Park in December?
December is a fantastic time to visit Arches National Park. What better Christmas present than spending a day in the park? Temperatures during the day are between 40 and 52 degrees and at night regularly dip into the 20s and below. All of the main attractions are open in December, but keep in mind the Visitor Center is closed on Christmas Day.
Pro Tip: We spent Christmas Day in Arches not too long ago. The crowds didn't show up until around 11 am, making it a special way to spend Christmas Day!
What to Wear in Arches National Park in Winter?
The key to staying cozy while visiting Arches in winter is to dress in layers. You'll want to wear non-cotton since when cotton gets wet it will actually keep you colder. Here's what to wear (or carry with you):
Gloves
Hat
Base layer long-sleeved shirt
Fleece Layer
Puffy Jacket
Sunglasses
Pants
Non-cotton thick socks
Hiking shoes or boots
Long underwear (optional)
Wind breaker
Additional items to pack:
Cooler with plenty of water
Snacks and a pack lunch
Microspikes (if the trails are snowy)
Sunscreen
Hiking bag
First aid kit
Toilet paper (sometimes the bathrooms at trailheads will run out)
Hand sanitizer
Hand warmers (optional)
Thermos with a hot beverage or soup to warm up
Pro Tips for Visiting Arches in Winter
You'll still need plenty of water. The desert is a dry place, even in the winter so be sure to pack at least 2 liters of water per person and even carry extra in the car
Always practice Leave No Trace. Be sure to follow all ranger instructions and closure signs. It's illegal to climb up any arch in the park.
Don't bust the crust. The raised, black, bumpy soil is a living organism (cyrptobiotic soil or crypto) that's integral to stopping erosion in the desert. Avoid stepping on this critical life form at all costs. Walk around any crypto you come across. It takes ages to grow.
Pack a lunch. If you go back to Moab to eat (the only food services) you'll have to either pay, wait in line, or both to re-enter the park.
Where to Stay in and Around Arches in Winter
There's only one spot to stay in the park and that's the Devil's Kitchen Campground. Reservations are required in advance. There are no services other than drinking water and flush toilets at the campground, so you'll need to bring all of your supplies in.
Camping in the winter can be a real treat, but be sure to pack appropriately since it will get below freezing each night. Have a proper sleeping bag, sleeping pad, blankets, and layers to stay warm.
Staying in Moab and Around
Your other option for accommodations while visiting Arches National Park in winter is to stay in nearby Moab. Moab is just 10 minutes away and Spanish Valley Is about 20 minutes away from the park. Both offer up an array of accommodations from hotels to cute AirBnBs.
Personally, I enjoy staying in Spanish Valley at an AirBnB. Having a kitchen is quite a convenience. Not to mention, a lot of shops and restaurants do close in Moab during the winter. Spanish Valley has more affordable accommodation and also brings you closer to other areas such as the Needles District in Canyonlands.
Other Things to Do Near Arches in Winter
If you're debating between Arches vs Canyonlands National Park, fear not – it's totally possible to visit both parks in one weekend.
If you decide to check out the Island in the Sky District of Canyonlands, be sure to check out Dead Horse Point State Park too.
Additional Moab Travel Resources
Planning a trip to Moab? I've got you covered with these amazing pro travel guides:
PIN THIS POST