There are over 420 national park sites in the US and its territories. If you're into walking down trails, then you'll want to check out this list of the best national parks for hiking.
From amazing tropical waterfalls to mesmerizing desert canyons there is an amazing national park to explore on foot in nearly every corner of the country.
These national park hikes cater to all abilities and tastes. So if you're looking for a casual trail to incredible views, or an all-out challenge, there is a hike for you.
As an expert hiker, I literally get paid to write about the best hikes in National Parks for major media outlets, brands, and more. But even I haven't done every hike on this list.
Don't worry though, I enlisted the help of a few hiking experts to give you the rundown on the top national park hikes.
About this Guide to the Best National Parks for Hiking
If you're looking for the ultimate list of the best hikes in National Parks, then look no further. Inside this expert guide you'll find:
Info about planning your national park hike
A mega list of the best national parks for hiking, including trail recommendations for each park.
Additional national conservations areas in the US that have stellar trails
More national park planning resources
Picking Up an Annual Parks Pass
If you're an avid hiker and you want to spend as much time as possible in national parks, then you need the America the Beautiful Annual Pass.
For a lot of the more popular national parks, you'll have to pay a fee every time you enter the park. And if you're planning on visiting multiple parks in a 12-month period, then it may be more economical to have an annual pass.
The America the Beautiful Pass is good at nearly 600 national parks, conservation areas, national historic landmarks, national monuments, and more.
Since it's good for 12 months after you purchase it, you can visit any park on this list without paying.
At $80 plus a $5 service fee a year, it's well worth the price to explore the best hikes in national parks.
Is My Dog Allowed to Hike in National Parks?
The short answer: no. Virtually all national parks and national monuments do not allow dogs because of their negative impact on the environment.
I know, hiking with your pup is awesome, but if you're planning to hike in national parks, leave your pooch at home.
The Best National Parks for Hiking
Drum roll, please. So many national parks feature incredible landscapes and idyllic scenery, but not all parks are created equally. Some feature viewpoints, while others don't offer much in the way of hiking.
So if you're looking for the top national parks for hiking, then this is the list for you.
1. Rocky Mountain National Park
As the 4th busiest national park in the country, there are countless hikes in Rocky Mountain National Park. With over 350 miles of named trails, finding the perfect trail isn't a challenge.
You can spend the day in Rocky Mountain National Park hiking through colorful wildflower patches and spotting wildlife along the trail.
For newbie visitors and hikers alike, plan a few hours to hike to the famous Dream and Emerald Lake (3.6 miles round-trip). This incredible hike takes you past 4 stunning alpine lakes. You can even add Lake Haiyaha if your legs are still fresh.
Hikers who want more of a challenge should check out either Chasm Lake or the famous Sky Pond hike to test their skills.
Plan your visit
As one of the top things to do in Rocky Mountain National Park, trails do get crowded, even with the required timed entry permit. The best time to enjoy the trails is early in the morning before the sun.
Summer and fall mornings are the safest times to hike too since dangerous afternoon thunderstorms plague the park afternoon and snowy conditions in the winter make hiking unsafe without proper avalanche training.
Wildflowers bloom throughout the alpine meadows from mid-June through early August, making it one of the best times to visit Rocky Mountain National Park.
Dogs are not allowed on the trails, and special areas, like the Bear Lake Corridor, require an advanced permit to park.
2. Great Smoky Mountains National Park, North Carolina and Tennessee
Recommended by Kat of World Wide Honeymoon
For one of the best places to hike in the US, check out the Great Smoky Mountains National Park.
The Great Smoky Mountains is the most visited national park in the USA, but don't be worried that all the trails will be packed; there are plenty of places to get off the beaten path in this park.
For an amazing opportunity to hike along the Appalachian Trail, visit an old fire tower, and maybe even have the top of a mountain to yourself, plan to hike up Mount Cammerer.
This hike isn't for the faint of heart, as this 11.9-mile out and back strenuous hike has an elevation gain of 3,169 feet, with most of the elevation gain in the first 3 miles of relentless switchbacks.
However, after the first 3 miles it flattens out, and you'll have the opportunity to hike on the Appalachian Trail until you turn off for the summit.
The views make it absolutely worth it, and the chance to have a mountain top to yourself is incredible. Just be sure to get started early!
For a more popular hike in the Smoky Mountains, Mount LeConte is full of amazing views throughout. There is also the chance to stay at the lodge at the top of the mountain!
This 10.9-mile out and back hard trail has an elevation gain of 2,896 feet. There are also so many great sights along the way including Alum Cave Bluff, Inspiration Point, and, of course, the summit itself.
For a lovely hike to a waterfall, be sure to check out the Baskins Creek Falls hike. This moderate out and back hike is 3.2 miles round trip with 950 feet of elevation gain.
The views of the waterfall, and perhaps a chance to see it without the crowds of other waterfall hikes, make it very much worth the effort.
Plan your visit
The best time of year to hike in the Smokies is in the fall. With cooler mornings and lovely fall foliage, you can't go wrong visiting this time of year.
However, it can get busy for this reason so plan to get up early for some of the more popular hikes.
The Great Smoky Mountains National Park is a free national park to visit, and the hikes are not dog-friendly. They are allowed at the campgrounds, but not on most of the hiking trails.
For an incredible opportunity to see the stunning Appalachian Mountains, you can't miss a chance to hike in the Great Smoky Mountains National Park.
3. Bryce Canyon National Park in Utah
If you're looking for one of the best national parks for hiking in the US, then look no further than Bryce Canyon National Park.
Featuring towering red rock spires that are knit closely into dizzying canyons, this unique landscape is out of this world.
With plenty of unique hikes like the Queen's Garden and Navajo Loop, to gentle rim strolls along the Bryce Canyon Rim Trail there are plenty of views to enjoy.
More avid hikers will want to tackle the 8-mile Fairyland Loop Trail. Or plan a day enjoying a few of the shorter Bryce Canyon hikes.
Plan your visit
Spring through fall is the best time to visit Bryce Canyon for hiking, but it's crowded. Beating the crowds at Bryce Canyon takes a little bit of planning. But it is possible if you get up before dawn and stay ahead of the pack.
Or, for a truly unique experience, consider visiting Bryce Canyon in winter. The busy days of summer are long gone. Just keep in mind that some of the more popular trails close down due to icefall hazards.
With so many things to do in Bryce Canyon, getting out and going for a hike is certainly at the top of the list.
4. Haleakala National Park, Hawaii
Home to dreamy volcanic landscapes, spanning tropical vistas, and an endless feast of unique scenery, Haleakala National Park is one of the best national parks in the country.
It comes as no surprise that the hiking here is epic.
Located on the island of Maui, this national icon is one of the prettiest places in the USA.
The 3.8-mile Waimoku Falls Trail is an absolute must-do in order to immerse yourself in the tropical landscape. While avid hikers will want to tackle the famous Sliding Sand Trail, not for the weary!
Watching the sunrise from the top of a volcano is certainly a bucket-list activity as well. You can also marvel at the views along the Haleakala Crater Trail and then go for a tour of the Seven Sacred Pools Trail.
Plan your visit
Thanks to the mild weather year-round, Haleakala is worth a visit in the winter. In fact, it's one of the top national parks to visit in winter if you need a break from the cold.
5. Yosemite National Park, California
Recommended by Nina from Where in the World is Nina
Okay, so everyone may know about Yosemite National Park, but there's a pretty good reason for it. The park is jaw-dropping.
It deserves and lives up to all the hype it gets and is a great pick for one of the best national parks to hike in the USA.
On your Yosemite itinerary, you'll be treated to some of the best hikes and adventures the country has to offer.
For those wanting some of the best views, you're going to have to hike for it! Here are the top three hikes that will get you the most out of your visit:
Vernal Falls – (4.2 miles, hard, 1,551 ft elevation gain). One of the most remarkable waterfalls in the country, plunging over 300 feet! Take the Clark Point via Mist and John Muir Loop. Then you can catch a peek at Nevada Falls and come down a less crowded trail.
Sentinel Dome and Taft Point Loop Hike – (5.1 miles, moderate, 1,122 ft elevation gain). There is a lot of bang for your buck here. You can feel free to just hike Sentinal Dome. If you want to see a dramatic landscape overlooking Half Dome, the Taft Point add-on will take you to cliffsides. You'll get dramatic vistas of the valley and El Capitan.
Glacier Point Trail – (.6 miles, easy, 167 ft elevation gain). The shortest and easiest hike, and honestly, perhaps the best view! You'll be right in front of Half Dome with the valley spread out before with hardly any effort!
Plan your visit
You'll need a pass to enter the park, either purchased upon entering, online or by using your national park pass.
Yosemite is a wildly busy park, and during peak times, you"ll need to apply for a permit before your visit. Make sure to double-check current rules, as they are often changing.
Yosemite is open year-round but each time of the year brings something a bit different. Do be sure to check about road closures and hike accessibility on their website before trekking in.
Keep in mind that summers are busy, fall is wildfire season, and the road to Glacier Point is closed during winter and spring.
Your pups are welcomed at Yosemite but only in certain areas and not on hiking trails.
6. Arches National Park, Utah
Many people recognize the famous Delicate Arch (a 3.8-mile round trip mellow hike) from the Utah license plates.
This is the star attraction of Arches and shouldn't be missed. But there are more easy hikes in Arches National Park to enjoy.
In fact, your Arches National Park itinerary will have plenty of mellow, low-elevation hikes that take you to not-so-mellow views of over 2,000 known arches in the park.
A few must-see hikes include the Windows, Landscape Arch, Park Avenue, and more.
If you're looking for a challenge, the snag permits to the Fiery Furnace for a chance to scramble over and through funky red rock canyons.
Or go on a backcountry adventure through Devil's Garden. Either way visiting Arches National Park is a must-do for any avid hiker.
Plan your visit
The best time to visit Arches is during spring and fall. Summers are exceptionally crowded and unbearably hot. Winters in Arches National Park are quiet and tranquil if you're looking to beat the crowds.
7. Denali National Park, Alaska
Recommended by Paula of Paula Pins the Planet
Denali National Park is a very popular destination for any Alaska itinerary, and it deserves to have at least 2-days reserved just to explore the hiking trails.
The largest National Park in the United States is known for its wild nature, wildlife encounters, and fascinating views of the tallest mountain in North America, the Mount Denali
If you are short on time, you can hike in Denali National Park near the park entrance. One of the best hikes is the Horseshoe Lake Trail, a moderate loop hike around Horseshoe Lake, with great views and a chance of spotting wildlife.
If you plan to spend more time in the park, you can hike the Denali backcountry. You will need to take the bus to enter the park and enjoy one of the best places national parks for hiking in the USA.
Savage Alpine Trail is one of the most beautiful hikes, with 4-miles considered strenuous with the elevation gain of 1,500 ft, but offering vistas of the boreal forest and tundra.
The Thorofare Ridge Trail is only 1 mile of hiking with an elevation gain of 1,000 ft, but also considered strenuous. It requires a steep climb, and on a clear day offers incredible views of the Denali itself.
Plan your visit
The best time to go to Denali and enjoy some of the best hiking in America is during peak season, from May to mid-September.
During this time the campgrounds and buses are operating, and you can have access to hike all the trails in the park. After that, the parks begin to wrap things up for the season.
Red tape: The entrance fee to the park is $10 per person, and it is valid for 7 days. If you are planning to camp you need to reserve a campsite and purchase a bus ticket.
Private vehicles are just allowed along the first 15 miles of the paved road.
8. Grand Canyon National Park, Arizona
Recommended by Francesca from Homeroom Travel
Grand Canyon National Park is one of the top national parks to hike in the USA. This park is one of the best national parks to visit in the fall or the spring as summers get very hot.
The Bright Angel Trail is the main trail at the Grand Canyon. Hikers are rewarded with awesome views of the Grand Canyon.
This trail is 12 miles round trip, but you can choose to complete as much or as little of it as you would like.
Many people hike to the rest house about 1.5-miles into the trail. If you hike the entire trail, the elevation gain is 4460 feet, so it can be a pretty strenuous hike.
The other main trail at the Grand Canyon is the Rim Trail. This trail goes along the rim of the Grand Canyon for 12 miles.
There are some shuttle stops along the trail, so hikers can always hike for a while then take the shuttle back to the starting point.
The elevation gain for this trail is about 200 feet depending on what part of the trail you do.
Aside from those two main trails, there is a scattering of other very short trails out to various viewpoints.
These are all easy trails with little to no elevation gain. Note that you only need a permit if you plan on completing an overnight hike.
Plan your visit
The Grand Canyon in winter may have snow so not all of the trails will be open. Get there earlier in the day to beat the crowds.
Admission to the park costs $35 and it is good for a week. Dogs are not allowed on the main trails but are allowed in the park.
Make sure to pack snacks, lots of water, and dress in layers as the weather can change quickly while doing some of the most beautiful hiking in the US.
Pro Tip: If you want to beat the crowds during the warmer months, check out some of the best hikes on the North Rim of the Grand Canyon. This side of the canyon has unbelievable views but with 10% of the crowds.
9. Grand Teton National Park, Wyoming
Recommended by Kim Swanson of Traveling Swansons
Grand Teton National Park is easily one of the top national parks for hiking in the US. The scenery is breathtaking at every turn!
Hiking to Inspiration Point via the Jenny Lake Boat Shuttle is a must when in the Tetons. You have to purchase a ticket to take the shuttle, but the scenery cruising along the lake is worth it. The hike via the boat shuttle is 2 miles with an elevation gain of 500 feet.
From the boat dock, you will hike .5 miles to the beautiful Hidden Falls and another .5 miles to Inspiration Point. The views at the top of Inspiration Point are incredible.
This is a very popular trail, so be prepared. Arrive shortly before 7 am to avoid heavy crowds!
Taggart Lake Loop is a 3.8 mile relatively easy, stunning hike with an elevation gain of 419 feet. On this hike, you will view creeks, forests, the amazing Tetons, and of course stunning Taggart Lake.
Delta Lake via Lupine Meadows Access is a 7.2-mile strenuous hike with an elevation gain of 2,247 feet. This hike involves crossing several boulder fields.
You will be rewarded at the end though, with the breathtaking water of Delta Lake as you experience some of the best hiking in America.
Plan your visit
In order to enter the National Park, you must purchase an entrance permit. Entrance fees cover 7 days. $35 for a vehicle, $30 for a motorcycle, and $20 for a hiker or biker. Unfortunately, dogs are not allowed on the hiking trails.
The best time to hike is from late May through September. Bear spray is a must when hiking in the Tetons since grizzlies are active in the area.
Pro Tip: Are you ready for a bigger adventure? Book a guide to climb to the top of the Grand Teton for the ultimate experience.
10. Olympic National Park, Washington
Recommended by Jessica Schmit from Uprooted Traveler
The Olympic Peninsula in Washington state boasts craggy beaches, lush rainforests, and snow-capped mountains- it should be no surprise that there are some epic hikes in Olympic National Park.
Take, for example, the Hall of Mosses, a 1.1-mile trail that loops through the luscious Hoh Rainforest. Along this hike, you'll walk under impossibly grand trees (some reaching over 300 feet high!) and walk past primeval ferns that are taller than you!
If you want to see some of the Pacific Northwest's rugged beaches, head instead to the Hole-in-the-Wall Trail, a 3.3-mile hike down the pebble-strewn shores of Rialto Beach.
At the end, you'll find dramatic sea stacks and a natural archway carved into the stone. If you visit during low tide, you can actually pass through this arch, and on the other side, you'll have a perfectly framed view of Rialto's sea stacks- and some of the best tide pools Olympic has to offer!
For mountain views in one of the best places to hike in the USA, Hurricane Hill is your best bet, a 3.2-mile trail that follows along the ridge of Mount Angeles, providing spectacular views of the surrounding Olympic Mountain Range.
Plan your visit
The park costs $30 for a one-week pass (or free with an America the Beautiful pass!). It's busiest in the summertime but many of the low elevation hikes (i.e., in its rainforests and beaches) are accessible and just as beautiful in the other seasons.
You may just want to consider bringing along a raincoat if you visit outside of summer- Washington isn't famous for its rainy weather for nothing!
11. Big Bend National Park, Texas
Recommended by Michelle from Totally Texas Travel
If you are looking for the best places to hike in the USA, then you should definitely consider Big Bend National Park in Texas.
As one of the best places to visit in Texas, Big Bend boasts beautiful views, great hikes, and breathtaking views of the night skies.
Located in West Texas, Big Bend National Park covers more than 800,000 acres of land. As such, it is home to over 150 miles of hiking trails.
Hikes in Big Bend vary in difficulty levels. Not to mention it allows visitors the opportunity to enjoy several types of terrain that are present in Big Bend.
One of the most popular hikes in Big Bend is the 1.6-mile round-trip hike on Santa Elena Canyon Trail.
The Santa Elena Canyon is one of the most dramatic views in all of Big Bend. The trail runs along the edge of the Rio Grande River, delivering awesome scenes.
This is an easy hike, but the trail can get hot in the afternoons, so be sure to bring protective clothing and plenty of water.
Another easy-to-hike trail with incredible views is the Hot Springs Trail. This mile-long trail is a great place to see wildflowers in the spring. Plus you'll score a great view of the Rio Grande and the mountains – easily making it some of the most beautiful hiking in America.
For a more challenging hike, then consider taking the 5.6-mile Window Trail. The goal of this hike is to get to the endpoint, the Window pour-off.
At this point, the mountain ridge dips down, forming a window of sorts. Take note when you arrive at the window, this area is well worn and the rock surface is slippery.
Plan your visit
When visiting Big Bend National Park, it is important to note that the park is in a very remote area. It is important to pack the necessary supplies that you need. Always have sun protection and plenty of water during your visit to Big Bend.
Big Bend charges $30 per private, non-commercial vehicle and is valid for 7 days.
12. Canyonlands National Park, Utah
Recommended by Keri from Bon Voyage With Kids
One of the best National Parks is Canyonlands, so add it to your bucket list. Located near Moab, Utah, this breathtaking National Park is over 300,000 acres big and is known for being one of the best national parks for hiking.
But you can certainly take advantage of several hikes in a day (or two if you want to explore as much as possible.) And the views are worth every minute.
Canyonlands is known for its countless canyons, fins, arches, spires, and buttes that have been carved out over thousands of years. There are several awesome things to do in Canyonlands National Park, and hiking is at the top of the list.
The park is divided into 3 districts. The Island in the Sky District near Moab is the most popular. While the Needles District is home to countless amazing hikes and is about 1.5 hours from Moab.
While the Maze is a rugged district that requires a 4-hour drive from Moab in a 4×4 vehicle to reach most trails.

Pro Tip: Be sure to check out Druid Arch and book a permit for overnight backpacking in the Needles.
There are so many things to see in Canyonlands National Park, but you should stop at Mesa Arch in Island in the SKy to see the early morning sun or sunrise; Whales Rock for a spectacular view; and the Grand View Point Trail for the panoramic views.
Another really cool and unique thing to do is visit Cave Springs. This trail is 0.6 miles long but does require climbing two ladders. But, it leads to prehistoric rock petroglyphs and paintings and the historic cowboy camp.
Plan your visit
Be sure to stop by the Island in the Sky visitors center on your way out, as the Visitors Overlook is one of the best views in the park!
You will want to wear good hiking gear, including solid hiking shoes, as much of what you are hiking on is sandy rock, which can be slippery.
Canyonlands is hot and dusty, especially in the summer. Be sure to bring extra water, food, and snacks, as there are no places to buy food in the park.
Wear sunscreen and a hat. And, remember a camera with a wide view lens to take lots of photos as you enjoy the most beautiful hiking in the US.
13. Shenandoah National Park (Old Rag), Virginia
Recommended by Erin Gifford from Go Hike Virginia
More than 500 miles of hiking trails criss-cross Virginia's Shenandoah National Park.
This national park inspires hikers of all levels with mountain vistas, tumbling waterfalls and rolling green hills.
The exhilarating 9.8-mile Old Rag hike is a crowd-pleaser, but it's not for everyone. One mile of this loop hike is a rock scramble that demands that hikers navigate cramped spaces and shimmy down granite surfaces.
Thankfully, hikers are savagely rewarded with sensational 360-degree panoramas from atop Old Rag, making this area home to some of the best hiking in America.
There's lots of space to sit and savor the views of the surrounding mountains. From here, the trail descends to Byrd's Nest Shelter, a day-use shelter with a picnic table.
Near the end of the hike, stroll alongside burbling Brokenback Run. It's a revitalizing way to end the day at Old Rag.
The Old Rag Mountain hike requires proper footwear (closed-toe shoes), a first-aid kit, a flashlight, and lots of water. Know your limitations, particularly given the elevation gain.
Plan your visit
This hike can be done year-round, but avoid this hike in rain and snow, which can cause scrambling surfaces to become very slippery.
14. Yellowstone National Park, Wyoming
Recommended by James Ian from Parks Collecting
Yellowstone National Park is not only the oldest national park in the world, it's also unquestionably one of the best..
The park has several highlights, including the geysers and colored hot springs; the dramatic Yellowstone Falls and Grand Canyon of the Yellowstone; and the wildlife (it's nicknamed "America's Serengeti" for a reason).
There are three incredible hikes in Yellowstone that hit all these highlights.
The hike through Upper Geyser Basin starts at the iconic Old Faithful geyser and passes several more geysers that erupt frequently, plus dozens of colorful hot springs.
The green and gold Morning Glory pool is especially stunning. The trail is mostly flat and on boardwalks, though a side trail goes uphill to Observation Point, where you can see Old Faithful erupt without the crowds.
The basic loop is 3 miles, and it's another 1.5 to Observation Point and back. It's an easy trail with an elevation change of 114 feet.
Never stray from the boardwalk, as it passes through a dangerous and fragile geothermal area.
One of the best views of the incredible 308-foot Lower Yellowstone Falls is from below the rim of the canyon at Red Rock Point.
The trail drops 259 feet from the rim along a series of paved paths and wooden stairs over just 0.35 miles (each way).
The steep drop makes this strenuous – especially the uphill return. The views, though, are some of the most breathtaking in the park. The light is best in the morning.
Arguably the best place to see wildlife is in the Lamar Valley. The Lamar River Trail is 33 miles long, but popular options are 4 miles (out and back) to the Lamar River and 7 miles return to Cache Creek.
They are both moderate trails that give you an opportunity to see bison, bears and maybe even wolves.
Plan your visit
Take bear spray with you, make lots of noise, and follow park guidelines requiring you to stay at least 100 yards from bears and wolves and 25 yards from other animals.
The trail has an elevation change of 408 feet and is best done early in the morning when wildlife is more active and it's not too hot, as there is no shade on the trail.
The best time for all of these trails and some of the best hiking in America is late spring to early fall.
There is no permit needed for any of these hikes, but it costs $35 per vehicle to enter Yellowstone National Park.
15. Glacier National Park, Montana
Glacier National Park offers mind-blowing mountain scenery. Straddling the border between Montana and Canada, this unique park exists in two different countries. During the summer months, Glacier springs to life to be one of the top national parks for hikers.
Keep in mind that due to the rugged nature of the park, many of the best hikes in Glacier National Park are moderate to strenuous.
Avalanche Lake is a must-do. The effervescence in the water creates a cool blue color in the sun that's begging to be photographed.
The Grinnell Glacier Trail is an 11.2-mile strenuous hike that features a little bit of everything from glaciers to mountains and waterfalls.
Those looking for an easy hike should hit up the St Mary and Virginia Falls Trail to enjoy cascading mountain waterfalls.
Plan your visit
You'll want to carry bear spray with you (grizzlies are active in the area) and plan on hiking early to avoid pesky afternoon weather.
Mid-summer is the best time to visit Glacier National Park since all of the amenities and trails are open for the season. Not to mention, the park comes to life in fields of green.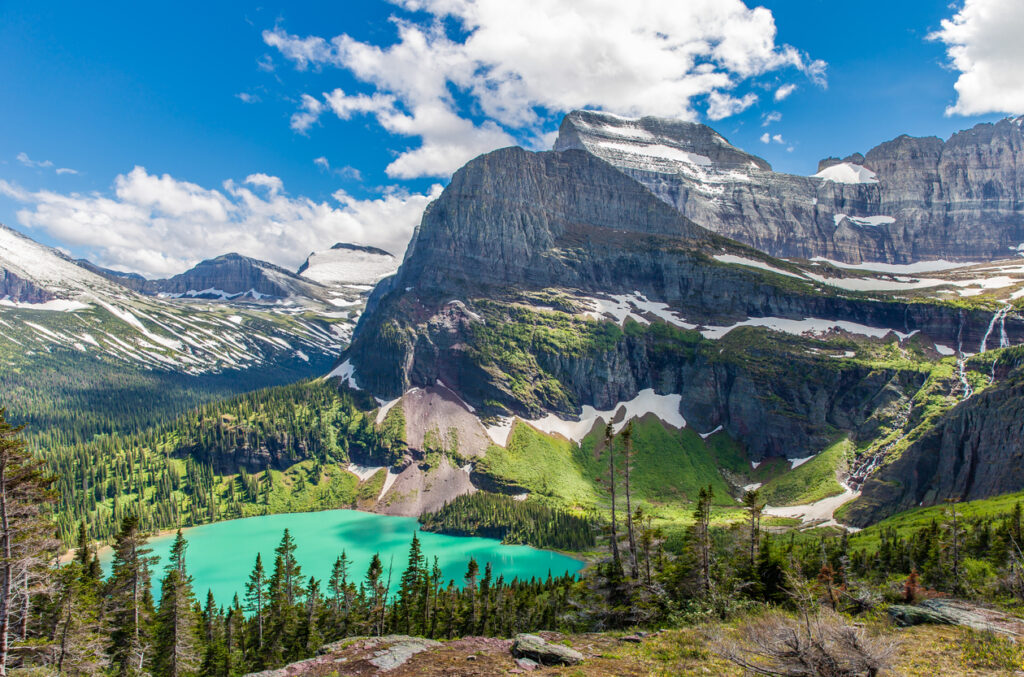 16. Volcanos National Park, Hawaii
Although there aren't as many hiking trails in Volcanos as there are in other areas on this list, that doesn't mean that Volcanoes National Park isn't awesome for hiking. The big attractor to Volcanoes National Park is…well…an active volcano.
If you're an adventurous hiker that's looking for something truly unique, look no further than Volcanos National Park on the Big Island of Hawaii.
Known for its night hikes, you can watch lava flows and eruptions at night. Where the volcano is erupting (and what road it has closed as a result) changes all the time, so be sure to check out the latest volcanic activity in order to find the best hikes.
Nightime lets you really see the lava since it lights up the sky and ground as it meats the atmosphere.
But if you can't visit at night, then be sure to check out famous trails like the Halema'uma'u Trail and the Thurston Lava Tube.
You can also experience ancient history by walking the Puu Loa Petroglyphs Trail and see how the native Hawaiians have been visiting this area for centuries.
17. Zion National Park, Utah
Well known for world-famous trails such as Angels Landing, Zion National Park might just be the top national park in the US for hiking.
Located in Southern Utah, this national treasure is best visited during the spring and fall months. During this period of mild weather, amazing hikes such as the challenging Angles Landing Trail, the Narrows, and Zion Canyon Overlook Trail are all in prime condition.
Plan your visit
Keep in mind you'll need permits for the Narrows and Angels Landing. Not to mention in order to access the park you need an advanced timed entry permit and you have to take the shuttle bus to any trails along the scenic drive.
But don't let the red tap stop you.
This park is truly remarkable. Enormous sandstone mountains clash with rich, green pinion pine forests to create a colorful scene that delights the eyes.
Other Top Places to Hike in the USA in Conservation Areas
Aside from the heavy-hitting national parks for hiking, the NPS system is home to a variety of amazing conservation areas and national preserves. These are a few of the top places in the US to hike that aren't a national park.
18. El Yunque National Rainforest, Puerto Rico
Recommended by Nikki from She Saves She Travels
If you're looking for the best places to hike in the USA, step onto the tropical island of Puerto Rico!
El Yunque National Rainforest is a beautiful area just southeast of San Juan, Puerto Rico.
Most people visit El Yunque as a day trip while staying in Old San Juan, but it can be explored over multiple days if you want to fully enjoy some of the most beautiful hiking in the US.
While in El Yunque, you can hike to the beautiful Juan Diego Falls along PR 191. It's more like a small walk in the rainforest, at just 0.25 miles round trip – but worth the view.
For spectacular views of the 28,000-acre national rainforest, the best hike is the Mount Britton Tower Trail. It's 1.6 miles round trip and about 650 feet in elevation gain.
The trail features a historic tower you can climb to get 360-degree views of Puerto Rico.
Starting from the trailhead, you'll ascend continuously until you're at the tower. The trail is made of stone and can be slick when wet.
Plan your visit
Based on current requirements, reservations are needed in advance to access El Yunque. The timed reservation system allows park access from 8:00 am – 5:00 pm.
You'll want a lot of time to explore, so get an early morning spot to get there before the crowds.
Hiking shoes are not required, although you'll want shoes with good traction to grip the stone. Be sure to pack food and water for a day hiking in El Yunque, as there are no services in the park.
19. Columbia River Gorge National Scenic Area, Washington
Recommended by Val from Voyages with Val
The Columbia River Gorge is one of the most beautiful areas of Oregon and the best place to find waterfalls near Portland.
It is also home to some of the best hiking in the US since there are countless hikes to overlooks and waterfalls as well as many drive-up spots.
Here are just a few of the amazing waterfall trails in the Columbia River Gorge.
Latourell Falls is one of the best hikes in the Gorge to see waterfalls. It is moderate, only 3 miles long with 728 feet of elevation gain, and two spectacular waterfalls can be seen on the trail.
The first waterfall is only a quarter of a mile from the trailhead. The second waterfall is roughly half of the way through the loop hike.
Wahclella Falls is another great trail in the Columbia River Gorge. This trail is only 2 miles long with 223 feet of elevation gain, making it fairly easy.
Hike through a dramatic canyon alongside Tanner Creek to reach the thundering waterfall at the end.
For an even shorter trail consider Horsetail and Ponytail Falls. This easy hike is only 1 mile out and back with 331 feet of elevation gain.
Horsetail Falls can be seen from the parking lot, and Ponytail Falls is 0.5 miles into the hike, although you can continue behind the falls for a longer hike to other overlooks and waterfalls.
Plan your visit
It is important to know that beginning in 2022 there is a permit required to drive to and park at many of the trailheads in the Gorge in the summer.
However, you can still take public transit or cycle to one of the best places to hike in the USA.
Despite it being the most popular time to visit, summer is not the best time, as many waterfalls will be only at a trickle.
Visit in Fall through Spring to see the waterfalls full and with fewer crowds. The Gorge is dog friendly and they are allowed on most trails leashed.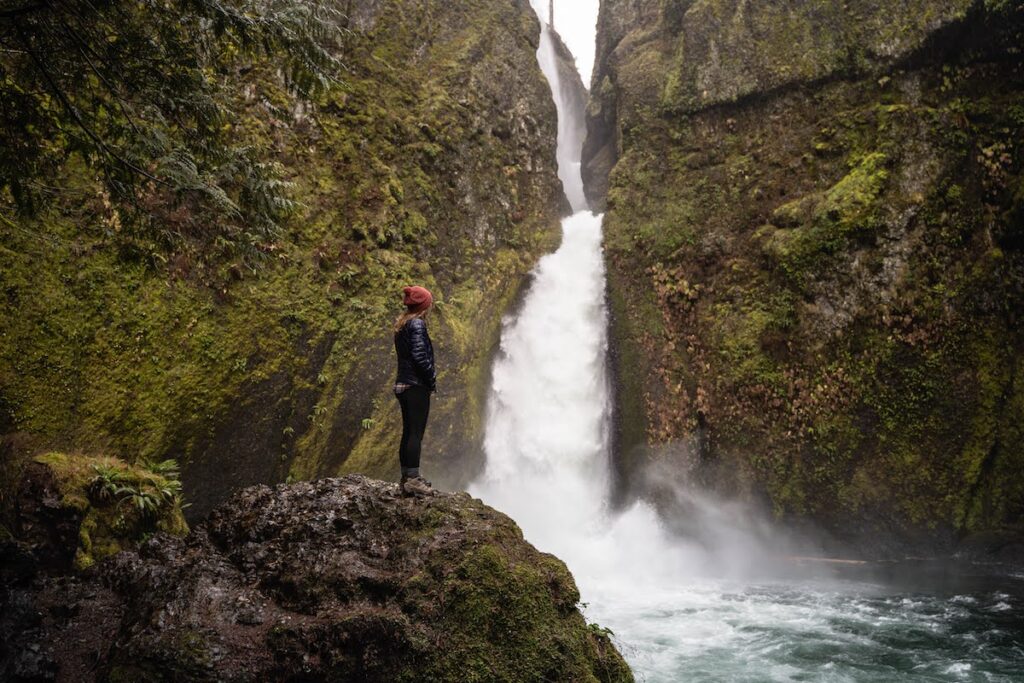 20. Red Rock Canyon National Conservation Area in Nevada
Located just 20 minutes outside of Las Vegas, you'll be transported from the glitz and glam to a desert oasis of towering red rock peaks.
There are a lot of things to do in Red Rock Canyon from scenic driving to world-class rock climbing. But getting out for a hike is one of the best ways to really immerse yourself in this rich landscape.
Red Rock Canyon National Conservation Area is not only one of the best day trips from Las Vegas, but it's one of the top hiking areas in the US too.
The Calico Tanks Trail and Ice Box Canyon Trail take you into the heart of sandstone mountains. Hikers who want a real challenge (and are not afraid of heights) should check out Turtlehead Peak, a scramble to the top of one of the many sandstone mountains in the area.
For easy hiking and stunning views, don't miss the Pine Creek Canyon Trail.
Plan your visit
During certain times of day, you need a timed entry permit in order to enter the area, so be sure to plan your day well in advance.
Additional National Park Resources
Looking to visit national parks like a pro, not a tourist? Don't stress, I've got you covered with this lineup of expert resources: