Gravity defying hoodoos dot a gorgeous high desert canyon in Utah's famous Bryce Canyon National Park. As one of the smaller national parks in Utah's Mighty Five, there's still quite a lot to see. Here's your complete guide to visiting Bryce Canyon National Park.
As an expert hiker, traveler and full-time freelance writer for the outdoors, I've seen quite a few amazing places. Visiting Bryce Canyon certainly tops out high on the list. With insider knowledge, you'll make your stay at Bryce an unforgettable experience.
About This Guide to Visiting Bryce Canyon National Park
There's quite a bit to know when it comes to visiting Bryce Canyon National Park. Here's what we'll cover:
Why visit Bryce Canyon
Where is Bryce Canyon?
Places to stay
Camping near Bryce Canyon
Points of interest and things to do in Bryce Canyon
Tips for visiting Bryce Canyon
Additional planning resources
Why Visit Bryce Canyon?
Simply put, this landscape is out of this world. I've been all over the American Southwest countless times and I have yet to find a place that's as jaw-dropping as Bryce Canyon (the Grand Canyon is a close second).
Come to Bryce to enjoy the many amazing viewpoints and relatively mellow hiking trails. Since the park is so small, much of the area is highly accessible, making it an ideal place for kids, newbie outdoors folks, photographers, and those who may need some assistance.
Bryce Canyon National Park Map
Located just outside of Bryce, Utah (a small town mostly dedicated to tourism) in the heart of southwestern Utah, Bryce Canyon National Park is an easy stop to add to any Southwestern road trip itinerary.
There's only one way in and out of the park, making it a crowded spot and potential bottleneck. When you're visiting Bryce Canyon, plan on arriving in the park well before 8am to ensure you can snag parking. If you're a late riser, opt to take the park shuttle.
When to Visit Bryce Canyon
Although you can visit Bryce Canyon throughout the year, the best time to visit Bryce Canyon is during the fall months. Typically the weather is clear, temps are cooler and the crowds are less. It's one of the top rated National Parks in the US for fall.
Spring is also a great time to visit, however the weather is typically still quite cool and there is potential for snow.
Summer is the busiest time int he park and it tends to be really hot throughout the day and cool at night so come prepared.
Visiting Bryce Canyon in winter provides the most solitude, but trails can sometimes close due to icy conditions.
Regardless of when you visit, keep in mind that Bryce Canyon sits at an elevation of 8,000-plus feet. You'll want to take care to drink plenty of water, wear sun protection, and acclimatize safely.
Where to Stay in Bryce Canyon National Park
For the most creature comforts, you can stay in the nearby town of Bryce. This small town serves only tourists, so expect to pay higher prices for basic lodging.
Since the park is so popular, lodging is often filled with busloads of tourists making their way to Utah's Big Five (five national parks in Southern Utah). There are plenty of other towns nearby, as well as an RV campground with a few amenities.
If you'd like to stay inside the park, there are two paid campgrounds within the Bryce Canyon boundaries as well. Make your reservation well in advance to guarantee a spot.
Keep in mind, that due to construction near the campgrounds, they are currently operating on a first-come-first-serve basis. This hasn't always been the case, so do call the rangers for the most up-to-date info.
Free Camping Near Bryce Canyon National Park
I've mentioned how to find free camping near National Parks, and Bryce Canyon has plenty of spots to boondock or camp for free. Keep in mind these camping areas lack any amenities, so be sure to pack it out and Leave No Trace.
There is a dirt road right next to the park entrance (on the right), simply turn down the road and the place is littered with free camping. If that road is full, there are also options on the opposite side, although I'm unsure of the road quality.
How Many Days Should I Spend in Bryce Canyon National Park?
I recommend spending one to two days visiting Bryce Canyon, National Park. Of course, if you've got more time, then certainly take a leisurely pace.
You can certainly visit Bryce Canyon in one day, but be sure to spend at least 24 hours here. Seeing the sunrise over the canyon is a once in a lifetime experience.
A full day will allow you to see most of the viewpoints as well as go on a hike or two, such as the famous Queen's Garden and Navajo Loop.
Unless you plan on backcountry travel, two full days gives you enough time to really see the Canyon.
Pro tip: It's $30 per day per vehicle to enter the park. If you re-enter on the same day, you'll have to pay the fee again. Planning on visiting for multiple days? Or maybe you're visiting a few national parks within a 12 month period? Snag a national parks annual pass to save some money.
Things to Do in Bryce Canyon National Park
There are plenty of fun-filled things to do in Bryce Canyon National Park. However, since it's a smaller park, you can easily enjoy multiple activities in one day. Here's a look at a few can't miss activities in Bryce Canyon.
Check out some amazing hiking trails in Bryce Canyon
Road or mountain bike trails outside of the park
Catch a stunning sunrise at one of the beautiful Bryce Canyon viewpoints
Stop by a ranger program and learn about the park's history and ecology.
Take a scenic drive
Go on a horseriding adventure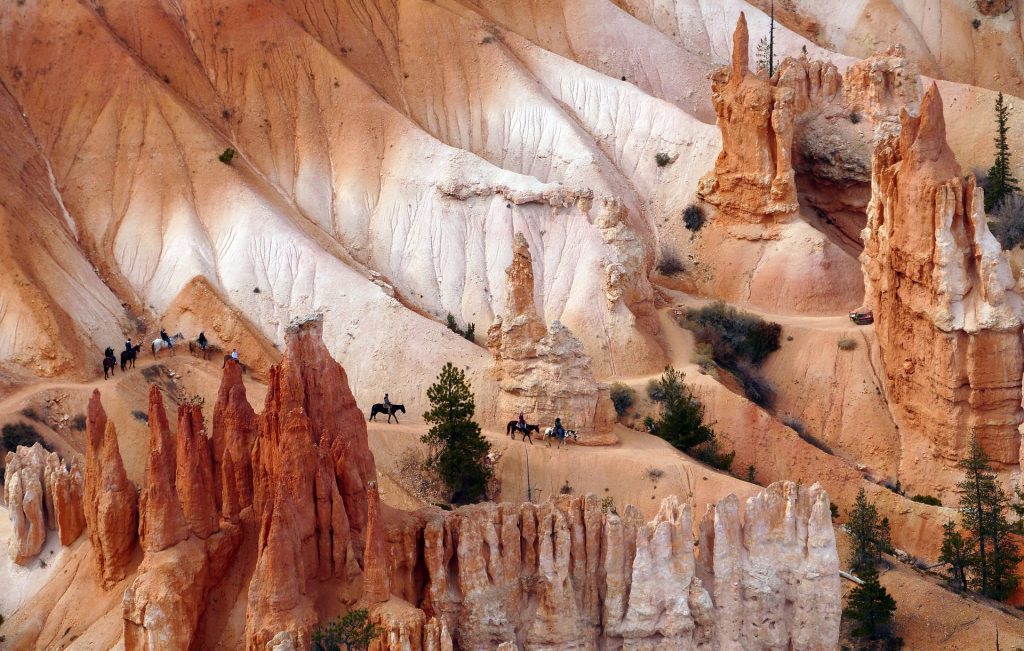 Tips for Avoiding Crowds at Bryce Canyon
One of the major drawbacks of visiting Bryce Canyon National Park is the crowds. As one of the prettiest national parks in the US, this area sees tons of traffic, even when there's bad weather.
Compared to the utter solitude of the nearby San Rafael Swell and Escalante, this place can seem like a metropolis. Here are a few tips for avoiding the crowds:
Get up for sunrise. Avoid Sunrise Point, which is packed with photographers. Instead, drop down the canyon just a touch or visit the nearby Sunset Point.
Go during late fall through early spring. Freezing temps mean less people.
Hike! Many of the longer hiking trails in Bryce see very little traffic.
Visit during the week.
What to Pack for Bryce Canyon National Park
You'll want to be prepared for any conditions while visiting Bryce Canyon. Even in the summer the temperatures can swing from the 40s into the 90s.
You'll also want to bring plenty of water and salty snacks to help you stay hydrated throughout the day. Take 2 liters on your hike and keep extra water in the car so you can re-hydrate when you return.
Sun protection is also extremely important. Although there are plenty of pines and the tall rocks provide some shade, you're still in the desert.
Lastly, don't forget a camera! You'll be snapping Insta-worhy photos left and right.