There's a well-kept secret just outside of downtown Las Vegas. A 30-minute drive west from the Strip is a slice of desert paradise known as Red Rock Canyon Conservation Area. With plenty of things to do in Red Rock Canyon, you can easily spend a day (or three) exploring the sea of stunning sandstone peaks.
Every year I come out to Red Rock Canyon for some outdoor adventures. Trust me, I'm not a city gal, in fact, I prefer off-the-grid adventures.
But with thousands of moderate multi-pitch trad climbing routes and incredible scenery coupled with the prospect of mouth-watering cheap food, my pilgrimage to this fantastic wilderness area is quickly becoming a time-honored tradition.
I've scoured these sandstone cliffs and taken rest days hiking the trails and admiring the scenery of this other-worldly landscape. There's plenty to see in Red Rock Canyon and I'm so stoked to tell you about it.
About this Guide to Things to Do in Red Rock Canyon
As one of the best day trips from Las Vegas, Red Rock Canyon is a must-see attraction. In this guide to things to do in Red Rock Canyon you'll learn:
Where to find Red Rock Canyon
What's open at Red Rock Canyon?
The best things to do in Red Rock Canyon
Tips for your visit
Entrance fees
The best time to visit Red Rock Canyon
Additional resources for things to do near Vegas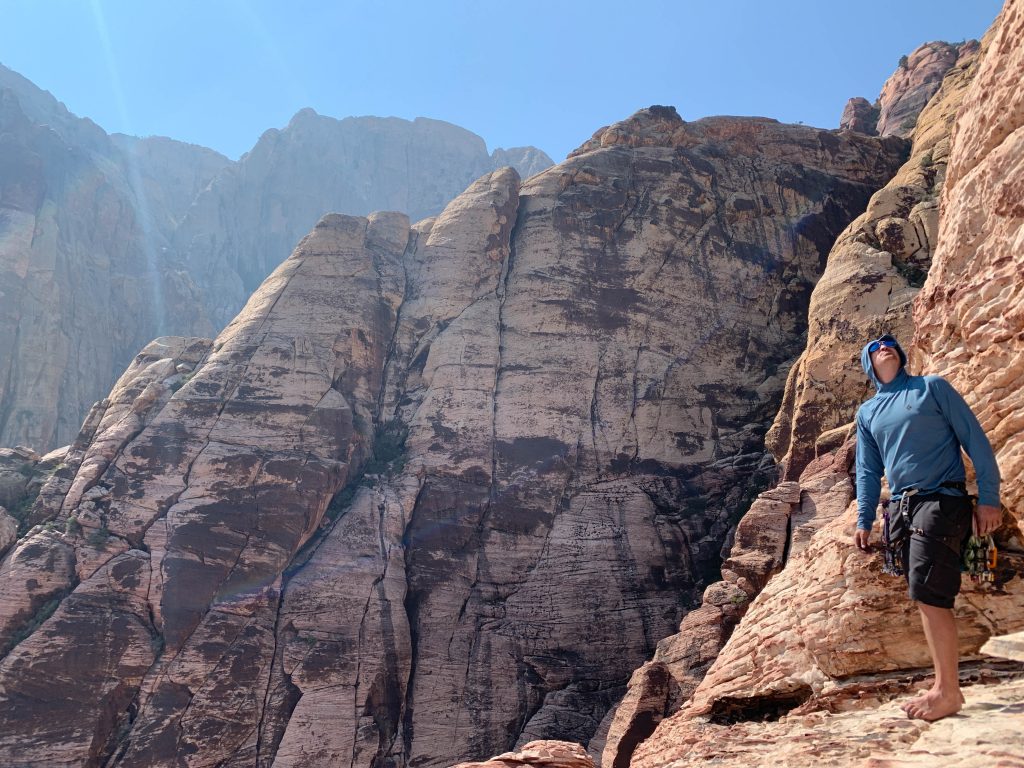 Where is Red Rock Canyon?
You'll find the Red Rock Conservation area just 30 minutes west of Las Vegas outside of the town of Southerlin. You can access the park by driving along Highway 159, also called Blue Diamond Road.
Access is simple and virtually any passenger car can make it to 99% of the areas (one exception is possibly the Black Velvet Trailhead).
Is Red Rock Canyon Open?
Yes! Although the park closed for a brief stint in the spring of 2020, it is now (mostly) open to the public. Although the park does close if it reaches capacity – which can happen on busy weekends – everything is open at Red Rock except:
The Red Rock Campground is closed
The Visitor's Center is closed
Picnic areas at Red Springs are closed (parking and toilets are open)
Amazing Things to Do in Red Rock Canyon
Despite a few closures, there are still plenty of incredible things to do at Red Rock Canyon. From leisurely scenic drives to some of the most challenging rock climbing routes in the country, there is something for everyone at Red Rock.
1. Take a Drive on the Scenic Loop
As one of the best things to do in Red Rock Canyon (and a requirement for many of the other options on this list), the Scenic Loop is a must-do.
The 13-mile, one-way, paved Scenic Loop Drive in Red Rock delivers jaw-dropping views of the red rock mountains that give the park its name. From here you can access many of the best hikes in Red Rocks, along with climbing, biking, petroglyphs, and more.
Pro Tip: Go just after (or for) sunrise for the most beautiful lighting. There are plenty of places to stop and soak in the view.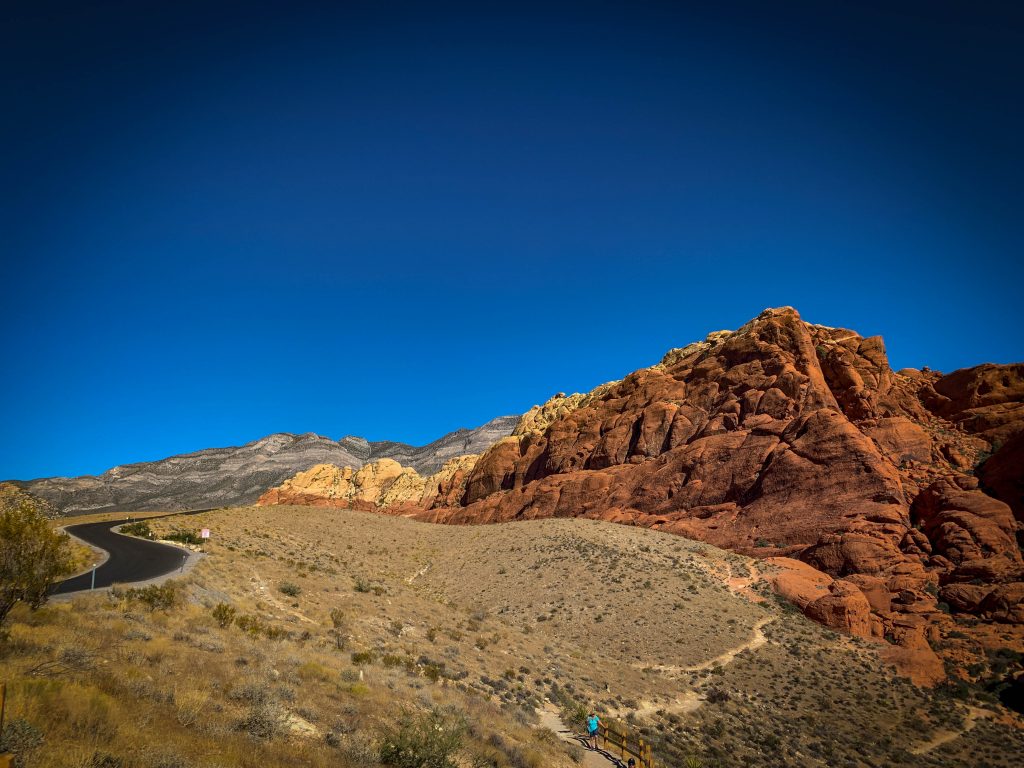 2. Go for a Hike in Red Rock Canyon
Hiking in Red Rock Canyon brings you right up close to all the beautiful mountains. What's so great about the area is that hiking trails aren't too strenuous (unless you're heading to a climbing area or scrambling a peak).
Most of the trails are between 1 mile and 7 miles round trip. These trails are typically lower in elevation and well-marked. A few must-see hikes include:
Calico Tanks (2.2 miles, moderate)
Pine Creek (3.4 miles, easy)
Ice Box Canyon (2.3, moderate)
Turtlehead Peak (4.6 miles, difficult)
First Creek Canyon (3.4 miles, moderate) outside of the fee area
Psst…Learn the ins and outs of desert hiking before you hit the trails.
3. World-Class Rock Climbing in Red Rock Canyon
Arguably the best thing to do in Red Rock Canyon is to tackle one of the many epic rock climbing routes. Trad climbers will be in heaven here. Literally every crack is climbable.
The Kraft Boulders and Calico Basin offer plenty of options for boulders and sport climbers respectively.
If you're new to climbing, this is a great spot to learn! Or use a guide to access more difficult terrain and reach your climbing goals. Hire a guide (such as the fine folks at The Mountain Guides Red Rock) to show you the ropes.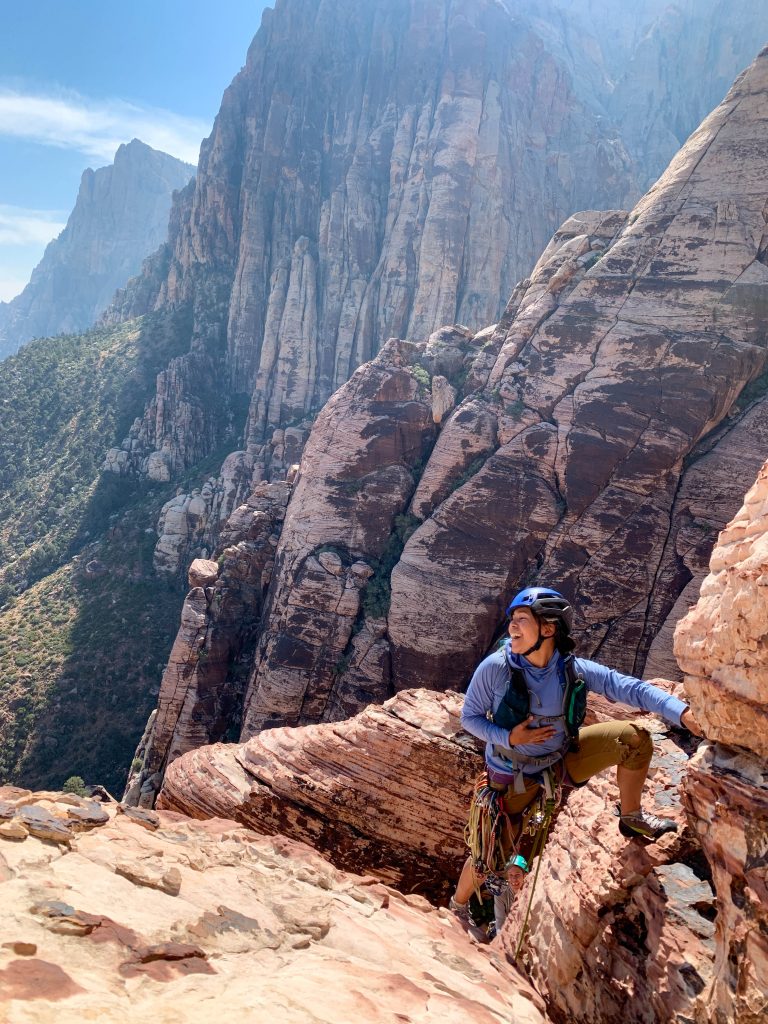 4. Take a Tour of Red Rock Canyon
So riding in your own vehicle and discovering the canyon for yourself is quite fun (and very budget-friendly). However, if you're looking for a more exciting way to spend the day, consider going on a unique tour of Red Rock Canyon.
You can join a tour and drive motorcycles, mopeds, go-karts, and all kinds of unique vehicles in Red Rock Canyon. Red Rock Canyon Scooter Tours offers a unique way to spend the day!
5. Biking Red Rock Canyon
If you're into road biking, then biking the Red Rock Canyon Scenic Loop and nearby Blue Diamond Road are both excellent ways to log some miles. Get an early start or ride in the evening to avoid the (often brutal) heat of the day.
The best part? The fee to enter the Scenic Loop Drive by bike is only $5.
6. Check Out the Red Rock Scenic Overlook
There are many great pullouts and overlooks along the Red Rock Scenic Drive and even Blue Diamond Road, but the best has to be the Red Rock Scenic Overlook.
Simply glorious, this overlook gives you a full view of down the mountain range and the Keystone Thrust. The Keystone Thrust is a unique tectonic formation that makes the rocky cliffs look like rainbows.
7. See Petroglyphs
A quick 20-minute walk from the Willow Springs Picnic Area gives you a glimpse back into time. The Mojave (and conservation area) is home to the Paiute people, who, like many of the advanced civilizations that existed here before settlers came, carved their stories into rocks.
You can see examples of real Paiute petroglyphs at Willow Springs. It's well worth a visit to check out this moment in history. The rock art dates back at least 800 years, with signs of human settlement found in the area dating up to 10,000 years ago!
8. Catch the Sunrise at Red Rock Canyon
One of the most thrilling things to do at Red Rocks sounds actually quite silly. However, every day, you'll find a small line of cars waiting for the gates to the Scenic Loop to open at 6 am.
It's actually exciting to wait in line to get into the park. The cars mostly consist of climbers jockeying for the best parking spots and to catch an early start to their big climb.
If you do opt to wait in line, you're in for a real treat: a Red Rock Canyon sunrise! Go for an early morning stroll, ride your bike down the paved road, or simply stop off at a trailhead parking lot and watch the desert bathe in an early morning glow.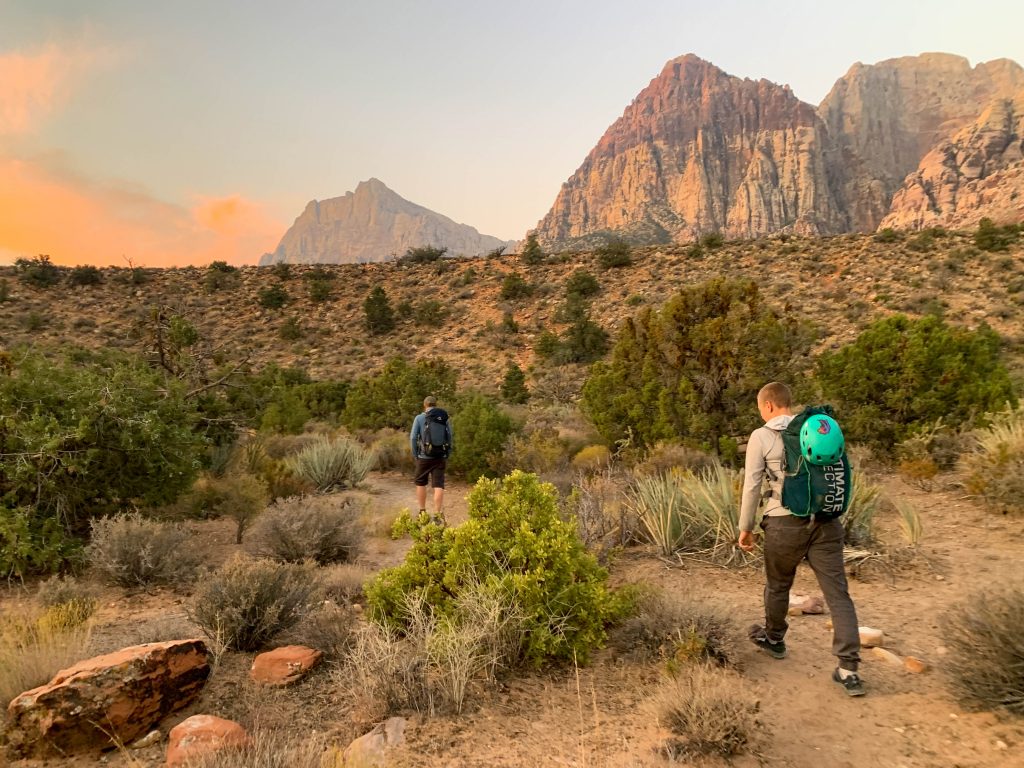 9. Peak Bagging Sandstone Giants
One of the more adventurous things to do in Red Rock Canyon is to summit one of the sandstone giants. Most people opt to take the more direct routes and climb to the top, however, there are plenty of trails where you can summit un-roped.
Keep in mind, you'll likely want a helmet and you will for sure need to have some scrambling skills to take on these Class 3 and mostly Class 4 routes. Some even feature required rappels so ropes and a harness may be necessary.
Even though you might not be dealing with the high elevation you typically find in alpine environments, the sun and rock can be brutally hot. Come prepared and expect adventure on these lesser-traveled trails.
10. Spot Wildlife
Most people don't associate the desert with bountiful wildlife, but you'll be surprised in Red Rock Canyon. In fact, we saw tons of wildlife, from wild burros to desert hare.
For the best chances of spotting wildlife, head out early in the morning or in the evening. If you're lucky you may spot deer, the endangered desert tortoise, roadrunners, ram, and more.
11. Visit the Calico Basin
One of the most striking features of the entire region is the bright red rocky hills of Calico Basin. Located outside of the fee area, the Calico Basin is home to many of the best things to do in Red Rock Canyon.
The area has an interpretive trail, hiking trails, plenty of single-pitch sport climbing, scrambling, and even a few multi-pitch climbs. It's striking rock formations seem to glow like fire in the desert sun.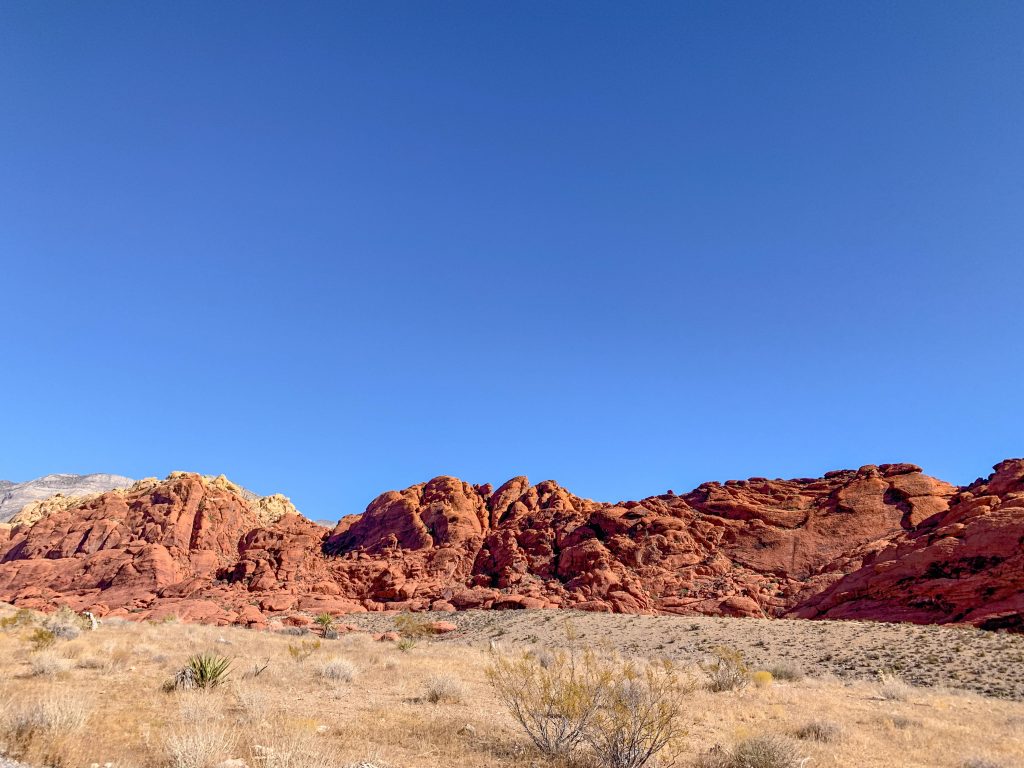 12. Camping in Red Rock Canyon – Closed
There is one campground at Red Rock Canyon just across the road from the entrance to the Scenic Loop on Moenkopi Road. There are 53 sites with 14 of them requiring a walk-in and 6 will accommodate RVs (no hookups).
Vault toilets are available, but you'll need to bring all of your own food and water, and there are no showers. All sites are available on a first-come-first-served basis. Keep in mind, the campground closes during the sweltering summer months.
13. Horseback Riding Scenic Trails
One of the best ways to travel through the desert is on horseback. There's a bit of magic that really brings you into nature when you ride desert trails. Many of the trails in Red Rock are horse-friendly. Opt to bring your own horse or hire a guide to take you on a ride you won't forget. Trails include:
Cottonwood and Late Night Trailhead
White Rock Trailhead
Mile marker 12 of Kyle Canyon
How Much is the Red Rock Canyon Entrance Fee?
Red Rock Conservation Area is a little confusing since some of the region is a fee area and the rest isn't. The park is free to visit except for the Scenic Loop Drive. Any area accessed from the Scenic Loop Drive requires a fee.
It's $15 for vehicles to enter the Scenic Loop Drive and the fee can be paid at a kiosk. Your America the Beautiful Parks Pass covers the fee and is the best option for multiple entries (or if you're visiting other nearby national parks like Death Valley or the Grand Canyon).
The fee area opens at 6 am and closes at sundown. Keep in mind the closing times vary throughout the year, so check before you go.
Late exit permits are available online only for climbers and cost $0.50 for a processing fee. You can get them the day of (they don't run out) but they are necessary to avoid fines if you're climbing into the evening.
The Best Time to Visit Red Rock Canyon
Red Rock Canyon is an excellent place to visit year-round. In fact, summer sunrises are a great way to get into nature and escape the city. However, I wouldn't recommend a full-blown visit complete with hiking and climbing in the summer.
Falls are generally dry and temps cool off around mid-October. Springs can be wet and climbing wet sandstone is forbidden. However, you can still hike and enjoy most of the things to do in Red Rock Canyon in spring.
Winter is also a pleasant time to visit, especially on the rare occasion the park is dusted in snow.
Quick Tips for Visiting Red Rock Canyon
Be in the know before you go to Red Rock Canyon. These quick tips for visiting Red Rock Canyon help you make the most of your time in the desert.
Bring a cooler for the car. Fill it with water, electrolyte drinks, and maybe a snack or two. You'll want it after a day getting parched in the desert sun.
Head out early. You'll beat the heat and the crowds.
Don't climb wet sandstone. It's dangerous (bolts, holds, and protection can pull on fragile rock) and it can alter the routes for others. Wait 24 hours after a storm to climb.
Don't hike during the heat of the day. Speaking from experience here. I actually ended up hiking out from a climb in my underwear because I overheated so badly. Remember, there is very little shade out here.
Bring plenty of water. Seriously. Budget at least 2 liters per person for a hike (3 is better if you're out all day or climbing).
Leave it better than you found it. Pick up after yourself. Pack out your trash (including toilet paper, wag bags, fruit peels, and bar wrappers). Don't carve the rock or build cairns (rock stacks). Leave only footprints and stick to maintained trails.
Travel with a first aid kit and tweezers. Although trails are well marked, cacti are everywhere. You'll definitely want tweezers.
Wear long sleeves, a hat, and sunscreen. Getting sunburnt out here isn't fun. Consider wearing a UPF sun shirt while you hike.
Overall, a trip to Red Rock Canyon Conservation Area is well worth your time. With unbelievable desert views and towering sandstone peaks, it's a beautiful place to spend the day.
Additional Things to Do Near Vegas
Your Guide to Valley of Fire State Park (coming soon)
Amazingly Beautiful Day Trips from Las Vegas (coming soon)