Backpacking in Canyonlands needs to be on everyone's bucket list. Weird and wacky sandstone spires pierce the sky in the unique Needles District of Canyonlands National Park.
There are countless routes for the intrepid backpacker and newbie backcountry sleeper alike to enjoy backpacking in the Needles.
The sunsets are utter fire and the rock pinacles or hoodoos twist their way into canyons that feel other-worldly.
Yea, hiking all of your water in is really worth it.
I've hiked throughout the Needles countless times. In fact, I've done almost all of the major trails in this area.
And after three attempts at trying to backpack in the Needles (thanks poor weather and COVID), I finally got the chance to go.
It. Was. Pure. Desert. Magic. Literally at it's finest. And for someone who's well-seasoned with backpacking in the alpine, the relatively gentle desert trails were a welcomed break.
About this Guide to Backpacking in Canyonlands' Needles District
I've backpacked all over the world, and I could return to backpacking in Canyonlands again and again.
Inside this guide to backpacking the Needles you'll find:
A quick guide to visiting Canyonlands National Park
A map of the Needles District
Advice on the best time to backpack in Canyonlands
Obtaining a Canyonlands backcountry permit
Expert tips on the best backcountry campsites in the Needles
Drool-worthy routes for backpacking in Canyonlands
Tips for backcountry in the Needles
A desert backpacking packing list
Additional planning resources
Visiting Canyonlands National Park
Canyonlands National Park is HUGE! The nearest town is Moab, Utah, and the Needles is the southern-most district.
Located 1.5 hours by car from downtown Moab, it's a shlep to get to the Needles. If you're planning on backpacking in the Needles, you'll likely start at the Elephant Hill Trailhead.
The Needles District of Canyonlands is well-known for its stellar hiking. In fact, the best hikes in Canyonlands are mostly here.
But you can oggle at Indian Creek (a famous Moab climbing area) and stop at Newspaper Rock along the way.
The Maze is squished in between the Needles and the famous Island in the Sky District. It's known for rugged cross-country backpacking and off-road driving.
Island in the Sky is closest to Moab and is arguably the most popular district. This area is known for incredible canyon views. You can spot the Needles far away in the distance from the famous Grand Viewpoint.
It's $30 to enter the park (any district) and there are no ins-and-outs. If you're planning to visit the park for multiple days or head to other nearby national parks like Arches National Park, consider snagging an America the Beautiful Pass.
Map of the Needles District
If you're planning on backpacking in the Canyonlands Needles District, you'll definitely want to pick up a National Geographic Paper Map of the area.
The map is SUPER helpful for trip planning, since it lists all the backcountry campsites in the Needles you'll need to reference for permit recommendations.
It'll also let you play around and plan a perfect trip for backpacking in the Needles based on your ability.
Trails in general are well-marked throughout the Needles and it's hard to get lost. Carry a GPS for a backup, but in general, signs will lead the way to all marked backcountry camp spots.
Pro Tip: The Joint Trail near Chesler Park can get a little confusing. Follow the cairns (rock stacks) and well-traveled path.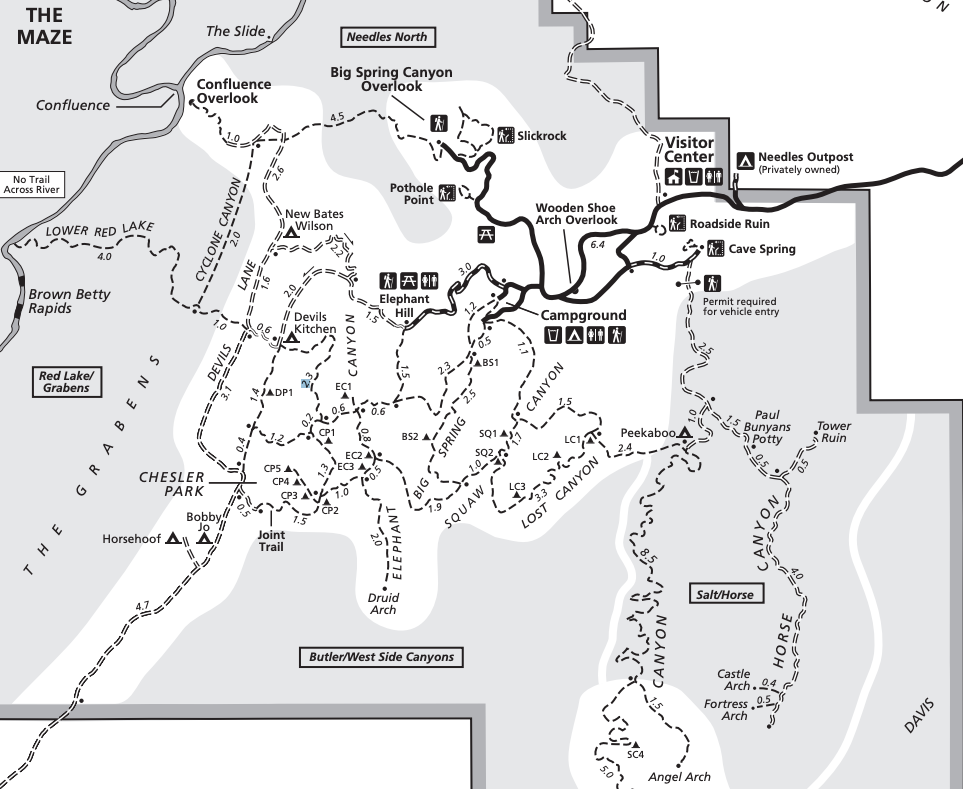 When is the Best Time to Backpack in Canyonlands?
Spring and fall are the best (yet busiest) seasons for backpacking in Canyonlands. Particularly mid-March through April, and October through mid-November.
The weather is pleasant (we didn't even pack our tent rain fly) and you don't have to pack the water required for a summer journey.
Sure, it's busy at the trailhead, but it's quiet at the campsites.
The summers are blazingly hot – like surface of the sun hot. And you'll be carrying all of your own water (and poop friends…think about it).
So summer is a miserable season for backpacking since you'll spend most of your time being dehydrated.
Winters are super sweet because it's dead quiet in Canyonlands National Park. Just keep in mind you'll want PLENTY of warm layers, and a 4-season sleeping bag and pad. Temperatures dip into the teens at night.
How Do I Get a Permit for Backpacking in Canyonlands?
The permit system for backpacking in Canyonlands has changed this year. Now, all dates for a 4-month period are open on specific days. Here's what's up:
Permits from March 10 – June 9 open on November 10
June 10 through September 9 open February 10
September 10 to December 9 open May 10
December 10 to March 9 open August 10.
Pro Tip: Permits COMPLETELY book out MONTH'S in advance for the busy season – even on weekdays, so mark your calendars if you want to backpack in spring and fall.
I got up at midnight to reserve a night in Elephant Canyon in October.
In winter, walk-up permits may be available, but I wouldn't count on it spring through fall.
Is Backpacking in Canyonlands Needles District Difficult?
Backpacking in Canyonlands is not that difficult if you're used to rugged mountain adventures. The elevation gains aren't that intense and trails are generally very well marked.
However, it's certainly more challenging that you would first expect.
For one, you will be carrying ALL of your water. Often times, the trails wind their way through a sandy bottom, really doing a number on your ankles and knees – especially with the added weight.
Consider this. One liter of water weighs 2.2 pounds. Everyone's water consumption is different, but budgeting for 4 to 8 liters a day per person (depending on the time of year) is a normal estimate.
With all of that being said, I backpacked in Canyonlands with a busted up shoulder, and ruined feet (an oopsies from a climbing trip). I did the whole thing in Chacos and socks.
Would I recommend that? Not unless you're ready for some pain, but it IS doable.
For two, you're required to use WAG bags. Put bluntly, it's a bag that you poop into and carry out with you. That may make some folks a little nervous and can add to the difficulty in a new kind of way.
I'd rate an overnight backpacking trip in Canyonlands as a moderate difficulty experience.
Of course, you can make your trip as easy or as difficult as you'd like.
Your Guide to the Different Backcountry Campsites at the Needles
The Needles is home to a variety of beautiful backpacking camping sites. A few must-see areas include:
Chesler Park: By far the most popular area in the Needles thanks to the sweeping vistas of the Hoodoos. You've got ample wind protection and but not as much privacy from day hikers. 5 campsites available.
Although this area sees a lot of traffic, there are fun caves and slots to encounter nearby. If you like to scramble, you'll love exploring Chesler Park
Elephant Canyon: A gorgeous canyon that puts you in the heart of the Needles. You'll get peek-a-boo views and 2 of the campsites are elevated off of the canyon bottom. 3 campsites available.
Elephant Canyon offers the most beautiful and secluded views in the park.
Devil's Pocket: A super-private campsite near the 4WD-accessed Devil's Kitchen. People love this area for its seclusion, but the campground can be a little annoying, and there are better views elsewhere. 1 campsite available.
I thought the camping was only okay – just a field and some boulders, but it's quiet.
Lost Canyon: A quieter, more vegetated area. There used to be reliable water here. However, thanks to a helpful (and recent) update from the park service, due to ongoing draughts, there is no longer reliable water in the canyon. 3 campsites available.
Big Spring Canyon: A less-traveled spur trail from Elephant Canyon. Pretty scenery, but not as epic as Elephant Canyon. 2 sites.
Squaw Canyon: Further away from other popular areas, and a little less drama here. But if you're looking for one more night to round out your Canyonlands backpacking loop, this is a great option. 2 sites.
Salt Creek: The most remote part of the Needles. Backpacking in this part of Canyonlands requires a hard-sided bear canister. The trails are fairly rugged and less-traveled. 4 campsites.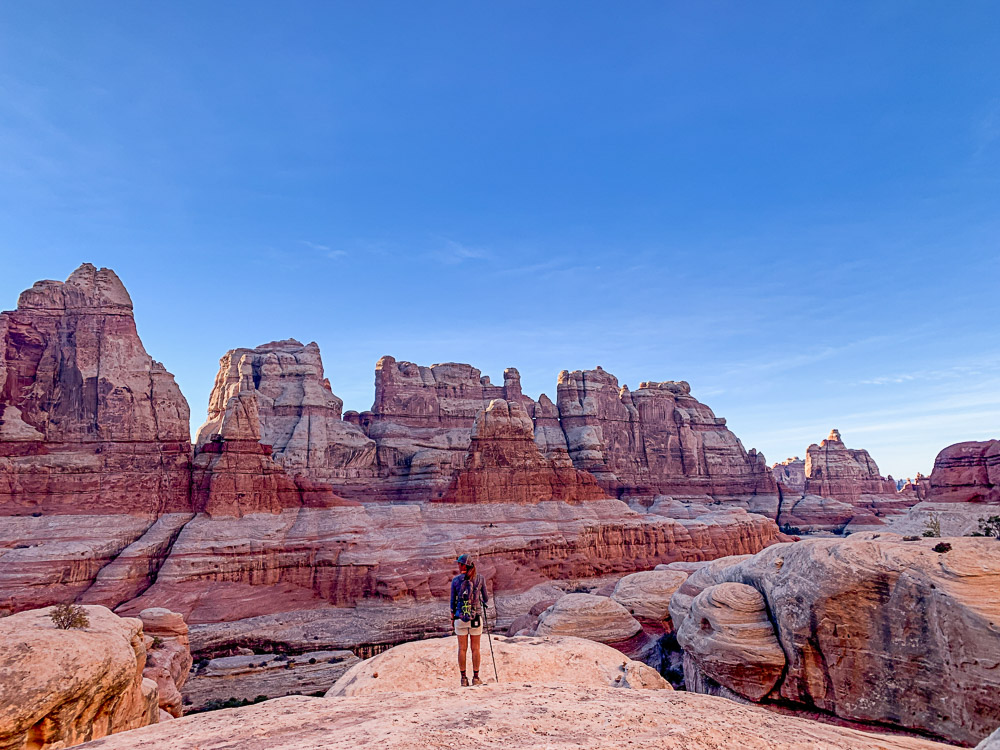 Recommended Routes for Backpacking the Needles
Now for the juicy stuff, the absolute best backpacking routes in Canyonlands!
For simplicity's sake, each of these recommended routes for backpacking Canyonlands National Park are just one night. Work your way clockwise or counter clockwise to create a multi-day trip that's simply awesome.
Just remember – no matter what time of year, you'll be hauling all of your water and human waste.
Chesler Park Loop
Chesler Park is one of the most popular areas of Canyonlands National Park for a reason – it's stunning. The trails stay interesting as the hop up and over slickrock and wind through sand.
The backcountry campsites here offer plenty of places to wander around and a few fun spur trails too. You'll be scrambling a little bit, so wear sturdy footwear.
Distance: 4.2 miles to CP2
Difficulty: Moderate
Best Needles backcountry campsites: CP5, CP3, CP2
Nearby Add-ons: The Joint Trail, Devil's Pocket, Elephant Canyon
Elephant Canyon Trail
Elephant Canyon is the absolute best place to backpack in Canyonlands. The backcountry sites are secluded, giving you the sense that you're out there without tons of mileage.
Killer views of the Elephant Canyon bring a sense of scale that will have you pondering for hours.
Not to mention, you can check out Druid Arch at sunset and have the place to yourself.
Distance: 3.4 miles to EC3
Difficulty: Easy
Best Needles backcountry campsites: EC 2 – probably the best campsite in the entire Needles District
Nearby Add-ons: Druid Arch, Big Spring Canyon, Chesler Park, Squaw Canyon
Devil's Pocket
Everyone loves the single site at Devil's Pocket (it's almost as sweet as Cape Final in the Grand Canyon…but not quite!).
If you're seeking solitude from hikers and backpackers alike, then Devil's Pocket is worth a look. However, you'll have some overlanders at the nearby campground.
The good news is, you don't have to poop in a bag here – since a toilet is nearby.
Distance: 5.3 miles to DP1
Difficulty: moderate to difficult (lots of loose sand)
Best Needles backcountry campsites: DP1
Nearby Add-ons: Chesler Park, Joint Trail
Big Spring Canyon
Big Spring Canyon features ladders and drops that will feel a bit more rugged than the more trafficked trails on this list. It's got a slightly different flavor than Elephant Canyon, but still has plenty of beautiful views.
You'll get some distance from the dramatic scenery of the Needles in Big Spring Canyon. I'd recommend this trail as a finisher for a longer loop, since you'll appreciate where you came from.
Distance: 5 miles to BS2 from Elephant Hill TH (recommended for the best scenery) or 0.7 miles to BS1 from the Squaw Flat Campground.
Difficulty: Difficult to easy (depending on your approach)
Best Needles backountry campsites: BS2
Nearby Add-ons: Squaw Canyon, Elephant Canyon, Druid Arch, Lost Canyon
Lost Canyon
Lost Canyon feels like a world away from the rest of the Needles. The divide between Squaw Canyon and Salt Creek (2 different passes) provide plenty of challenges for the adventurous backpacker.
Not to mention the overgrowth here gives more of a cross-country desert feel.
Distance: 2.6 miles to LC2 or almost 5 miles to LC3. Start at the Squaw Flat Campground
Difficulty: Difficult
Best Needles backountry campsites: LC3
Nearby Add-ons: Squaw Canyon, Salt Creek, Big Spring Canyon
Tips for Backpacking in Canyonlands
Backpacking in Canyonlands is relatively straight forward. There are a few rules and regulations you'll want to keep in mind.
Carry your permit with you. We got checked and you'll need a copy of your permit number left on the vehicle you came in on.
You'll be pooping in bags. It's illegal to backpack in Canyonlands without bringing WAG bags. You'll have to carry it with you so get ready to be stinky!
Pro Tip: Find a nice perch for a poo. Fold the bag out until you can see the desiccant and odor remover before you go. Don't forget to rotate your body and move the bag before you pee. Reuse your bag to save space. If you aren't ready to poop in a bag, then this backpacking adventure is not for you.
Have a plan for sun protection. It's brutal – even in winter. Bring plenty of sunscreen and wear a sun shirt when backpacking in canyonlands. Don't forget your sunhat too!
Check the weather. For rainless nights, consider leaving your rainfly at home to save weight AND check out the stars.
Avoid backpacking in Canyonlands if the forecast calls for rain. Flash floods are common throughout the park, especially canyons. Stay safe and re-arrange your plans.
Plan your water consumption. You'll need to carry all of your own water – there are no water sources in the park.
Essential Packing List for Backpacking in Canyonlands' Needles District
Here's what you'll need to pack before you head out backpacking in Canyonlands Needles District:
Psst. Looking for gear reccos? I professionally review backpacking gear for a living and you can get the inside scoop in my Complete Backpacking Gear Guide.
Permit
A comfy, durable backpacking pack
A backpacking tent with footprint
Fuel
Water bladder
Water dromedary (10L recommended, but 6L can work for a simple overnight)
Trekking poles (not required but recommended)
Backpacking meals and snacks
Small mess kit with spork
Dry bag to hang food (ground critters can spell trouble)
Odor proof bags (for the small critters, they are everywhere)
Backpacking chair (optional)
WAG Bags (1 per person for 2 days, you will reuse bags)
hand sanitizer
extra toilet paper
A day pack for nearby hikes and exploring
first aid kit with tweezers
durable, comfortable footwear
extra pair of socks
sunscreen, sun hat, sun shirt, sunglasses
toiletries
change of clothes for camp
GPS device (optional)
camera (optional)
camera clip (optional)
charge pack for phone/electronics (optional)
duct tape
Additional Moab Travel Resources
Wanna get out and explore the best of Moab? Get honest, professional adventure advice with these resources:
PIN THIS POST