Sometimes having to squat to pee in the woods is a total drag. Have you ever tried to pee in a pile of snowy fluff? How about peeing with camp sandals on? In a harness? Let's face it: no one likes to smell like pee. That's where a pee funnel for hiking comes in. In this guide to how to use a pee funnel, we will debunk all the myths with honest, real advice.
A "female urinary device," or pee funnel, gives you the total freedom to go with gusto and not have to worry about splatter and spillage.
Here's all you need to know about pee funnels. From what to look for when you buy to how to use a female urinary device. Rock on everyone! Freedom is finally here!
Things are going to get graphic here, but sorry, not sorry. This is some #realtalk and there's no need to be bashful. We all poop, fart, and pee regardless of our gender.
And some of my friends who have the raunchiest poop jokes are also the most feminine. So let's let go of being squirmy and learn to love our bodies and all of their functions instead!
About this Guide to How to Use a Pee Funnel
Alright, it's time to get real! I've been using a pee funnel all over the world for years now. Honestly, it's changed my life. Who knew that peeing while standing would be such a liberating experience.
In this post we'll get down and dirty with all the information you need to know about pee funnels. We'll cover:
What is a pee funnel?
How to use a "female urination device" for the first time
What to look for when buying a pee funnel
Using a pee cloth with your pee funnel
How to use a pee funnel for hiking
Using your pee funnel for travel
Additional honest advice for adventurous humans
Debunking Myths About Peeing Outside
Okay, so the most important thing to remember about having to squat to pee, is that it doesn't make a woman. How you pee doesn't gender you. As a cis-woman, I've learned this lesson the hard way.
And here's the kicker: What you type into the search bar, affects what words are used to describe something. You'll see the word "female urinary device" and other references to pee funnels and being "femanine products" in this post.
This is due to a super complicated science called Search Engine Optimization or SEO. It's how you found me. This system is how I get paid. Therefore, I have to use "femanine" and "female" to describe a pee funnel, because that's what you type into the search bar the most.
My hope is that you can pause for just a second and remember, that just because I'm using these words (in quotes) doesn't mean that squatting to pee is femine. All genders can squat to pee. It just means that's what's searched the most and I have to put food on my table.
So the next time you Google "female urine funnel" perhaps try putting "pee funnel" in the search bar instead. You're telling Google to be more inclusive, and we could all benefit from that.
What the Heck is a "Female Urine Funnel" Anyway?
In essence, a "female urinary device" or pee funnel is a funnel with a small tube that allows you go standing up. It's a genius invention for those who don't like to squat to pee in the woods.
You don't have to worry about a split stream, peeing down your butt, showing your butt to random strangers, splashing your feet and clothing, or any of the other horrible things that can occur when you pop a squat.
And let's be honest, it's really fun to spell your name with your own pee in the snow. Imagine doing that while hovering above the white, fluffy cold stuff! Hmm, maybe I'm on to the next YouTube fad…(kidding friends!)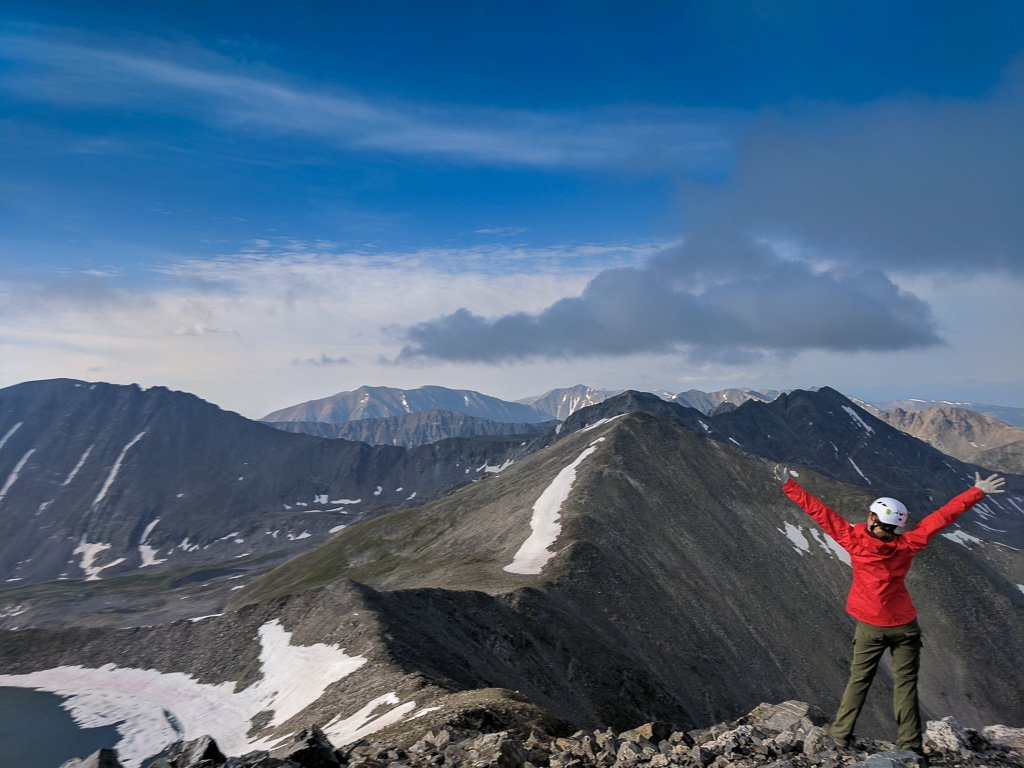 What Fabulous Features to Look for When Purchasing Your "Female Urinary Device"
When I carefully pulled the various knick-knacks out of my stocking over Christmas several years back, I was thrilled to see a Sani-Fem Freshette pee funnel at the bottom.
Not kidding, I have been dropping obvious hints about this for several years to my now fiance. Of course, this was the real reason I decided to say "yes." He simply gets me.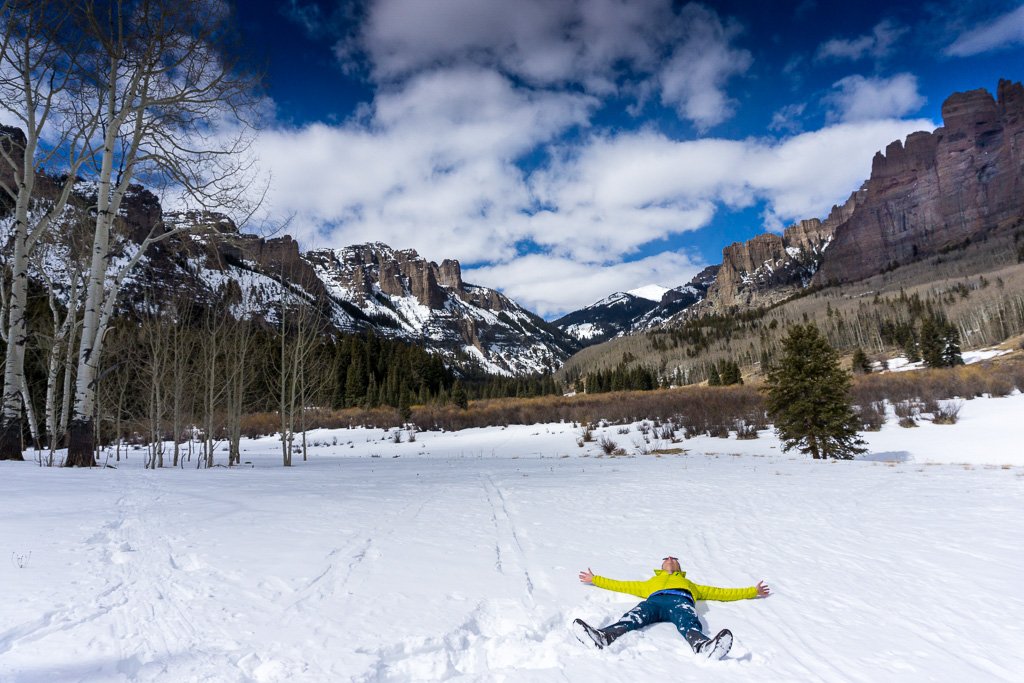 After using the Freshette and speaking with a few of my mountain pals who also use pee funnels informed me that he made the correct choice.
There are a lot of different products on the market, and the Freshette stands out for several reasons.
You want a device with a hard-plastic funnel. This ensures a good seal between you and the device. I have never encountered any leakage with the Freshette.
You also want to make sure it can collapse easily for quick, compact storage. The Feshette isn't the most compact, but it's never been in the way either.
Shape also plays a role in finding your perfect pee funnel companion. I prefer a wider funnel, simply because it won't fill up too quickly and I don't have to hold back if I really need to go.
But the Freshette isn't for everyone. Some people love the pStyle, or the Tinkle Bell and others swear by their Go-Girl.
My advice? Look for something that compliments your shape and style. We are all different, and that's AWESOME.
Free the Pee: Tips for First-Timers
Actually getting yourself to pee while standing up takes a bit of practice. All of your life, you have been taught that this will end in disaster. My first time gave me stage fright, but after one use I was completely hooked.
Keep the seal between your body and the pee funnel tight. Don't cut off circulation, but a firm hold helps! Be sure the tube is pointed in an upside-down banana shape (like a U), this will keep the stream pointed outward and not towards your toes.
Oh, and always aim with the wind (speaking from experience on that one!)
For the first few times, feel free to put your pants at your ankles like a toddler. Once you've got the hang of it you can easily make moves with your pants on and bum fully covered. I can use mine easily with a climbing harness on, which is a real time-saver.
Lastly, when you're finished scoop up any drips by sliding the "female urination device" past your holes. Be gentle, it can hurt if you're harsh.
Toss the pee funnel away from you as you pull it across so any excess doesn't dribble on your clothing. If you're lucky, you won't even have to wipe. Seriously, it's the best thing since Lizzo!
Confession: Leveling Up
One time, I was camping alone in my teardrop camper in Utah. It had been really rainy, which made for a muddy situation.
The thought of rolling out of bed in the middle of the night to tinkle and caking my shoes in mud, then beating the mud off of them before I put them back in the camper sounded awful.
So I tried something bold. I thought I could stand on my knees on the mattress and pee out the window. Advanced topics!
But I had seen cis men do worse things, so I thought, how hard could this be? Well, it was a complete disaster and let's just say I had to change my clothes…EWWWW!
Pairing a Pee Funnel with a Pee Cloth
Since dragging around toilet paper can be a total drag for us women, consider switching to a pee cloth. Kula Cloth makes these amazing anti-bacterial pee clothes that make using a pee funnel a breeze!
Step one, use your pee funnel.
After you wipe by your body with the funnel, hold your underwear out from your waistline and give a wipe with the Kula Cloth (use the super-absorbant, odor/bacteria/microbial-resistant black side of the cloth) for added dryness.
Simply clip the Kula Cloth to your pack and hike on! They come in all sorts of fun designs, or a plain black one for a more discrete look. I take mine everywhere, from high on rocky cliffs, backpacking, even overseas travel!
Keeping Your Pee Funnel Clean and Sparkly is a Breeze
The backcountry can be a dirty place, there's no doubt about that. Many folks are grossed out by bodily functions. You aren't one of them. After spending any amount of time in the outdoors living off of high-fat foods and salt without a shower, your definition of clean changes.
I keep my "woman's pee funnel" wrapped up so it stays nice and protected. I wrap it in a bit of cloth or an old bandana so when I'm not using it, it doesn't drip any excess into the contents of my pack.
At the end of each day, I'll pour a little bit of water through the system to clear out any residual urine. In winter, I'll simply place it in the snow for a quick clean.
Upon returning home, the Freshette gets a warm, soapy scrub down with dish soap. I take pride in my junk, even if it's plastic. I've used mine for multiple days, in dirty situations and never noticed a residual smell or buildup.
How to Use a Pee Funnel for Hiking
Hit the trails with pride this season by using a pee funnel for hiking. Pee funnels are an easy, compact, lightweight item to carry, making it the ideal hiking companion.
Keep your pee funnel in a handy spot, so it's easy to reach when nature calls. Simply step off the trail 70 adult steps and use your pee funnel while hiking.
You don't have to pull your pants down, which gives you added protection and privacy. I find I love my pee funnel for hiking most in bad weather or when I'm roaming solo.
The pee funnel lets me feel more protected when I'm out on a solo hike since I don't have to feel like a stranger may sneak up on me.
Using Your Pee Funnel for Travel
It turns out that packing a pee funnel is an excellent choice for your next vacay. For road trips, a "female urination device" makes a fabulous companion for unexpected roadside stops.
Say goodbye to icky toilet seats and suspect public bathrooms. I took my Freshette with me on a Southwest road trip and even on my recent trip to Sri Lanka. Trust me, I was glad to have my handy pee funnel when I really had to go on a moving train (no one wants to hover over that mess)!
There you have it. An honest look at pee funnels.
Honestly, the ability to stand when you pee is something our male counterparts take for granted. With this handy go-hose, you'll be able to experience a cleaner, better backcountry.
Additional Resources for Outdoor Badasses: