If you're visiting Moab, the best way to experience the magic of the desert is to check out the BLM camping in Moab.
Imagine waking up in the heart of red rock country. Surrounded by beautiful sandstone cliffs and winding desert rivers. Oh ya, and the night sky is unmatched. It's simply magic. Camping absolutely must be on your list of things to do in Moab.
Moab's home to excellent desert camping, however you need to know where to look. Finding the best camping near Moab takes an expert – especially if you're interested in BLM camping.
For the best advice on BLM camping in Moab, you've come to the right place. I'm a desert expert. Each year, I come to Moab multiple times and unless it's winter – you'll find me in a tent, teardrop camper, or sleeping in my car at one of the many Moab campgrounds – specifically the BLM variety.
As a resident expert I know the ins and outs of camping near Moab. So if you're looking to visit Moab like a local, not a tourist, then you're in the right spot!
About This Guide to BLM Camping in Moab
Inside this guide to BLM camping in Moab you'll find expert advice about:
The rules for BLM camping near Moab, Utah,
Expert advice for Moab campgrounds
Where to find free camping near Moab
Camping at national and state parks
Private campgrounds in Moab
Additional Moab planning resources
Rules for Camping Near Moab
When you're camping in and around Moab, it's important that you know and follow all the rules and regulations of the area to protect the land and access to it. First and foremost, in the town of Moab and within 20 miles of city limits, camping is only allowed in developed campgrounds.
Outside that radius, you are allowed to dispersed camp in primitive sites. When looking for a site, make sure your vehicle can handle the rough dirt roads, which can become impassable when it rains.
You should always follow standard Leave No Trace rules, and be sure to pack out everything that you pack in, but camping in the desert also has some special rules and considerations to be aware of. Be sure to bring your own water – and plenty of it.
Gathering firewood is prohibited, so buy some nearby (and check updated fire regulations during your visit). And you have to carry out human waste, which means you can't just dig a cathole to bury your poop. Bring WAG bags instead.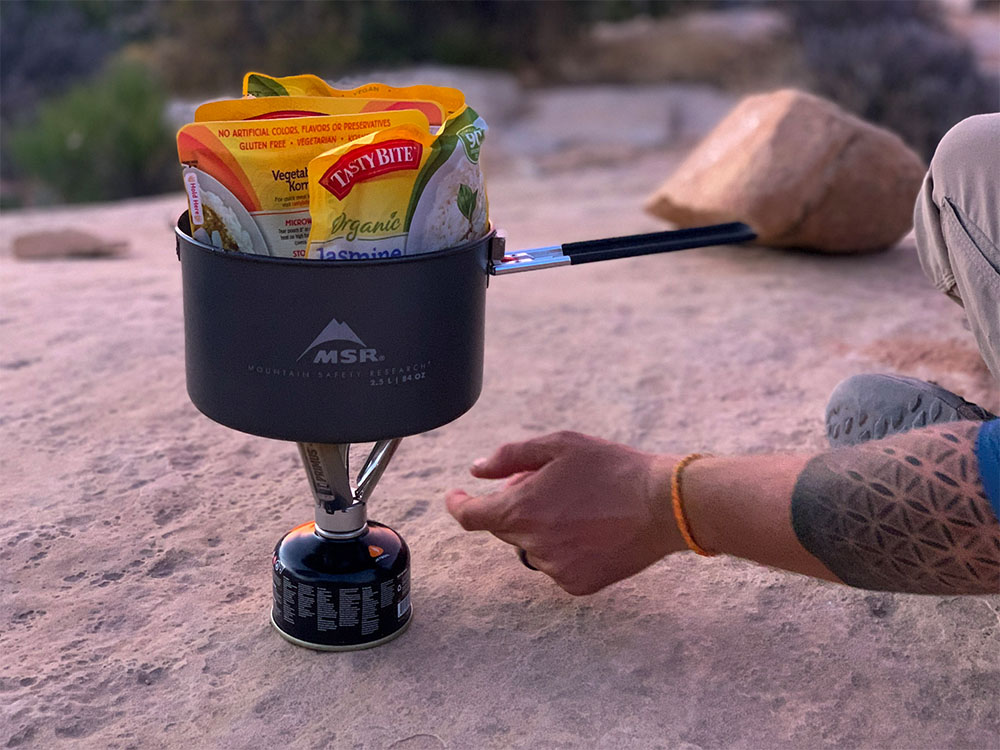 BLM Camping Moab
So where can you BLM camp near Moab? You will find a ton of BLM campgrounds around town, all of which are available on a first-come, first-serve basis. Each site is $20/night (except Sand Flats which is $15/night per vehicle).
Here is a complete list of established BLM campgrounds near Moab:
Highway 128
There are 12 BLM campgrounds along Highway 128, including Goose Island and Big Bend campgrounds along the Colorado River right near Arches. Farther out of town, Fisher Towers campground offers views of the iconic sandstone formations.
Total Sites: 163 (plus 14 group sites)
Kane Creek Road
You'll find 4 BLM campgrounds along Kane Creek Road. You can camp along the river at Kings Bottom campground, which is conveniently close to Moab. Hunter Canyon and Ledge campgrounds are farther out of town.
Total Sites: 140 (plus 3 group sites)
Highway 279 (Potash Road)
Some of the most sought-after campsites in Moab are in the 3 BLM campgrounds along Highway 279 aka Potash Road. Jaycee Park campground is right next to the river and just steps away from the popular Moab climbing area of Wall Street or hike to Corona Arch.
Total Sites: 33 (plus 4 group sites)
Highway 313
The 3 campgrounds along Highway 313 are great if you want to be close to Canyonlands Island in the Sky District or Dead Horse Point. Horsethief Canyon is the largest and most popular of these campgrounds.
Total Sites: 90 (plus 10 group sites)
Sand Flats
The Sand Flats Recreation Area features a large campground just east of Moab. The area offers excellent views and lots of great biking trails.
Total Sites: 120 (plus 2 group sites)
Local Tip: All of these BLM campgrounds have pit toilets, picnic tables, and fire rings. You must supply your own water and firewood.
Free Camping Near Moab
Beyond the developed BLM camping near Moab, you can also find free dispersed camping on BLM land in the area. These sites offer no amenities, so come prepared with all of your camping essentials. Here are a few of the most popular spots: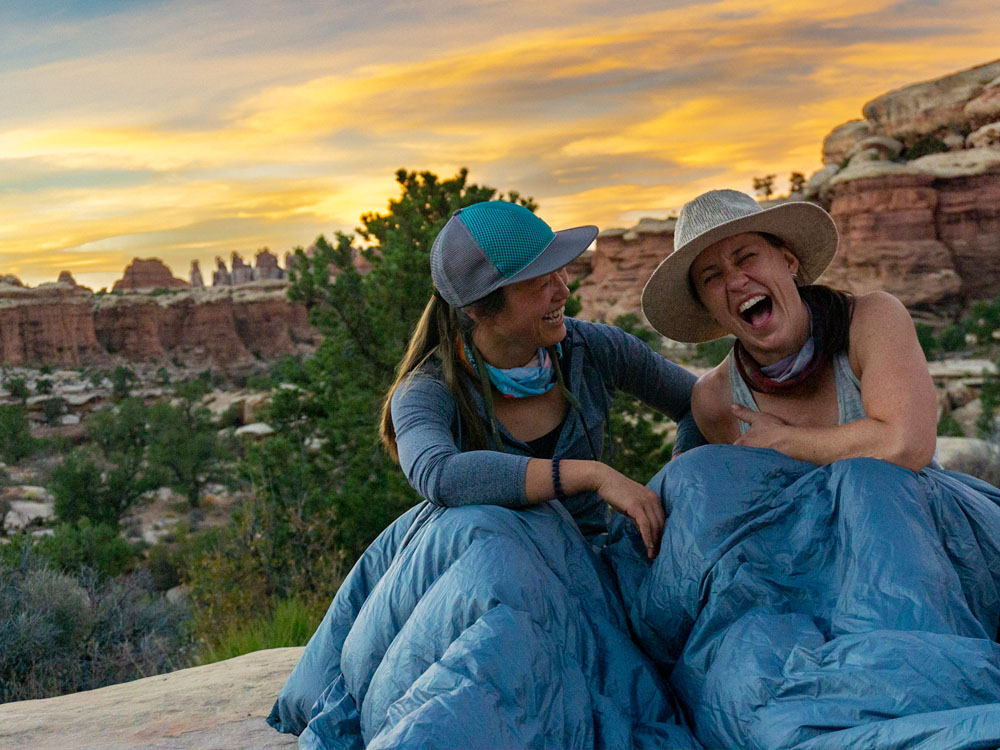 Willow Springs
Willow Springs is a very well-known place for free camping, so you won't escape the crowds here. But it is popular for good reason! It's only a short drive from Moab, and it's located right next to Arches National Park.
This means that if you can handle the hustle and bustle of lots of other campers, you'll be rewarded with views of the spectacular landscape of Arches from your campsite.
Mineral Point
For free camping close to some of Canyonlands best hikes, check out Mineral Point. Drive on BLM 340 past the developed Horsethief Campground, and you'll spot plenty of sites that have been cleared and can be used for dispersed camping.
Manti-La Sal National Forest
The National Forest south of Moab is an awesome place to find free camping. The forest environment of the La Sal Mountains feels quite different than the desert terrain in the rest of Moab. It also provides cooler temps if you can't take the heat.
While you'll start seeing free campsites soon after you enter the forest, keep driving for a while to find the best spots, with better views and fewer people around.
Lone Mesa
Take Highway 313 west of Moab, then turn onto BLM 137 to find lots of free camping. There is a developed group site at Lone Mesa, and after that, the road splits into BLM 137 and BLM 140. Either direction will have dispersed sites, and even if it's busy, you should be able to find a spot eventually.
Camping in National & State Parks Near Moab
Another option for camping in Moab is in the national and state parks nearby. Arches and Canyonlands National Parks both have developed campgrounds, as does Dead Horse Point State Park.
If you can snag a spot, these campgrounds make a perfect base to explore some of the best hikes in Moab.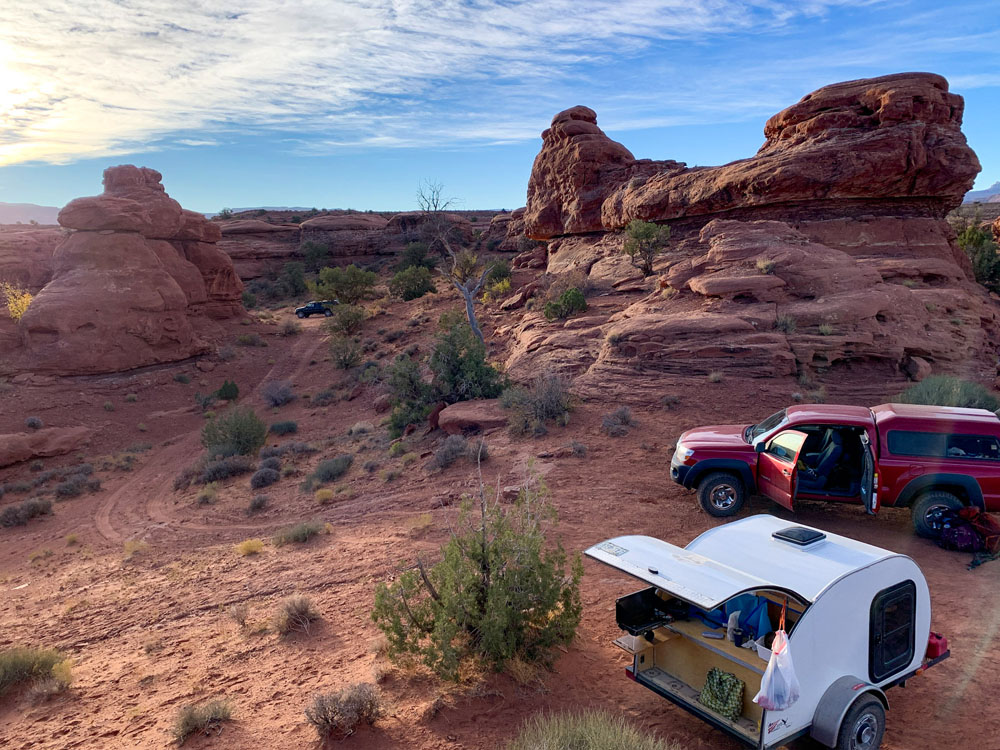 Arches National Park
Devils Garden Campground in Arches National Park has 51 extremely coveted campsites. The sites can be reserved 6 months in advance from March 1-October 31, and are available on a first-come/first-serve basis the rest of the year.
Canyonlands National Park
Willow Flat Campground in the Island of the Sky district of Canyonlands features 12 sites available on a first-come, first-serve basis. The Needles Campground offers 26 sites (plus 3 group sites), with some available by reservation during peak season, and the rest on a first-come, first-serve basis.
Dead Horse Point State Park
Wingate Campground offers 31 reservable sites, 11 of which are hike-in only and closed in winter. Kayenta Campground features 21 campsites that can be reserved.
Private Campgrounds in Moab
If you want to camp right in downtown Moab, you will need to reserve and pay for a site at one of the commercial Moab campgrounds. Here is a list of options:
Slickrock Campground (50 tent sites, 14 cabins, 80 RV sites)
Moab KOA (26 tent sites, 48 cabins, 134 RV sites)
Moab Valley RV Resort & Campground (40 tent sites, 35 cabins, 63 RV sites)
Dowd Flats RV Park & Campground (40 tent sites, 25 RV sites)
Moab Rim Campark (25 tent sites, 13 cabins, 26 RV sites)
Pack Creek Campground (16 tent sites, 33 RV sites)
ACT Campground (19 tent sites, 21 RV sites)
Up the Creek Campground (18 tent sites, 4 cabins)
Additional Resources for Visiting Moab
Planning a trip to Moab? Get expertly-curated advice and visit this amazing location like a seasoned pro.
PIN THIS POST