As the year comes to a close, you may still be dreaming about amazing outdoor landscapes and no place delivers quite like Moab in November. The busy season is winding down in this desert basecamp, and that means you'll get all of the incredible scenery without hordes of people.
November in Moab may just be the best time to visit. You can still get warm, sunny days, but you don't have to contend with throngs of tourists.
I have been visiting Moab and the surrounding area four to five times a year for the past 10 years. I've done it all and I still come back for more. Visiting Moab in November happens to be something I do every year. We'll get to why in this post.
This is the expert resource if you want to visit Moab like a local, and not a tourist.
About this Expert Guide to Moab in November
Inside this expert guide to visiting Moab in November you'll find up-to-date-resources on:
Weather in Moab in November including info about snow
How to get to Moab
Things to do in Moab in November including events you'll want to check out
In-depth info about visiting Moab's national and state parks in November
Where to stay
Camping in November
Additional Moab resources
Is November a Good Time to Visit Moab?
YES! Besides October, November is the best time to visit Moab if you're willing to trade crowds with cooler temperatures.
Temperatures are a bit cooler than the coveted October month, but the crowds are much thinner. This means less competition for entering parks, cheaper lodging prices, and an easier time getting permits. The weather becomes a bit less predictable as the month goes on, but November is still one of the best months to visit.
Pro Tip: I come to Moab every year and fall is consistently better than the spring. The wind is typically less intense, temperatures a bit warmer, and there's less chance of precipitation.
Is Moab Busy in November?
The crowds are starting to thin for the year in November, especially later in the month. You'll see a lot of seasonal stores and eateries start to close near Thanksgiving. The timed entry system for Arches is gone. And generally things start to wind down and have a more local feel.
Moab Weather in November: What to Expect
November is technically a shoulder season for Moab – mostly because temps can and do dip below freezing at night – but that shouldn't stop you from visiting.
Temperature
Expect a sharp dip in the temperature throughout the month of November.
The beginning of the month daytime highs are around 61 degrees Farenheit with lows around 38 degrees. By the end of the month the average high is 46 while the low is around 27.
Pro Tip: If it's sunny and not windy, the temperatures generally feel about 10 degrees hotter in the sun – this is because the nearby rock absorbs heat and reflects it back into the surrounding air.
Precipitation
November tends to be a pretty dry month in Moab. Expect between 0.7 to 1.6 inches of rain throughout the month. As the month wears on, the chances of rain decrease.
Typically the weather in November in Moab sees a half day or day of rain – typically on the lighter side – instead of the monsoon pattern you see during the summer months.
These storms usually bring snow elsewhere, but it can (and has) snowed in Moab in November! The nearby La Sal Mountains will get snow instead of rain.
Cloud Cover
You'll see a bit more clouds in Moab in November than in other months. Typically cloud cover ranges from 35-65% most days, but you'll still get plenty of clear skies.
Puffy clouds make for great photography opportunities throughout the day, getting rid of that flat mid-day light. But it can impede star viewing, which is best in the spring and summer months.
Does it Snow in Moab?
It sure does! There's nothing quite like seeing Moab dusted in snow. It's rare to get a big snowstorm, and even more rare for it to snow in November. Moab in the winter does see the white fluffy stuff!
How to Get to Moab
There are two main ways to get to Moab – either driving in from the north via Highway 191 or the South from Highway 191.
Drive times from nearby areas are as follows:
Denver to Moab: 5 hr 45 mins
Salt Lake City to Moab: 3 hrs 45 mins
Grand Junction: 1 hr 46 mins
If you're arriving by air, you can fly directly into Moab, or fly into Salt Lake City (cheaper) and drive.
Things to Do in Moab in November
There are a lot of amazing things to do in Moab throughout the year. But November is the best time for exploring on foot, by bike, or even renting a 4×4 vehicle.
Spend the Day in Arches National Park
Arches National Park is one of the top attractions in the area. What makes Arches National Park great – aside from the namesake arches – is the fact that the park's main attractions are really accessible.
Visiting Arches in November is an awesome option because the timed entry permits (April through October) are no longer required.
If you're looking to spend the day in Arches National Park, be sure to check out these highlights:
Delicate Arch for sunrise to beat the crowds
Drive the Arches Scenic Drive
Visit Landscape Arch and continue on to hike Devil's Garden if you're up for the challenge
Hike Park Avenue
Windows Section and Double Arch for sunset
Scramble in the Fiery Furnace (permits required)
Is November a Good Time to Visit Arches National Park?
November is one of the best times to visit Arches National Park if you want fewer crowds and don't want to contend with the timed entry system. Personally, I love visiting Arches in November through early March because there are far fewer crowds.
You may even find you have some of the most popular trails to yourself. We visited Delicate Arch on Christmas and there was hardly anyone there – I didn't even edit people out of my photos.
Visit Canyonlands National Park in November
Canyonlands National Park has a special place in my heart. In terms of variety, this park has endless options and in my opinion, some of the best permitted adventures in the entire national parks system.
November is one of the best times to visit – especially earlier in November if you're overlanding or backpapacking.
The park has 3 distinct districts, two of which are accessible as a day trip from Moab.
Island in the Sky (Closest to Moab) in November
The Island in the Sky District is the most accessible area of the park from Moab (only 45 minutes away). It's the best spot to go if you like to enjoy views without too much hiking or effort.
If you're jockeying for space at Mesa Arch for sunrise, you won't have as many people to contend with. Or a super-early alarm compared to the summer months.
Be sure to visit the Grand View Point for some stellar desert views.
Intrepid travelers should get an advanced permit for the White Rim Road – best done in at least 2 nights.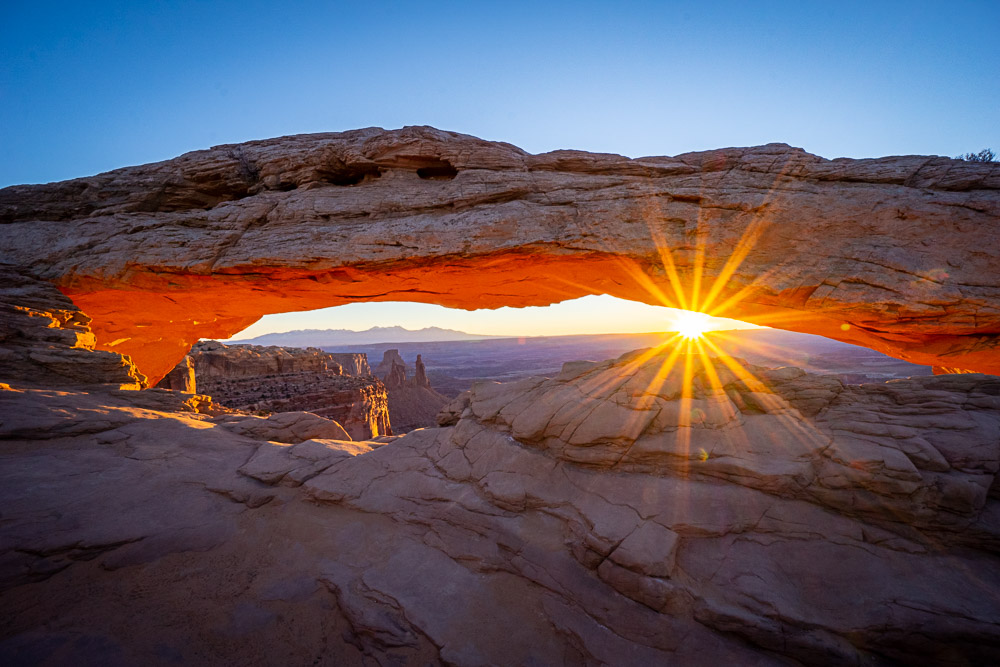 The Needles District in November (1 hr 40 min drive from Moab)
The Needles is the backpacking and hiking section of Canyonlands. November is an excellent time for either of these two options.
Hiking options range from a few miles to long 20-plus-mile loops. The terrain offers adventures for all abilities. Just be prepared because services are limited.
Chesler Park, Druid Arch, and Elephant Canyon are popular hiking options with exquisite backcountry campsites (permit required for all backcountry overnights).
Pro Tip: If you're backpacking in the Needles, earlier in the month is best. Permits go quickly, so you'll need to make advanced plans.
The Maze (4 hours from Moab one-way)
Okay, so the Maze District of Canyonlands is worth mentioning, but it's more of a trip unto itself. First, you can only access this remote section of the park with an advanced permit and a 4×4 vehicle. It's an overlanding and cross-country desert backpacking mecca.
Most people will want at least 2 nights in the Maze and need to be proficient enough at desert camping to carry their own pack-it-out toilet system as well as be skilled enough at offroad desert driving to rescue themselves.
Check out the Moab Giants Museum – Great for Kids
Home to dinosaur tracks and petroglyphs, the Moab Giants Museum is a must-do for families. My daughter loves to look at the big dino sculptures while we contemplate the unique and incredible history of the area. One day she'll get it haha.
November is an excellent time to visit this park because of milder temperatures.
Go for a Hike or Trail Run
There are countless amazing hikes in Moab. November in Moab is excellent for hiking because daytime temps won't scorch your body (and ego). Trails are typically less crowded which is an added bonus. You'll still need to be prepared for a desert hike, but the milder weather makes the challenge much more manageable.
A few of my all-time favorite hikes include:
Grand View Point in Canyonlands
Delicate Arch in Arches
The Joint Trail in Canyonlands
Devil's Garden in Arches
Fisher Towers
I love trail running in November since heat exhaustion is a lot harder to come by! Almost any trail can be a running trail, just remember that obstacles like slick rock and deep sand are commonplace!
Catch a Sunrise or Sunset at Dead Horse Point State Park
Dead Horse Point State Park sits about 30 minutes from downtown Moab atop an incredibly scenic mesa. The point juts out, giving you uninterrupted 180-degree views of the vast canyon system below.
What makes Dead Horse Point State Park so great is that there are plenty of easy, family-friendly options for recreation.
Hike some of the easy rim trails or enjoy some of the best beginner mountain biking trails in Moab. There are even some really cool yurts you can reserve in advance for an extra special adventure!
Biking in Moab in November
November is an excellent time to hit up the single-track at this world-famous mountain biking destination. My brother-in-law is a big-time rider and he's in Moab throughout November. Again, trails tend to be a bit less trafficked.
If you're hesitant or want to try mountain biking, November is a great time to book a mountain biking tour of Moab.
Here are a few top recommended areas:
Dead Horse Point State Park (beginner)
Bar M (beginner)
Klondike Bluffs (beginner/intermediate)
Klonzo (intermediate)
Mag 7 (intermediate)
Amasa Back (expert)
Moab Brand (expert)
Can You Mountain Bike in Moab in November?
You sure can! If you have your heart set on the Whole Enchilada, you might be a bit disappointed, since the trails in the La Sal Mountains will be closed for the season. But if you're after some desert single track, there is enough here to keep you occupied for a lifetime!
Backpacking near Moab in November
If you're still itching to sleep out in the backcountry, then backpacking near Moab in November is an excellent option. However, unless you have a 4-season sleeping bag, you will want to book your trip in the first 2 weeks of the month for the best weather.
The Needles offers some of the best backpacking in the American Southwest, so start your search here. The trails here give an great introduction to desert backpacking (it's own special kind of suffering) and the camp sites are out of this world!
Almost all backpacking excursions require a permit in the Moab area, so do your homework to plan in advance!
Pro Tip: Expect and plan to water carry regardless of your route – the desert is driest in the fall months.
Go for a Scenic Drive
Don't fancy getting out of your vehicle to enjoy the views? Then you're in luck because Moab's scenic drives are a great November activity.
Moab is world-famous for dirt road and 4×4 routes, so a lot of drives do require a 4WD vehicle with clearance, but a lot don't!
A few of my favorites to check out include:
Arches Scenic Drive
Gemini Bridges Road (4WD, high clearance)
Long Canyon (4WD, high clearance)
Thelma and Louise Point (4WD, bumpy)
Upper Colorado River Scenic Byway
Enjoy a 4×4 Adventure
If you want to tackle some of the most incredible 4×4 roads in the world, then look no further than Moab. Again, November is a great time to tackle these icons. No Jeep Safari Week-level crowds, no oppressive heat, and plenty of unreal, rugged adventures to be had!
Don't have a Jeep? November is one of the best times to enjoy one of the many Moab Jeep tours. Or you can even rent a side-by-side and hit the trails yourself.
Photography in November
November provides for plenty of excellent photography opportunities throughout the Moab area. What I love the most about photographing Moab in November is the shorter days. This means you won't have to wake up (or stay up) for ungodly hours to get those golden hour shots.
A couple of amazing photography spots include:
Thelma and Louis Point (photo below)
Delicate Arch (I personally prefer sunrise, really under-rated)
The Windows and Double Arch – Arches National Park
Grand View Point (Canyonlands)
Druid Arch (Canyonlands)
La Sal Viewpoint (Arches)
Dead Horse Point (at the end of the road in the state park)
Stargazing in Moab in November
If you never really see dark skies, November in Moab provides a good time to check out the cosmos. The crisp, clean air gives you plenty of direct access to the skies. However, I personally think stargazing is better in the late spring in Moab simply because the Milky Way is in a better position.
The Milky Way isn't out in full force during the fall months, so the skies aren't quite as impressive. But if you don't get an opportunity to stargaze with very little light pollution, it's worth it to check out the skies during a new moon.
Rock Climbing
Did someone say sending temps? November is an excellent time hit up the splitter cracks of nearby Indian Creek or to climb one of the many towers in the area.
Rock climbing in and around Moab is notoriously challenging, with the big exceptions being Wall Street and Ice Cream Parlor. There are a few unique adventures, such as rappelling off of Looking Glass Rock, that are definitely a fun novelty!
If you're looking to finally send your project, November is a great time to check that route off your list! If you want to try rock climbing or tackle a bigger objective, there are several options to hire a rock climbing guide (check out the Mountain Guides, ask for Holly, she's rad).
Festivals and More
Moab has more than one festival going on in November. As the town shifts into more of a local vibe, there are a few events that you'll want to check out:
The Craggin' Classic. This rock climbing festival takes place at Indian Creek on a semi-regular basis. Sponsored by the American Alpine Club, it's an excellent opportunity to learn some new skills and enjoy the camaraderie of the climbing community.
Moab Trail Half Marathon and More. This adventure run (with plenty of distance options) takes place at the beginning of the month.
Dead Horse Ultra. One of the biggest ultra-runs in the country, this annual event takes place at Dead Horse Point during the second week of November.
Moab Folk Festival. Enjoy local folk music and more at this early-November festival
Camping and Lodging in Moab
There are plenty of loding options when it comes to visiting Moab in November. Many of the steep prices for hotels and short-term rentals have started to subside.
Camping near Moab is certainly still an option, but you'll be better off if you have a source of heat (most BLM campgrounds do not have hookups and dispersed camping is prohibbited in and around Moab). The major private campgrounds near town may still have some amenities open.
Hotels:
Short-term rentals in Spanish Valley (usually all affordable, and not too far from the action)
Kokopelli West
Bowen Motel
The Launch Pad Bed and Breakfast
What NOT to Do in November in Moab
Alright, so there are a few things I actually don't recommend doing this time of year. Mostly becuase, it's just not the season for it. A few activities to avoid include:
Canyoneering. There are a lot of slot canyons in Utah, but surprisingly, not many near Moab. Canyoneering is possible, but honestly, it's freezing! Canyons don't see a lot of sun, so if you do decide to dive in, expect it to be quite cold and plan accordingly.
Rafting, floating, or SUPing. The water levels are at their lowest in November and the water is too cold to enjoy. Most water sports have wrapped up for the year.
Sky diving. Another frozen activity. Moab actually has one of the best sky diving centers in the country, but come November, they usually close up shop for the season.
= new InteractApp(); window[ref].initialize(params); window[ref].display(); }); })(window);