Moab is literally littered with thousands of magnificent arches, but one of the fan favorites is the Corona Arch hike.
This simple, straightforward (and short) hiking trail delivers big rewards for little effort. Since it's not located in one of Moab's National Parks, it's free to visit. And you can bring Fido – although, to be honest, I'm not sure I'd recommend that – more later.
If you're looking to fill your day with small hikes and scenic driving, then you'll definitely want to check out the Corona Arch Trail.
As a desert hiking expert (I legit get paid to write about hiking), I know how to maximize your time at Corona Arch. This well-known hiking trail can for sure be seen without many tourists, and it's my mission to get you outside like a local, not a tourist.
About This Guide to the Corona Arch Hike
This expert guide to the Corona Arch hike gives you all the insider knowledge to visit this magnificent arch. Inside you'll find:
How to find the Corona Arch Trail
Tips for beating the crowds at Corona Arch
Practical info for your Corona Arch hike
Can your dog hike to Corona Arch? (the answer may surprise you)
Tips for hiking the trail
Nearby attractions
Where is Corona Arch?
You'll find the Corona Arch Trailhead on the north side of Potash Road (one of Moab's most scenic drives), about 20 minutes from downtown Moab.
Take Highway 191 north until you reach Potash Road, hang left and drive about 10 miles until you reach a signed pullout for the Corona Arch Trailhead.
Pro Tip: As one of the best hikes in Moab, this trailhead gets BUSY. Especially on weekends after 9 am. So arrive before 9 am to beat the crowds (and the heat).
Corona Arch Hike Practical Info
Be in the know before you set out on the Corona Arch hike. Keep in mind that there is zero shade along this hike. Bring plenty of water and sun protection.
The best time to visit Corona Arch is in the morning during the spring and fall. Winter is excellent too – with very few crowds and cold temps. Avoid this hike during the day and stay away from Moab in the busy, hot, and unbearable summer months.
Mileage: 3 miles out-and-back round trip
Elevation Gain: 440 feet
Difficulty: easy to moderate
Approximate Time: 1.5 to 2 hours
GPS Coordinates:
Highlights: Slickrock walking and steep rock before the arch. You'll need to use your hands and navigate a ladder. Three magnificent arches.
Dog Friendly: Technically yes, but I don't think you'll want to take your dog.
Is the Corona Arch Hike Dog Friendly?
The Corona Arch hike is often labeled as one of the dog-friendly hikes in Moab. However, I would strongly advise against bringing your dog to Corona Arch.
We had three doggos with us when we hiked to Corona Arch and we couldn't take them to the iconic arch view. And trust me – my dog Nina can do some badass desert scrambling.
But ladders? No way.
There is a ladder, and a lot of steep rock with hand cables towards the end of the hike, right before the arch. So unless you want to lift your dog up a ladder or watch them struggle on the steep slickrock, I'd advise hitting up another trail (Dead Horse Point State Park and Hidden Valley are both great options).
Smaller dogs that can easily be carried can certainly do this hike, but any larger dog may want to look elsewhere.
You can, however, reach both Bowtie and Goldbar Arch – both are accessible from the Corona Arch Trailhead – without any issue.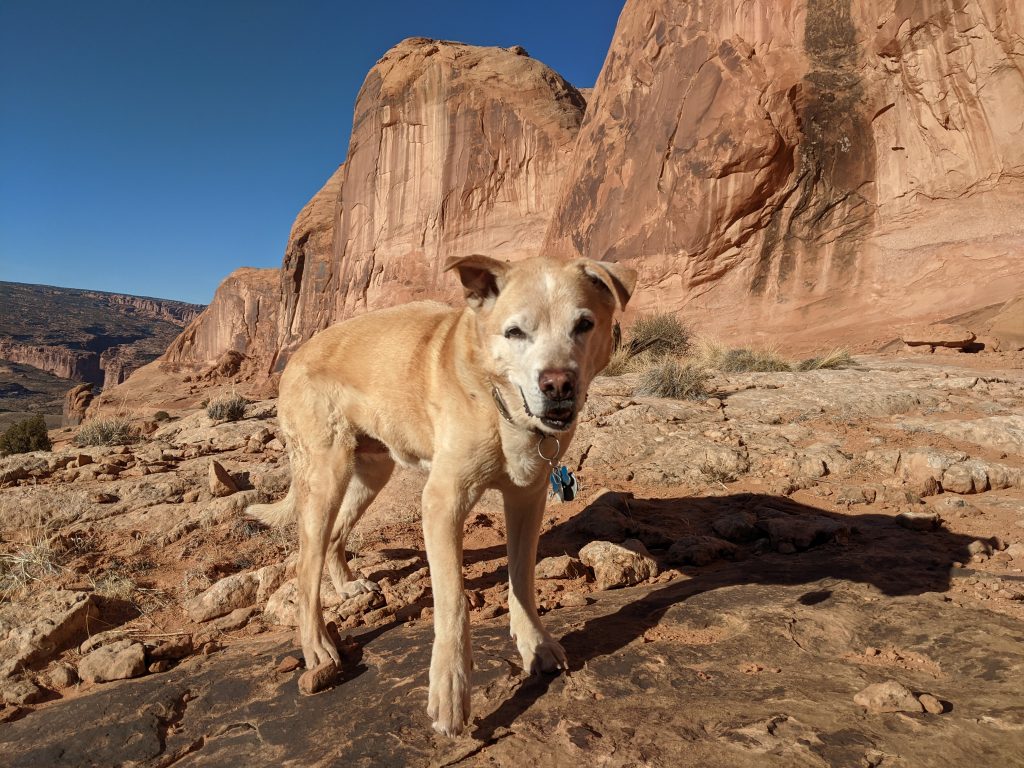 About the Trail
The trail is steep, yet easy to follow as it climbs up east towards the arch. You'll cross the railroad tracks (pay attention, these are in use) and follow the road to a slickrock gap.
Use the rock piles – or cairns – to follow the trail. There are also painted dashes on the rock.
The route steepens and you'll have a few safety cables to help you through the steep bits. Check out all the claw marks in the rock from dogs – now you'll see why Corona Arch is not as dog-friendly as advertised.
You'll pass a junction for two other arches – Bowtie and Goldbar Arch. You can opt to check those out (about 0.5 miles round trip) on the way up or back.
Next, you'll reach a second safety cable with steps carved along the rock. Eventually, you'll reach the ladder. If you've brought dogs, get ready to lift them.
From here it's a relatively short walk along a large slickrock bench to the base of Corona Arch.
Nearby Attractions
There are plenty of amazing things to do in Moab and lucky for you, you've got some awesome attractions right near the Corona Arch hike.
Wall Street – one of Moab's best rock climbing areas – is literally steps away. Just down the road, you'll find Shaffer Canyon – a super-scenic drive that brings you up the canyon to Island in the Sky in Canyonlands.
Don't forget to also visit Arches National Park and Dead Horse Point State Park for an epic time in Moab.
Additional Resources
Planning a trip to Moab? I've got you covered with these expert resources to plan your Moab getaway like a pro.
PIN THIS POST