sprawling spires of rock encompass a desolate desert landscape in Joshua Tree National Park. Know for its rock climbing, hiking, and dark skies, there are a lot of reasons to visit Joshua Tree. In this guide to visiting Joshua Tree National Park, you'll be armed with up-to-date, local knowledge.
I collaborated with local expert hiker and writer, Kristi of Indoosy Camper to get the inside scoop on everything you need to know to visit Joshua Tree National Park.
About this Guide to Visiting Joshua Tree National Park
This guide to visiting Joshua Tree National Park we'll dive into all the insider details to make the most of your Joshua Tree adventure. In this guide we'll cover: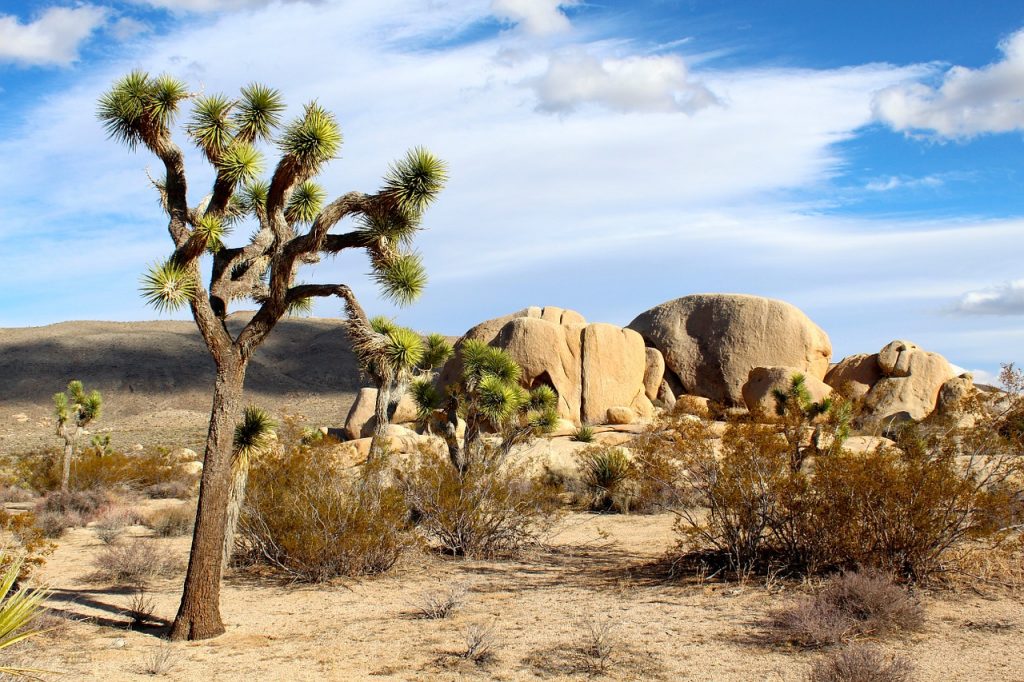 Facts Joshua Tree National Park
When it comes to deserts, Joshua Tree National Park really gives you a great bang for your buck. The park is the meeting place of two deserts, the Mojave and the Colorado Desert or "the Colorado".
While you might think that all deserts look the same, a drive from one end of the park to the other will quickly change your mind. The Colorado, also known as the "low desert" is sparse with higher temperatures, while the Mojave or "high desert" is home to branching yucca trees and massive granite monoliths.
The best hikes in Joshua Tree National Park are found in both the high and low desert areas, it really depends on what you're looking to see.
When is the Best Time to Visit Joshua Tree National Park?
If you're a hiker or rock climber the best time to visit Joshua Tree National Park is between March or April. During this time of year, you'll enjoy cooler temperatures. During a good rain year, you might even have the added bonus of seeing the desert bloom with wildflowers – wowza!
If you can't make it in the spring of October and November are also good times to visit (this is one of the most beautiful national parks for fall). Temperatures are also lower during the fall months and you'll have extra darkness for stargazing, trust me, the night sky is phenomenal in Joshua Tree.
It is a dark sky area, meaning that there is not a significant amount of light pollution from nearby towns.
How Much Does it Cost to Visit Joshua Tree National Park?
The entry fee for Joshua Tree National Park is $25 per vehicle or $11 per motorcycle. This fee must be paid each day.
If you plan on visiting the park for multiple days, you might want to consider getting the America the Beautiful Annual Parks Pass. For $80 you can enter and exit the park as much as you would like.
This pass is also good for any national park and several other national recreation areas in the United States. It's a great budget-friendly option if you're planning a road trip.
How Many Days Should I Spend Visiting Joshua Tree National Park
In my opinion, it's worth spending at least two full days in Joshua Tree National Park. This will give you time to take in plenty of hiking and drive through the entire park to really see the differences between the two deserts.
Of course, if you have more time to spend there is no end to the sites, hikes, rock climbs, and pleasant drives you can take.
Map of Joshua Tree National Park
The west side of the park is where you'll find The Colorado, while the east side sits lower in elevation and is home to the Mojave. You could spend several weeks combing through the park. Below is an image of the park layout, so you can get oriented before visiting Joshua Tree.
Getting to the Park
Joshua Tree National Park is an excellent place to stop along any California road trip itinerary, or as a stand-alone visit to the park. You'll want to spend at least two full days exploring the park's offerings. Avid climbers, hikers, and desert enthusiasts should spend some more time visiting Joshua Tree National Park.
Joshua Tree has three park entrances. The West and North entrances are accessible from Highway 62 in the town of Joshua Tree. The South entrance near Cottonwood Spring can be accessed from Interstate 10, 25 miles east of Indio. For public transit options check the Morongo Basin Transit Authority website.
Where to Stay in Joshua Tree National Park
If you're planning to camp inside the park there are plenty of options. Joshua Tree has eight campsites, Black Rock, Cottonwood, Indian Cove, Jumbo Rocks, Ryan, Belle, Hidden Valley and White Tank. Although the campgrounds are busy, you can make reservations ahead of time through Recreation.gov.
If you can't snag a reservation inside the park there are two Bureau of Land Management Disbursed Camping Areas nearby. These do not have water, bathrooms, or trash collection so make sure you come prepared. Additionally, you can find some great camping and glamping options in Joshua Tree through HipCamp.
Traveling to the Desert? Read this first:
Native History in Joshua Tree National Park
One important thing to keep in mind when visiting and hiking in Joshua Tree is that these lands were taken from Native people. The Chuilla, Chemehuevi, Serano and Mojave tribes utilized the lands of Joshua Tree for its medicine, food, and wellbeing.
Although we may just see a desolate desert, the Native people of the area thrived off of the land. There is plenty of food here, in fact over 121 plant species have been identified as being integral to Native survival on this land.
Not to mention, there are plenty of signs of civilization throughout Joshua Tree National Park. Remember, you are visiting someone's home, place of worship, and place of resources. Do not remove, touch or get close to petroglyphs, ancient ruins, pottery shards or arrowheads.
Things to Do in Joshua Tree National Park
There is a wide array of things to do in Joshua Tree National Park. Despite its remote location, you'll love the endless opportunity for exploration. Here are a few things you can't miss:
Tips for Visiting Joshua Tree National Park
Before you visit Joshua Tree, you'll want to be prepared for a real desert adventure. This area is remote, sensitive, and a little "out there." It's the perfect place for a desert escape, but be sure to keep these tips for visiting Joshua Tree in mind.
Joshua Tree is Remote
I don't say this lightly. You'll lose cell phone service before you enter the park. The nearest towns are Twenty Nine Palms (a small town just outside the park) or Indio (45 minutes).
Water is extremely scarce and you are expected to bring your own in. During drier months, it's illegal to collect water and filter it in Joshua Tree so read up on water regulations before you head out.
Don't leave home without all the essentials including a duty first aid kit, plenty of water (at least 5 liters per person per day for all of your cooking, washing, and drinking), and even an emergency beacon is a good idea.
Don't Touch the Turtles!
The desert tortoise is a super-endangered species found in Joshua Tree National Park. It's highly illegal to touch these animals since it makes the pee and loses precious water. If you're lucky enough to spot a tortoise, keep a good distance (15 – 20 feet at least) so the animal doesn't feel threatened.
Start Early or Hike Late
It gest very hot during the daytime, especially in the summer. If you're planning on visiting Joshua Tree National Park during the warmer months, consider hiking at sunrise or sunset to beat the heat. Don't forget your headlamp!
Make Reservations in Advance
Most campsites at Joshua Tree National Park are first-come-first-serve. During the climbing season, these campsites are often stuffed with vanlifers and climber bums. Avoid disappointment by making reservations in advance if you can. If you can't, then try to arrive during the week to snag a spot.
Bring Plenty of Water and Salty Snacks
The desert is a dry place. Even if the temps are hot, you'll find yourself drinking more. Bring at least 4 liters of water to drink throughout the day. Consider adding an electrolyte tab, like Nuun to your water, to replenish those much-needed salts.
You can get quite sick from drinking too much water and not enough salt. Bring tasty, salty snacks like salted nuts, jerky, salty potato chips, and pretzels to replenish your salt stores.
Watch Out for Cactus
The first time I visited Joshua Tree National Park when I was 13, I stepped on a cactus. OUCH! It was pretty painful, and those spines have tiny barbs, that like to stick into the skin and not let go.
Don't be like me. Stay on the trail and watch out for cactus leaning into the dirt paths. Always pack tweezers so you can remove the spines. Wearing pants or short gaiters also helps keep the cacti at bay.
Stay on the Trail
In the desert, life hangs in the balance. Things like cryptobiotic soil, tiny plants, bugs, and small animals all play a vital role in a healthy desert ecosystem.
Always stay on the trail to help preserve this precious landscape for others. No, your IG pics aren't worth it.
Follow the Rules and Regulations
Rule and regulations in national parks are always changing to adapt to new conditions. Be sure to follow all rules and regulations regarding trail closures, raptor nesting, waste disposal, parking, and camping.
Visit Joshua Tree National Park at Night
One of the best nights of my life was sleeping on a tarp, right under the stars, in the heart of Joshua Tree National Park. This area is a dark sky country, meaning there isn't any outside light pollution.
For photographers, the dark skies of Joshua Tree mean you'll want to bring all your favorite camera gear. For others, simply make it a point to get some time under the blanket of stars.
Overall, visiting Joshua Tree National Park should be on everyone's bucket list. This world-class national park can't be missed. So pack your bags and head out on a desert adventure this season.
Meet Kristi of Indoorsy Camper
Kristi Westberg (Pasadena, CA) is a writer, camper, hiker, knitter, and bookworm.
Her blog, Indoorsy Camper, focuses on getting outside from a beginner's perspective. She believes all bodies are strong and YOU are capable of getting outdoors. She hopes to inspire other indoorsy types to take the leap and have an outdoor adventure.
Additional Desert Planning Resources
Going to the desert? Here are a few handy resources to keep you on track: