The magic of the crisp winter air with a landscape blanketed in white simply takes your breath away. These incredible winter vacations in the US bring you the best of the snowy season.
Jam-packed with fun outdoor activities, this list of the best winter vacations in the US will give you rosy cheeks. The best part? You get to wind down next to a cozy fire at the end of the day.
About this Guide to the Best Winter Vacations in the US
I've visited 47 of the 50 states in this country and lived full-time in 8 of them. As such, I've become a bit of an expert in getting outside in the USA.
However, I can't be everywhere at once, so I enlisted the help of expert resident bloggers to bring you the best winter holiday destinations in the USA. In this guide you'll find:
An in-depth look at the best US winter destinations.
Local tips and tricks for each destination on what to see, where to go, and where to stay.
Tips and tricks for winter travel in the US
Additional planning resources
The Best Winter Holiday Destinations You Can't Miss
Put on your favorite puffy jacket and those fuzzy mittens, it's time to dive into the best winter vacations in the US. These bloggers (and myself) have an exclusive lineup of stellar winter getaways.
1. Leavenworth, Washington
By Hanna K of That Adventurer
Leavenworth makes the perfect winter vacation in the US. Situated in the Cascade Mountain Range, this Bavarian-style town will make you feel as though you've flown to Germany with its cute buildings and restaurants serving bratwurst and beers.
For outdoor activities, head to the town's ski hill to go skiing, sledding, and tubing. The Leavenworth ski hall is small, but it's perfect if you're just starting.
For bigger ski resorts in the area, try Mission Ridge and Stevens Pass Mountain Resort, both of which are easy to get to from Leavenworth.
If skiing isn't your thing you could try dog sledding or take a snowshoe hike in Lake Wenatchee State Park where there are over 45 km of mountain views to explore.
In the evening, head back to town to enjoy Leavenworth at Christmas and stroll under the 500,000 lights while listening to the carol singers and sipping on Gluhwein and enjoying the scent of roasting chestnuts. The lights stay on until February 14, so you've plenty of time to see them!
2. Breckenridge, Colorado
If you're looking for endless winter fun in a beautiful setting, then check out Breckenridge, Colorado. Home to many of the best things to do in Colorado for winter, this happening town features world-class skiing, hiking, and scenery.
Treat yourself to an epic day on the slopes at Breckenridge Resort or nearby Keystone, Arapaho Basin, and more. Home to some of Colorado's best ski resorts, there are plenty of ways to shred the pow.
For a quieter adventure, check out some of Colorado's most beautiful winter hikes. Mayflower Gulch is a personal favorite, but there are several others to choose from.
Of course, you can also enjoy grabbing a drink in town, eating at Ollies (a great post-hike snack. For a real adventure, book a stay at one of the 10th Mountain Division huts.
If you're visiting Colorado and Breck in late January, be sure to check out the magnificent International Snow Sculpture Championships. Wander these masterpieces (they are lit up at night) for a wintery day of fun.
3. Lake Tahoe, Nevada and California
Lake Tahoe sits between the border of California and Nevada. Nestled in the Sierra Nevada Mountains Tahoe is hands-down one of the best winter holiday destinations in the US.
Enjoy skiing at one of 15 ski resorts around Lake Tahoe. After you're finished, don't forget to hit up South Lake Tahoe for an apres-ski party. Or head to a cozy cabin in the quieter North Shore of Lake Tahoe.
When you're not skiing you can get a world-class massage or go for a scenic Lake Tahoe hike. Cave Rock is a must-see for sunset, while Eagle Lake features some of the best Lake Tahoe views.
There is a wide range of winter activities in Lake Tahoe. Go for a snowmobiling tour, backcountry ski, sled in Tahoe with the family, or go snowshoeing.
Stay in one of the several beautiful Lake Tahoe lodging options, catering to mostly mid-range to high-end budgets. For cheaper lodging, stay in nearby Reno or Truckee.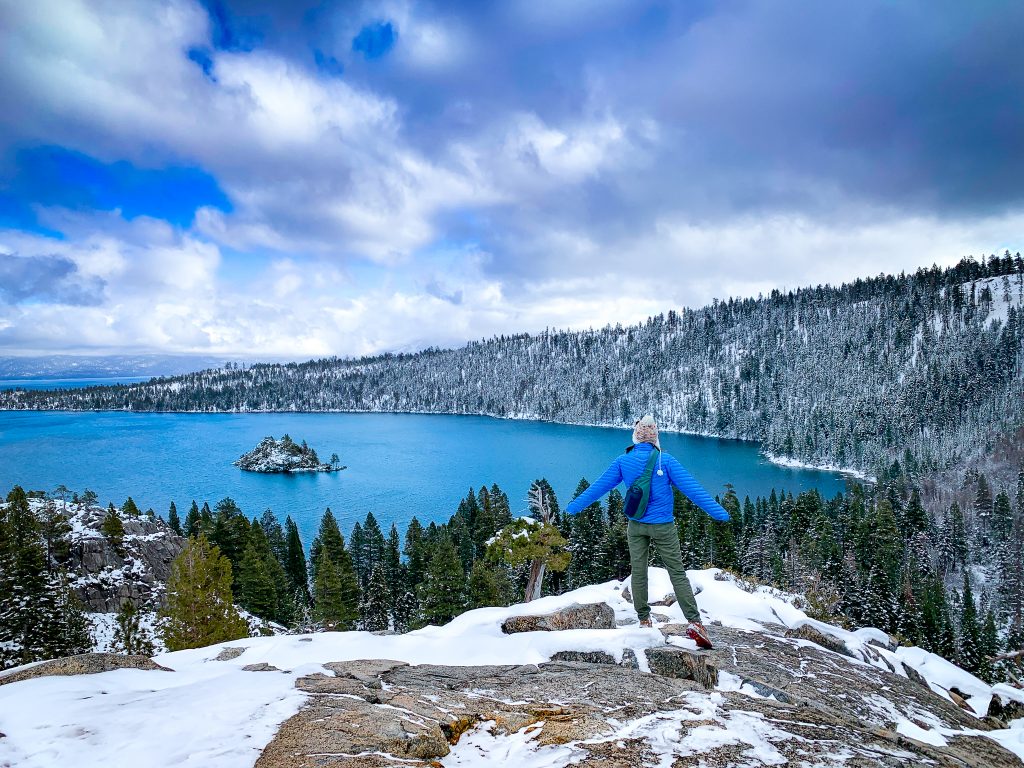 4. San Francisco, California
By Tatiana of Trip Guru
Even though many people consider California a summer destination, San Francisco is great to visit in winter for many reasons. First of all, it will be less crowded than in other seasons and accommodations will be cheaper (except around Christmas).
Second of all, nature wakes up in Northern California with winter rains, everything becomes green and the spring bloom begins. Wait, what? Flowers in winter? Do tell…
It starts with beautiful camellias in December – January and then followed by magnolias at the end of January – February. To mark the occasion, San Francisco Botanical Garden, which has lots of magnolia trees, organizes free guided walks and even concerts in this kingdom of the beautiful flowers.
Finally, winter is also the time of the grey whales' migration along the Northern California coast. December and January are great times to take a whale watch boat tour or go to nearby Point Reyes National Seashore to observe these majestic animals from shore.
Elephant seals also come to Northern California in winter, for breeding. Peak season is around January so you can kill two birds with one stone by visiting Point Reyes and viewing both grey whales and elephant seals.
Overall, there are many unique things to do in San Francisco in winter, whether you like nature, museums, concerts, or boat cruises.
5. Jackson Hole, Wyoming
By Melissa from Parenthood and Passports
Winter in Jackson Hole, Wyoming is known for its extreme skiing and snowboarding. With picture-perfect mountains and a charming town, Jackson Hole is one of the best winter vacations in the US.
Often billed as one of the most challenging ski resorts in the United States, Jackson Hole Mountain Resort has plenty of rugged terrain, steep slopes, and dangerous drop-offs.
But if visiting Jackson Hole with kids, the ski resort actually has a world-class ski school that caters to each skier's or snowboarder's unique age and ability level.
Beyond spending time on the slopes, there are plenty of other things to do in Jackson Hole during wintertime. From snowmobiling on the Continental Divide to sleigh rides past herds of wild elk at the National Elk Refuge, Jackson offers outdoor-lovers a true adventure.
With scenic snow-capped mountains and plenty of winter sports and activities, give yourself at least 4 days in Jackson Hole.
If you plan to hit the slopes on multiple days, stay in Teton Village at the base of the ski resort. But if you want to partake in a variety of other winter activities, stay in a hotel, like The Wort Hotel, in the Wild West town of Jackson.
6. North Conway, New Hampshire
By Nichole from Nichole the Nomad
One of the best places for a winter holiday in the US is North Conway, New Hampshire. The small mountain town is known as one of New England's top ski towns and has something for everyone, including skiing, ice climbing, and snowshoeing.
You could spend a week exploring North Conway, but 2-3 days is the perfect amount of time for a winter getaway.
Because North Conway is in the heart of the White Mountains, it is near five ski resorts. Woohoo!
Bretton Woods is the largest ski resort in New Hampshire, offering 62 trails on 464 skiable acres, and is known as one of the top New England ski resorts.
On a clear day, Bretton Woods offers incredible views of the tallest mountains in New Hampshire. On top of being an incredible place to ski, Bretton Woods has one of the most extensive trail networks for cross-country skiing and snowshoeing on the east coast, with over 60 miles of trails.
Experienced backcountry skiers can take on the challenge of hiking and skiing the tallest mountain in the Northeast, Mount Washington.
Extreme skiers and snowboarders from all over the world travel to New Hampshire every year to conquer the infamous Tuckerman Ravine. The massive glacial cirque reaches up to 60 degrees and is known to be the birthplace of extreme skiing.
Whether you want to ski the weekend away or snowshoe up 4,000-foot mountains, North Conway, New Hampshire, is a perfect place for a winter getaway for all outdoor enthusiasts!
7. Killington, Vermont
by Anna C of Stuck on the Go
When many people think of the top ski destinations in the US they think Colorado, Utah, maybe even California. But for those on the East Coast, Killington Resort in Vermont is one of the best US winter destinations.
Killington is one of the biggest ski mountains in the east and has plenty of terrain for any level of skier or snowboarder. They also have a great lesson program if you're a beginner snowboarder or skier.
If you aren't a skier then no worries, there are plenty of other winter activities like snowshoeing, dog sledding, or tubing.
Killington Resort offers multiple options for snowshoe tours and their tubing park is open late December to late March weather permitting. Dog Sledding can be booked through Braeburn Siberians.
There are many places to meet and eat on the mountain so you can still spend time with your group. Don't miss the Clubhouse Grill at the bottom of the mountain or Peak Lodge at the top. For off-mountain dining, you must visit the iconic Wobbly Barn Steakhouse.
If you're on a budget then check out the Mountain Sports Inn for accommodation. The rooms are clean and they have an incredible breakfast that's included in the price. If you're willing to splurge then try the Killington Grand Resort Hotel or Snowed Inn.
8. Flagstaff, Arizona
by Alanna of Periodic Adventures
Arizona is known for its intense heat and desert climate. However, nestled in northern Arizona, you'll find Flagstaff, a mountainous college town and stopover point for Grand Canyon visitors.
Here you'll find incredible seasons where the winter rivals the amazing fall season in Flagstaff! In winter, the Flagstaff pine trees and mountains become blanketed in snow!
Top activities include skiing and snowboarding at Arizona Snowbowl, Flagstaff's ski resort. Grab a sled, pull to the side of the road while driving up to Snowbowl, and go sledding!
Be sure to pick up your used sled and any plastic that may have broken (it's a common problem in Flagstaff in winter). You can even go cross country skiing or snowshoeing on trails up on the mountain.
Stay in the Drury Inn & Suites near Northern Arizona University for a central location to downtown Flagstaff, the university, and the mountains. Alternatively, check out Nordic Village Arizona for unique yurt and cabin stays in the Coconino National Forest north of Flagstaff.
Flagstaff makes for the perfect weekend getaway from Phoenix, or to take a break on your Southwest road trip before heading to the Grand Canyon or up to Page, Arizona for Antelope Canyon and Horseshoe Bend.
Related: 11 Mega Epic Views of the Grand Canyon You Need to Visit
9. Winthrop, Washington
By Adria of The Emerald Palate
Winthrop, Washington is one of the best winter destinations in the USA for people who love outdoor activities.
It's a historic town from the late 1800s that gets approximately 60 – 90" of snowfall a year and is surrounded by more than a million acres of forest. As a result, it has the largest groomed cross country skiing trail network in North America, clocking in at 120 miles.
The ski trails are divided into 3 areas: the Mazama Trails, Sun Mountain Trails, and Rendezvous Trails. The Rendezvous Trails are for more experienced cross country skiers, but the others are good for all skill levels. Kids under 17 ski free every day and even furry friends can access 35 miles of trails.
While Winthrop is best known for cross country skiing, downhill skiers can try Loup Loup Bowl ski resort. Other winter activities include the Winthrop Ice Rink, fat biking, snowshoeing, and snowmobiling.
Besides outdoor recreation, one of the most interesting things to do in Winthrop, WA is the hot air balloon roundup. Every March the snowy landscape is dotted with colorful hot air balloons. There's also a balloon glow event at night, where hot air balloons are blown up right in the middle of downtown Winthrop.
Since it's about a 4-hour drive from Seattle, Winthrop is perfect for a long weekend trip of 3-4 days. If you prefer more traditional lodging, try Sun Mountain Lodge, which offers family-friendly activities like horse-drawn sleigh rides. For a more unique experience, rent one of the Rendezvous Huts you can ski between or book one of the Rolling Huts.
10. Moab, Utah
Winter is a wonderful time to visit the adventure capital of the American Southwest. Featuring two national parks (Canyonlands National Park and Arches National Park), Moab is one of the best winter vacations in the US.
From Moab's most scenic hiking trails to wonderfully scenic Moab drives, there is a lot to do in Moab during the winter. The best part is that the crowds of spring, summer, and fall are long gone and lodging becomes much more affordable.
Visit the beautiful Dead Horse Point State Park for sunset. Enjoy sweeping canyon views and the snow-capped La Sal Mountains in the distance.
Or catch a sunrise at Delicate Arch and Mesa Arch. The crowds are a fraction of what you'd see during the summer, so don't miss your chance for solitude.
Don't let the desert fool you, it's quite chilly in Moab during the winter, so bring plenty of warm layers and a thermos to store some hot cocoa or tea while you are out and about.
If you're lucky, you'll get to see the desert peppered in snow, a real treat that's utterly jaw-dropping! Just be aware that if roads are muddy, they often become impassable so be prepared.
Psst…Learn more about visiting Arches National Park in winter.
11. Upper Peninsula of Michigan
by Emily of Em's on the Road
If you want to escape to a true winter wonderland without the price tag of going out west, the Upper Peninsula of Michigan is the place. The U.P. is the snowiest place east of the Mississippi River and averages around 200 inches a year or more.
There's a misconception that the U.P. is closed in the winter but that couldn't be further from the truth. There are hundreds of miles of cross country ski, Fat Biking, and snowmobiling trails throughout the U.P.
Marquette County is known as a premier mountain biking destination and during the winter months, trails like the Noquemenon Trails are groomed for snow biking.
If you're within a short driving distance of the U.P. a long weekend may be enough for you to get a taste of winter fun. You could easily make your trip a week-long and do a tour of the Yoop to experience a little bit of everything!
Extreme Sports in the Upper Peninsula
For skiing, head to Mount Bohemia in the Keewana Peninsula. This ski resort offers over 500 skiable acres including remote backcountry skiing, a Nordic spa, cozy cabins, and a pub on site.
In Munising, many waterfalls are transformed into columns of turquoise ice that is ideal for ice climbing. It's so popular that Michigan Ice Fest is held every year in February and draws athletes from all over the world to climb the famous sandstone cliffs covered in ice.
Have a one of a kind dog sledding experience in Luce County with Nature's Kennel. They offer dog-sled rides and all-inclusive multi-day guided excursions around the Upper Peninsula.
If you're not into extreme sports, there are plenty of trails to snowshoe for incredible views of the frozen coastline. The Upper Peninsula is also home to hundreds of waterfalls you can snowshoe to and many are still flowing in the winter.
12. Door County, Wisconsin
by Lindsey P. of Have Clothes, Will Travel
One of Wisconsin's most popular tourist destinations in summer, Door County, is also a fantastic winter escape with far fewer tourists.
Some of the best things to do in Door County in winter are ice fishing, snowshoeing, snowmobiling, and ice skating. You can do all these activities right in Peninsula State Park.
Other great things to do in winter include visiting the Door County wineries and taking a winter wine tour and sleigh ride, shopping at quaint family-owned shops, visiting the area's art galleries, and then warming up at night with an old fashioned and fish fry at a local supper club.
There are also many fun annual winter events, such as the Polar Plunge that takes place on January 1st in Jacksonport. This is where brave souls jump into the icy waters of Lake Michigan!
Another great event is the Fire & Ice Festival in Sturgeon Bay on February 13, 2021. This is where ice carvers compete for cash prizes in an ice carving competition!
A weekend is the perfect amount of time to experience Door County. The Whistling Swan Inn in Fish Creek, Wisconsin is a great place to stay as it is centrally located with a wonderful restaurant and bar located on its first floor.
13. Fairbanks, Alaska
by Erika B. of Erika's Travels
With its dark skies and frigid temperatures, Fairbanks Alaska isn't exactly the first winter getaway destination that comes to mind. However, don't be fooled, Fairbanks is one of the best winter vacations in the US.
During winter months, the sun only hovers above the horizon for a few hours each day and temperatures frequently dip into the negative numbers.
But visiting Fairbanks and its surroundings in winter is an unforgettable experience.
On cloudless winter nights, Fairbanks becomes one of the best places in the world to see the northern lights.
For an optimal viewing experience, check out the Chena Hot Springs Resort about an hour outside of town. The resort lies in a wooded area, away from light pollution. It contains an outdoor thermal spring and a heated northern lights viewing room with floor-to-ceiling windows.
From the warmth of the Chena Hot Springs, the dancing green colors of the aurora borealis are a breathtaking sight.
Fairbanks' winter magic reveals itself at night. If you are looking for things to do during the day, consider touring the North Pole—a suburb of town that is home to Christmas-themed street names and the Santa Claus House gift shop.
Visiting the North Pole is a fun winter activity, especially if you are traveling with kids.
14. Whitefish, Montana
by Alex S. of Alex on the Map
Looking for the perfect winter wonderland? Whitefish, Montana has made a name for itself as just that by offering world-class skiing, lodging, and a fabulous winter carnival that should not be missed.
This top-notch winter destination in the US features all the wintery scenery you've dreamed about. Nestled about 20 minutes from Glacier National Park, Whitefish has long been known by visitors from more populated states as the place to go for skiing, snowboarding, and other outdoor activities.
There are a number of great places to stay in Whitefish during the winter since it is also a popular summer destination due to its proximity to Glacier.
The Firebrand Hotel is new and affordable, while those who want the true lodge experience can opt for Whitefish Mountain Resort or the Whitefish Lodge. Both are a bit pricey but offer fantastic views and a roaring fire during the coldest months.
You can visit Whitefish over a long weekend, but if you would like to slip in a day at Glacier National Park (which offers snowshoeing and cross country skiing during the winter), then five days should be enough to satisfy ski bums looking for time on the mountain with equal time sampling local restaurants and getting cozy after a long day.
15. Mammoth Lakes, California
by Jenny K. of Limitless Hiker
Mammoth Lakes is one of the best winter destinations in California. You can spend your day skiing, snowboarding, snowshoeing, or cross country skiing. Then head into town at night to hang out at a bar and grab drinks with friends before cozying up for bed.
If you're looking to camp, the best place to camp in the winter months is by the Mammoth hot springs. There are several around the area.
These hot springs make for the perfect soak in the early morning hours as you're watching the sunrise over the Eastern Sierra, or at night at you're watching the shooting stars overhead. For this reason, Mammoth Lakes is one of the best winter vacations in the US.
If you're new to snowboarding and skiing but want to pick it up, Mammoth Resorts offers classes for all skill levels. You can bring your own snowboards, skis, or snowshoes or you can rent them around town. You can rent from Wave Rave or from Kittredge Sports.
Mammoth Lakes makes for the perfect weekend getaway, or you could spend a week here.
16. Bethel, Maine
by Jackie G. at Enjoy Travel Life
Bethel Maine is one of the best winter vacations in the US and known for its delightful scenery. You'll find this town about an hour-and-a-half north of Portland.
While this charming New England destination is a great place to visit year-round, it's especially fun in winter, particularly if you love the outdoors.

You'll discover a wide range of winter sports in and around the Bethel area. This includes alpine skiing, cross-country skiing, snowboarding, snowmobiling, snow tubing, ice-skating, and snowshoeing. For the most adventurous, you might like to try ski-biking, dog sledding, or ice-climbing!

Sunday River, a popular ski resort, is within minutes of Bethel. And if you're traveling in late winter during a thaw, you'll want to take a tour of their Sugaring House. There, you'll see how maple syrup is made from maple sap, and sample free candy and maple syrup.

You can easily spend a week or more here in the foothills of Maine's mountain region and lakes. If you're local to New England, a long weekend may suffice—but don't be surprised to find you'll want to plan a return trip.

For lodging, The Bethel Inn is a highly recommended historic bed & breakfast in the heart of Bethel that's sure to please. They have a heated outdoor pool, too! If you're lucky, you might even get snowed in.
17. New York, New York
By Sally L. of Our 3 Kids V the World
New York doesn't come to mind when you first think of the best winter vacations in the US. However, if you're prepared to rug up and brave the cold weather, New York is actually magical during winter.
Seeing all the famous landmarks covered in snow is a really different way to experience it. Picture Central Park lakes iced over with people ice skating and enjoying the outdoors.
You can stop at the Loeb Boathouse for a break from the cold, warming up with hot apple cider, or enjoy brunch or afternoon tea and scones. Located right on one of the lakes in Central Park it's a very pretty spot.
Consider walking the New York High Line, New York's newest attraction is a public park built on a historic freight rail line elevated above the streets on Manhattan's West Side. It runs from Gansevoort Street in the Meatpacking District to West 34th Street, between 10th and 12th Avenues.
Stop along the way at the quirky Chelsea Market, they have a great food court and you can find yourself a nice hot bowl of soups before heading out again. Imagine the Statue of Liberty covered in a light dusting of snow. It makes for a very different experience.
18. Salt Lake City, Utah
by Lisa of Planning Away
There are eight resorts within an hour from Salt Lake City. Park City and Deer Valley are popular resorts that have national recognition. It wouldn't be uncommon to see a Hollywood star at these resorts. Also, located close by is the famous Midway Ice Castle and Soldier Hollow Snow tubing.
Alta, Solitude, and Snowbird are known for having more snow than the other resorts. Usually, you can ski earlier in the season and go later because there will be more snow at these resorts.
Brighton, Sundance, and Snow Basin are local favorites. Sundance is also the host of the Sundance Film Festival that takes place every year. Another popular event for the Hollywood stars.
If this is your first ski trip a minimum of three days is the recommendation. It will take you about that long to get the hang of it. If you are experienced I would still plan at least 3-7 days depending on what activities you want to do.
Most of the resorts have accommodations located nearby. Park City is known for its luxury hotels and ski rentals. Sundance has amazing cottages that are out of this world. Most of the resorts offer a ski-in and ski-out option.
A Utah ski trip is a perfect winter destination vacation!
Quick Tips for Winter Travel in the US
Taking one of the best winter vacations in the US takes a little bit of planning. Here are a few quick tips to remember while you travel:
Check road conditions. Roads can get nasty in the winter, especially in the mountains. Carry tire chains, a blanket, spare food and water, and warm clothing.
Be prepared for flight delays. It isn't uncommon to have a storm ruin your timely departure. Try to fly direct or layover in cities without poor winter weather.
Many ski resorts have restrictions in 2020. Check before you go in case you need advanced reservations. Lots of ski resorts are giving priority to pass holders so if you're going for more than a day, picking up a season pass might be a good idea.
Dress in layers. Being outside in winter is all about layering up. Get warm, non-cotton clothing (especially socks and jackets) to stay warm this winter.
Additional Planning Resources:
Going on a winter adventure? Check out these posts:
PIN THIS POST