Lake Tahoe's jewel-colored waters and spanning mountain scenery should be on everyone's bucket list. As one of the best places to visit in the USA, there's plenty to love about Lake Tahoe. Here's a look where to stay in Lake Tahoe and the best accommodation for any budget.
About this Guide to Where to Stay in Lake Tahoe
As a local of over 15 years, I've been all over Lake Tahoe. I come home to visit my family quite regularly and know all the best places to stay in Lake Tahoe. In this guide we'll cover:
The best places to stay in Lake Tahoe
Where to stay in South Lake Tahoe and the North Shore
Luxury, Mid-range and Budget-friendly Lake Tahoe accommodation
Additional Lake Tahoe travel planning resources
**Note: This post contains affiliate linking, meaning if you click and make a reservation, I get a small kickback at no added cost to you. It's a win-win for everyone. I never promote businesses or items I don't believe in. For more info, see my privacy policy.
When to Visit Lake Tahoe
Lake Tahoe is an amazing mountain travel destination at any time of year. The summer months are warm and beautiful, with lots of hiking, swimming, boating, and other outdoor activities.
During the winter, there is endless world-class skiing in Lake Tahoe, with 14 different ski resorts to choose from. Not to mention the snow-capped mountains cascading towards the blue colored lake make for a picture-perfect backdrop on the slopes.
The shoulder seasons are great since you'll avoid most of the crowds and still be able to ski (spring) and swim (fall). Visit Lake Tahoe for the optimal time for your activity. Summers are usually best for sunny weather but keep in mind, there will be bigger crowds.
The Best Places to Stay in Lake Tahoe
I get asked a lot about where to stay in Lake Tahoe. In general, Lake Tahoe is pretty pricey compared to other mountain destinations, but that doesn't mean you can't find a great deal on lodging.
This list of the best places to stay in Lake Tahoe is divided into the north and south shores. The north shore is typically more expensive, but much more quiet with a local feel.
The south shore has better prices, but bigger crowds. In general, I prefer the north shore of Lake Tahoe, but that doesn't mean you can't still enjoy a Tahoe getaway on the southern end of the lake.
Best Places to Stay in Lake Tahoe: South Shore
Tahoe's South Shore is home to South Lake Tahoe, a bustling city with high-rise buildings and plenty of nightlife. A lot of people like to be near the entertainment and action, but it's certainly crowded. The best places to stay in South Lake Tahoe certainly are those that have a little bit of personality.
Budget-Friendly: Basecamp Lake Tahoe
By Zach and Julie of Rulhs of the Road.
As a budget-friendly accommodation in South Lake, Basecamp Hotel offers a very comfortable and flexible stay, along with a perfect location and a great selection of on-site entertainment.
Basecamp caters to adventurers who want to explore the Tahoe area. A friendly staff provides you with plenty of local Lake Tahoe travel tips. Not to mention, the beds are comfortable, bathrooms are perfect, and there is a daily breakfast provided to fuel each day!
The central, downtown South Lake location is perfect for exploring nearby Lake Tahoe hikes, beaches, and more. Not to mention you'll have everything you need in downtown South Lake.
Finally, Basecamp offers a selection of on-site entertainment too. There is an on-site taproom with a great selection of food, craft beer, games, and live entertainment.
Mid-Range: 7 Seas Inn at Tahoe
For a homey, warm feeling and excellent location, you'll definitely want to check out the 7 Seas Inn at Tahoe. Located just a 4-minute walk from the Heavenly Mountain Gondola, this is THE place to be for skiers and snowboarders.
The central location also makes this one of the best places to stay in South Lake Tahoe. You'll have everything at your fingertips from entertainment to plenty of things to do around Lake Tahoe. Cozy rooms and complimentary breakfast will make you feel right at home.
Luxury: Tahoe Lakeshore Lodge and Spa
Stay right along South Lake Tahoe's sandy shores at the Tahoe Lakeshore Lodge and Spa. Spectacular views of the lake, a private beach, and top-notch spa amenities make this property one of the best places to stay in Lake Tahoe.
Relax in the outdoor pool and hot tub or snag a deal on ski passes for an exciting day out in the mountains. There's a golf course nearby too. For added luxury, stay in an apartment with your very own kitchen.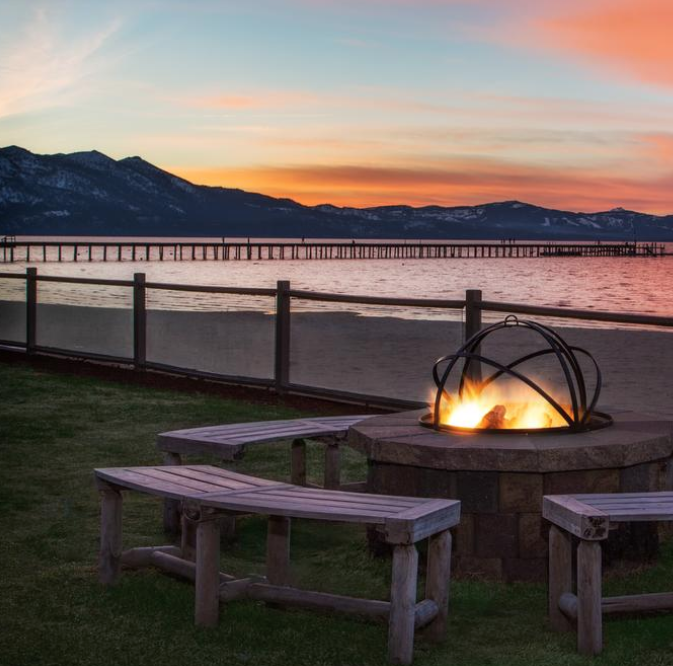 Where to Stay in Lake Tahoe: North Shore
The best places to stay on the north shore of Lake Tahoe are scattered in three separate towns: Incline Village, Tahoe City, and King's Beach. You really can't go wrong with any of these towns, each one has a variety of delicious food and plenty of beaches.
Budget-Friendly: Kingswood Meadow View
Kingswood Meadow View is hands down one of the best places to stay in Lake Tahoe if you're on a budget. For an amazing price, you'll get an entire family-friendly apartment, complete with a kitchen. This is one of the most budget-friendly accommodations in Lake Tahoe thanks to having your own kitchen.
Located just a few miles from the rocky shores of Lake Tahoe, you'll be immersed in a beautiful pine forest. The property includes a communal pool and a six-person capacity per unit. This is a great option for families who want more privacy and plenty of room.
Mid-Range: Cottage Inn
The Cottage Inn is an adult-only lodge located in Tahoe City. Couples love to relax and unwind at this beautiful getaway. As a bed and breakfast nestled in the tranquil pine forests, you'll feel like you've been transported to another world.
Hearty country breakfast is prepared for you daily at this quaint residence. Only 2 miles from Tahoe City, you'll be close to the action, but have a quiet place to rest your head each night.
Luxury: Hyatt Residence Club Lake Tahoe and High Sierra Lodge
For an exclusive stay right on the water's edge book a room at the Hyatt Residence Club Lake Tahoe. Located in the quiet Incline Village, this ultra-luxe resort.
Enjoy luxury accommodation with beautiful lake-view rooms. With plenty of activities nearby, including world-class skiing, horseback riding, hiking, and golf, there is lots to get excited about. One of the best things to do in Lake Tahoe is to take a cruise on the exclusive Hyatt catamaran for sunset.
The Hyatt has it's own private beach with water sport rentals available. At the end of an adventurous day, head to the Lone Eagle Grille which offers lakeside dining.
Camping in Lake Tahoe
When it comes to where to stay in Lake Tahoe, there's a lot of different options around. Camping is an excellent way to enjoy the lake without breaking the bank.
If a hotel stay isn't in your budget there is plenty of excellent camping near Lake Tahoe. Keep in mind that most campsites require an advanced reservation.
Although it can be busy on weekends, there's no better way to experience Lake Tahoe than to camp. Stay right near the water's edge for an unforgettable outdoor adventure.
Quick Tips to Make the Most of Your Lake Tahoe Getaway
As a Lake Tahoe local, I understand how to make the most of your visit to the jewel of the Sierras. Here are a few quick tips to make the most of your Lake Tahoe getaway.
Make reservations in advance. Lake Tahoe gets crowded on the weekends, especially over the holidays and during the summer.
Rent a car. To really see the best of Lake Tahoe, you'll want some wheels to get around.
Get out of South Lake. South Lake Tahoe is very crowded, head to the northern shores for a more peaceful experience.
Use pullouts. It's easy to get distracted with the views, but don't forget that if you drive slow, you're legally required to use pullouts.
Practice Leave No Trace. Don't trash the lake and Keep Tahoe Blue by leaving it better than you found it.
Additional Lake Tahoe Travel Resources
Planning a trip to Lake Tahoe? Get expert, local advice with these handy travel resources: