The beautiful gem-colored waters of Lake Tahoe lapping up against snowy mountain shores is a sight to behold – especially if you're in Lake Tahoe in December. Go beyond just hitting the slopes with these Lake Tahoe winter activities that bring in plenty of snowy cheer.
There are plenty of things to do in Lake Tahoe in winter. From snuggling up next to a cozy fire place after a day at the spa to shredding the gnarly backcountry skiing terrain, you'll be spoiled for choice when planning a Lake Tahoe itinerary.
My family lives in Lake Tahoe. Lucky me, I know. However, this means I have spent over 18 winters exploring the best of Lake Tahoe throughout the year. I'm an absolute local expert when it comes to Lake Tahoe winter activities, so you've come to the right place.
What I love about visiting Lake Tahoe is that there is always something new to explore. Don't miss out on these Tahoe winter activities.
About this Guide to Lake Tahoe Winter Activities
I've been coming to Lake Tahoe every winter for the past 18 years. In fact, my family lives here and as a part-time local I know the best secret spots to discover in Lake Tahoe during the winter. We'll cover:
Getting to Lake Tahoe
Winter weather in Lake Tahoe
Amazing Lake Tahoe winter activities besides skiing
Awesome Lake Tahoe activities for skiers and snowboarders
Where to stay in Lake Tahoe: South Lake Tahoe vs. North Lake Tahoe
Getting to Lake Tahoe in Winter
Before heading to Lake Tahoe in the winter, there are a few handy Lake Tahoe travel tips you should know. First, is your vehicle. Always carry a set of tire chains while traveling in Lake Tahoe over winter.
Snowstorms here are measured in feet and roads in and out of Lake Tahoe can become difficult to navigate if you aren't prepared. Certainly, plan on renting a 4WD vehicle in the winter. If you're rocking a 2-wheel drive, carry snow chains and be prepared to use them.
Is Lake Tahoe worth visiting in winter?
Yes, absolutely. After all, Lake Tahoe is worth visiting at any time of year but particularly in winter since there are just so many things to do in Lake Tahoe in winter.
So, whether you want to ski, sled, ice skate, go tubing, or warm up inside a world-class spa, Lake Tahoe really does have it all.
Add in stunning panoramas of a gorgeous alpine lake with the snow-capped Sierra Nevada Mountains in the background and you have the perfect winter destination – complete with a wealth of charming log cabins that are available to rent.
What to do in Tahoe when there is no snow?
If there is no snow in Tahoe then you still have a ton of things to do. You could go for a run on the beach at Donner Memorial State Park, enjoy one of the best hikes in Lake Tahoe, or go ice skating with the kids at places like Truckee Ice Rink.
Alternatively, other fun things to do in Lake Tahoe in winter when there is no snow is ride the Squaw Valley Aerial Tram, go shopping amidst the quaint charm of historic downtown Truckee, go indoor rock climbing in Bishop, and try your hand at mid-winter disc golf.
Which part of Lake Tahoe is best in winter?
Which part of Lake Tahoe is best in the winter really depends on what sort of things you'd like to do. South Lake has more entertainment off the slopes.
However, if you're into snowboarding, skiing, and cross-country skiing then North Lake Tahoe is probably better since it has a wider array of activities for you to choose from.
What is the Weather Like in Lake Tahoe During the Winter?
Winter is one of the best times to visit Lake Tahoe. If you want to see the brilliant blue lake contrasting with the gorgeous snow-capped mountains, then visit Lake Tahoe this winter.
Expect snow and colder temps with the average daily temperatures in the 30s. The snow begins to fall anywhere between September to November and it typically snows rather regularly until April. However, there's plenty of sun in Lake Tahoe during the winter with only 5 days per month on average of precipitation.
When it snows in Lake Tahoe, it typically comes down hard thanks to the lake effect snow, so be prepared for bigger snowstorms. However, the snowstorms don't deter from the many amazing winter activities in Lake Tahoe.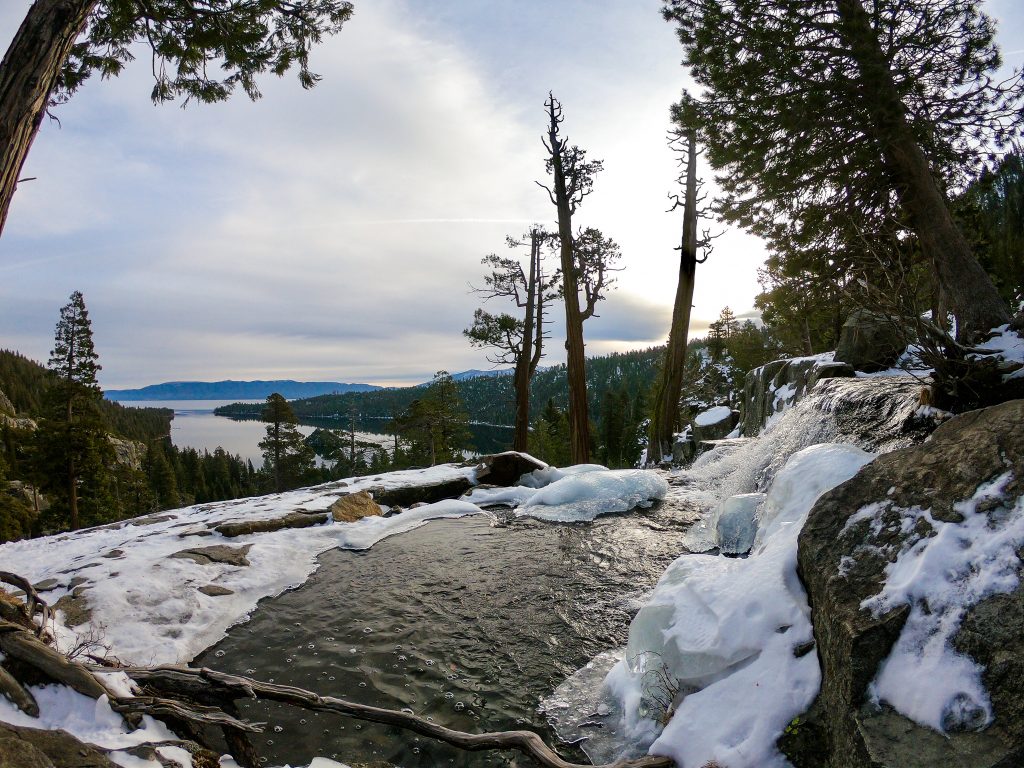 The Best Lake Tahoe Winter Activities Besides Skiing
Tahoe's main winter attraction is catching a chair lift at one of Lake Tahoe's 14 ski resorts. Don't miss out on the best Lake Tahoe ski resorts if that's your thing.
However, there's a lot of options for activities in Tahoe besides skiing. Here's a look at the best Lake Tahoe winter activities.
1. Go for a Scenic Drive
No winter itinerary to Lake Tahoe is complete without going on a drive around the lake. In fact, many of Lake Tahoe's most scenic views can be accessed from the roads circumnavigating this beautiful gem.
It takes approximately 2 and a half hours to drive the whole length of the lake without stopping. However, plan for a half day to stop along the way. Notable places to stop include: Cave Rock, Emerald Bay, South Lake Tahoe, and Tahoe City.
Price: Free minus the cost of gas.
Location: Lakeside road
2. Ring in the New Year in South Lake
Party-goers and gamblers will love hanging out in South Lake Tahoe's main drag. Unlike other areas of Lake Tahoe, South Lake has high-rise casinos, bustling city streets, and plenty of glitz and glam. Check out the New Year's fireworks display right in the heart of the town.
Price: Varies, but entry to casinos is free. 21+ only.
Location: South Lake Tahoe
3. Go on a Mountain Sunrise Hike
Lake Tahoe is home to some incredible hikes and seeing the sunrise over the lake is a breathtaking experience. One of the best things to do in Lake Tahoe during winter is to make the hike to Cave Rock. This 15-minute hike offers spanning views of Lake Tahoe.
Be sure to pack some microspikes and hiking poles if the trail is snowy. On cold days, bring a thermos of hot cocoa, tea, or coffee for an extra-special treat.
Price: Free
Location: On the east side of the lake, parking is accessed in a small neighborhood
4. Soak in Breathtaking Views at Emerald Bay
The most photogenic spot in all of Lake Tahoe, Emerald Bay is a Lake Tahoe icon. Catching the wintery views is a must-do winter activity in Lake Tahoe. Be warned though, everyone knows about this place and it gets very packed in the middle of the day. Opt to head out at sunrise or sunset for the most solitude.
Price: Free if you park outside of the Desolation Wilderness Parking area ($5 to park in the parking lot)
Location: On the west side of South Lake Tahoe along Highway 89.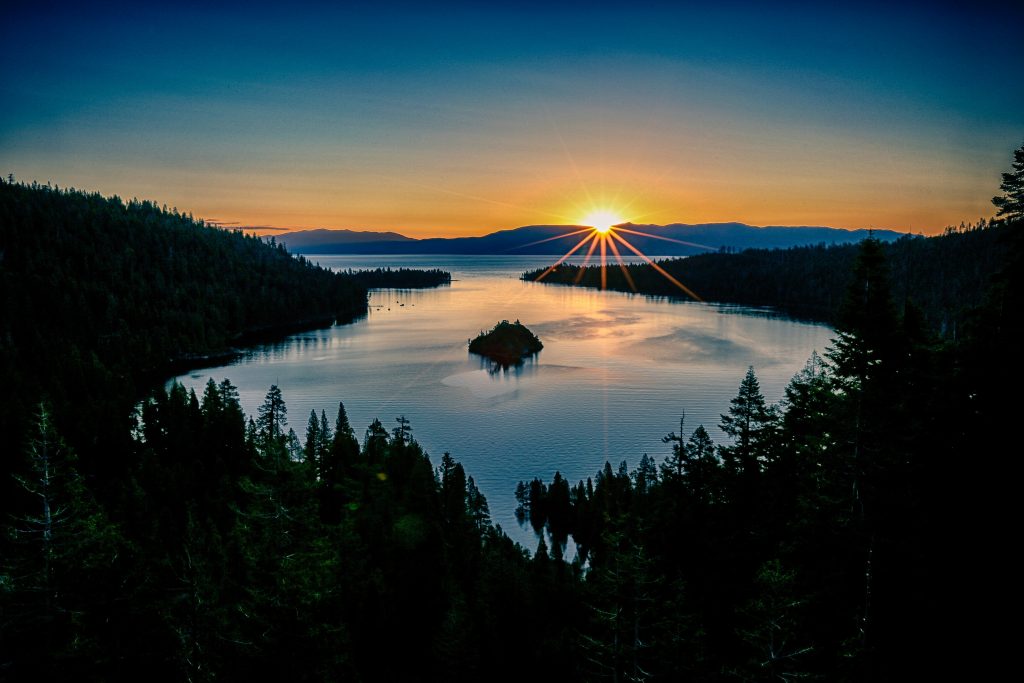 5. Go Ice Skating
Strap on your skates and enjoy the time-honored winter tradition of ice skating. Head to Northstar Village, located just outside of Truckee, California for a festive evening of skating.
The mood is set with plenty of string lights, merry music, and plenty of fun for everyone. Enjoy a cup of cocoa or an adult beverage by the outdoor firepits after your skate.
Price: TBD, check the Northstar website for the latest prices.
Location: Northstar Ski Resort near Truckee, CA
6. Take a Snowmobiling Tour
For a thrilling adventure, jump on a snowmobile and go for tour, no experience required. Tours run from both the north and south ends of the lake and vary in difficulty depending on your experience.
Get the thrills of surfing on snow with a machine-powered adrenaline rush! Most tours last at least 2 hours, with the chance to extend your adventure.
Price: $150 ($160 during the holidays) for a single $200 for a double
Location: Varies around the lake.
7. Go Sledding at the Local Sledding Hill
Sledding in Tahoe comes in all different packages from free to high-end.
For a good-old-fashioned sledding hill, head just outside of the Tahoe Basin to a local spot right off of Mt Rose Highway (431). Simply pull over, hop out and hit the sledding hill for a fun-filled afternoon. This area has incredible mountain views and is super family-friendly.
Price: Free
Location: Mt Rose Highway 431
8. Watch the Sunset at Zypher Cove
For an epic sunset over Lake Tahoe, head to Zypher Cove. Don't forget your camera as the stunning sky reflects itself off of Lake Tahoe's waters. Zypher Cove is another Instagrammable spot along the shores of Lake Tahoe that can't be missed.
Price: Free
Location: Zypher Cove
9. Soak in the Hot Springs
Located about a 40-minute drive from Lake Tahoe proper, the Sierra Hot Springs is a non-profit retreat center focused on connecting you with nature. You can go for a soak in one of the many baths and plunge pools. Relax in the Meditation Pool or soak up all the heat in the Temple Dome Area.
Keep in mind, this body-positive hot springs is clothing optional. Kids are allowed but must be kept under adult supervision.
Price: $15 for day use
Location: Sierraville, CA
10. Splurge on a Massage
After an exhausting day (or three) on the slopes, relax with a top-notch spa treatment at the Stillwater Spa. Located in Incline Village, this relaxing spa located right on the water's edge provides the perfect backdrop to unplug, relax, and unwind.
Price: Varies depending on services
Location: Hyatt Regency Incline Village
11. Wander the Villages
You don't need to ski to enjoy Lake Tahoe in the winter. Spend your days wandering the various ski resort villages.
Filled with boutique shops, unique eats, and plenty of awesome views, you'll love to experience the winter wonderland of Lake Tahoe's ski villages. Squaw Valley, Northstar, and Heavenly Village boast an array of activities for non-skiers.
Price: Free.
Location: Squaw Valley, Northstar Mountain, Heavenly Mountain Resort
12. Visit the Biggest Little City
When you need a break from the mountains, simply head down Mt Rose highway into Reno. With plenty of shopping, casinos, and nightlife, there's much to see in the Biggest Little City of America. Don't forget to check out the Reno River Walk and the many casinos along the main drag.
Price: Free
Location: Reno
13. Visit the Winter Sports Park
Get the whole family to have some fun tubing and sledding at the Adventure Mountain sports park. Situated on the top of Echo Summit, this adventure park offers plenty of snowy fun for the whole family or even a fun date.
As one of the best things to do in Lake Tahoe in the winter, there's plenty of thrills at Adventure Mountain. The resort sits at 7,350 feet above sea level, making it the highest sledding resort in the world.
Price: TBD, check the Adventure Mountain website for up-to-date info.
Location: Echo Summit
14. Celebrate Snowfest
Lake Tahoe locals love to celebrate the snow. Each year Lake Tahoe's Snowfest is a celebration of all things fluffy, cold, and white! There's a parade, fireworks show, snow golf tournament, ice carving and snow sculpture contents, dog events, and even a polar plunge. The festivities kick off from February 28th through March 8th of 2020.
Price: Free, some entry fees may be required.
Location: Various locations in North Lake Tahoe
15. Check Out the Casinos in South Lake
If you're looking for a party, try your hand at the casinos in South Lake Tahoe. Far from a charming mountain town, the high rises of South Lake bring a vibrancy to the Lake Tahoe shoreline. Enjoy card tables, slots, and more at a Lake Tahoe Casino
Price: Free to enter, pay to play.
Location: Harveys Lake Tahoe, Hard Rock Hotel and Casino, Montbleu Resort, Harrahs Lake Tahoe
16. Try Out Local Craft Beer
After spending a long, hard day out on the slopes, there's nothing like a refreshing glass of craft beer to help relax you.]
And luckily for you, Lake Tahoe is home to a wealth of premier breweries, many of which hold special events nightly. So, if you're jonesing for some brew then check out epic taprooms like Sidellis with it's cozy wood-interior and delicious food. Other great breweries to visit include South Lake Brewing Company and South of North Brewing Co. too.
17. Snowshoeing
Believe it or not, Tahoe is blessed (or cursed if you're not a fan of winter) with having some of the insane levels of snowfall in all of North America. Therefore, one of the best things to do in Lake Tahoe in winter is go snowshoeing.
Just head to Snowshoe Thompson's Ski and Snowboard Rentals, grab a pair of sweet snowshoes, and explore top snowshoeing spots like Pope/Kiva/Baldwin Beaches, Camp Richardson, Fallen Leaf Lake Campground, Taylor Creek Visitor Area, and more!
18. Donner Memorial State Park
Named for the now infamous group of pioneers who attempted to cross the Sierra Nevada Mountains in the winter (spoiler alert, bad idea guys), Donner Memorial State Park is an amazing place where you can go to escape the crowds and enjoy the awesome beauty of Donner Lake.
So, drive between 20 and 30 minutes outside Incline Village and you'll find this magical place where you can ice skate on Donner Lake.
Alternatively, you could cross-country ski along one of the many trails here since all of the roads are closed for the winter and groomed for cross-country skiing. However, the trails are unmarked so it's a good idea to know where you're going prior to arrival.
The Best Things to Do in Lake Tahoe in Winter: Ski and Ride
One of Lake Tahoe's best winter activities is to hit the slopes! The are is home to plenty of amazing ski resorts in Lake Tahoe (14 to be exact). Don't miss out on the best Lake Tahoe winter activities with these ski-tastic adventures!
19. Enjoy the Slopes, Local Style
During the holiday season Lake Tahoe is buzzing with activity. Many of the locals avoid the big name ski resorts and head to one of Lake Tahoe's many local ski resorts instead.
Mt. Rose and Alpine Meadows are cult classics in Lake Tahoe. Unlike the heavy-hitters like Heavenly, Squaw Valley, and Northstar, these local resorts have a more low-key vibe (and lift ticket prices to match).
Price: Mt Rose: $135 for an adult or $74-$159 at Alpine Meadows (includes Squaw Valley)
Location: Mt Rose Ski Resort and Alpine Valley Ski Resort
20. Ski at a Squaw Valley
Home to the 1960 winter Olympic games, this world-famous ski resort is a must-visit. Unlike most American ski resorts, Squaw Valley only names it's chairlifts and not its runs, creating a more European feel.
Take the famous cable car to mid-mountain for the most epic turns of the season. There's plenty of terrain for beginners and experts alike, but if you're a seasoned skier or rider, check out the Eagles Nest and Chute 75, two of the steepest ski runs in California.
Price: Average fo $140 if bought online, in advance
Location: North Lake Tahoe
21. Ski Across the State Line
Heavenly Mountain Resort sits uniquely over the California and Nevada state line. Spend the day skiing this gargantuan resort (over 30 lifts) and hop across state borders as you make your way down the mountain. Bonus points: Heavenly is one of the best places in Lake Tahoe to learn how to ski.
Price: $131 for a non-holiday lift ticket, bought in advance.
Location: Heavenly Mountain Resort
22. Go Backcountry Skiing
Advanced skiers and riders will feel like they are in a snow-filled playground in Lake Tahoe's backcountry. The areas around Truckee, Mt Rose, and the Desolation Wilderness are a backcountry skier's dream. You can rent gear in any mountain town, or opt to bring your own.
Price: Free
Location: Toiyabe National Forest, Desolation Wilderness, Donner Pass
23. Get Your Apres On
Even if you don't ski or snowboard, you can still enjoy a good apres hour at any of Tahoe's major resorts. Head to one of the many watering holes starting around 3 pm for a slopeside drink.
Many venues boast live music and a festive vibe after a long day on the slopes. Guzzle down a Sierra Nevada Pale Ale while listening to live, local bands and kick your feet up on the sundeck.
Price: Free plus the cost of drinks/food
Location: Heavenly Village, Northstar Village, Alpine Meadows, or Squaw Valley
24. Try Cross Country Skiing
Hit the trails in style this season with a visit to Tahoe XC park. You can enjoy cross country skiing and learn how to partake in one of the oldest sports on the planet. Rent skis, hit the trails (dog-friendly options), or take lessons and learn to cross country ski.
Price: $37 for an adult day pass, $34 for all-day adult rentals
Location: Tahoe XC, 925 Country Club Drive, Tahoe CIty
Where to Stay in Lake Tahoe
Before you decide where to stay in Lake Tahoe, you want to decide if you want to be on the north or south end of the lake. The north side is far more local, with a small-town feel.
However, hotel pricing is slightly higher. In the south, there's more of a party and city vibe. It's far more crowded and there are a lot of tall buildings. However, lodging tends to be a bit cheaper.
For the cheapest lodging opt to stay in Reno (40 minutes away) or Truckee (30 minutes away).
Overall, the best Lake Tahoe winter activities involve enjoying the snowy landscape. There's an adventure for everyone with plenty of ways to slow down and indulge too!