Boasting beautiful mountain scenery and gem-colored waters, Lake Tahoe is one of the best places for a quick weekend getaway. This locally-curated Lake Tahoe itinerary gives you a well-rounded adventure in one of the most beautiful places in the United States.
I've spent the past 20 years discovering the natural beauty and adventure in Lake Tahoe. My family lives here and I come back to visit frequently. As an honorary local I know the best way to spend the weekend in Lake Tahoe.
Planning the Perfect Lake Tahoe Itinerary for Summer
This Lake Tahoe itinerary focuses on what to do with a weekend in Lake Tahoe.
You can use this Lake Tahoe itinerary from May until late September and still have a fantastic time. Wanna visit in winter? See the next section.
We'll cover the following:
Arriving in Lake Tahoe
Local recommendations for places to eat
How to spend the perfect 3 days in Lake Tahoe
Additional planning resources
Suggested Winter Itinerary in Lake Tahoe
Who says you can't visit Lake Tahoe year-round? Tahoe is a premier winter destination. With incredible skiing and plenty of winter activities to enjoy, you'll have just as much fun in the snowy months.
For what to do in winter, see the winter idea sections listed below each day.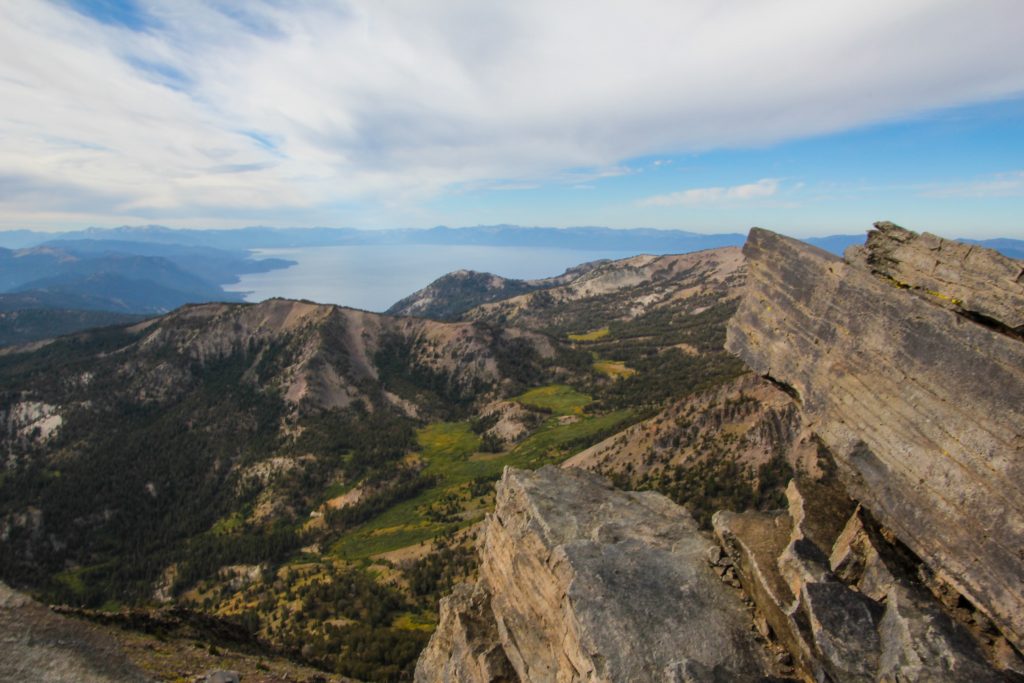 When is the Best Time to Visit Lake Tahoe?
Lake Tahoe is a world-class travel destination throughout the year. The summer is prime-time to visit Lake Tahoe. Although the weather is warm and sunny, you'll also have to contend with higher prices and big crowds.
In the winter, you'll find Olympic-caliber skiing, along with other fantastic snowy activities.
The spring and fall are amazing times to visit Lake Tahoe. The temperatures are a little cooler, but the crowds are long-gone. This is a great time to still enjoy this Lake Tahoe itinerary.
The lake water may be a bit too chilly to swim, but the sunny weather means you'll still be able to lounge on the beach.
Arrival in Lake Tahoe
Most people will arrive in Lake Tahoe two ways. If you're flying, you'll likely fly into Reno, on the east side of Lake Tahoe. The Reno-Tahoe airport is small and simple to navigate.
Despite its tiny size, there are ample places to rent a car and a variety of international flights that stop in Tahoe.
To get to Tahoe, you'll simply take the Mount Rose Highway up and over the mountains into the Tahoe Basin.
The drive takes about an hour and will drop you near the north end of the lake. It's about another 45 minutes to get to South Lake Tahoe.
If you're driving from California (Sacramento and San Francisco) to Lake Tahoe, you'll likely come up the south side of the lake via Highway 50. You can also arrive on the north side of the Lake via Truckee on Interstate 80.
How many days do you need for Lake Tahoe?
If you're short on time and planning a Lake Tahoe itinerary then at a bare minimum you'll want to spend at least 2 days in the area – just so that you can see as many things as possible.
However, a 3-day Lake Tahoe Itinerary would be better. This way you're not rushing around all over the place and acting like a total mad person.
That being said, in a perfect world, and as a local who grew up here, I would suggest that you spend 4 days in Lake Tahoe. It's the perfect amount of time since you can relax but still enjoy some of the very best things to do in Lake Tahoe.
Is two days enough in Lake Tahoe?
Honestly, two days is cutting it close when it comes to planning the best Lake Tahoe itinerary.
Yes, I think it's still worth it to go and see Lake Tahoe in two days since something is better than nothing. But, be prepared to haul major butt when exploring the area – meaning you won't have much down time.
So, if it's at all possible then try to spend between three and four days in the area. That's definitely the perfect amount of time in Lake Tahoe for a short trip.
What is the best month to go to Lake Tahoe?
The best month to visit Lake Tahoe really varies depending on what you want to do.
After all, if you're a snow bunny then you should obviously visit in the winter. Conversely, if you're a beach bum then be sure to visit in the summer.
However, if you want to avoid insane crowds and save a bit of money on accommodations then the best month to go to Lake Tahoe is any time between March and May and September and November.
That's mainly because fall and spring are shoulder seasons and less popular than visiting at other times of the year.
Where is Lake Tahoe Located?
Lake Tahoe is a massive, freshwater lake in the Sierra Nevada Montains.
It sits right on the border between California and Nevada, at an elevation of 6,224 feet, and is just west of Carson City.
In fact, at a size of 122,616-acres, Lake Tahoe is actually the largest alpine lake in all of North America.
It's also about 200 miles away from San Francisco, CA, and 58 miles away from Reno, Nevada.
Where to Stay in Lake Tahoe
There are two major areas to stay in Lake Tahoe, the north shore and the south shore.
Where you should stay largely depends on three things, how you're arriving, where you plan to go, and what your budget is.
This Lake Tahoe itinerary is set up to accommodate you no matter where you stay.
You'll see recommendations for both the north and south sides of the lake sprinkled throughout.
Staying in South Lake Tahoe
South Lake Tahoe is far busier than the North Shore. In South Lake you'll find high rise casinos, large touristy towns, chain eateries, and a less rocky coastline. It's the ideal place to stay if:
You're driving in from San Francisco or Sacramento
You're into partying
You want to explore the Desolation Wilderness
You want a city feel
You're on a tighter budget
Staying in North Lake Tahoe
North Lake Tahoe has much less of a touristy vibe. Here you'll find no high rise buildings and instead, you'll get more dramatic mountain views, secluded beaches, and small mountain villages. It's the ideal place to stay if:
You're arriving from Reno or flying
You want to explore the areas around Truckee
You want a more local feel
You enjoy quieter towns and less of a party vibe
You have a bit more money to spend (lodging is pricier here)
Camping in Lake Tahoe
There are a lot of great places to stay if you would like to do a bit of camping in Lake Tahoe. And some of my fave spots include:
D.L. Bliss – This park is amazing and as a local, I've been here many times. I also love that there are an incredible five different campground to choose from on the western shore of the lake. Personally though, I'm a fan of Beach Camp since, DUH, there are two different beaches RIGHT here. However, Pine Camp is also a solid choice since it;s the largest campground around.
Eagle Point – This is a mega epic spot since it is located right at the entrance of Emerlad Bay State Park, aka one of the best hiking spots in Lake Tahoe. And with over one hundred sites to choose from, you can pick a sweet spot with epic lakeside views.
Local Tip: Reservations at Eagle Point fill up FAST and open up 6 months in advance. So, as soon as you know when you're planning your Lake Tahoe itinerary, reserve that campsite.
Places to Eat in Lake Tahoe
Although you can find quite a few of the usual suspects for Lake Tahoe eats, there are a few staple restaurants you've got to try. Here's a quick look at the best places to eat in Lake Tahoe.
T's Rotisserie. Incline Village. Rotisserie chicken and burritos. Cash only. $
Bit American Tapas. Incline Village. Delicious small bites from rotating chefs throughout the year. $$
Rubicon Pizza Company. Between Kings Beach and Truckee. $$
The Log Cabin. Dinner style breakfast. Kings Beach. $
South Lake Brewing. South Lake Tahoe. Beers and bar food. $$
The Lake House. South Lake Tahoe. Steaks and wine bar. $$$
Base Camp Pizza. South Lake Tahoe. Tasty slices and homemade pizza. $$
Lake Tahoe Itinerary Day 1: Arrival and Sunset
In this 3-day Lake Tahoe itinerary, we'll start with an afternoon adjusting to the altitude. Day 2 will be the action-packed day, while day three you can rest and catch your breath as you enjoy that mountain life.
Arrive in Lake Tahoe and get settled at your chosen place to stay. Take your time your first day and don't overdo it.
You may find that adjusting to the altitude and (very) dry air takes some getting used to. Drink plenty of water and avoid alcohol and caffeine.
Explore the shoreline wherever you are (each place has something different to offer and beach access is never too far away).
For sunset, head to Cave Rock, one of Lake Tahoe's best hikes. This ultra-easy hike is one of the best places to catch the sunset.
You'll want to have an early night, tomorrow is going to be an EPIC day filled with amazing adventure filled with beautiful scenery.
Other things to do: Go for a sunset cruise on the Hyatt Regency's catamaran in Incline Village, take a scenic drive around the lake, go swimming at Skunk Harbor.
Winter Tahoe Itinerary: Day 1
Cave Rock still makes for an excellent sunset escape. The 15-minute hike takes you to some of the best Lake Tahoe views.
If a snowy hike isn't your thing, grab a snack and relax by the shore. Bonus points for packing a thermos of cocoa. Bundle up to protect yourself from the biting wind.
Afterwards, head back to your accommodation for some snuggles and a warm fire!
Lake Tahoe Weekend Itinerary Day 2: Hiking and Secret Beaches
Today's Lake Tahoe itinerary is all about taking in the most beautiful scenery and soaking up the amazing Sierra sunshine.
Start the day off right with a beautifully scenic hike. For plenty of easy and moderate hiking trails, head to the iconic Emerald Bay (located on the south side of the lake) for sunrise. The jewel-green waters give this iconic inlet it's name.
This tourist destination gets mega-crowded, so sunrise not only ensures a breathtaking scene, but you'll beat the crowds too! Eagle Lake and the Emerald Bay Viewpoint are two must-see views.
If you're an avid hiker, you can hike to the top of Mt Rose (north shore) for a bird's eye view of the lake. Mt Rose is the tallest mountain on the Nevada side of Lake Tahoe and sees a fraction of the people compared to Mt Tallac (Tahoe's highest mountain).
The views are expansive, from the desert of Nevada to stunning Tahoe Basin.
Afterward, it's time to hit the beach! The best beaches in Lake Tahoe are all on the northern and eastern shores. Pick up a picnic lunch (I love to stop at T's Rotisserie).
My personal favorite is Secret Cove, located just south of Sand Harbor on Highway 28. Simply park along the road and make your way down the steep trail to the rocky shores of Secret Cove. There are plenty of rocks to
Alternatively, you can hang out at Sand Harbor. Consider renting kayaks or SUPs and enjoy exploring hidden coves and jewel-colored water. After you've had your fun in the sun, head to one of Lake Tahoe's breweries for a drink.
For sunset, you've got to check out Emerald Bay. As one of Lake Tahoe's most scenic spots, you can't miss checking out Emerald Bay's iconic views. Note: If you opted for Eagle Lake, you can also catch views of Emerald Bay from the hike itself.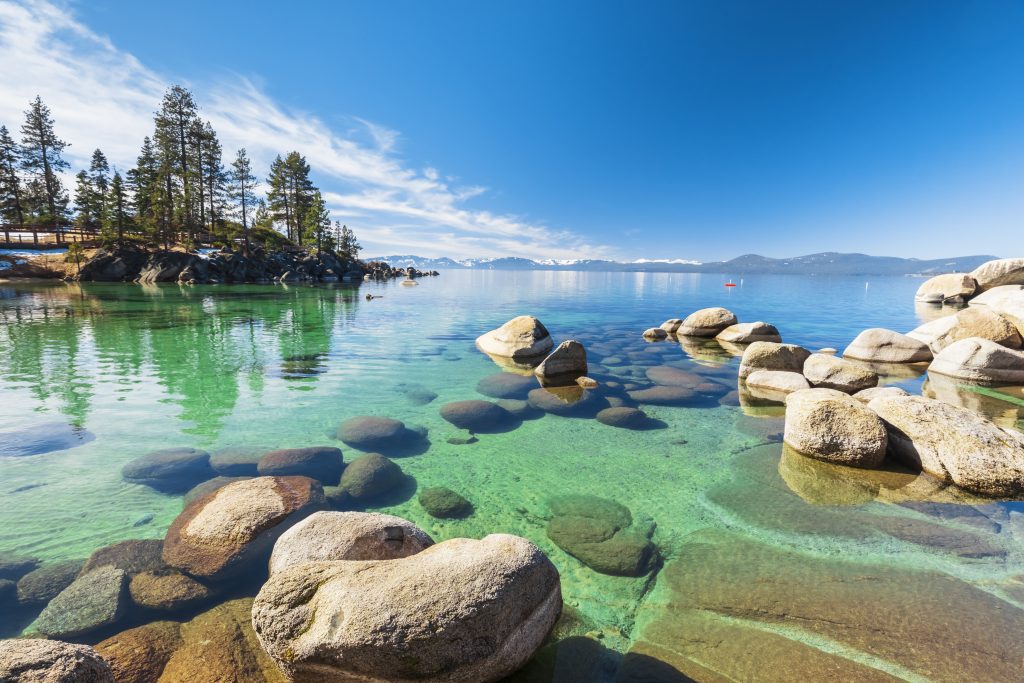 Lake Tahoe Winter Itinerary Day 2: Shred It!
The above activities are still a viable option during the chilly months. But thrill-seekers may want to opt to check out some of Lake Tahoe's best ski resorts instead.
Reserve your lift ticket in advance to save a little cash. Spend the day surfing the snow and soaking in lakeside views.
After you've had your fill of epic powder, hit up an Apres ski hotspot. Northstar Resort and Heavenly have an array of lively bars to get that post-ski brew.
Don't ski? Don't worry, there are plenty of winter activities in Lake Tahoe to try instead.
A Night on the Town
If you're like me and you don't drink, skip the bar and consider taking a short nap, grabbing a shower, and then heading out for a delicious dinner. Bite American Tapas, The Lone Eagle Grille Lounge, and The Lake House are all excellent ways to cap off a perfect day.
If you're into nightlife, check out the casinos in South Lake. Try your hand at poker or catch a concert at one of the many venues.
Stargazers should get outside of the cities and head up to one of Lake Tahoe's most scenic spots. The western shores of Lake Tahoe are virtually undeveloped and provide a few secluded spots to stop along the road right at the water's edge. Catch the moon reflecting off of the beautiful shores as the water laps gently against the rocks.
If you prefer a bird's eye view, head to the Lake Tahoe Scenic Overlook on Mount Rose Highway.
Lake Tahoe Travel Itinerary Day 3: Scenic Gondolas and Drives
Take your time sleeping in this AM. Head out to brunch at either the Log Cabin (Kings Beach on the North Shore) or Driftwood Cafe (Tahoe City) for some home cooking and good eats.
Next, catch one last glimpse of the glittering Lake Tahoe with a scenic gondola ride up Heavenly's Gondola.
Year-round you can enjoy the scenery from the best Gondola in Lake Tahoe. Prices change throughout the year, and it's easy to add a few extra fun-filled activities.
After your gondola ride, you can opt to head home or check out one of the other amazing activities in Lake Tahoe.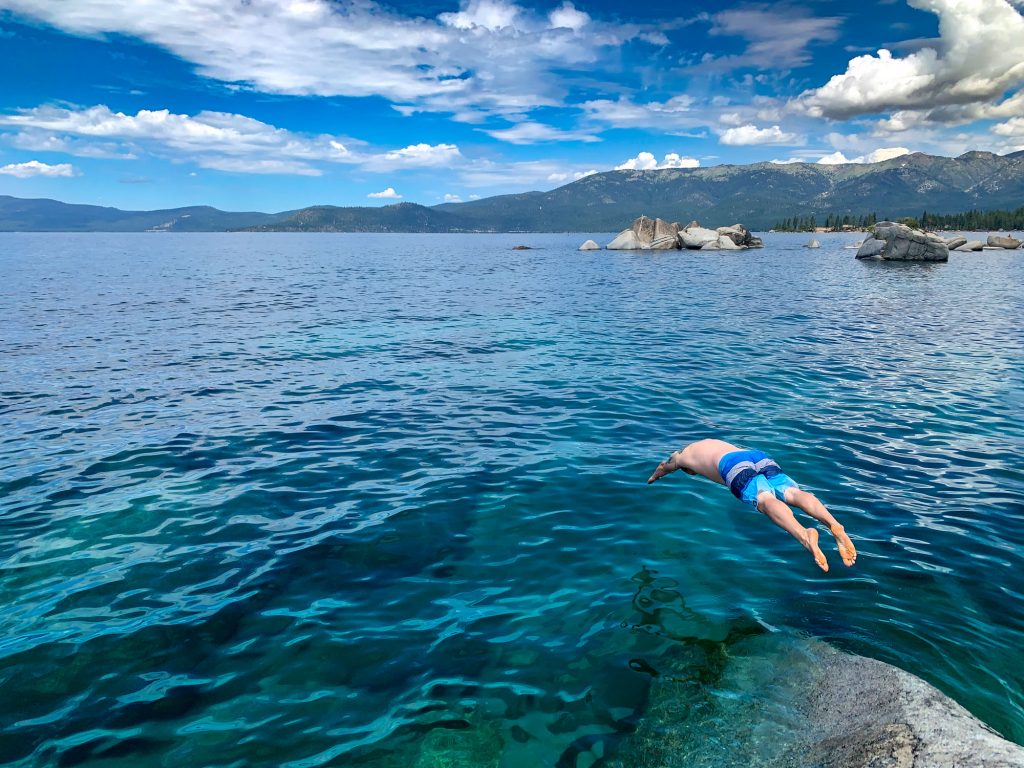 Bonus Day: Truckee and Donner Pass
If you're planning your Lake Tahoe itinerary and have a bit of time on your hands then be sure to spend a day exploring Truckee and Donner Pass.
This day trip will bring you to the northern end of the lake, where you can start by grabbing a giant coffee at JavaHut Kings Beach.
It's a rad, locally-owned spot that is super popular. So, prepare for a bit of a wait while you order your latte and almond bear claw (so good).
Next, head up in between Alpine Meadows and Squaw Valley so that you can tackle the Five Lakes Trail.
It can be found within the Granite Chief Wilderness and the scenery is truly spectacular.
Just come prepared with the right gear since this will be a moderately challenging, 5-mile hike round trip.
Local Tip: You'll ascend upwards of 1,000 feet in under 2 miles so this hike can feel really intense. But, once you're at the end you'll be rewarded with epic views of five different unique alpine lakes.
And if you want to challenge yourself even more, add on a hike along part of the Pacific Coast Trail too.
Scope Out Donner Lake
Afterward, spend the remainder of your day exploring Donner Lake and Donner Pass.
In fact, the area was named for the ill-fated Donner Party, or the group of California pioneers who got stuck here, because of heavy snow, in 1846.
In the end only about have the group lived and engaged in a bit of cannibalism to do so.
Now, while you're in the area, park at Donner Lake Overlook and get an up-close look at Rainbow Bridge. If you want, walk across it and take photos of the area.
Next, explore the historic Donner Pass Tunnels. After all, they were originally constructed in 1867 for the transcontinental railroad.
Since then, they have been totally abandoned and feature some cool views, graffiti, and neat petroglyphs near the China Wall.
Continue to Donner Lake and make use of one of the public docks on the northern shore since you can rent all sorts of boats here.
Alternatively, learn about the infamous Donner Party at the Emigrant Trail Museum before driving back to Lake Tahoe.
On the way, be sure to stop for dinner and drinks at Trokay in Truckee. It's a great modern American restaurant where you can sample New American dishes that are expertly paired with delicious wine.
Just know that it's a fine dining restaurant so you will have to dress up a bit. But it's worth it since their 4/10-course tasting menus are legendary.
Local Tip: If you're looking to have dinner somewhere a bit more chill try a burger at Truckee Tavern and Grill or listen to some music while sipping on a cocktail at Moody's Bistro Bar & Beats.
3 Day Itinerary in Lake Tahoe Map
Get a lay of the land with this Lake Tahoe map of your itinerary.
Additional Lake Tahoe Activities
Although we only covered a weekend itinerary for Lake Tahoe, there's plenty to do in and around Lake Tahoe. If you have a few extra days, consider checking out other areas in Lake Tahoe or enjoying a few of these activities:
Rock climbing in Lake Tahoe
Rent a Kayak or SUP and paddle around the lake
Take a scenic boat ride with Tahoe Cruises
Spend the day in Truckee
Go on an amazing day trip from Lake Tahoe
Hike part of the Tahoe Rim Trail
Take a photographic scenic tour
What to Pack for Lake Tahoe
When it comes to packing for a trip to Lake Tahoe, you'll want to bring a few handy items:
A warm jacket, hat, and pants. Even though the daytime temps are warm, the mountain air gets quite chilly at night.
A small hiking backpack. I love the REI Flash.
First aid kit
headlamp – there aren't any street lights in Lake Tahoe.
Sunscreen, Sunhat, and sunglasses. The sun's rays are really intense. I would even consider bringing a sun shirt for when you've had enough sunshine but still want to stay outside.
Lotion, eye drops, and nasal spray. The air in Lake Tahoe is super-dry, having these things will help combat irritated skin and sinuses.
Beach towel and swimsuit.
Local Tips for Visiting Lake Tahoe
When it comes to visiting Tahoe, I've got you covered. Here are a few quick tips to keep in mind while planning your trip.
Plan ahead and plan early. Tahoe gets very crowded during the busy season, and advanced reservations are almost always required.
Secure any required hiking permits in advance.
Rent a car. Uber and Lyft do exist here, and there is the TART (a bus system) but it will be far less of a hassle (and far less expensive) to rent a car than to Uber everywhere.
Planning a trip to Lake Tahoe? Check out these travel resources:
Best Day Trips from Lake Tahoe (coming soon)