Emerald Bay is the crown jewel of Lake Tahoe scenery. Emerald waters glisten against the mid-day sun. The sandy beach glistens with fools gold sand to create a striking scene that is out of this world. The best way to visit has to be to embark on an Emerald Bay hike that you won't forget.
The Emerald Bay hike is technically a misnomer – there are several distinct hiking trails in the area ripe for exploring that cater to different abilities. This unique bay is a must-see stop on any Lake Tahoe weekend itinerary simply because there's not much else like it around.
You'll get to experience the richly-colored, crystal clear waters of Lake Tahoe. From the sapphire blues to the shimmering emerald colors you may even think you're on a tropical island if it weren't for the rich scent of the Sierra pines.
You can keep coming back here and experience Emerald Bay from different hiking trails, at different times of year, and during different weather conditions. You really can't have the same experience here twice.
I've been coming to Lake Tahoe for over 20 years. My family lives here and I regularly head out one of the Emerald Bay hikes in the area. As a long-time visitor and part-time local, Tahoe is a second home for me.
Throughout the years I've watched as this stunning bay went from a quiet place to enjoy sunrise to an uber-crowded tourist destination. The development of the bay may have changed over the years, but its captivating landscape keeps me coming back for more.
About this Guide to the Emerald Bay Hike and Visiting the Bay
It's my mission to help you enjoy your Emerald Bay hike like a local, not a tourist. You'll get the inside scoop on everything you need to know to visit Emerald Bay. In this guide you'll find:
Emerald Bay State Park location
Practical information for visiting Emerald Bay State Park
The best time of year to visit Emerald Bay
Which Emerald Bay hike is right for you
Information on hiking to the famous Eagle Falls in Lake Tahoe
How to beat the crowds at Emerald Bay, Lake Tahoe
Additional Lake Tahoe planning resources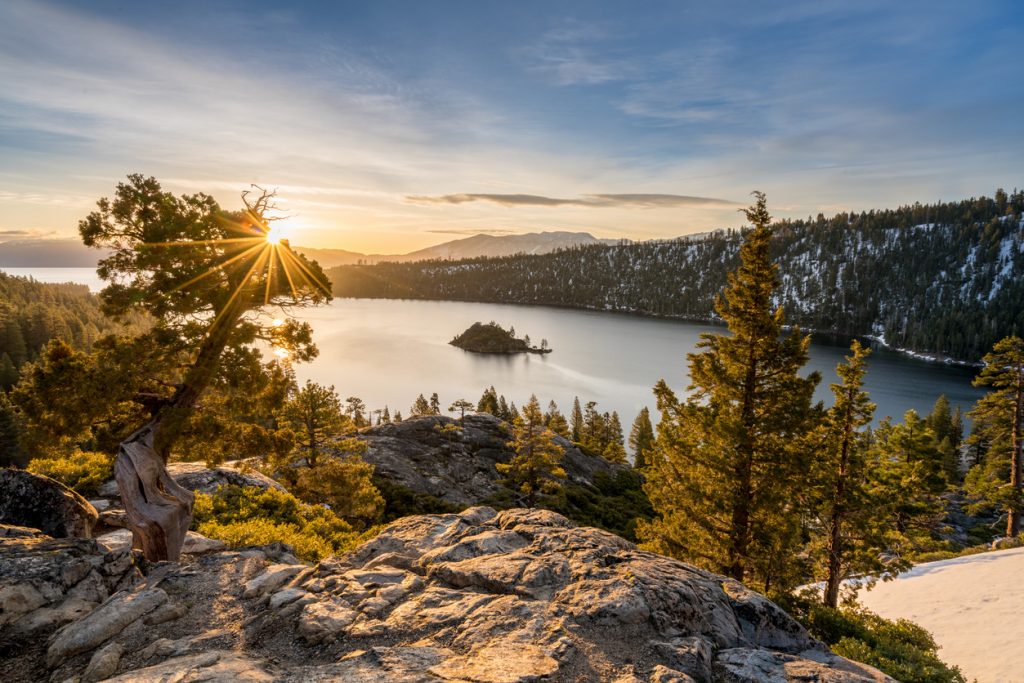 Where is the Emerald Bay Trail?
The Emerald Bay State Park is perched high up on Highway 89, with easy access for any vehicle. The park itself is snuggled between the famous Desolation Wilderness to the south and the popular DL Bilss State Park on the north. The park itself encompasses the whole of Emerald Bay and cascades right down to the shoreline.
You can reach Emerald Bay State Park either by boat (from virtually anywhere on the water) and from a 20-minute drive just west of South Lake Tahoe. Take Highway 50 until the 89 junction in Tahoe Valley.
Swing right at the Highway 89 junction and continue along the road until you reach Emerald Bay.
Visiting Emerald Bay State Park
Emerald Bay State Park hugs the steep shoreline of Emerald Bay and the surrounding hillsides. It includes the famous spit of land you can see from virtually any Emerald Bay viewpoint, Fannette Island.
The only way in and out of the state park is at either the Vikingsholm parking lot or the Desolation Wilderness trailhead on the opposite side of the highway. Parking fees are $10 no matter when you are visiting.
There are a couple (like 5) free parking spots that are open if you arrive before sunup or early in the morning during the winter. Parking along the road is generally illegal and very dangerous thanks to the steep incline and winding turns.
When is the Best Time to Visit Emerald Bay?
Emerald Bay can be visited year-round. I've certainly hiked here over Christmas and in the heat of the summer. In winter, the scene is picture-perfect, although some of the trails can get really slick in the snow, so bring proper footwear with traction.
Local Tip: Highway 89 does close around Emerald Bay if the weather is really rough, so always check road conditions before heading out.
Spring and fall are the best times to visit Lake Tahoe in general, and fall is a personal favorite of mine. The crowded days of summer are long gone and you can still enjoy amazingly warm weather.
Summer is the most popular time to visit Emerald Bay by far. I actually would recommend arriving here before sunrise if you're visiting during a summer weekend. It's just packed otherwise.
Which Trail is the Best Emerald Bay Hike?
There are actually several different Emerald Bay trails you can explore to see this drool-worthy landscape from several different vantage points. The best hike at Emerald Bay really depends on what you want to get out of your visit.
Are you looking for a bird's eye view of the glistening waters? Or do you want to dip your toes in the gold-flecked sand and learn about the Vinkingholm cabin, a small historic home located on the shores of the bay. Each Emerald Bay hike brings you a different experience of the bay.
The Emerald Bay Trail
Featuring one of the most iconic Lake Tahoe viewpoints, this is the ideal hike if you're looking for a hike that won't take you far from the road. Once you reach the parking lot, simply head along the trail that winds its way south, hugging the road.
You'll eventually reach a small waterfall that spills down the hillside with Emerald Bay as the backdrop. This hike is more like a walk on a dirt trail. It's easy to follow and only takes about 10 minutes to walk out and back.
Round-trip distance: Around 0.5 miles
Elevation gain: 30 feet
Approximate time: 30 minutes
Difficulty: Very easy
Pet-friendly: Yes
The Rubicon Trail
As one of the best Lake Tahoe hikes (and a personal favorite of mine) the Rubicon Trail delivers jaw-dropping views of Emerald Bay. You'll make your way down to the Vikingsholm cabin, pass by lower Eagle Falls, curl around the bay and head directly to D.L. Bliss State Park, where the trail terminates at either a parking area or old lighthouse.
Most people opt to start the Rubicon Trail from D.L. Bliss, but I enjoy starting at the Upper Eagle Point Campground along this Emerald Bay hike.
Local Tip: This trail gets MOBBED by mid-day. Start just before sunrise to have some solitude and experience the quiet nature of this amazing space.
Round-trip distance: 10.2 to 16 miles round-trip if you add the lighthouse. You can also loop back via the Vikingsholm Trail for a shorter hike.
Elevation gain: 1,090 feet
Approximate time: 5 to 8 hours depending on stops
Difficulty: This trail gets a difficult ranking, but I found it to be quite moderate if you're used to mountain hiking.
Pet-friendly: Yes
The Vikingsholm Trail
If you're into history and you want to dip your toes in the glittering waters of Emerald Bay, then definitely check out the Vikingsholm Trail. Head north from the main lot along a well-marked trail that swoops down to the water's edge.
Take a tour of the Vikingsholm Cabin (more like a mansion to me – but hey – it's Tahoe afterall). This beautiful, historic home was constructed in the 1860s before it eventually donated as a state park in 1953.
After you've been awe-struck by this incredibly intricate castle, be sure to check out Lower Eagle Falls before heading back up to the parking area.
Local Tip: Boat traffic comes in hot and heavy here during the day, so be prepared to share this space or arrive early for a quieter experience.
Round-trip distance: 1.7 miles, 2.3 if you include Lower Eagle Falls
Elevation gain: 377 feet
Approximate time: 45 minutes to 2 hours depending on how many times you stop to admire the view
Difficulty: Easy to moderate
Pet-friendly: Yes
Hiking to Eagle Falls in Lake Tahoe
There are countless amazing hikes in the Desolation Wilderness, but Eagle Falls and Eagle Lake is one of my all-time favorites. I'm pretty sure I've hiked this trail at least 12 times over the years. It was one of my first-ever solo hiking experiences and I abosolutely take first-time visitors on this hike.
You'll not only get amazing views of Emerald Bay, but you'll also get up close and personal with some of the most dramatic Sierra ridgelines that Tahoe has to offer. The trail is very well marked – simply follow signs to Eagle Lake.
Take the first left, then the first right to stop at the Vista Point View. Next, you'll pass over Upper Eagle Falls via a sturdy bridge.
Hike upwards along a hillside with rock steps. Eventually, you'll crest a hill where you'll see stunning rocky peaks and arrive at Eagle Lake. Soak in the amazing scenery and walk part-way along the lake for more alpine scenery.
If you want a real challenge you can continue onwards for several more miles until the trail eventually runs into the PCT.
Local Tip: This trail is in the shade most of winter. With so much traffic and snow, it quickly becomes quite slick. Bring hiking poles and traction such as micro-spikes for a winter hike.
Round-trip distance: 1.9 miles
Elevation gain: 459 feet
Approximate time: 1 hour
Difficulty: Easy to moderate
Pet-friendly: Yes
Emerald Bay Viewpoint Trail
When most people think about the Emerald Bay hike, they are likely thinking about the Emerald Point Trail. This is actually a combo route that takes you down to the Vinkingsholm mansion via the Vikingsholm Trail then connects northeast (left at the junction) with the Rubicon Trail.
You'll walk the edge of the bay until you reach Emerald Point. You've got opportunities to swim or grab peeping views of Emerald Bay as you hike.
Round-trip distance: 4.4 miles
Elevation gain: 521 feet
Approximate time: 2 – 4 hours
Difficulty: moderate
Pet-friendly: Yes
How to Beat the Crowds at Emerald Bay
If there's one thing to know about heading out on an Emerald Bay hike it's to get there EARLY. Even during the winter I'll get here by sunrise just to avoid the swarms of people that come to Emerald Bay.
Try to avoid visiting during the weekend in the summer if at all possible, if not, I'd show up by 5 am to get a head start on any Emerald Bay hikes and enjoy some solitude.
Sunset is another good time to hike at Emerald Bay. It's typically a little less crowded than the daytime, but it does see crowds. Just be sure to pack a headlamp.
Tips for Hiking at Emerald Bay
Be in the know before you go. Here are a few quick tips ot make the most of your Emerald Bay hike.
Stay on the trails and follow signage. This place is really getting loved to death. Be sure to stay on the trail to avoid trampling the pristine wilderness.
Pack it out. Don't litter and bring a small baggy to pack out your trash. There are toilets at the trailhead, but if you have to go while hiking, please pack out your toilet paper and dig a proper hole 70-adult steps from the trail. If you're traveling with a doggo, be prepared to carry their poop bags with you.
Acclimatize properly. Some people struggle to adjust to the altitude, so take your time adjusting. Don't go for the burliest hike your first day at altitude. Drink plenty of water (Tahoe in general is REALLY dry despite the lake).
Remember the essentials. Be sure to pack sturdy footwear, plenty of water, salty snacks, sunscreen, a jacket (yes, even in summer), a hat, and know where you are going. New to hiking? Learn the basics of hiking so you can make the most of your adventure.
Watch out for Weather. The weather can get nasty quickly in Lake Tahoe. Always be prepared with rain gear and a jacket, even in the summer.
Additional Planning Resources
Heading to Lake Tahoe? I've got you covered with this list of locally curated resources.
PIN THIS POST