Nestled in the stunning Sierra Nevada's, Lake Tahoe is a sapphire among snowcapped peaks. No visit to this magical region is complete without exploring some of the best hikes in Lake Tahoe.
I've been coming to Lake Tahoe since I was 14 years old. Flash forward 20 years later and I'm still coming back to the magical place.
My family lives here and I visit multiple times a year. I've explored plenty of amazing hiking trails in Lake Tahoe throughout the years, and here are a few of my locally-recommended favorites.
About this Guide to the Most Amazing Lake Tahoe Hikes
As a local, I know all of the best things to do in Lake Tahoe and hiking is at the top of the list.
Lake Tahoe hikes are some of my favorites because you don't have to be a world class-hiker in order to enjoy absolutely jaw-dropping scenery.
Seriously, no Lake Tahoe itinerary is complete without a hike or two.
In fact, you only need a few minutes to enjoy some of the best hikes in Lake Tahoe. In this guide to best Lake Tahoe hiking trails we'll cover:
Easy Lake Tahoe hikes
Lake Tahoe's best moderate hikes with a view
Amazing challenging hikes in Lake Tahoe
Location, difficulty, distance, elevation gain, and any local advice for each trail.
General tips for hiking in Lake Tahoe
Additional resources for planning a trip to Lake Tahoe
Best Easy Lake Tahoe Hikes
When it comes to easy hiking trails in Lake Tahoe, you're spoiled for choice. Many of these hikes are less than 3 miles round trip, making them an ideal option if you're short on time.
1. Emerald Point Trail: Emerald Bay, Lake Tahoe
Emerald Bay is a South Lake Tahoe icon and it offers some of the best hikes in Lake Tahoe.
Sparkling emerald waters surround this famous bay. Flecks of Pyrite, or Fool's Gold, in the sand contrast the deep green waters. Most people stop at the start of this trail at the scenic pullout along Emerald Bay Road.
Climb down the steep hill and come across an old building at the water's edge.
Hike along the north side of the beach where you will get up close and personal with the stunning emerald waters, get a great view of Fannette Island and maybe even see a steam-powered paddle boat.
Local Tip: Pack your swimsuit, there are plenty of opportunities to swim along the way.
 Directions to the trailhead: From the north or south shores follow Highway 89 until you reach Emerald Bay (about 20 minutes outside of South Lake).
You will see a pullout on the lake side of the road for Emerald Bay Lookout. Pull in and the trailhead is right there.
Distance: 4.4 miles total. Out and back trail.
Difficulty: Easy to moderate
Elevation gain: 557 feet
2. Best Beginner Hike in Lake Tahoe: Eagle Lake Trail
This is one of my all-time favorites any time of year.
Located in the iconic Desolation Wilderness this doggy-friendly hike starts out with an uphill climb, but it's worth the effort, spanning views of Lake Tahoe from the top of the hill make the Eagle Lake trail one of the best hikes in Lake Tahoe.
Continue onwards for views of Eagle Lake, a small lake nestled among stunning granite peaks.
You can continue walking uphill for even better views or eventually connect to the Bayview Trail for a longer hike to get deeper into the Desolation Wilderness.
Directions to the trailhead: Simply head to the Emerald Bay Overlook. The trail is right across the street from Emerald Bay. Keep in mind if you plan on staying overnight, you'll need a permit
Distance: 1.8 miles Out-and-Back Trail
Difficulty: Easy
Elevation gain: 433 feet
Get Your Free Hiking Gear List and Hiking Planner!
3. Hidden Beach Trail: Off of Highway 28 on the Nevada Side
This is a local favorite Lake Tahoe hike and it's easy to see why. There is no official trail, just a few paths made by the locals.
You can boat in or walk to this swimming hole. It's an easy scramble down the side of Highway 28.
At the bottom, you'll reach a stunning beach with crystal clear waters and the rounded rocks that Lake Tahoe is famous for.
Local Tip: Pack your cooler, wear your swimsuit and hike down to the water and enjoy a relaxing day at the beach.
Directions to the trailhead: There is no official trailhead. Coming from Incline Village drive south on Highway 28. After you pass Lakeshore Blvd drive 0.9 miles. You will see cars along the side of the highway. Park and follow the cow paths down to the water. Coming from the south side the beach is located approximately 0.9 miles from the Memorial Point Scenic Overlook.
Distance: Approximately 0.5 miles round trip. Out and back
Difficulty: Easy.
Elevation gain: 50 feet
4. Cave Rock for Sunset
As a local favorite, I love making a trip out to Cave Rock for sunset every time I head back to Lake Tahoe.
It's one of the most scenic Lake Tahoe hikes and it doesn't take much effort to get there. Simply pull off of Highway 50 and make your way up to cave rock.
You may need to use your hands to get to the top of the rock, but the views are worth it!
Local Tip: This is one of the most scenic spots in Lake Tahoe so bring your camera!
Directions to the trailhead: Pullout just past the tunnel near Cave Rock State Park, just south of Glenbrook
Distance: 1.6 miles total. Out and back trail.
Difficulty: Easy
Elevation gain: 137 feet
5. Cascade Falls
Waterfalls and two lakes oh my! The Cascade Falls Trail is an assault on the senses, making it one of my favorite hiking trails in Lake Tahoe.
Make your way along the mellow trail towards Cascade Falls. From here, you can see a waterfall, Cascade Lake, and Lake Tahoe in one breathtaking view!
Directions to the trailhead: Head along Emerald Bay Road until you see signs for Bayview Campground, the trail is at the back of the campground.
Distance: 1.4 miles total. Out and back trail.
Difficulty: Easy
Elevation gain: 225 feet
Moderate Hiking Trails in Lake Tahoe
For the more experienced hiker, or the newbie looking to take on a challenge, there's plenty of hikes in Lake Tahoe you can explore.
6. Granite Lake and Maggie's Peaks
The Desolation Wilderness along Lake Tahoe's southern shores is stuffed to the brim with fantastic hikes in Lake Tahoe.
Granite Lake to Maggie's Peaks gives you a bird's eye view of the dramatic granite-topped mountains this region is famous for.
Directions to the trailhead: Head to the Bayview Trailhead near Emerald Lake.
Distance: Approximately 7.2 miles round trip. Out and back
Difficulty: moderate
Elevation gain: 1,761 feet
7. Echo Lakes Trail
The best thing about hiking in Lake Tahoe is the beautiful contrast between pine forests, blue lakes, and sharp granite peaks.
Head to Echo Lakes if you're looking for that classic Sierra Mountain beauty. You'll pass two lakes with jutting shorelines that make for picture-perfect backdrops.
Local Tip: This trail heads along both the Pacific Crest Trail and The Tahoe Rim Trail.
Directions to the trailhead: Head toward Echo Lake by driving south out of South Lake on Highway 50.
Distance: 5.3 miles round trip. Out and back
Difficulty: moderate.
Elevation gain: 511 feet
8. Middle Velma Lake
A longer, yet still moderate hike, the trek to Middle Velma Lake is well worth the effort.
Part of the reason why this is one of the best hikes in Lake Tahoe is because you'll travel along two other notable hikes: Eagle Lake and Emerald Point View. Middle Velma is well-worth an overnight if you're looking to backpack.
Local Tip: It's $5 to park in the parking lot and overnight permits are required for backpacking. You can park for free along the (very) limited parking on the road if you arrive early enough.
Directions to the trailhead: Head towards the parking lot for the Emerald Bay viewpoint. The trailhead is on the mountain side (not lake side).
Distance: 10 miles. Out and back
Difficulty: moderate to difficult.
Elevation gain: 2,132 feet
9. Marlette Lake
Towards the north shore of Lake Tahoe, you'll find Marlette Lake. Travel along the iconic Tahoe Rim Trail on this fantastic hike.
Take the Chimeny Beach trail until you hit a junction, stay left and you'll bump right into the shores of Marlette Lake. You can loop the trail in a lollipop fashion, or head back the way you came.
Directions to the trailhead: Along Highway 28 just south of Sand Harbor. Trailhead is on the mountain side of the road.
Distance: 8.6 miles round trip. Out and back
Difficulty: moderate.
Elevation gain: 2,135 feet
10. Rubicon Trail
The famous Rubicon Trail curls its way around Emerald Bay and offers a lot of different hiking options. My personal favorite is to take the horseshoe around Emerald Bay and back.
Directions to the trailhead: Head toward the Rubicon Trailhead, the turnoff is along Emerald Bay Road on the eastern side of the bay.
Distance: 6 miles round trip, with the option to make it longer. Out and back
Difficulty: Moderate.
Elevation gain: around 800 feet
Beautiful and Challenging Lake Tahoe Hiking Trails
Avid hikers will love the high-altitude challenges around the Lake. Some of the best hikes in Lake Tahoe are the toughest. However, with great effort comes stellar rewards. The views will take your breath away.
11. Mount Tallac Hiking Trail
Make your way to the highest point in Lake Tahoe's California coastline along the Mount Tallac Trail.
This grueling grind winds its way up to the top of Mount Tallac, 9,735 feet above sea level. Be prepared for this challenge by bringing everything you need to hike to the top of a mountain.
Directions to the trailhead: Start your hike outside of Spring Creek at the Mt Tallac Trailhead.
Distance: 10.2 miles round trip. Out and back
Difficulty: Difficult.
Elevation gain: 3,290 feet
12. Lake Aloha Trail
Arguably the best backpacking loop in all of Lake Tahoe, you can still day hike this beauty if you're up for a challenge.
Make your way past Echo Lakes along the Pacific Crest Trail towards Lake Aloha. As a granite-scraped lake littered with tiny islands, it's well worth the trip for the amazing views and other-worldly feel.
Directions to the trailhead: See directions for Echo Lake
Distance: 12.5 miles round trip. Out and back
Difficulty: difficult
Elevation gain: 1,873 feet
13. Summit Mt Rose: Mt Rose Wilderness, Nevada
Mount Rose is the highest point on the Nevada side of Lake Tahoe at 10,778 feet. This 10.6-mile trail boasts a waterfall, alpine lakes and plenty of mountain scenery.
After 2.5 miles you'll spot the waterfall. Keep right at the junction just past the waterfall. From here the trail starts to climb.
There will be another junction along the way, again you will want to head right. It's another climb across the ridge.
Afterward, you will encounter several switchbacks along this Lake Tahoe hike.
The trail is well-defined to the top and offers stunning views of Lake Tahoe as well Reno. Despite the difficulty of this hike, the views are well worth the effort.
Directions to the trailhead: This trail is located at the top of Mt Rose Highway, NV 431, the main artery in and out of the Tahoe Basin from Reno.
Coming from Reno climb the pass until you reach the top, there will be a large parking lot with a couple of pit toilets on the right side.
Coming from the lake, you will cross through a valley and the trailhead will be on the left side.
Distance: 10.6 miles. Out and back trail.
Difficulty: Difficult
Elevation gain: 2,444 feet
14. Tahoe Rim Trail: Various Entry Points Around the Lake
Looking for a thru-hike? Or perhaps you would like to do a little wild camping. The Tahoe Rim Trail is the granddaddy of trails in the Tahoe Basin.
This 165-mile trail circumnavigates the lake, forming a loop around the Lake Tahoe Basin.
The Tahoe Rim Trail is for the ultimate adventurer. Breathtaking lake views, mountain summits, and pristine wilderness are everywhere. It is arguably one of the most scenic trails in the United States.
The Tahoe Rim Trail can be done in full or broken into eight segments. Each segment offers an in and out by vehicle and range from around 16.6 miles (26.7km) to 32.9 miles in length.
This trail crosses many high points, some well above the trees. Be sure to check on conditions before you go. Check out the Tahoe Rim Trail Association for all of your planning needs.
Directions to the trailhead: This depends on the segment and where you are starting from. The Tahoe Rim Trail Association can provide you with details on parking and trailheads depending on your plan.
Distance: 165 miles loop
Difficulty: Expert. This trail requires multiple days and an understanding of how to wild camp at high altitudes. It is best during the summer and fall months.
Elevation gain: Totals around 24,400'
When is the Best Time to Hike in Lake Tahoe?
Thanks to a stable snowpack (just wait 24 hours after a storm) and an awesome snow-removal team, you can hike in Lake Tahoe year-round.
However, winter hiking is tougher and often requires snowshoes, microspikes, and other special gear.
The best time to hike in Lake Tahoe is from June through October. The busy season for Lake Tahoe runs from Juen through August.
My favorite time to visit Lake Tahoe and go for a hike is in September and October. It's still warm enough to hike, but the crowds of summer are long-gone.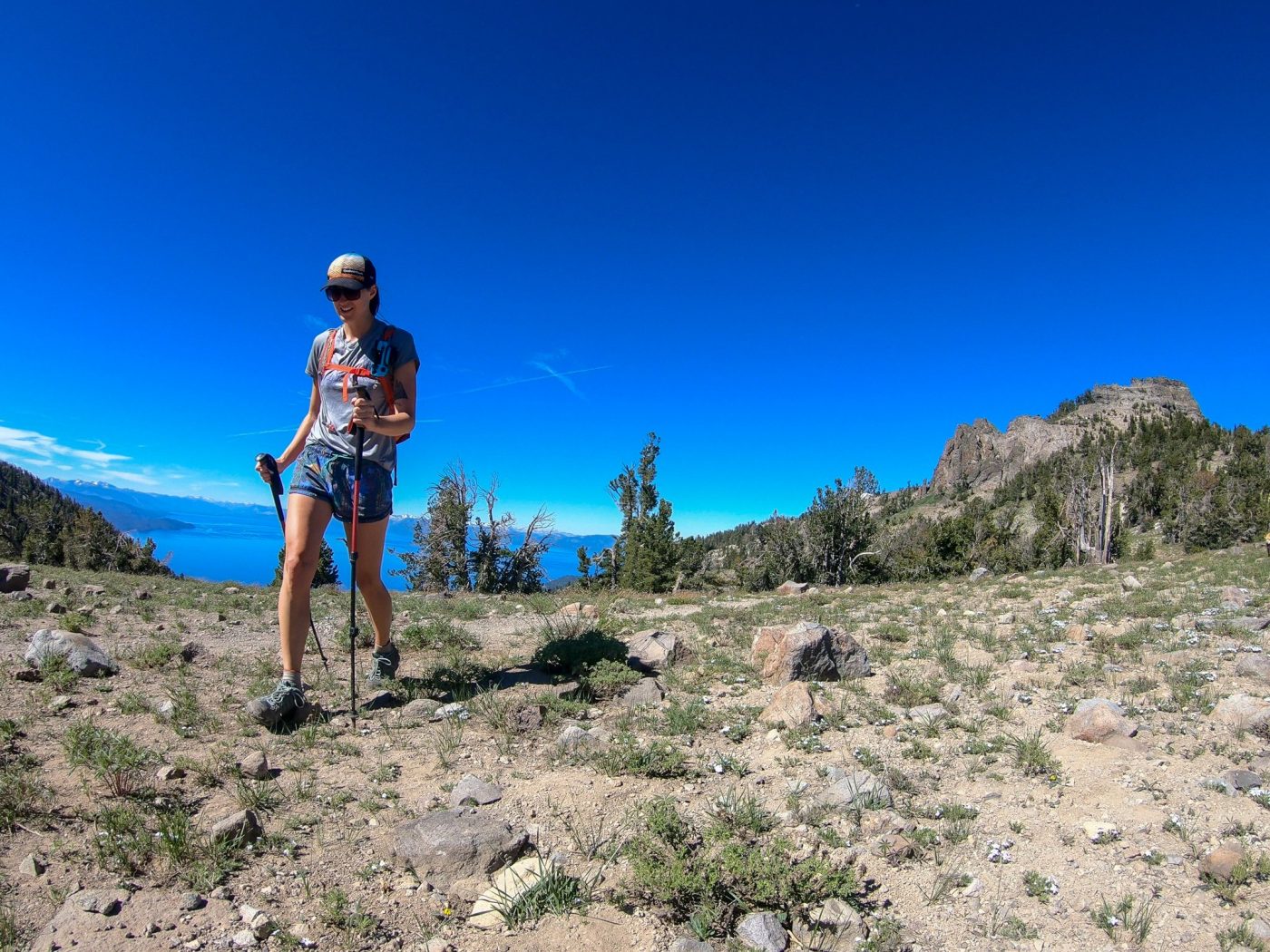 Tips and Tricks for Enjoying the Best Lake Tahoe Hiking Trails
Hiking in Lake Tahoe is a simple, budget-friendly activity that everyone can enjoy. With so many beautiful trails, there's a hike suitable for all abilities. However, keep these tips in mind when hiking in Lake Tahoe:
Start early! The crowds here are real, Lake Tahoe is not an unknown destination. Get some solitude on the trail by starting your hike as early as possible.
Check the weather. Thunderstorms are dangerous if you're above treeline.
Pack plenty of water. The mountain air is dry, which means you'll need to drink more.
Bring sun protection. The sun is brutal in Lake Tahoe, I get sunburnt often here so be sure to come prepared with a hat, sunscreen, and sunglasses.
Practice Leave No Trace. With so many people getting out and hiking, trails are becoming litered with trash and dog poop. Clean up after yourself and leave it better than you found it.
What Do I Need to Enjoy the Best Lake Tahoe Hikes?
Before you head off on any hike, be sure to check the local weather conditions where you are hiking (I love weather.gov for the most accurate Tahoe weather information). Secondly, be sure you have the ten essentials packed and ready to go.
This includes things like extra water (Lake Tahoe is very dry), snacks, and layers in case the weather changes. Be sure to carry a map and compass as well as a GPS. Lastly, tell someone your plans, and be sure to check in when you get back.
New to hiking? Here are some articles to get you started:
There are countless trails in the Lake Tahoe area, and these are just a few of the best Lake Tahoe hikes. Happy hiking!
Get the Best Local Travel Advice for Lake Tahoe with These Resources: