Lake Tahoe is home to world-famous hiking year-round. One of the easiest hiking trails in the area is Cave Rock, Lake Tahoe. This ultra-simple hike offers incredible views and only takes a few minutes to reach the top.
As one of the best viewpoints in Lake Tahoe, Cave Rock is a must-visit on any Lake Tahoe itinerary. As an honorary local (my parents live here), I try to hike to Cave Rock every chance I get.
About Hiking at Cave Rock Lake Tahoe
Cave Rock is one of the best Lake Tahoe hikes. What makes Cave Rock, Lake Tahoe so great is that it's really easy to hike to the top. The entire trip only takes around 45 minutes round trip (including plenty of time to soak in those views).
Here's what we'll cover in this guide to hiking to Cave Rock, Lake Tahoe:
An interesting history of Cave rock
When to visit Cave Rock
Trail facts
About the Cave Rock hike
Things to do nearby
Places to eat
Additional Lake Tahoe travel resources
A History of Cave Rock
Cave Rock, South Lake Tahoe has a very interesting history. This rock is one of the highest points along the shores of Lake Tahoe. Along the water, there are various caves that drop straight into the lake.
Cave Rock is sacred to the local Washoe Native Americans. They traditionally bury their dead by sinking them into the lake below the rock.
The Washoe and Paiute people got into an epic battle over Cave Rock, and the Washoe prevailed, saving their sacred burial ground. Today, the Washoe are kind enough to allow people to come here and enjoy the sweeping scenery.
When visiting Cave Rock, Lake Tahoe, be sure to pay your respects, you're traveling on sacred ground. This is a burial site, so do not trash the area.
When to Hike to Cave Rock in Lake Tahoe
Honestly, you can hike Cave Rock at any time of year, even if you are looking for things to do in Lake Tahoe in winter. The first time I hiked this trail was over Christmas. It was a little snowy, but still safe and provided beautiful views.
The best time to visit Cave Rock is at sunset. You'll get a bird's eye view of Lake Tahoe from this precarious perch. You can watch the sunset directly over the lake since you'll face west.
Where is Cave Rock in Nevada?
You'll find Cave Rock right along Highway 50. In fact, you'll drive right under it! If you're coming from the south, you'll see the Cave Rock Lake Tahoe Nevada State Park first, on your left (lakeside). It's important to note that this small shoreline park gives you views of Cave Rock, but it isn't the viewpoint you're looking for. We'll talk more about the park proper later.
To access the Cave Rock Trailhead, you'll want to turn up Cave Rock Drive and park at the obvious hairpin turn. From here, you'll find the trailhead that leads to the top of Cave Rock.
If you're coming from the north, you'll pass through the tunnel under Cave Rock first, then take your first left onto Cave Rock Drive.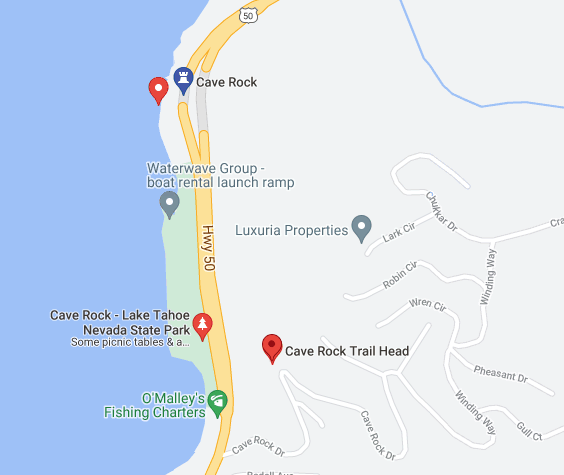 Cave Rock, Lake Tahoe Trail Facts
Cave Rock is suitable for everyone and anyone planning a Lake Tahoe itinerary. However, keep in mind that you may need to use your hands for a quick scramble to the top. There are no guard rails and a fall would put you on the highway or in the lake – several hundred feet below you, so do take care.
Mileage: 0.8 miles round trip. Out-and-back trail
Average Time: 45 minutes to 1 hour including plenty of time to soak in the views.
Elevation Gain: 137 feet
Difficulty: Very easy
Dog-Friendly?: Yes, but keep in mind you may need to carry small dogs towards the top.
How long is the Cave Rock Hike in Lake Tahoe?
The Cave Rock Lake Tahoe hike is very short. It takes about 15 minutes to hike to the top of Cave Rock. Overall the trail is well-marked and gentle, with a little bit of rock scrambling (using your hands to step up on top of big rocks) at the end.
The Cave Rock hike is rated very easy, although it is not accessible for strollers or people who may have trouble on rocky terrain.
However, despite the short hike, you'll probably linger at the top of Cave Rock, Nevada for a while since the views are so pretty.
How High Is Cave Rock Lake Tahoe?
Cave Rock sits 6,360 feet above sea level. Wowza! Lake Tahoe has an elevation of 6,224 feet. This makes Cave Rock a little over 100 feet tall. You'll be able to see the tiny waves crash into the shoreline from way up there.
Cave Rock Trailhead
Cave Rock is easily accessible right off of highway 50. If you're coming from the north shore of Lake Tahoe, continue just past the tunnel and turn left onto Cave Rock Drive. From the south, you'll want to turn right before the tunnel.
You'll see the trailhead at the corner of the hairpin turn along Cave Rock Drive. Note: There is a boat launch and beach nearby, you cannot access the trailhead from the boat launch parking lot.
Parking at Cave Rock, Nevada
There is space for around 6 cars. Be sure not to block the fire hydrant when you park, as this serves the neighborhood nearby. You may have to park on the street if the trailhead is busy.
The trail can be found off to the left, hugging the hillside. It's wide and steep, although it is not wheelchair accessible.
How Do you Get to the Top of Cave Rock?
You'll see Cave Rock almost immediately along the trail (you're literally hiking to the top of the rock formation that makes up the tunnel). The trail is wide and is clearly visible.
The Cave Rock trail gently makes its way up the hill. Hike along the hillside for about ten minutes. You'll reach a junction, head left towards the lake and the big rock formation.
At the end of the hike, there are several ways to the top of Cave Rock. Most of the scrambling is very mellow with little exposure (until you top out…eek!) and you may need to put a hand or two down. The scramble takes about 3 to 5 minutes and is not too difficult.
At the end of the hike, there's a small flat area to stand atop the rocks. Drops on almost every side (except where you came up) are steep. Take care if the rock is slippery.
Photographing Cave Rock
Photographers can easily access the top of Cave Rock. There's ample room to set up a tripod and get all of those Insta-worthy shots! Just take care to watch out for others and keep in mind that the drops on the other side of the rock are very steep.
Cave Rock at Sunset
Cave Rock is one of the top sunset spots in Lake Tahoe and with good reason. You'll get spanning views of the lake in virtually every direction. It's not only a great spot to watch the colors reflect off of the water, but it's also a great spot to catch expansive views of the sky.
Local Tip: It does get crowded here for sunset – especially in the summer. So plan to arrive early if you're coming with a photography set up. Alternatively, you can try to catch a sunset during the spring or fall, when Lake Tahoe is less crowded and has more of a local vibe.
Photographers will want to bring a variety of lenses, including a wide-angle to shoot Cave Rock at sunset. This lets you get a sense of the vast landscape. But you'll also want something tighter in order to see how much the mountains crawl out of the shoreline.
Can You Fish Near Cave Rock?
The short answer? Yes – you can fish at the Cave Rock Nevada Park. Just know that this isn't the Cave Rock Lake Tahoe hike, it's a separate area that's across a busy highway. You can't fish from the Cave Rock hike.
However, if you do want to fish, then head to the Cave Rock Lake Tahoe Nevada State Park. There's a rocky shoreline that covers most of the park, and this is the ideal spot to cast a line. It's a $10 fee to enter this tiny pocket park and you'll need a fishing license for Nevada.
Local Tip: You cannot fish from the boat ramp or swimming beach.
Cave Rock Nevada State Park
Right along the side of Highway 50, you'll find the Cave Rock Nevada State Park. Remember, you can't access the Cave Rock hike from here, but instead, you'll get to see cave rock from the shoreline.
There is a $10 fee to enter the park. It's a small, cozy park featuring a boat ramp, small swimming beach, rocky shoreline for fishing, and a picnic area.
It's quite loud since the highway is literally just steps away, but if you're looking for a cozy place to hang out after you do the Cave Rock Hike, the Cave Rock Lake Tahoe Nevada State Park isn't a bad option.
Things to Do Near Cave Rock, South Lake Tahoe
Aside from enjoying one of the best viewpoints in Lake Tahoe, there are a few other things to do around Cave Rock. If you have a boat you can launch right at the base of Cave Rock using the boat launch.
Swimmers should head to nearby Sand Harbor to the north. Alternatively, you can continue south on Highway 50 for another 20 minutes and find yourself in the heart of South Lake Tahoe where you can shop, eat, and gamble.
Either way, if you plan on driving around the lake (which you should!), Cave Rock is a must-stop along the way.
Places to Eat Near Cave Rock Lake Tahoe
After you're finished hiking, head to one of Tahoe's most famous eateries. The best food spots in Lake Tahoe can be found at either the north or south end of the lake. Cave rock is almost between the two shores (a little closer to South Lake) so pick a direction and go!
Here are a few can't-miss places to eat near Cave Rock:
T's Rotisserie. Delicious rotisserie meats in burrito and taco form. YUM! Incline Village, Nevada (north)
Bite American Eats. Tasty small plates. Incline Village, Nevada (north)
Base Camp Pizza. Heavenly Village (south)
McDuff's Pub. Scottish pub food. Stateline (south)
Additional Lake Tahoe Travel Resources
Planning a trip to Lake Tahoe? I've got plenty of local travel resources to help you have the most amazing Tahoe adventure!