With its jewel-colored water and dramatic Sierra Mountains, Lake Tahoe is an outdoor adventurer's paradise. There are so many Lake Tahoe summer activities, you can spend a lifetime here and still only scratch the surface.
Lake Tahoe summers allow you to indulge in endless sunshine and adventures perfect for the type 2 fun artist all the way to the family-friendly day at the beach. The endless miles of coastline is home to several different towns, from the high-rise casinos of South Lake all the way to the tiny cabins along Lake Tahoe's Western Shores.
My family lives in Lake Tahoe and I spend weeks here every year, for the past 20 years. If you're looking to get insight on the best things to do in Lake Tahoe in summer like a local, then you're in the right place.
About this Guide to Lake Tahoe Summer Activities
Get the local know-how with this guide to Lake Tahoe summer activities. Inside this guide you'll find:
A look at how many days to spend in Lake Tahoe
Getting into and around the Tahoe Basin
Where to Stay
The best things to do in Lake Tahoe
Quick Lake Tahoe packing list to stay organized
Additional local Tahoe travel resourse
How Many Days Should I Spend in Lake Tahoe?
Having spent tons of time in Lake Tahoe over the years, it's hard to say just how long you should spend here, since you'll never want to leave.
Certainly, if you have only three days in Lake Tahoe you can see quite a bit. By staying in one area (either the North Shore or South Lake), you can really dive into an area.
With one week in Lake Tahoe, you'll be able to fully explore each side of the lake. This allows you more time for exploring, but Tahoe can be quite pricey, so it might explode your budget if you're short on cash.
How to Get to Lake Tahoe
There are a few ways in and out of Lake Tahoe with the three main access points being Highway 50, Interstate 80, and the Mount Rose Highway.
If you're flying into Lake Tahoe the easiest access point is the Reno Tahoe International Airport. From here, it's about a 40-minute drive up and over Mount Rose Highway into the Tahoe Basin. This drops you directly on the north shore.
From SoCal, Sacramento, or San Francisco you have two options Highway 50 or Interstate 80. Highway 50 is quicker and drops you directly into the bustling South Lake Tahoe. With high rises and lakeside casinos, people who like a lively atmosphere will prefer South Lake.
Interstate 80 takes you through Truckee. A more budget-friendly spot to base yourself, Truckee is about 30 minutes from Lake Tahoe proper on the north side of the lake. North Lake is far quieter than its southern counterparts and gives more of a quaint mountain feel.
Getting Around
A rental car will make your life much easier when it comes to getting around Lake Tahoe. During the warm summer months, you won't need an all-wheel-drive vehicle. And given that gas prices tend to be pretty steep in the Tahoe Basin, I wouldn't recommend it either.
There is a bus system called the TART that goes around the lake. However, it's not that efficient and can take a long time.
Ubers and rideshares are extremely expensive and hard to come by, even in South lake.
Local Tip: With over 72 miles of shoreline, driving around the lake takes a bit of time. Construction traffic, combined with tourist traffic is quite common in the summer months, so plan accordingly.
Where to Eat in Lake Tahoe
Lake Tahoe is HUGE and has a wide variety of shore-side towns sprinkled along the sapphire blue waters. There are plenty of eating options, but if you're a foodie, prepare to be a little disappointed. However, you will find a few top spots to satisfy your hunger after indulging in some of Lake Tahoe's summer activities.
South Lake Area
The Lake House: Wine bar, seafood and steakhouse $$$
Coldwater Brewery and Grill: Brewery and pub $$
The Gateway Cafe: Breakfast and brunch $$
North Shore Area
Bites American Tapas: Cocktails, Tapas, and small plates featuring rotating chefs. $$
Wings Corkean Chicken: Chicken wings and Korean $$
T's Rotisserie: rotisserie meats in burritos $
Where to Stay in Lake Tahoe
Accommodation isn't cheap, expect to pay over $180 per night at most places, (and things like free camping are nearly impossible to find) so plan ahead to get the best rates.
Camping in Lake Tahoe requires a lot of advanced planning. Most camping options are simply campgrounds and they aren't very large. Make reservations well in advance if you plan on sleeping in a tent.
Where to stay along Tahoe's shores largely depends on what you like. If you enjoy bustling towns with big buildings, then South Lake is the place for you. However, if you want a slower pace and less noise, the North Shore towns such as Tahoe City, Tahoe Pines, King's Beach or Incline Village are good places to search.
The western and eastern shorelines are primarily state parks and national forests. However, there are a few small towns sprinkled in between that offer simpler accommodation and camping.
Hotels in South Lake Tahoe
Edgewood Tahoe: $$$$
Mariott's Timber Lodge: $$$
Mellow Mountain Lodge: $
Places to Stay in North Lake Tahoe
Hyatt Regency Lake Tahoe: $$$
Francies Lakeside Lodge: $$
Granlibakken Tahoe: $$
If you don't have to be directly on the lake, consider staying in Truckee or even Reno. Truckee is a bit closer to Tahoe, but Reno offers plenty of budget-friendly accommodation, and depending on what side of town you are in, it is about an hour's drive to the northern shore.
Keep in mind that 90% of the accommodation on the Nevada side will often include a casino element. Although the casinos aren't anywhere close to as grand (or confusing and noisy) as their Las Vegas cousins.
What to Budget in Lake Tahoe
Lake Tahoe isn't a budget-friendly destination, however, you can save quite a bit by cooking your own food and enjoying some of Lake Tahoe's free outdoor activities such as hiking or exploring hidden beaches. Since accommodation will run you anywhere between $75 to upwards of $500+ a night (all the standard luxury hotel chains are here).
Expect to pay a bit more for gas around the lake, as fill stations are tough to come by. Activities can range from free to hundreds of dollars. For a mid-range experience expect to pay around $150 per day (more if you eat out for every meal) or $100 per day if you're splitting accommodation. Rates go up substantially during the summer, so save yourself some cash by getting a place with a kitchen and booking ahead.
The Best Things to do in Lake Tahoe in Summer
Across the area, there are endless Lake Tahoe summer activities to choose from. Almost all Lake Tahoe activities involve being outside and enjoying the fresh mountain air. Take a look at these amazing outdoor things to do in Tahoe this summer.
Hike Your Heart Out in Lake Tahoe
One of the best Tahoe activities that won't break the bank is hiking. There is an endless amount of Lake Tahoe hikes that offer everything from a leisurely stroll to a burly thru-hike.
Most hiking trails near Lake Tahoe are free to access, with a few spots, such as the Desolation Wilderness, requiring a permit to park in certain areas.
The benefit of hiking is that you'll get stunning views of the Lake. Some of the best trails go up into the mountains, so you'll get a bird's eye view of Lake Tahoe. Hiking offers one of the most accessible things to do in Lake Tahoe during the summer, just be sure to check the weather, pack lots of water and sun protection.
A few noteworthy hikes include:
Eagle Falls Hike
Marlette Lake
Mt Rose
Mt Tallac
Cave Rock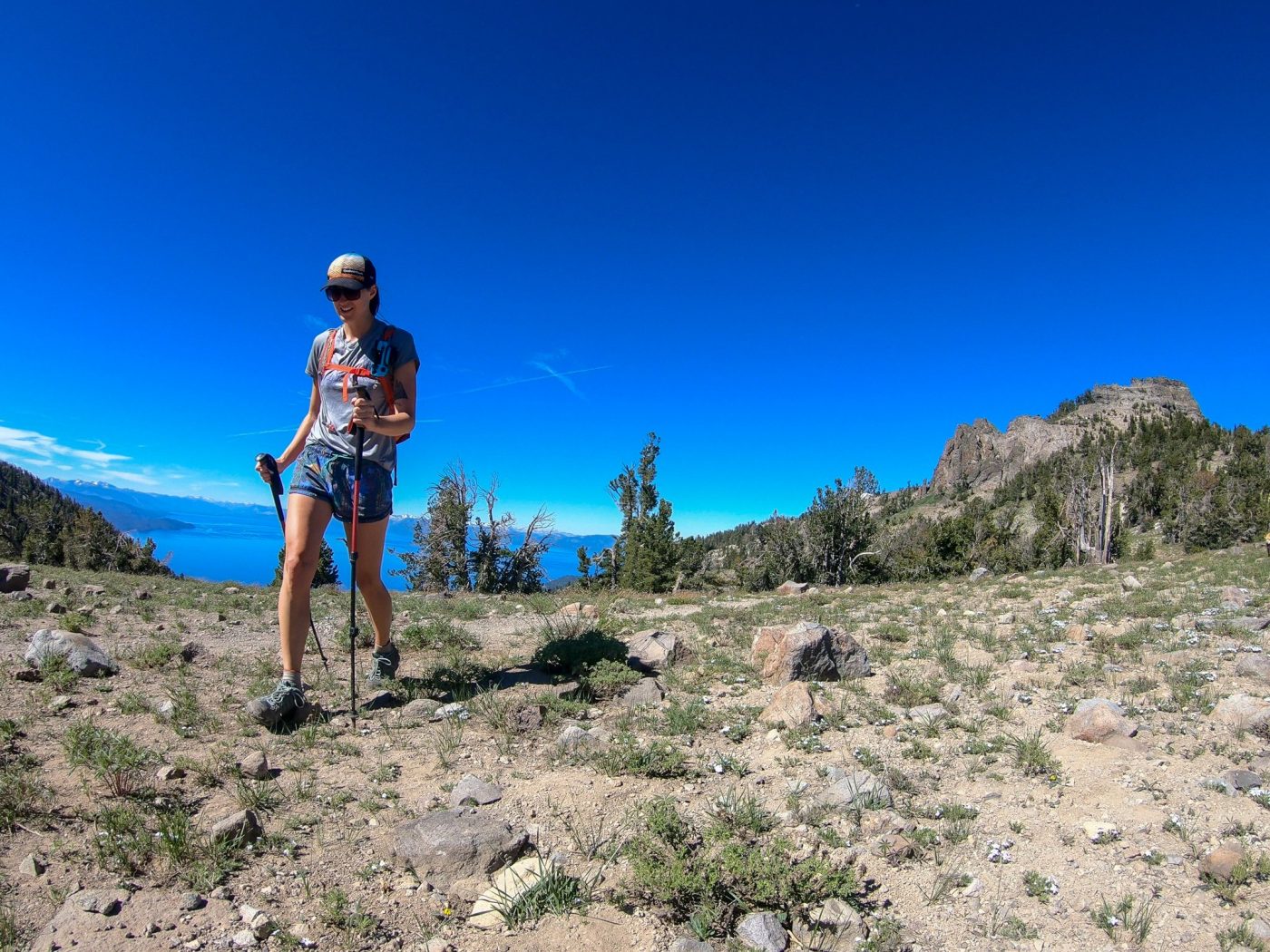 Hiking to Cave Rock at Cave Rock State Park
Located along the eastern shore, Cave Rock State Park is a must-stop on any Lake Tahoe itinerary. Hiking to Cave Rock for sunset delivers some of the most incredible Lake Tahoe views.
Cave Rock State Park is a small pocket park along the shoreline that has limited swimming, fishing, and a boat ramp. The Cave Rock hike is located outside the park, making it one of the top Lake Tahoe summer activities if you're on a limited budget.
Summit a Mountain
Nestled high in the Sierra Mountain Range, the best views of Lake Tahoe are from nearby peaks. The area offers plenty of moderate hiking trails that lead to mountain tops without needing any special gear or skills. Mt. Rose, the highest peak on the Nevada side, is an excellent class I hike with a well-developed trail to the top. Other notable peaks include Mount Tallac (Tahoe's highest peak), Pyramid Peak, and Ralston Peak.
The Local's Favorite Must-Do in Lake Tahoe: Snag a Sunset Perch
Tahoe sunsets are simply sublime! Every local has their favorite sunset spots and most of us hold those treasured viewpoints to ourselves. It's not that we don't like sharing, it's that finding the perfect perch to watch the setting sun is somewhat of a pastime here.
Explore a trail with a lofty view (don't forget your headlamp!), wander up into a neighborhood, or simply pull out on the side of the highway and take in all the color and beauty of this amazing place.
You literally can't go wrong when finding an awesome place to watch the sunset. A few places to check out include:
Bonsai Rock
Cave Rock
Chimney Beach
Emerald Bay
Get Out and Enjoy Water Sports
If you want to take a dip in Lake Tahoe, there are plenty of ways to get involved in watery fun. Literally, every town in Lake Tahoe offers access to water sports. You can easily rent SUPs, kayaks, jet skis, and even motor boats by the hour or by the day.
Certainly plan at least one day to get out in the water and play – as it's the top thing to do in Lake Tahoe during the summer!
Local Tip: Afternoons at the lake tend to get windy, making paddle sports rough and water skiing a wild ride. Head out in the morning for calmer water.
Spend the Day at Sand Harbor
Another northeast shore gem, Sand Harbor is a much-loved beach along the Nevada side of Lake Tahoe. Typically, parking will fill before 10 am so if you want to snag a spot, you'll need to show up early.
The broad, sandy beach is watched by a lifeguard, making it a great place for the whole family. Picnic areas and bathrooms are around, but be sure to pack the sunscreen!
If you've got a boat, you can also launch your boat here. Sand Harbor is one of the few public boat ramps on the northern side of the Lake.
Visit Bonsai Rock
For a quirky sight, head down to Bonsai Rock. Locate on the northeast shore of Lake Tahoe, people flock to these uniquely perched trees in order to take an iconic photo of Lake Tahoe. The rock itself isn't accessible, but you can enjoy the trees that look frozen in time from a distance.
The way they grow evokes a sense of artistry at this famous Lake Tahoe landmark. This quintessential Lake Tahoe summer attraction is a must-see.
Go Parasailing
Strap in and bring your GoPro for this exciting Tahoe summer activity. Rise above a speeding boat and catch a glimpse of life on the water from above. Soar 4oo to 1,200 feet above the water in this adventure-packed ride. Tahoe Sports offers parasailing adventures for the whole family. You can even just ride along if you aren't feeling up to the gut-wrenching heights.
Spend the Day at Some of Lake Tahoe's Best Beaches
Stretching from the north to south shores, you'll find no shortage of amazing Lake Tahoe beaches to enjoy. Spend the day lounging in the sand and admiring the gem colored waters at one of the many amazing beaches at Lake Tahoe.
Sand is typically pretty grainy – it's just ground up rocks after all – but that doesn't mean you want want to sink your toes into these hot spots:
Incline Beach (private, access is allowed if you stay at an AirBnB in the area)
Meeks Bay
Nevada Beach
Bliss Beach
Skunk Harbor
Hidden Beach
Take a Scenic Drive
It's easy to soak up all of the amazing Lake Tahoe views right from the comfort of your car. In fact, circumnavigating the lake is one of the top things to do in Lake Tahoe.
There are ample places to pull over and snap photos. You'll also find plenty of parks, picnic areas, open spaces and more. So get out and explore Tahoe's many personalities with a lakeside drive.
The entire drive takes around 2 hours without traffic, so budget your time accordingly.
Best Lake Tahoe Summer Activities on the South Shore
South Lake Tahoe is a bustling place. Many people don't expect the high rises, long lines of traffic, and…well…different kind of mountain feel. However some of the best thing to do in Lake Tahoe can be found in and around South Lake, so it's certainly worth a visit.
Experience Lake Tahoe's Premier Attraction Emerald Bay
Every time I take a newbie to Lake Tahoe, regardless of the season, I always opt for a little early morning action at Emerald Bay. As one of Tahoe's most iconic viewpoints, Emerald Bay is a sight to behold.
In just the right light, the clear waters give off an emerald shimmer that I've seen nowhere else. However, this Lake Tahoe summer activity is well known. For the best chance at solitude, opt to arrive for sunrise or early in the morning to beat the tour buses and crowds.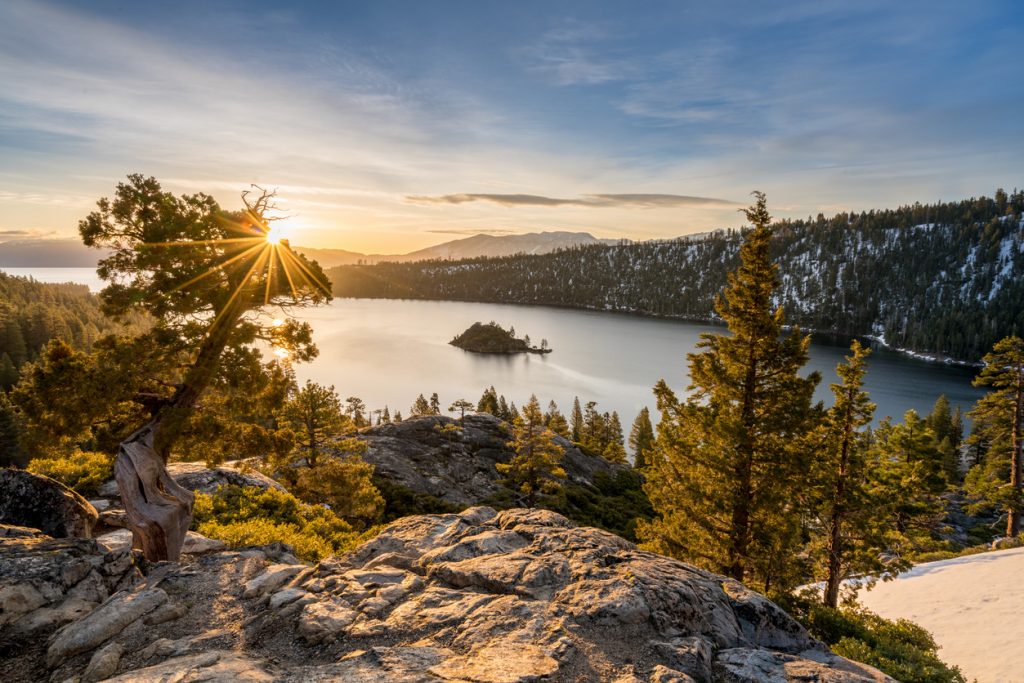 Hike the Rubicon Trail with a Picnic Lunch
Arguably the most popular hiking trail in all of Lake Tahoe. The Rubicon Trail takes you on a 16.4 mile round-trip journey in and around Emerald Bay.
Leaving from DL Bliss State Park you'll descend down towards the water's edge with killer views of Lake Tahoe along the way.
Avid hikers should plan on the hike taking all day, while less skilled hikers may want to just take on a section of the trail instead. There are a few points where you can meet up with the Rubicon, so be sure to check out a map before you head out.
Ride the Heavenly Resort Mountain Gondola
One of the best ways to enjoy views of the jewel of the Sierra is to ride the Heavenly Gondola. Take the Gondola up and above South Lake to get stunning views of the nearby area.
Here you'll also find a mountain coaster, food and beverage options, hiking, and more.
Rock Climb Splitter Sierra Granite
If you love to climb, then this activity is a must-do in Lake Tahoe. The land is littered with beautiful, sticky granite. With over 2,500 routes, there is the perfect climb for everyone. Enjoy world-class bouldering or fantastic multi-pitch trad climbs. Some of the best rock climbing can be found at Lover's Leap in South Lake or along the I-80 Corridor.
New to climbing? Hire a guide to teach you safe techniques and help you enjoy the beautiful sport of climbing in Lake Tahoe! Guided trips start at $130 per person.
Climb on with these fantastic rock climbing posts
Visit the Vikingsholm Castle
One of the top things to do in Lake Tahoe is visit the hidden castle. Vikingsholm, a magnificent house built in the 1860 to resemble a castle, is a historic property located in the heart of Emerald Bay.
This historic property has quite the backstory, not to mention some prime real estate. You can tour the home throughout the summer, but be prepared for a downhill hike to reach the property.
Backpack the Desolation Wilderness
For the intrepid adventurer that loves to walk to their sleeping quarters, you've gotta backpack in the Desolation Wilderness. Spend the night under the stars and among granite giants at Lake Aloha or head towards Mount Tallac for epic views. Keep in mind, overnight permits are required in the Desolation Wilderness (day use permits can be snagged on arrival). Since this area sees a good amount of traffic, reserve your permits in advance.
Go on an Easy Hike to Eagle Falls
Located right on the side of the road, Eagle Falls is a simple 5 minute walk to to the of the falls. If you cross the road, you can enjoy the famous Eagle Lake hike. This 1.9 mile hike grants you a bird's eye view of Emerald Bay as well as stunning lakeside views in the heart of the Sierra Nevada Mountains.
Other nearby hikes include the Vikingsholm Trail, Middle Velma Lake, and the Rubicon Trail.
Local Tip: It's $5 to park at the trailhead and parking is exceptionally limited due to the steep, winding roads and terrain. Get here before 8 am if you want a chance at parking.
Spend the Day Exploring DL Bliss State Park and the Rubicon Trail
Another great way to explore the Emerald Bay area is to head to DL Bliss State Park. Located on the west side of Emerald Bay this top-notch Lake Tahoe Park features camping, hiking trails, bouldering, and beaches.
Hike the famous Rubicon Trail down to the water and enjoy one of the top beaches in Tahoe. Just be sure to leave Fido at home, as dogs are not allowed in the park outside of the campground.
Local Tip: This area is crowded so plan to arrive before mid morning to snag a parking spot.
Things to Do in Lake Tahoe's North Shore in the Summer
Featuring more of that cozy mountain feel, North Lake Tahoe is a world away from the South Lake crowds. Here you'll find quaint mountain towns nestled on shoreline that are absolutely bursting with amazing Lake Tahoe activities.
Tan at a Nude Beach in Lake Tahoe
Tahoe has a not-so-secret nude beach that offers sunbathers with a flair for feeling the sun on your bum. Off of Highway 28, just south of the Secret Harbor parking lot, there is some roadside pull-outs. Jump out and scramble your way down the social trails to the water's edge. Here you'll find Secret Beach, a traditionally nude beach for Lake Tahoe bathing enthusiasts. Keep in mind, clothing here is very optional – so try not to snap too many photos. Although it is a nude beach, most parties stick to themselves. I've been coming here for years and I don't always dip in the nude – swimwear is still okay to wear here.
Nude sunbathing not your thing? Check out nearby Sand Harbor for a more family-friendly vibe. It gets crowded here, but there are lifeguards and a few amenities such as bathrooms.
See the Sunset on a Catamaran
Alright, so my family has lived in Tahoe for over 15 years. The Sierra Cloud Catamaran has been floating the shores of Lake Tahoe for as along as I can remember. There are three two-hour boat rides you can take, opt for the 5pm boat to get a killer sunset right on the water. The boat ride is one of the more relaxing summer activities in Lake Tahoe.
Enjoy some light snacks and a beverage or two as you cruise along the sapphire-blue waters. Keep in mind, even though Lake Tahoe sees its fair share of wind, this is a huge boat, and they will use the motor most of the time. Despite this it's a tranquil way to enjoy America's most beautiful high alpine lake.
Spend the Day at the Tahoe City Commons Beach
For one of the most accessible Lake Tahoe summer activities, plan a day at Commons Beach. Located right in the heart of town, this beach has everything you need plus more. There is plenty of live entertainment and vendors.
Rent a kayak, go paddling, or even enjoy live music on Sundays. Be sure to pack a picnic so you can soak up all of that amazing Tahoe sunshine.
See the Shakespeare Festival
Prefer some culture with the picture-perfect view? Check out Lake Tahoe's annual Shakespeare Festival. Every year the North Shore of Lake Tahoe comes to life with evening theater productions right on the lake. It's an awesome chance to relax after an exciting day on the water and enjoy a little culture. This popular event fills up fast, so be sure to plan your tickets in advance. Check out the Shakespeare Festival website for more info.
Paddle to a Hidden Beach
If you prefer water-side adventures, consider renting a kayak. Plan on spending the earlier part of the day out on the water, paddling to beaches and rocky shores only accessible by boat. Pack a picnic and relax after a long paddle to one of Lake Tahoe's many hidden coves. Often times, you'll have the place to yourself. However, remember that the lake can get very choppy in the afternoon, making paddling home a nightmare! Be sure to keep an eye on the weather and check conditions before heading out.
Raft or Tube the Truckee River
For one of the top things to do in Lake Tahoe this summer, head just outside of town. Truckee is a worthwhile stop on its own and a favorite pastime is to raft or tube the river. As the only river flowing out of Lake Tahoe, you'll feel the rush along the different stretches of water.
Tubing sections are a bit more relaxed (albeit rapids can form and the water is cold). For a more adrenaline-pumping adventure, book a rafting tour.
Go Golfing
With stunning panoramas and awesome weather, Lake Tahoe is a perfect place to perfect your swing.
So, be sure to visit local golf courses like Edgewood Golf Course, Tahoe City Golf Course, and Northstar Golf Course.
After all, Lake Tahoe is home to a variety of world-class courses that are perfect for pros and beginners alike.
However, if you're traveling with the family, or just want to keep things low-key, then you can always enjoy a bit of mini-golf at various Magic Carpet Golf locations around the lake.
Local Tip: Renting golf equipment in Lake Tahoe is expensive. Therefore, you may want to bring your own gear with you if you are passionate about the sport.
Enjoy Some Photography
Because Lake Tahoe is surrounded by the insanely beautiful Sierra Nevada Mountains, you'll have ample opportunities to take stunning photos in and around this gorgeous alpine lake.
Now, depending on how comfortable you are behind the camera, you may want to sign up for either a private or group photography tour with a local expert.
After all, these guides know all about the best photo spots, the best angles to shoot from, and the best time of day to get out there.
Additionally, they can share fascinating stories about the area, make fun local recommendations, and can quickly and easily shuttle you to some of Lake Tahoe's most iconic landmarks.
And while there are many great photography tours out there, Tahoe Photographic tours is easily one of the best.
Visit Squaw Valley (now Olympic Valley)
Squaw Valley (now Olympic Valley) is just a short, 40 minute drive from Lake Tahoe. Therefore, it makes for the perfect day trip since you can see where the 1960s Winter Olympics were held.
So, after exploring the former Olympic Village you can learn more about this historic ski resort from 1949 before hitting the trails.
After all, Squaw Valley is home to some of the best hikes in and around Lake Tahoe.
So, if you're looking to explore incredible vistas and marvel at gorgeous panoramas then be sure to check out the Five Lakes Trail and the Shirley Canyon Trail.
Then, head back into the village proper and reward yourself with a slice from the always amazing Fireside Pizza Place.
Activities in Lake Tahoe in Summer FAQ
Is Lake Tahoe Good to Visit in Summer?
Yes, Lake Tahoe is a great place to visit in the summer since you can enjoy stunning beaches, go on awesome hikes, enjoy tons of waterspouts, and just make the most of the amazing mountain air.
Is Lake Tahoe Swimmable in the Summer?
Yes, Lake Tahoe is swimmable in the summer. Because while the water temperature is 40 F in the winter, the temperature soars to 70 F in the summer.
In particular, though, July is a perfect time to swim since this is when the lake's water is at its warmest.
What is There to do in Lake Tahoe Nevada in the Summer?
Some of the best things to do in Lake Tahoe Nevada in the summer include:
Hiking
Relaxing in the Beach
Kayaking
Jet Skiing
Waterskiing
Parasailing
Sailing
Fishing
Camping
Lake Tahoe Packing List
When it comes to what to pack for your Tahoe adventure, there are a few must-haves.
Sunscreen and sun protection. At roughly 6,200 feet above sea level you'll be a lot closer the sun. In the summers, the thin mountain air does little to protect you from the beating sun. Bring plenty of sunscreen, a sunhat, sunglasses, and even a UPF shirt to keep burns at bay.
Plenty of water. Lake Tahoe is a dry place. Couple that with higher altitudes and you'll find yourself thrirstier than normal. Always pack plenty of water (a gallon per person per day is ideal) so that you can patch your mountain thirst and stave off altitude sickness.
A cooler. Many of the top summer activities in Lake Tahoe are so awesome, you won't want to leave. Especially if you have to arrive somewhere early to secure your spot. So bring pack lunches in a cooler. Just don't forget to bring a trash bag and pack out all trash. Never liter around the lake.
Solid footwear. The mountains aren't the place for flip flops and high heels. Be sure to pack sturdy footwear as walking surfaces tend to be uneven and rocky. Your feet will thank you later!
There is never a lack of Lake Tahoe summer activities. With so many things to do in Tahoe, you can easily spend a lifetime exploring the region. This summer, be sure to check out at least some of these awesome Tahoe activities.
Additional Local Lake Tahoe Travel Resources
Looking to explore Lake Tahoe like a local, not a tourist? Then check out these amazing resources:
Boating in Lake Tahoe (coming soon)