Literally the color of gemstones, Lake Tahoe views are top-notch. Tahoe is home to some insane scenery, many of of the best Lake Tahoe viewpoints are super accessible. While others take a little bit of effort to reach.
My family lives in Lake Tahoe and I've been visiting this place for the past 20 years. I've combed through nearly every inch of this place. There are a few scenic spots in Lake Tahoe that I must see every time I come home, and I'm stoked to share them with you.
Where to Find the Best Lake Tahoe Views
You don't have to look hard to find the best Lake Tahoe views. Simply drive along the lake to be inspired. Don't forget to keep your eyes on the road – trust me, I know it's hard!
Aside from a few obvious pullouts, there are also quite a few unique ways to catch a glimpse of this jewel-colored lake. Here's where to look:
Drive around the lake. Many scenic viewpoints are labeled, and a few offer really easy trails right to the water's edge.
Go for a hike! There are countless, breathtaking hiking trails in Lake Tahoe. You'll find a LOT of fantastic views without hordes of people.
Get out on the lake. Rent a SUP, jetski, or even a boat for the day and experience the beauty of Lake Tahoe from the middle of the lake.
Drive through neighborhoods. Up high in the north shore, there's a lot of super pretty views if you're down for a little neighborhood creep.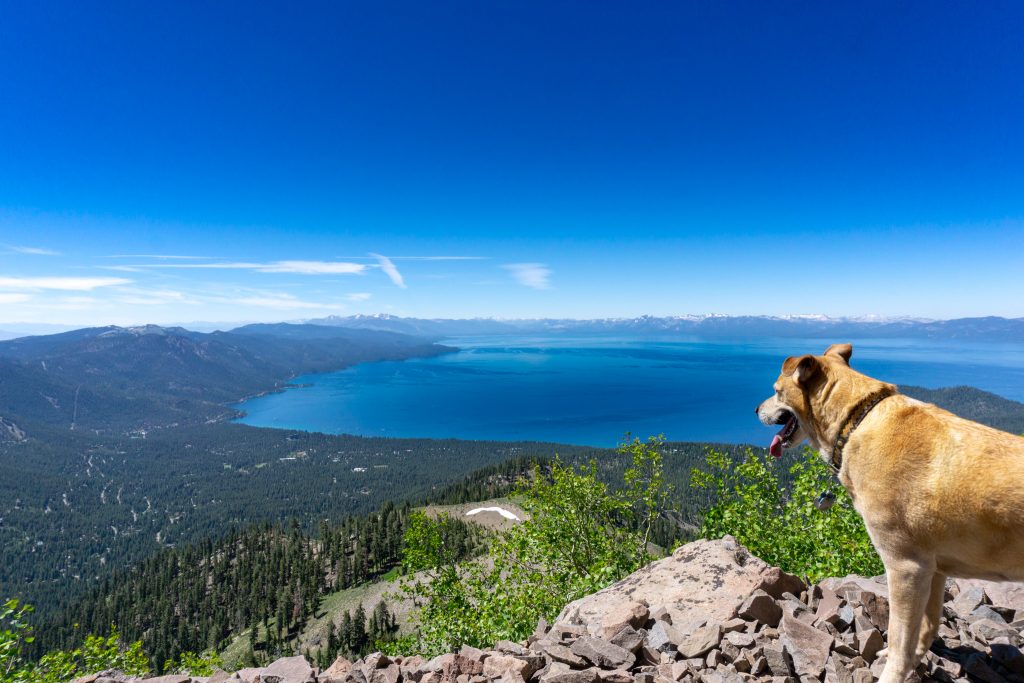 Amazing Lake Tahoe Viewpoints You Can't Miss
As a local, I'm always happy to show others how to travel to the best spots in Lake Tahoe. One of my favorite things to do when I bring people to visit is to show them some of Lake Tahoe's most amazing views. Here's where you'll find the best Lake Tahoe views.
Emerald Bay
Living up to its namesake, the lush green waters of Emerald Bay may be the most photographed point in all of Lake Tahoe. If you're willing to battle the hordes of tour buses and large crowds, you should check out Emerald Bay during the day.
However, I rarely check out this Lake Tahoe view during prime time. Instead, show up for sunrise when you'll find fewer people mulling about. Winter is also a good time to check out the emerald waters.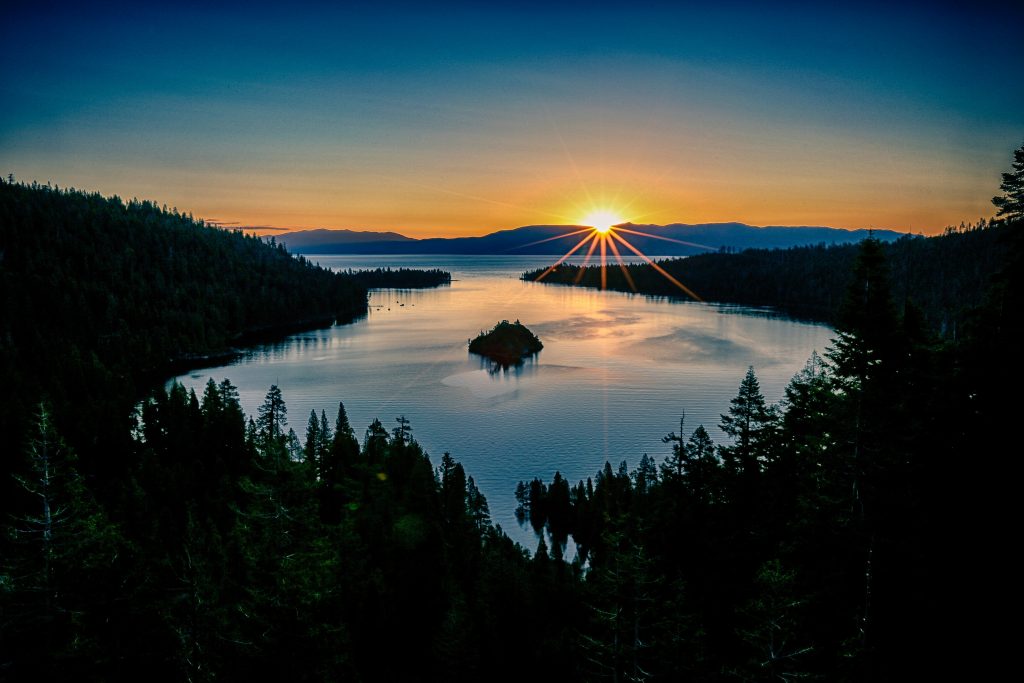 DL Bliss State Park
Located just next to Emerald Bay is DL Bliss State Park. The park gives you lake-level views of Emerald Bay and you can even check out the original house. There's also plenty of awesome lakeside hiking to be had here – which is a great way to escape the crowds.
Cave Rock
Cave Rock is famous with visitors and locals alike who like to catch an epic sunset over the lake. As one of Lake Tahoe's best easy hikes, Cave Rock is easily accessible for most people. Bring your camera and a few snacks as you watch the sun set majestically over Lake Tahoe.
Skunk Harbor
Skunk Harbor and the surrounding bays along the eastern shores of Lake Tahoe offer unbelievable swimming with a view. There are several spots in the area, simply park in one of the designated areas and rock hop your way down to the shore.
Local Tip: Secret Cove is a coveted Lake Tahoe view, but it's also a nude beach. Please respect people's privacy and don't take photos here.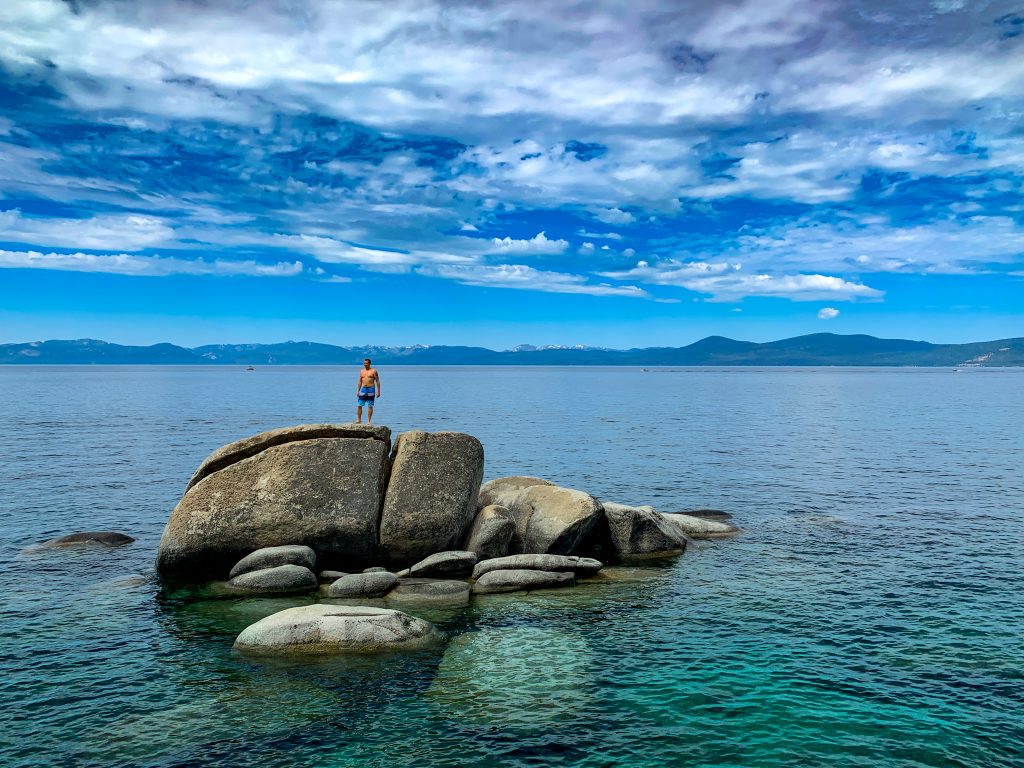 Heavenly Gondola
So if hiking up steep mountains isn't quite your thing, you can still scope out a sky-high Lake Tahoe viewpoint. For a small fee (varies throughout the year) you can take a scenic gondola ride to the mid-mountain lodge at Heavenly Resort. The Gondola runs year-round and is an excellent way to get killer views of the lake during both the winter and summer months.
Mount Rose
For a bird's eye view of Lake Tahoe, head to the highest point in the Tahoe Basin. Mount Rose sits 10,778 feet above the sea. To get there, you'll have to hike the Mount Rose Trail to the summit. The trail itself is steep (1,770 feet of gain) and long (10 miles round trip), so come prepared to earn your view.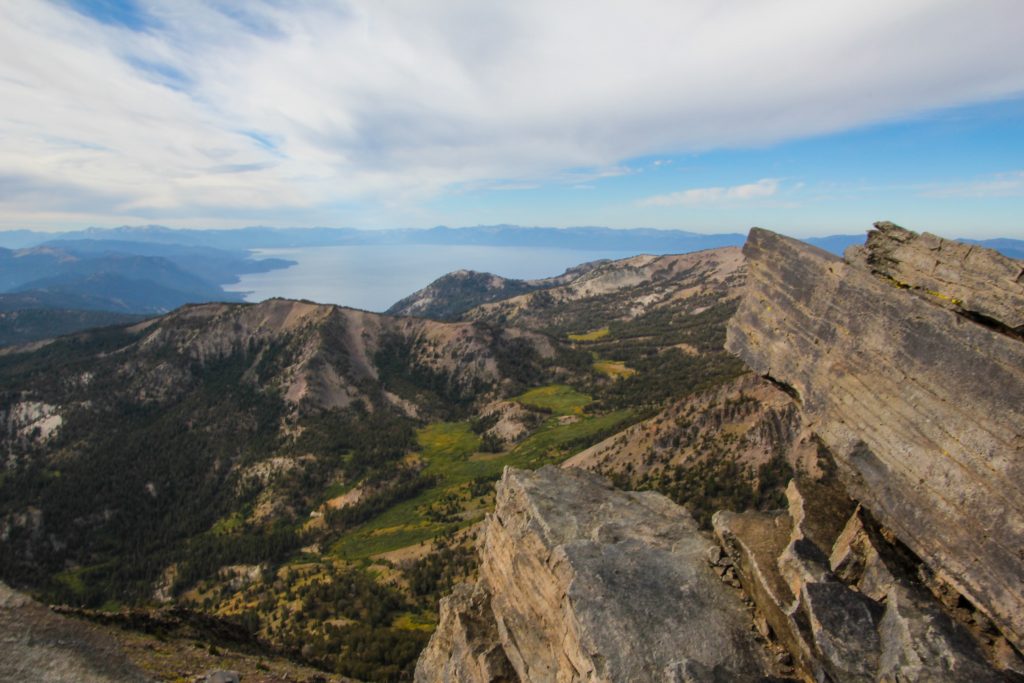 SUP Zephyr Cove
Experience Lake Tahoe's best views right on the water with a scenic SUP trip. Rent your SUP at one of the many sports shops in town, then head to the water for a relaxing cruise. You can make your way to scenic coves and hidden beaches that are only accessible by water.
Local Tip: Start early for the best conditions. The lake gets choppy in the afternoon, creating difficult conditions.
Bonsai Rock
A well-known beacon in the water, Bonsai Rock, and other nearby swimming rocks offer the perfect perch to enjoy Lake Tahoe views. This hidden gem is a bit off the beaten path.
Park at the Secret Cove parking lot and make your way down towards the water. Hike and scramble along the water's edge until you spot rock formations with a couple of small trees growing out of them.
Hyatt Catamaran Ride
If you're looking to splurge, consider going on a sunset cruise on the Sierra Cloud Catamaran. This 55-foot sailboat is a unique way to enjoy the best Lake Tahoe viewpoints. Relax with a drink as you cruise around the lake at sunset and soak in that Tahoe magic.
Travel Tips for Lake Tahoe
When it comes to visiting Lake Tahoe, there is a lot to remember. Here's a list of quick tips for your Tahoe getaway:
Make reservations in advance. Tahoe gets VERY busy in the summer months and the holidays, so plan accordingly.
Be sure to Leave No Trace. With more and more people getting outside its important to leave it better than you found it.
If you want to beat the crowds, either travel during the off-season (mid-week in the fall and spring) or get up early!
Drink plenty of water. Tahoe is a high, dry place and it's important to acclimatize properly.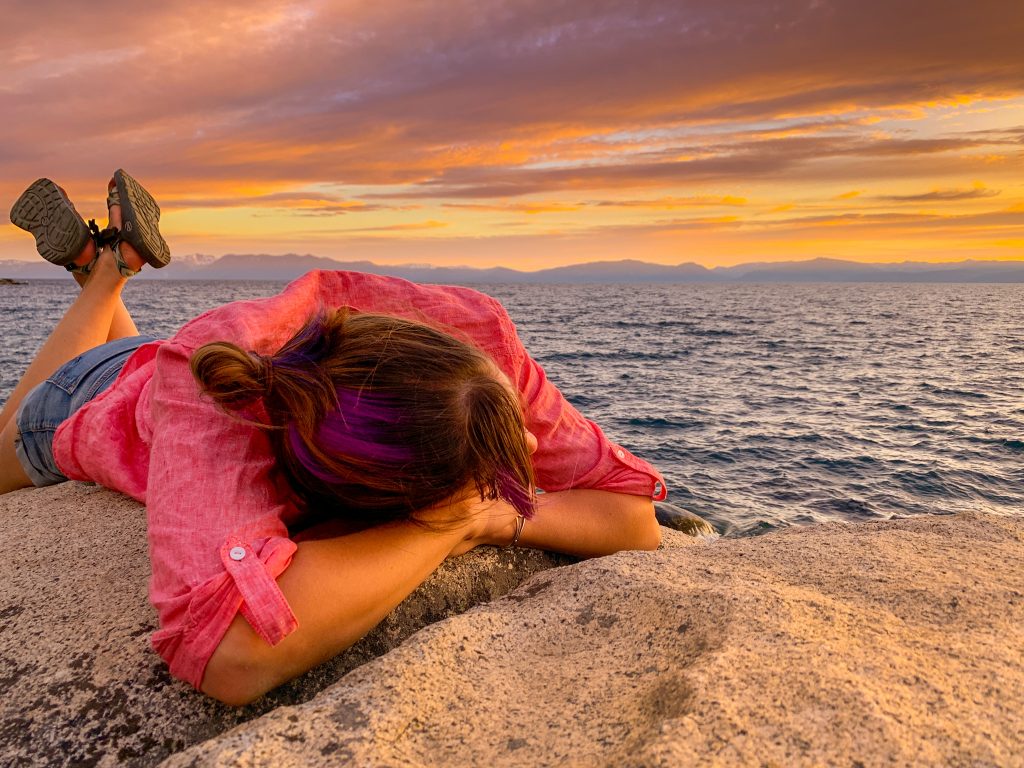 Additional Lake Tahoe Vacay Planning Resources
Planning a getaway to Lake Tahoe? I've got you covered with over 20 years of travel experience and local insight into Lake Tahoe.