If you're interested in soaking up the sun along the shores of the largest alpine lake in America, then you've got to check out some of the incredible Lake Tahoe beaches. From rocky shores to glittery sand harbors, there's nothing more refreshing than a dip in the clear blue waters of Lake Tahoe.
There are over 72 miles of shoreline in Lake Tahoe. Although much of the shore is rocky, there are still plenty of Lake Tahoe beaches to relax at. Even some of the rockier shores offer up plenty of quiet places to swim and sun on the rocks.
A trip to the beach should absolutely be on your Lake Tahoe weekend itinerary. Even if I pop in for just a day, I'll always make a trip to the shoreline!
This list of the best beaches in Tahoe comes from over 20 years of visiting this amazing locale. My family lives in Lake Tahoe and I've spent countless amounts of time sunning myself on the shores.
If you're looking for local insight to the most spectacular beaches in lake Tahoe, then you're in good hands.
About This Guide to Lake Tahoe Beaches
When it comes to finding incredible Tahoe beaches, you'll want to be in the know. Here's a look at what to expect inside this guide to the best beaches in Tahoe:
The best time to visit Lake Tahoe for beach activities
A list of the best beaches in South Lake Tahoe
North Lake Tahoe's most beautiful beaches
How to beat the crowds at Tahoe beaches
Tips for visiting the best beaches in Tahoe
Additional Lake Tahoe planning resources
When is the Best Time to Visit Lake Tahoe Beaches?
Lake Tahoe beaches are world-famous. Thanks to the stunning shorelines, crisp, clear waters and plenty of fun activities, people flock all over the world to come here.
You can visit most beaches year-round, but if you're looking to soak up the sun then mid June through September is the best time to visit Lake Tahoe beaches. The weather is generally sunny and the water has warmed up (just a little – it's usually quite cold!).
This also happens to be the busy season. When I say busy, I mean MEGA crowded. The pandemic has only made this issue worse. So if you want to snag a spot, plan on arriving at the beach by 8 am.
Local Tip: The sun gets oppressive, so be sure to bring plenty of water, salty snacks, and sun protection!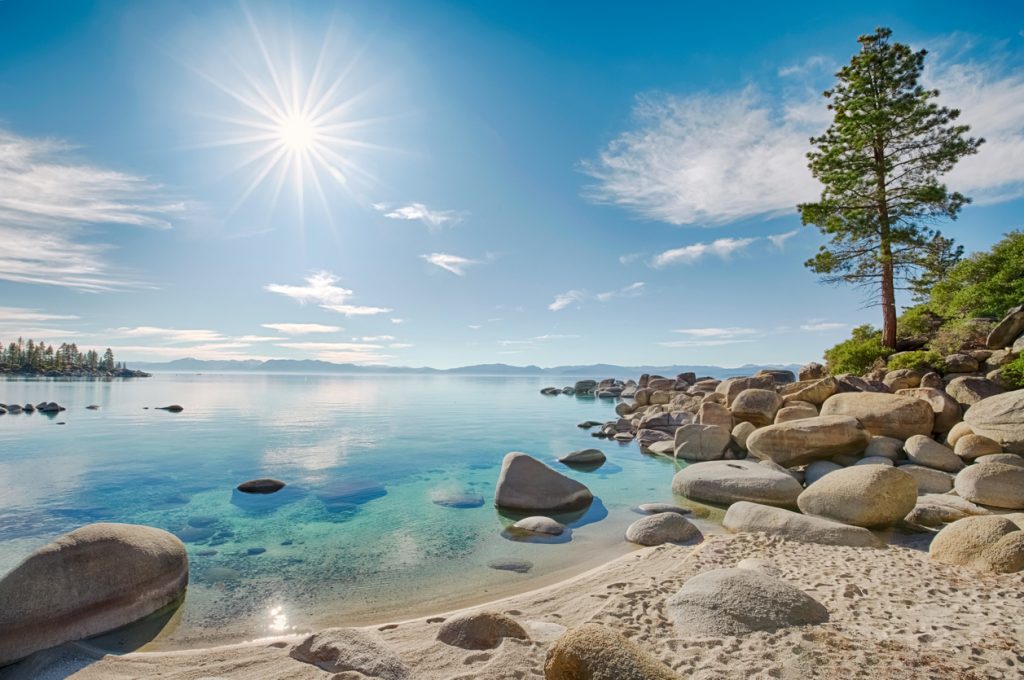 Best Beaches in South Lake Tahoe
Enjoy a lively environment on the sandy beaches of South Lake Tahoe. With nearby entertainment, casinos, and plenty of places to stay, a day on the beach in South Lake Tahoe offers up the perfect way to soak up some sun.
1. Emerald Bay
Hands down one of my favorite lake Tahoe beaches, the secluded inlet of Emerald Bay offers gorgeous turquoise waters with a beautiful backdrop of the Sierra Nevada mountain range, making it truly one of the best Lake Tahoe views. Located in California, Emerald Bay State Park offers plenty of hiking trails to explore the area as well. The highlight is Inspiration Point, which provides a perfect view of the bay and Fannette Island. You can SUP or kayak around the bay and to the island to visit the tea house, an old stone structure with panoramic views.
Local Tip: If you aren't arriving by boat, you'll have a 1.7-mile round-trip walk (downhill) to reach the water.
Fees: Parking fees of $3-10
Activities: SUPing, Kayaking, Hiking, Biking
Things to do nearby: Visit Vikingsholm Castle, a stunning example of Scandinavian architecture.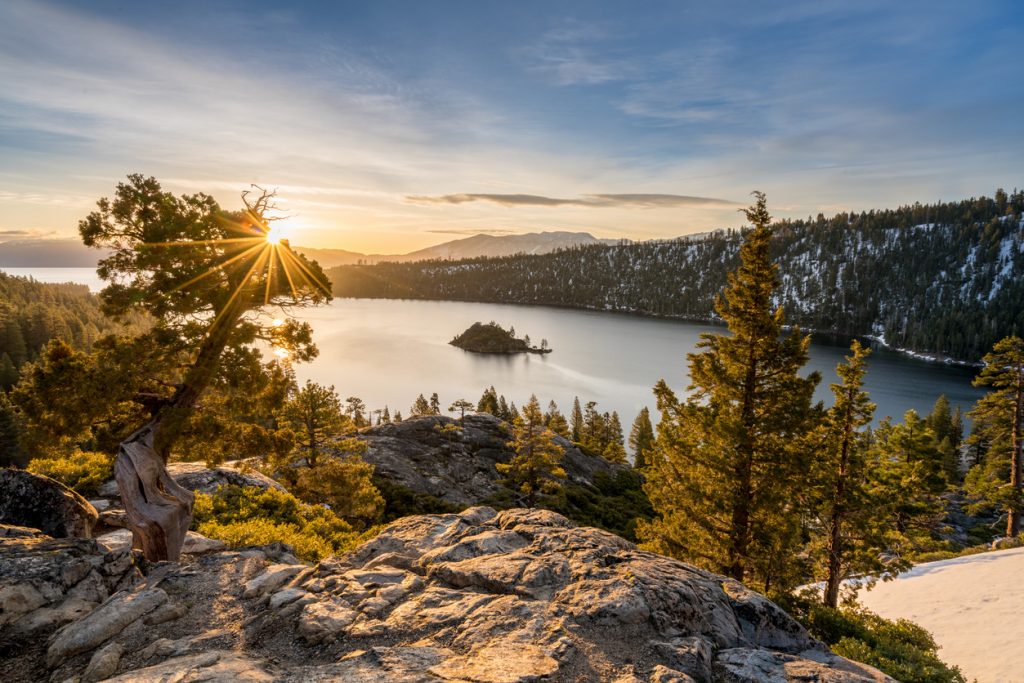 2. Zephyr Cove
If you're in the mood for a fun, party atmosphere, bring your beach towel to Zephyr Cove! This beach is part of Zephyr Cove Resort, which offers all sorts of awesome amenities. Play around on one of the full size beach volleyball courts, or relax with beach chair and umbrella rentals. Hit the water for a refreshing swim or get an adrenaline rush by parasailing. You can even get cocktail service right on the beach from Sunset Bar & Grille.
Fees: $10 day use fee per vehicle
Activities: Beach Volleyball, Swimming, Parasailing, SUPing, Kayaking, Beach Cocktail Service
Things to do nearby: Cruise Lake Tahoe aboard the impressive M.S. Dixie II paddlewheeler.
3. Pope Beach
Pope Beach is the perfect place for a picnic with a view! This ¾ mile long beach is located on National Forest Land in California and features grills, picnic tables, and food vendors. Alcohol is allowed (but not in glass bottles) if you like to enjoy a beer with your burger. You could easily spend the whole day here relaxing on the sand and swimming in the chilly water.
Local Tip: While there is a day use fee for vehicles, you can also bike to the beach along the Pope/Baldwin bike path.
Fees: $10 day use fee per vehicle
Activities: Swimming, Picnicking, Biking, Kayaking
Things to do nearby: Enjoy a Rum Runner on the outdoor patio at Beacon Bar & Grill.
4. Kiva Beach
Kiva Beach is one of the few dog-friendly beaches in Lake Tahoe, so it's the place to go if you want to bring your furry friend along (although dogs must be leashed). While you won't find much sand at this California beach, there is lots of lovely vegetation, including lodgepole pines, aspens, and marsh grass. Kiva Beach is a little bit more secluded and less crowded than many Tahoe beaches, so it's a nice place to escape and explore.
Local Tip: PICK UP AFTER YOUR PET! You're required to move pet waste, so bring plenty of baggies for Fido.
Fees: None
Activities: Hiking, Dog-walking
Things to do nearby: Take a trail through the forest to tour the old estates at the Tallac Historic Site.
5. Nevada Beach
Located just north of the Nevada state line, Nevada Beach boasts beautiful views of Lake Tahoe from a stretch of sandy beach. The view is especially spectacular on the 4th of July, when a fantastic fireworks display lights up the sky.
Nevada Beach has a picnic area that you can boat in to (although it lacks a ramp) along with a nice swimming beach. If you want to spend more time savoring your experience in the Sierras, you can reserve a site at the campground. Nevada Beach is definitely a great spot for camping in Lake Tahoe.
Fees: $10 day use fee per vehicle
Activities: Boat-In Picnic Area, Swimming, Kayaking, Camping
Things to do nearby: Have a hearty meal of homemade ravioli with mushroom & tomato "gravy" at Capisce.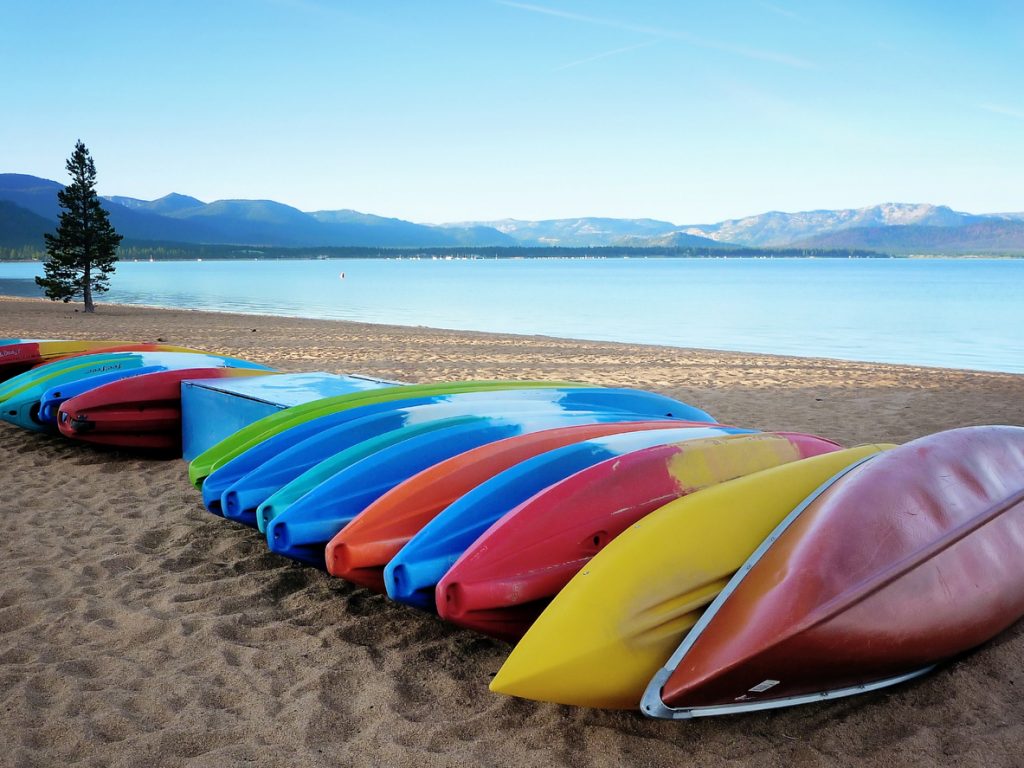 6. Calawee Cove
A short but steep trail takes you down to Calawee Cove, tucked away in D.L. Bliss State Park in California. This tiny beach is a beautiful place to spend the day – as long as you get an early start to snag one of the spots in the small parking lot.
Although the crystal clear turquoise water might make you think you're in the Caribbean, the cold temperature of the water will remind you that you're actually in the mountains! Work up the courage to jump off one of the cliffs along the water, then warm up by sunbathing on the sand or taking a hike to explore more of the state park.
Local Tip: Arrive before 8 am to ensure you've got a spot to park!
Fees: $10 state park entry fee
Activities: Swimming, Snorkeling, Cliff Jumping, Hiking, Camping
Things to do nearby: Hike the Lighthouse Trail or embark on the Rubicon Trail, one of the best Tahoe hikes, which stretches along the shoreline of Lake Tahoe from D.L. Bliss State Park to Emerald Bay State Park.
Best Beaches in North Lake Tahoe
Appreciate the more alpine atmosphere of these beaches in North Lake Tahoe. The northern shores of Tahoe have more of a local vibe, since it's far from the main inlet from the Bay Area. You'll find fewer crowds, more locals, and rockier shorelines along the northern half of Lake Tahoe.
1. Skunk Harbor
Getting to Skunk Harbor requires a hike, but it's worth the effort to enjoy this scenic beach in Nevada. You'll find the start of the trail to Skunk Harbor at the intersection of US-50 and Nevada State Route 28. Look for the green gate (but don't park in front of it!), then continue straight down the 1.5 mile trail until you reach the lakeshore. Lay out on the sandy beach and soak in the sun and the views before you have to hike uphill back out.
Local Tip: There are no toilets or facilities here so pack it in and pack out ALL of your trash. Grilling is not allowed.
Fees: None
Activities: Hiking, Swimming, Sunbathing
Things to do nearby: Check out Newhall House, an old stone structure that was used as a getaway by Gold Rush millionaires in the 1920s.
2. Incline Beach
The first thing to know about Incline Beach is that it is a private beach – which is why it's one of the favorite Lake Tahoe beaches among locals. However, if you are staying at Incline Village in Nevada or know someone who is, you can get a guest pass.
If you are lucky enough to get access to Incline Beach, you can enjoy all the amenities, including kayak and paddle boat rentals. There is even a small beachside bar to quench your thirst.
Fees: $12 for a guest pass (only available to those staying in the village)
Activities: Paddle Boating, Kayaking, Picnicking
Things to do nearby: Incline Village is full of shops and restaurants, and Alibi Ale Works is a local favorite.
3. Secret Cove
Secret Cove is a secluded little beach where you can go sans swimsuit. This clothing-optional beach on the Nevada side of Lake Tahoe isn't as secret as it once was, but still tends to be less crowded than other Tahoes beaches (although parking can be a pain). If skinny dipping is on your list of things to do in Lake Tahoe in the summer, Secret Cove is the spot to do it!
The beach itself is really small, but there are countless sunny rocks to lay out in the nude and enjoy the mountain sunshine.
Local Tip: Bring sturdy walking shoes, since you'll be hiking along steep trails to reach the bottom of the lakeshore and reach this beach.
Fees: None
Activities: Swimming, Sunbathing
Things to do nearby: You can continue hiking down the shore to Chimney Beach to see the stone chimney that is still standing from an old cabin.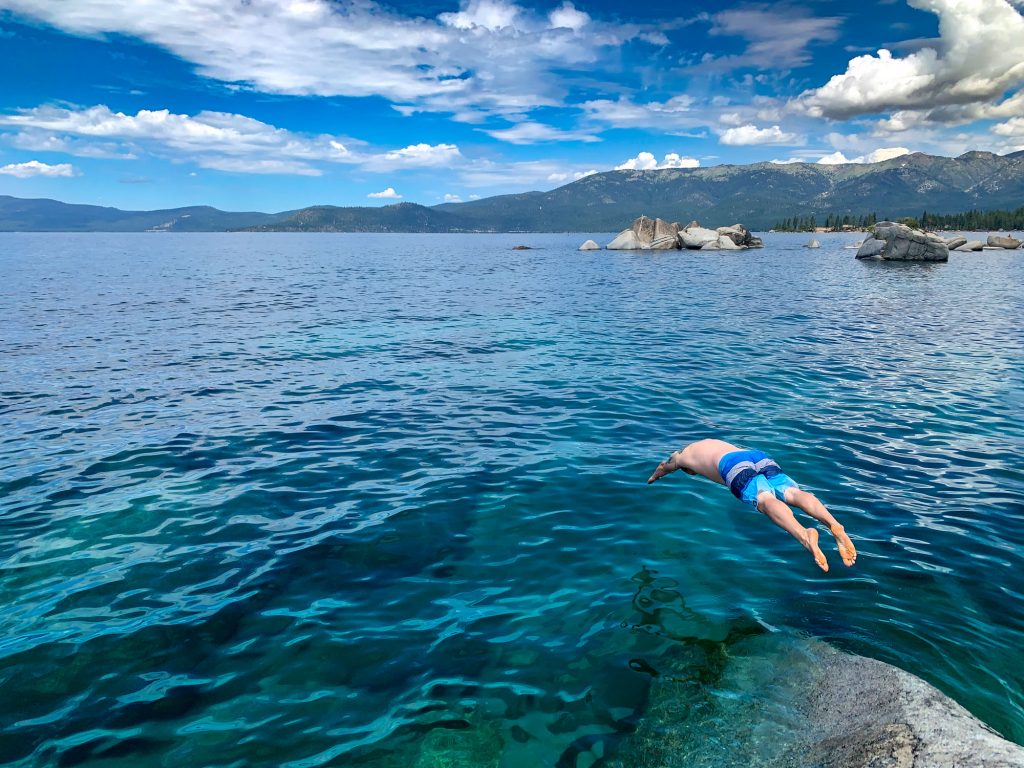 4. Moon Dune Beach
If you want to feel the sand between your toes, head to Moon Dune Beach in California. This beach is known for having the softest white sand of all the beaches in Lake Tahoe. While you won't find any amenities at Moon Dune Beach, you really don't need anything to appreciate the view while you lay out on the sand.
Fees: None
Activities: Sunbathing, Swimming
Things to do nearby: Have a happy hour cocktail on the outdoor patio at Skimbleshanks, set on the edge of a nearby golf course.
5. Sand Harbor Beach
Sand Harbor Beach is one of the most popular beaches in North Lake Tahoe. This huge beach features two boat ramps, a nature trail, food vendors, and a visitors center. There's even a cove designated for scuba diving. Sand Harbor is the place to be for water activities, just don't expect much privacy here.
Local Tip: The parking lot fills here by 8 am, especially on weekends, so show up early if you want even a chance at setting up your umbrella here.
Fees: $10 day use fee per vehicle ($15 for non-NV vehicles)
Activities: Boating, Water Skiing, Kayaking, Swimming, Scuba Diving
Things to do nearby: Appreciate the works of the bard at the annual Lake Tahoe Shakespeare Festival which takes place here each year from mid-July to mid-August.
6. Hidden Beach
While this beach is right off the side of Highway 281 in Lake Tahoe Nevada State Park, it is hard to see from the road, hence it's hidden status. But if you peer over the guardrail, you'll find the short trail to this great beach. Hidden Beach is dog-friendly (though they should be kept on a leash), so your four-legged buddy can join in on the fun.
Local Tip: Hidden Beach can be really rugged and rocky. Be sure to keep an eye on kids and pets and bring proper footwear for exploring.
Fees: None
Activities: Swimming, Kayaking, SUPing
Things to do nearby: Hike to Monkey Rock for stellar views of Lake Tahoe with a boulder that sure does look like a smiling monkey.
How to Beat the Crowds at Tahoe Beaches
If one thing is for certain, the word is out about Lake Tahoe. This place sees unbelievable crowds in the summer. Traffic along the shoreline is expected and weekend warriors swarm this place all summer long.
Locals know that some of the best spots to enjoy Tahoe's beaches aren't on a map. In fact, I can't even include them in this guide because there's really no way to get there.
One great way to avoid a disappointing full parking lot is to arrive early. If the beach access has gates, get there right when they open, especially on weekends.
For roadside access, early arrival is essential, since there isn't a lot of parking (and more and more places are enforced by towing).
Beating the crowds at the beach takes some skill. The best way to avoid crowds is to be prepared to walk quite a long distance away from the main beaches. Often times this means scrambling over smooth, huge boulders to get to your own slice of beach. Bring the right footwear for the job and carry your items in a way that lets you move through the rough terrain with ease.
Local Tip: Rent a boat! Boating is one of the best ways to find hidden coves and beaches along the Lake Tahoe shoreline. Just pay attention to water depth and be prepared to leave if the weather turns.
Tips for Visiting Lake Tahoe Beaches
Unfortunately, over the years, Tahoe beaches have been over-loved. I've seen some pretty poor behavior here (dirty diapers on the beach just sitting there, people littering, you name it).
Do your part. Bring a trash bag and use it. Use the toilet facilities where they are provided. Make it a point to leave Tahoe beaches better than you found them.
Always bring sun protection. The sun here is harsh. You'll need a sunhat, sunscreen, sunglasses, even a sun shirt. Nothing ruins a Lake Tahoe vacay quite like a bad sunburn!
Bring plenty of water to stay hydrated. You're high up in an alpine desert and dehydration is quite common. Remember to drink plenty of water too!
Additional Lake Tahoe Planning Resources
Ready for your Lake Tahoe getaway? Be sure to check out these locally-curated resources:
PIN THIS POST