Snowshoeing in Breckenridge is certainly at the top of winter activities. Nestled in the heart of the Tenmile Range, Breckenridge is home to some amazing snowshoeing trails.

Catering to all abilities, there is an incredible winter scene to discover in foot just around the corner. When you're tired of hitting the slopes, hit up some of these top areas to go snowshoeing near Breckenridge.

As a long-time Colorado local (13 years and counting), I've been to Breckenridge countless times. In fact, this is where I learned to snowshoe almost 8 years ago. If you're looking to discover Breckenridge like a local, not a tourist, then you're in the right place.
About this Guide to Snowshoeing in Breckenridge
Inside this local's guide to snowshoeing trails in Breckenridge you'll find:
Info about the best time to visit Breckenridge for snowshoeing
A look at the best trails for snowshoeing in Breckenridge
Info about snowshoeing at Breckenridge Resort
Tips for snowshoe rentals and hiring a guide in Breckenridge
Quick tips for snowshoeing
Additional Colorado travel resources
When Is the Best Time to Visit Breckenridge for Snow?
Sitting at an elevation of 9,600 feet, the town of Breckenridge is one of the best mountain towns in Colorado and is almost always prepared for snow, which often begins in October and can last through May or June.
While you can also sometimes experience snow in Breckenridge in November and April, if you want to be almost guaranteed to find snow, visit Breckenridge from December through March. January and February in particular usually have the most snowfall in Breckenridge.
The Best Snowshoeing Trails in Breckenridge
From chill, well-groomed flat trails to a seriously steep 14er, you'll find a wide range of awesome snowshoeing near Denver in Breckenridge.
1. Breckenridge Nordic Center
The Breckenridge Nordic Center is a perfect introduction to snowshoeing. You can rent snowshoes here if you don't have them, then try out the 20km of trails, including a few nice beginner trails – Foxy Loxy, Little Red's Run, and Willow.
Distance: .3 to 1.8 mile loops
Elevation Gain: Varies
Difficulty: Mostly Easy to Moderate
Estimated Time: 15 min to 2 hours
Dog Friendly: Some of the trails are, but not all
2. South Illinois Creek Trail
This great beginner trail offers some of the best snowshoeing in Breckenridge. One of the big pluses is it is very easy to access since it starts right downtown.

Along the way you'll pass an overlook with a nice view of Breckenridge, and you can add on the short Trollstigen trail to pay a visit to the Breckenridge troll, which is one of the most popular things to do in Breckenridge in the winter.
Distance: 1.9 miles out & back
Elevation Gain: 285 feet
Difficulty: Easy
Estimated Time: 1 hour
Dog Friendly: Yes
3. Top Trail for Snowshoeing in Breckenridge: Boreas Pass
You probably won't find snowshoeing seclusion on Boreas Pass (although you could try going on a weekday), but this popular snowshoe trail near Breckenridge is crowded for a reason.
Boreas Pass is an easy trail that offers awesome views of the mountains of the Mosquito Range and the Tenmile Range. The 2.5-mile loop is friendly for the whole family, but you can also extend the trail on Boreas Pass Road for a longer snowshoe adventure.
Distance: 2.5 mile loop
Elevation Gain: 396 feet
Difficulty: Easy
Estimated Time: 1.5 hours
Dog Friendly: Yes, on-leash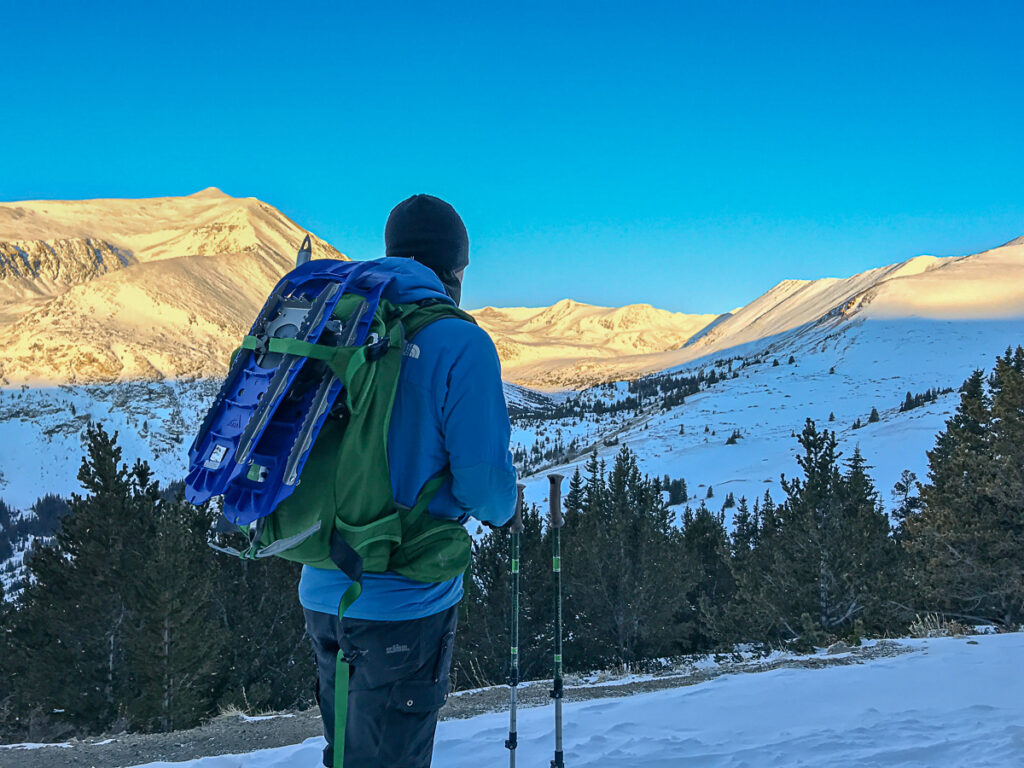 4. Sallie Barber Mine Trail
A nice easy trail with only a little elevation gain takes you past remnants of the mining history in Breckenridge on the Sallie Barber Mine Trail. The old mine structures are a unique part of this snowshoeing trail, and they attract a ton of people to this trail, so be prepared for crowds.
Local Tip: The parking is limited and tends to fill up fast, so get here early or try coming on a weekday. There is no parking allowed along the nearby county roads.
Distance: 2.8 miles out & back
Elevation Gain: 393 feet
Difficulty: Easy
Estimated Time: 1.5 hours
Dog Friendly: Yes
5. French Gulch
A gentle step up from some of the shorter snowshoeing trails, French Gulch is a nice moderate snowshoeing trail near Breckenridge with panoramic mountain views.
You also might spot some local fauna like curious foxes or even a moose (be sure to keep your distance from these giants) as you make your way through a beautiful valley.
Distance: 4.6 miles out & back
Elevation Gain: 482 feet
Difficulty: Moderate
Estimated Time: 2 hours
Dog Friendly: Yes
6. Mayflower Gulch
Mayflower Gulch is one of the best hikes in Colorado and is especially fun on snowshoes. This trail heads through a pine forest before you reach a basin which provides plenty of great views and ruins of an old mining site.
Local Tip: This area has avalanche terrain nearby, so make sure you understand the potential danger and check the Colorado Avalanche Information Center forecast before you put on your snowshoes.
Distance: 5 miles out & back
Elevation Gain: 1,200 feet
Difficulty: Moderate
Estimated Time: 2-3 hours
Dog Friendly: Yes
7. Francie's Cabin via Burro Trail
Snowshoeing is a great one of the things to do in Colorado besides ski, but if you're in Breckenridge with friends who ski, this trail is an awesome choice since it starts near the base of Peak 9 at the ski resort.
You'll snowshoe through a lovely pine forest before you eventually get some mountain views up in the steep section on the way to Francie's Cabin. You can turn around at Spruce Creek Trail if you're short on time or energy, or continue on all the way to the cabin.
Local Tip: You can rent Francie's Cabin for an overnight stay, but there is no day use permitted.
Distance: 8 miles out & back
Elevation Gain: 1,653 feet
Difficulty: Moderate
Estimated Time: 4-5 hours
Dog Friendly: Yes, on-leash
8. Peaks Trail
For a fun long-distance adventure, you can snowshoe from Breckenridge to Frisco. The Summit Stage free bus runs between the trailheads in each town, so you only have to snowshoe one way instead of the whole round trip.
While you can do the trail in either direction, taking the Peaks Trail from Breckenridge to Frisco is mostly downhill, making it more leisurely.
In Breckenridge, the trail starts at the base of Peak 7, and it ends at the Rainbow Trailhead in Frisco. Along the way, you'll get some nice peeks of the peaks of the Tenmile mountain range.
Distance: 7.8 miles one way (a free shuttle runs from trailhead to trailhead)
Elevation Gain: 452 feet
Difficulty: Moderate
Estimated Time: 3 hours
Dog Friendly: Yes
9. McCullough Gulch
When you're ready to up your snowshoe game, McCullough Gulch is a worthy challenge. The elevation hits you right off the bat from the trailhead, but you can take a nice break at the icy waterfalls of White Falls. Then continue up another tough ascent to the Upper Blue Reservoir and eventually the Upper Lakes where you can soak in the amazing alpine scenery.
Your effort on the trail is rewarded by incredible views of Quandary Peak along the way and stunning glimpses down into the canyon from the top of the trail.
Local Tip: The trailhead is located on the same road as Quandary, and the portion of the road up to the actual McCullough Gulch trailhead is closed in winter. You will need to park in the main Quandary lot and hike up the road to access this trail in the winter. No reservation is required for winter parking in this lot.
Distance: 6.4 miles out & back
Elevation Gain: 1,607 feet
Difficulty: Moderate/Strenuous
Estimated Time: 3-4.5 hours
Dog Friendly: Yes
10. Quandary Peak
If you're an advanced snowshoer and ready for a serious challenge, Quandary Peak is an epic trail for snowshoeing near Breckenridge. One of the famous Colorado 14ers, the summit of Quandary sits at 14,625 feet, and this snowshoe trail is not to be taken lightly.
Winter conditions can definitely make this trail treacherous, even for experienced snowshoers, and you'll want to bring trekking poles and microspikes along with your snowshoes.
But on good weather days, Quandary Peak is one of the best winter 14ers to try. If you get the chance to head out on this trail on a bluebird day, standing on the summit of Quandary is so worth it for the spectacular views of Mount Lincoln, the Mosquito Range, the Sawatch Range, and the Tenmile Range.
Local Tip: During the winter, no reservation is required for the Quandary parking lot.
Distance: 6.6 miles out & back
Elevation Gain: 3,326 feet
Difficulty: Extremely Strenuous
Estimated Time: 5-6 hours
Dog Friendly: Yes, on-leash
Where to Rent Snowshoes in Breckenridge
If you don't have your own snowshoes (or are traveling and can't bring them), you'll find plenty of snowshoe rentals in Breckenridge.
The Nordic Center offers rentals on-site, so you can hit the trails right out the door. Several local gear shops also offer snowshoe rentals in Breckenridge, including Mountain Outfitters, Charter Sports, Christy Sports, Alpine Sports, and Carvers Ski & Bike Rentals.
Guided Snowshoeing Tours in Breckenridge
Not ready to head out on snowshoes on your own? You can sign up for a guided snowshoe tour instead, and get an expert to take you on the trail and give you snowshoe tips.
The Breckenridge Nordic Center offers snowshoe lessons, guided group snowshoe tours, and private snowshoe tours. Colorado Adventure Guides have options for 2-hour guided snowshoe tours, half-day tours, or full-day adventures.
Quick Tips for Snowshoeing
When it comes to snowshoeing in Colorado, there are several important things to remember.
First, dress in layers. Staying warm in winter takes some practice, but layers are key! As you start to warm up, shed heavy jackets to avoid working up too much of a sweat.
Use trekking poles with snow baskets. Poles will help you keep your balance on the snow. Not to mention, it's hard to go backward on snowshoes so these will help you turn around in a circle instead.
Always carry a GPS of the trail. In winter, trails get covered in snow. Following the latest footprints can take you far away from the actual path. Use a GPS on your phone to navigate and stay found.
Avalanches are a real threat in Colorado and not every trail is safe in winter. Do your homework before heading out and check the weather as well as the avalanche forecast before your hike. Unless noted otherwise, the snowshoeing trails listed here are generally safe for winter. If you don't know, go with a guide.
Can You Snowshoe at Breckenridge?
Snowshoeing at Breckenridge resort isn't allowed, but there are plenty of areas to snowshoe right in the town of Breck. The Breckenridge Nordic Center and The South Illinois Creek Trail are both easy options that you can access right from Breckenridge.
Additional Colorado Travel Resources
Wanna get to know Colorado like a local, not a tourist? Then check out these additional resources.