Vail in fall marks a colorful Aspen display that will surely take your breath away. In fact, many visitors skip the shoulder season in Vail, and that's a total mistake.
Locals love to flock to vail in the fall to enjoy dazzling leaf displays that make the hillsides feel as if they are on fire.
If you're looking to enjoy the fall in Vail like a local, not a tourist, then you're in the right place. I've spent the past 13 years living and exploring Colorado. Every year I come to Vail in October and September to enjoy the beautiful fall scenes – even though Vail in winter is pretty cool too.
About this Guide to Visiting Vail in Fall
Inside this local guide to visiting Vail in the fall you'll find:
Practical info about visiting Vail in fall
Tips about visiting Vail in September
Everything you need to know about Vail in October
Fall weather info for Vail
Top things to do in Vail in the fall
Additional local Colorado travel resources
Is Vail Worth Visiting in Fall?
Colorado in fall is a stunning place and with giant aspen groves, Vail puts on quite the display. Many of the best ways to view the fall colors can be found in the Vail Valley.
In fact, Vail during the fall is one of the top places to see in Colorado. It's pure magic!
Couple that with cheaper lodging and fewer crowds in the later months, Vail in fall is the perfect place to get some tranquil mountain time.
Local Tip: Many people flock to the most popular places in Vail for leaf-peeping, so do expect crowds, especially on weekends. However, Vail in October is relatively quiet, local, and very peaceful.
What is There to Do in Vail in the Fall?
During the fall months, leaf-peeping reigns supreme. Many of the top things to do in Vail during the fall months surround getting outside and enjoying the changing of the season.
However, color displays in the mountains are short-lived (more on that in a second). Once the leaves have fallen off the trees, Vail becomes a celebratory town with plenty of festivals. A few key fall activities include:
Getting out for a hike
Enjoying a scenic gondola ride
Celebrating at one of the many fall festivals in Vail
Take a scenic drive
Enjoy Vail's fine dining scene
When are the Fall Colors in Vail?
The leaves change in Colorado at different times of the year. However, if you've got to plan your Vail trip in advance, the third weekend in September is a pretty good bet to see some action.
I got married near Vail in the fall on the third week of September and it was incredible. Literally, over the course of 5 days, we watched the aspens change from just a hint of yellow to a full-blown glittering display of fiery colors.
Local Tip: For up-to-date fall color info, check out my Fall Hikes post. I update the post every week with updates on what's going on with Colorado's colorful displays!
How to Get to Vail
Vail is located along the I-70 corridor in between the towns of Avon and Copper Mountain. As one of the more popular weekend trips from Denver, you can get to vail in about 1 hour and 40 minutes.
Simply head west on I-70 over the Continental Divide until you reach the Vail Valley.
Local Tip: I-70 sees horrendous traffic during the leaf-peeping season (when the leaves are changing colors). If you're visiting on a weekend during this time, budget an extra 45 minutes to 1.5 hours to get to and from Vail.
You can skip the traffic by aiming to be through the Eisenhower Tunnel before 7 am westbound and before 10 am eastbound.
Vail in September
September is an awesome time to visit Vail in fall with typically great weather and lots of events.
Is September a good time to go to Vail?
The weather in Vail in September tends to be very pleasant with average highs in the upper 60s and lows at night just above freezing in the 30s.
When the leaves change in Colorado varies from year to year, but usually, the third week in September is the prime time for fall colors in Vail. It's also one of the most popular times to visit – so be prepared!
What is there to do in Vail in September?
September is a big festival season in Vail in the fall. Labor Day weekend kicks off with Gourmet on Gore with outdoor tastings of beer, wine, and food.
Mid-September brings two separate weekends of Oktoberfest in Lionshead and Vail Village, and the Vail Concours (formerly the Vail Automotive Classic) car show also happens then.
The Taste of Vail typically takes place in the middle of the month as well.
Vail in October
Vail, Colorado in October is the place to be to really embrace all that the fall season has to offer.
Is October a Good Time to Go to Vail?
October in Vail is usually sweater weather but is still generally pretty mild. Expect high temperatures in the mid-50s and nighttime lows into the mid-20s, with potentially just a few inches of snow or rain total throughout the month.
Local Tip: You won't find traffic on I-70 during October, making it the ideal choice if you're looking for an off-season time to visit Vail.
What is there to do in Vail in October?
There aren't as many festivals in October in Vail, but you'll find plenty of Halloween celebrations. Restaurant Week usually is scheduled for October, too.
Vail in November
While most of the leaves have fallen in Vail by November, that means it's time for snow and the start of ski season.
Is November a good time to go to Vail?
November is definitely late fall in Vail, so the temperatures are much chillier, and there's a higher possibility of serious snow. High temps are generally only in the high 30s, and it will get down to the teens at night.
What is there to do in Vail in November?
The biggest event in Vail in November is obviously the opening day of ski season at Vail Resort.
Revely Vail, a season-long celebration of winter, also kicks off with lots of events, including the Magic of Lights, in November.
Things to Do in Vail in Fall
Vail in fall is full of fun activities from hikes to scenic drives to festivals and so much more!
Hit the Hiking Trails
There are so many Vail hikes, so you'll definitely be able to find one that's the perfect adventure for you. Here are a few options for hiking in Vail in the fall:
Berrypicker Trail – A great workout with a great view. This steep uphill hike takes you to Eagle's Nest Ridge where you can soak in the view, then take a gondola ride back down (if it's running).
Upper Piney River Falls – One of the great fall hikes in Colorado, Upper Piney takes you through aspen groves that turn golden and offers awesome views of the Gore Range. Plus, of course, there's a waterfall, too!
Eagle Lake – Another fantastic hike in Vail in fall is the trail to Eagle Lake. The aspen groves are stunning in leaf-peeping season and the setting of Eagle Lake is just gorgeous.
Beaver Lake – Appreciate one of the prettiest places in Colorado on the hike to Beaver Lake in Holy Cross Wilderness, combining aspen groves and a serene alpine lake.
Shred on a Mountain Bike
Vail is a paradise for mountain bikers, and you can haul your bike up the mountain on the gondola when it's open (daily through Sept. 5, then Fri-Sun through Oct. 2).
From the Eagle's Nest Gondola, you can ride the rollers all the way down the popular Radio Flyer Trail. Or you can get a workout pedaling up Mill Creek Road and then enjoy the ride down Two Elk Trail.
Stay in a 10th Mountain Division Hut
A classic Colorado adventure is a stay in a 10th Mountain Division hut. Lots of huts are located near Vail, and you might have better luck booking one of these super-popular stays in the fall than in the peak summer and winter season.
The Shrine Mountain Hut, the Fowler-Hilliard Hut, and Janet's Cabin are good options nearby.
Appreciate the Alpine Gardens
The highest botanical garden in the country, Betty Ford Alpine Gardens, is open year-round from dawn until dusk, so you can check out the local fall flora and fauna.
Located at 8,250 feet at the base of Vail Mountain, you can take guided tours of the outdoor gardens through Labor Day or take your own self-guided tour after that.
Go for a Gondola Ride
One of the coolest things to do in Vail is riding the scenic gondola. You can ride either Eagle's Nest or Gondola One for the scenic views and to access a network of trails for hiking and biking.
Local Tip: The gondolas run daily through September 5, then Fri-Sun until October 2. They close completely after that until ski season.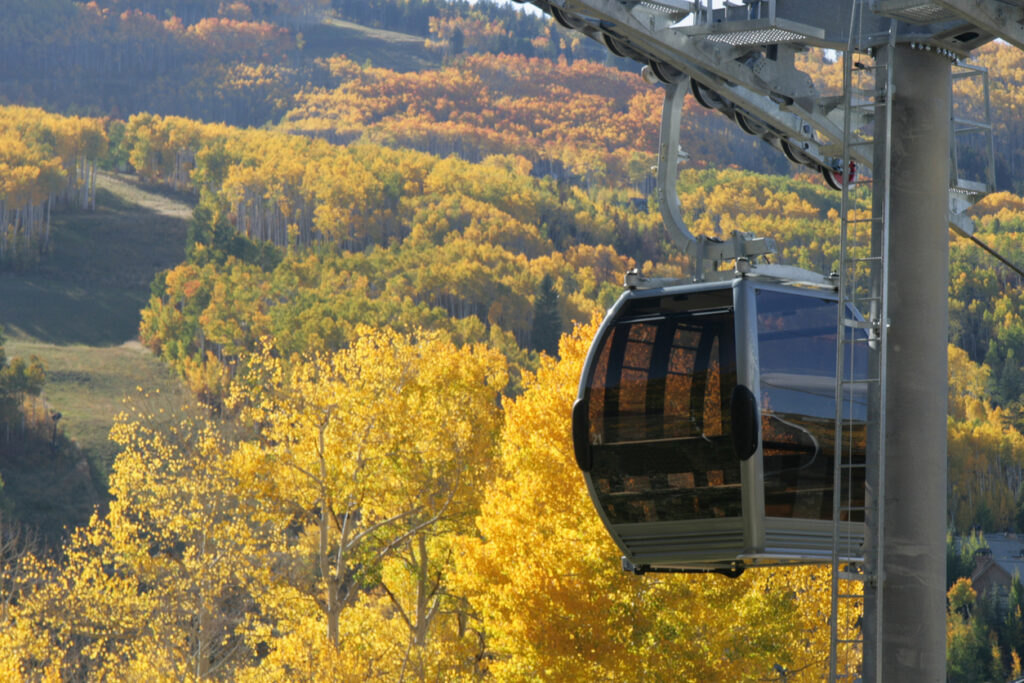 Hit the Links
If you're a golfer, you definitely want to add 18 holes in Vail in the fall to your bucket list. Tee up at the Vail Golf Club and have the Gore Range in the distance behind your shots, or visit Red Sky Ranch for two-course options and beautiful scenery.
Plus, if you didn't know, thanks to the thin air at elevation, your ball will actually travel faster than at sea level!
Take a Horseback Ride
Vail in the fall is a lovely time to take a horseback ride through the aspens. Vail Stables offers a variety of rides that are fun for everyone, no matter your experience.
Rides are available through the end of September, but usually, book up fast, so it's smart to book in advance. The stables also offer Goat Yoga and a Goat Happy Hour for more good times.
Indulge in Fine Dining
Food is front and center in Vail in fall with the Taste of Vail typically taking place in September and Vail Beaver Creek Restaurant Week usually in October.
Savor the season and splurge at the swanky Sweet Basil or try a decadent sandwich at its sister restaurant Mountain Standard. Wine connoisseurs will want to visit Vin48, a wine bar with delicious seasonal plates in nearby Avon.
Leaf-Peep at Piney River Ranch
A picturesque 40-acre ranch perfectly situated at the base of the Gore Range, Piney River Ranch is an ideal setting for weddings and special events, but it's also great for a day trip to experience some of the best fall colors in Vail.
Have Fun at a Festival
Fall in Vail is full of festivals, especially in September. Film buffs will want to attend the world-renowned Vail Film Festival in late September, and foodies will devour the Taste of Vail in mid-September.
Everyone can enjoy the good cheer and beer during Vail Oktoberfest, which takes place one weekend in Lionshead and one weekend at Vail Village.
Go Hunting or Fishing
Vail in fall is prime time for hunters and anglers. The summer crowds clear out of the best fishing areas leaving plenty of trout to catch. For hunters, Vail Pass is a hot spot for hunting elk and deer during big game season.
Enjoy a Scenic Drive
A wonderful way to really take in the fall colors in Vail is with a scenic drive along the Top of the Rockies Scenic Byway. This route connects Minturn to Leadville over Tennessee Pass, and you can continue over Independence Pass to Aspen.
Along the way on this 82-mile (one-way) drive, you'll glimpse the Sawatch Range, Mt of the Holy Cross Wilderness, and the Maroon Bells Wilderness. It really is one of the most beautiful fall scenic drives in Colorado!
Places to Stay in Vail
When it comes to where to stay in Vail, you've got plenty of options. Just keep in mind that Vail tends to be a bit more upscale with lodging. If you're looking for a more budget-friendly option, check out nearby Avon or Minturn.
Places to stay in vail include:
Gravity Haus Vail
Tivoli Lodge
The Arrabelle
Minturn Inn (Minturn)
convertkit form=2688379
Additional Local Colorado Travel Resources
Wanna discover the best of Colorado like a local, not a tourist? Then check out these incredible local travel resources: