Cooler temperatures and stunning fall color display mark the fall season in the Centennial State. When it comes to things to do in October in Colorado, there are several ways to celebrate the season of pumpkin spice and everything nice.
Fall in Colorado is a wonderful time to enjoy various festivals, drives, and unique mountain scenery. The days are still relatively long which means you can start the day off with a hike, hit up a hot spring, and soak up a sunset on one of Colorado's most scenic drives.
October in Colorado isn't nearly as crowded as the summer months, and the mountain traffic is long gone – making it an ideal time to explore a more low-key side of the state. So grab your chunky sweater, it's time to discover the magic of Colorado in October.
If you want to explore Colorado like a local, not a tourist, you're in the right place. I've lived in the Rocky Mountain State for 12 years, spending most of my time scouring the wilderness for the most beautiful landscapes. As a local, you'll get access to insider insight about things to do in Colorado in October.
About this Guide to Colorado in October
Inside this guide to October in Colorado, you'll get expert advice on amazing fall activities. Inside this post you'll find:
Weather in Colorado in October
Info about fall foilage in Colorado
Things to do in Colorado in October
The best places to visit in Colorado in October
What is the Weather Like in Colorado in October?
Colorado weather is always a bit unpredictable and October is no exception. In fact, the first snow of the Front Range typically happens in late October. Weather in places like Denver, Colorado Springs, and Boulder can be quite warm during the day and below freezing at night.
The mountains tend to be windy and cold with sunny days. Temperatures frequently dip below freezing at night and higher elevations (above treeline) are frequently dusted in snow.
The Western Slope feels much more like a dry desert. Temperatures are still quite warm (in the mid-70s) and the nights are cooler (in the 50s). If you still want to camp, then places like Fruita, Mesa Verde, and the Colorado National Monument are all prime choices.
Do the Leaves Change in Colorado in October?
Peak fall foliage in northern and central Colorado typically happens in mid to late September. Southern Colorado, such as Pueblo, the San Juan and Sangre de Cristo mountains, and the Four Corners Region typically see peak fall colors in early October. So if you're after colorful displays of changing leaves, be sure to head to the southern part of the state.
Denver, Boulder, Colorado Springs, and Fort Collins sit at lower elevations. This means that peak fall colors of the maple and oak trees in the cities happen from mid to late October. So if your visiting Colorado later in the month, be sure to spend some time in Front Range cities to experience the fall displays.
Awesome Things to Do in Colorado in October
When it comes to things to do in Colorado in October, there's plenty of fun (and relaxing) activities to enjoy.
1. Attend a Fun-Filled Festival in Colorado
One of the best things to do in Colorado in October is attending one of the many festivals happening throughout the state. From famous beer fests to bugling elk displays, there are tons of fun-filled fall festivals.
Elk Fest in Estes Park. Experience the annual elk rut displays and learn about these magnificent creatures. October 2-3, 2021
Denver Botanical Gardens Pumpkin Festival. Enjoy the 10-acre Chatfield Farms pumkin patch and enjoy live music, crafts, pony rides, and a kid's maze. October 8-10, 2021
Boo at the Zoo in Colorado Springs. Give yourself a spook at the Cheyenne Mountain Zoo for the whole month of October. Enjoy the animals, lights, and treats alike.
Glow at the Gardens at the Denver Botanical Gardens. Trick or treating, glow-in-the-dark games, and a celebration of pumkin carving mark this annual celebration at the Denver Botanical Gardens. Evenings October 19 – 24, 2021
Great American Beer Festival in Denver. Known as the largest beer festival in the Americas this signature annual festival features brews from all over the country. Brewers compete for various medals and as an attendee you can sample beverages spanning the wildest sours to classic lagers. September 17th through October 17th, 2021
Oktoberfest. If there's one thing Colorado loves, it's the month of October. With several different festivals happening in cities and towns throughout the state, you can celebrate the season's harvest (and have a few brews). Dates varry depending on the town.
2. Go for a Scenic Drive
If the chilly mountain air has you wishing for warmer weather, why not go on a scenic drive and enjoy beautiful landscapes from the comfort of a heated car. Here's a look at a few drool-worthy drives worth taking in Colorado in October.
The Million Dollar Highway and San Juan Scenic Byway. Located beween Ridgway and Durango, the San Juan Scenic Byway is not only one of the best fall drives in Colorado, but it's one of the most stunning scenic drives in the US. The Million Dollar Highway stretches from Ouray to Silverton.
Peak-to-Peak Highway. Stretching from Estes Park and passing famous landmarks like Long's Peak, the Peak-to-Peak highway is famous for being one of the most scenic drives near Denver.
Loriat Loop. Looping from Lookout Mountain in Golden through nearby Evergreen, this super-scenic Front Range drive delivers big fall views.
3. Soak in a Mountain Hot Spring
Nothing takes the chill out of the air quite like visiting a Colorado hot spring. What makes hot springs one of the most appealing things to do in Colorado in October is pleasant combination of hot, mineral-rich water with brisk mountain air. So plan a weekend getaway from Denver to go for a relaxing soak in these incredible hot springs.
Iron Mountain Hot Springs in Glenwood Springs
Princeton Hot Springs near Buena Vista
Orvis Hot Springs in Ridgeway
4. Get Lost in a Corn Maze
No October in Colorado is complete without at least one visit to a corn maze. Make your way through a living maze, perfect for kids, couples, and families. A few notable Colorado corn mazes include:
Botanical Gardens in Chatfield
Cottonwood Farms in Layfette
Diana's Pumpkin Patch and Corn Maze in Canon City
Rock Creek Farmin Broomfield
Jack Lantern's Northern Colorado Corn Maze in Fort Collins
5. Hike Amongst the Red Rocks at the Colorado National Monument
Escape the mountain chill with a weekend in the Colorado National Monument. This spectacular display of red rock formations stays warm well into October. Sandstone spires and impressively deep red rock canyons deliver other-worldly views.
Hike and drive through this stunning landscape, then head to Fruita for a slice of za at the Hot Tomato.
Local Tip: An America the Beautiful Parks Pass covers the entry fee into the Monument.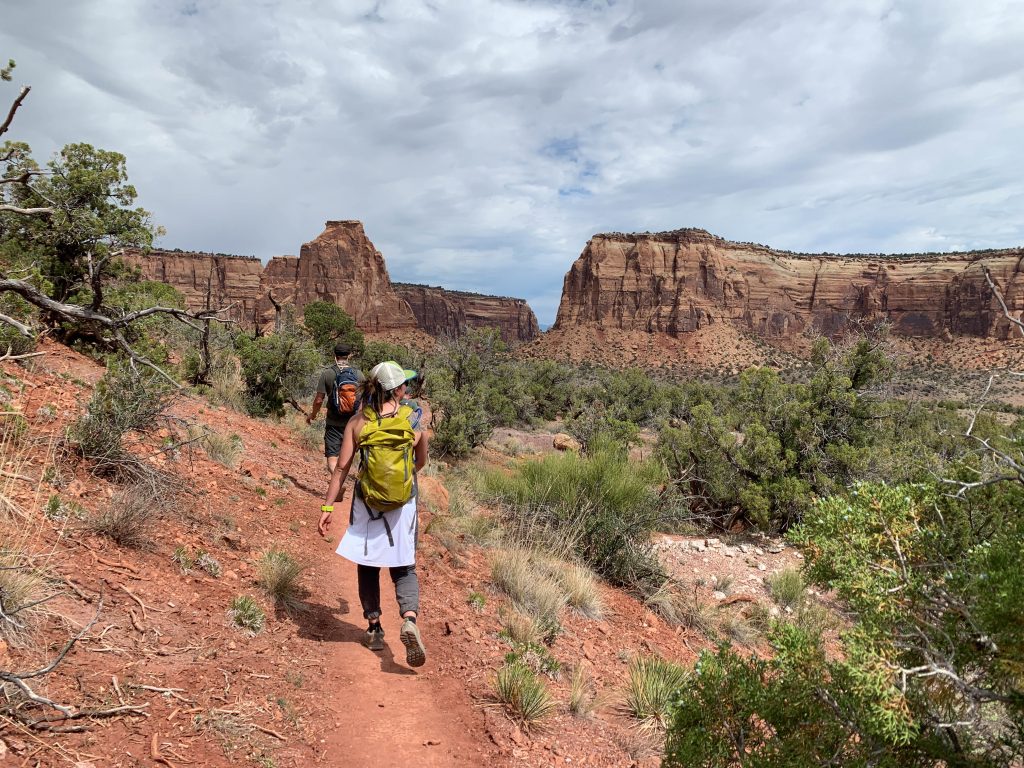 6. Spend a Spooky Night in a Hotel
If you get into the spooky season, consider spending the night in one of Colorado's most haunted hotels. Give yourself a fright a few of these mysterious hot spots.
The Stanley Hotel in Estes Park. Used as inspiration for the movie The Shining, this classic establishment will certainly give you chills.
The Brown Palace in Denver. As one of the oldest and most prestigious hotels in Colorado, there's plenty of hauntings here too – especially rooms 904 and 100.
The Black Monarch Hotel in Victor. After purchasing a supposedly haunted property, the current owners leaned into the fright by creating a hotel with serial killer themes.
Hotel Colroado in Glenwood Springs. This long-standing etablishment has had many different faces over the years, including a WWII hospital for the Navy. Hauntings and mysterious happenings are so common here, spirits even have names.
8. Hit the Trails
Arguably one of the best things to do in Colorado for fall is to hit the trails on one of the many stunning fall hikes in Colorado. Even if the leaves have turned, there's still plenty to love about a hike in the crisp mountain air. If you're after the changing leaves, be sure to head down south. A few notable October hikes include:
South Colony Lakes
Devils Kitchen in Grand Junction
Hiking in Golden Gate State Park near Boulder
Judd Weib Trail in Telluride
Best Places to Visit in Colorado in October
Although there are many beautiful places in Colorado, a few areas particularly shine during the month of October. Each of these places has something different to offer from the next. You'll get a well-rounded look at the best places to visit in Colorado in October with this list.
7. Glenwood Springs
The big crowds of summer are long gone if you visit Glenwood Springs in October. But that doesn't mean there still isn't plenty to do. In fact, there are so many things to do in Glenwood Springs, you'll find yourself coming back here almost every season.
Be sure to check out the Hanging Lake hike (permit required) for utterly scenic canyon landscapes. The Glenwood Caverns Adventure Park delivers high-flying fun for the whole family. Afterward, go for a soak in one of two hot springs (Iron Mountain is a personal fave of mine but it's not as kid-friendly as the Glenwood Hot Springs).
Local Tip: The Hanging Lake Hike is currently closed due to landslides. Opening dates are TBD as of 2021.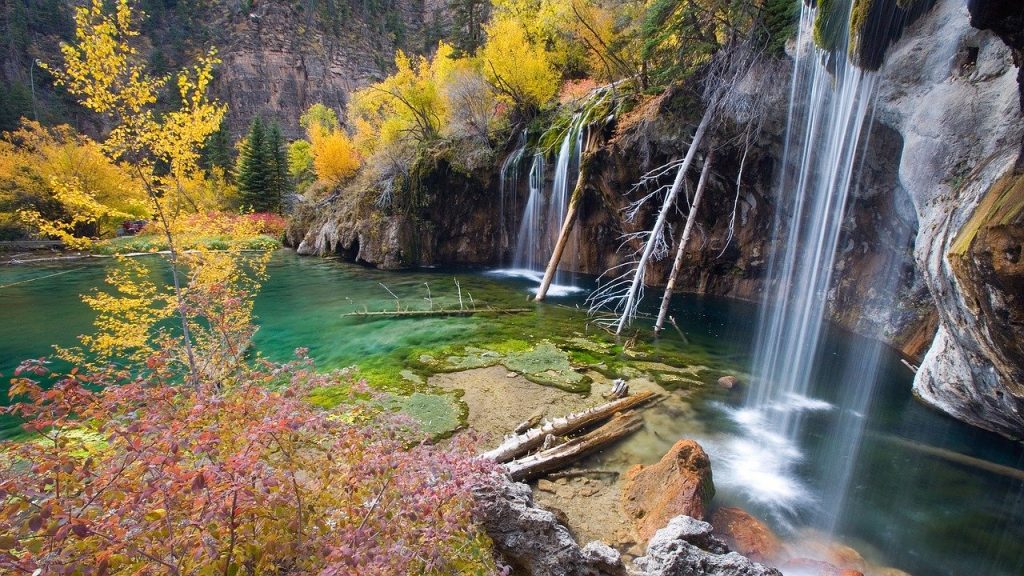 8. Rocky Mountain National Park
What I love the most about visiting Rocky Mountain National Park in October is that the park gets much quieter this time of year. After October 11th, you don't need to worry about timed entry permits, meaning you can come and go as you please throughout the park.
Be sure to catch a sunrise at Emerald Lake, one of the prettiest Colorado lakes. If you're lucky, you'll hear an elk bugling his mating call in the distance. There are several other hikes in Rocky Mountain National Park for all abilities if you want to explore further.
Although Trail Ridge Road may be closed this time of year, the Many Peaks Overlook is still open. Soak in the jaw-dropping views and smell the scent of the pine trees. You can also walk or cross country ski the road when it's closed.
Local Tip: If you want to hear elk, it's best to head to the park in the early morning or evening.
9. Denver in October
For a more laid-back city experience, October is a wonderful time to explore Denver. With so many festivals, concerts, and plenty of warm sunshine, there's a lot to do in Denver. From museums to food courts and easy hikes near Denver to concerts, you'll never run out of activities.
10. Grand Junction and Fruita
October is prime time for exploring America's red rock country. Many people don't know that Grand Junction and Fruita are home to some stunning red rock canyons and sky-high rock towers. The Colorado National Monument is a must-see, but there are plenty of hikes near Grand Junction that also feature red rock canyons.
Fruita is world-famous for its mountain bike trails and hosts many festivals around the single track lifestyle during the fall months.
Other notable areas include Unaweep Canyon, McInnis Canyon National Recreation Area, and wine tasting in nearby Palisade.
11. Mesa Verde
Uncover the unique and rich history of the American Southwest at Mesa Verde National Park. Visiting this truly remarkable Ancestral Puebloan city is a must-see national park. Take a guided tour to learn about the specialized and mysterious ways in which this mighty ancient culture lived. October is an excellent time to tour Mesa Verde because the heat of the summer is long gone and the crowds are far thinner.
Additional Colorado Planning Resources
Planning a fall trip to Colorado? I've got you covered with locally curated resources so you can explore the best of the state like a local, not a tourist.
PIN THIS POST