For an uber-fun and easily accessible slot canyon experience, you've got to check out Peekaboo Slot Canyon and Spooky slot canyon in Escalante, Utah. This canyon duo features a little bit of everything – wavy slots, scrambling, narrow squeezes, and even an arch!
As one of the top slot canyons in Utah Peek a Boo canyon and its twin Spooky slot canyon deliver big on adventure. With just enough scrambling, this feels like a true slot canyon experience without all of the technical gear.
Located about 1 hour down the famous Hole in the Rock Road just outside of Escalante, these signature slot canyons are some of the most accessible canyons in Utah. In fact, I've watched this trail go from being some no-name blip on the map to a fully developed trailhead that no longer requires high clearance to visit.
Over the years I've had the opportunity to head out on many amazing Escalante hikes, but I keep coming back to Peekaboo and Spooky slot canyons. The are literally that fun. As someone who has hiked these canyons many times, you can guarantee you're getting the best tips and tricks on the internet.
It's my mission to empower you to visit Peek a Boo and Spooky slot canyons like a local, not a tourist. So here's what you need to know to have a safe and fun-filled romp through this unique canyon system.
About this guide to Spooky Slot Canyon and Peekaboo Slot Canyon
If you're looking for expert advice on hiking both Peekaboo slot canyon and Spooky slot canyon, then you're in the right place. Inside this mega-guide you'll find:
The best time to visit Peekabo and Spooky slot canyons
Practical info about the hiking route including difficulty, duration, kid and dog friendliness, a map, and more
Directions to the Peek a Boo and Spooky Slot canyon trailhead
Step-by-step guide for your hike
Tips about staying safe in slot canyons
What to bring
Nearby camping
Additional adventures nearby
When is the best time to visit Peek a Boo Slot Canyon and Spooky Gulch?
The best time to hike in any slot canyon is during dry, clear-weather forecasts. Remember, slot canyons, including Peekaboo and Spooky slot canyons, kill people every year due to unexpected flash floods. Use a tool like weather.gov to check the weather (just type in the slot canyon) for several days, including the day you plan to hike.
Pro Tip: You can also get the latest weather.gov forecast at the Escalante BLM Field Office in downtown Escalante.
If there's a clear forecast, you can hike these magnificent slot canyons year-round. However, the best times to hike are in the spring or fall months. Weather is typically a little bit drier and less windy in the fall, but both seasons provide mild temperatures perfect for desert adventures.
These are also busy times, so be sure to start your hike before 8 am if you want to avoid the crowds. (Yes, this trail does get crowded and I've seen a tremendous increase in people accessing these canyons over the years).
Winter is another excellent time to visit if you don't mind the cold (you'll have plenty of solitude). Summers should be avoided. It's extremely hot and during the summer months, monsoon rains are common making flash flood hazards particularly dangerous.
Practical Information
It's no secret that Peekaboo and Spooky slot canyons are some of the best hikes in Utah. As such, it gets crowded here. If you want to beat the crowds, be at the trailhead prior to 8 am.
Also, be sure to hike Peek a Boo slot canyon and Spooky Gulch starting with Peek a Boo slot canyon. There are several reasons for this. First, Peek a Boo Canyon starts with a bit of a rock climb – it's easier to go up this than down. Secondly, most people travel the canyons this way, so you will avoid pesky traffic jams in the extremely narrow Spooky slot canyon.
Other important info to highlight includes:
Total miles: around 4.5 miles round trip if you include a trip to the nearby Dry Fork Narrows (more on that later)
Elevation Gain: 633 feet
Difficulty: easy to moderate if you've done some slot canyons before. If this is your first one, it'll be a challenge so be prepared.
Estimated Time: 3 to 4 hours. Experienced parties can do it in 2.
Red Tape: SUV is recommended to reach the trailhead. It is a long, bumpy road with plenty of washboard, bumps, and ruts. If it's recently rained, the road can remain muddy for days and require a high-clearance 4WD vehicle.
Pro Tip: There are actually two Peek a Boo slot canyons in Utah. The other one is outside of Kanab and is a completely different hike. Don't confuse the two!
How Long Does It Take to Hike Peek A Boo and Spooky Slot Canyons
The time it takes to complete the Peek a Boo and Spooky slot canyon hike largely depends on your ability. Most people should budget 3 to 4 hours for this hike. Plan for more time if you have kids or you want to take a lot of photos.
Keep in mind, the trail is not well defined once you leave Peekaboo Slot Canyon, so having a GPS downloaded in advance is essential.
I've done this hike several times and it's taken me anywhere from 2 to 3 hours, but I move very fast and have ample climbing experience.
How Long is the Peakaboo Slot Canyon Hike?
The Peekaboo slot canyon is typically done with its sister – Spooky slot canyon. This is thanks to an 18-foot climb into Peekaboo slot canyon that makes for a difficult, class 5 downclimb many people won't be comfortable with. Since you should do both canyons, the route is about 3-ish miles round trip. Adding on a trip down the narrows of nearby Dry Fork Canyon adds an additional 1.7 miles to the day.
Is Peekaboo Canyon Free?
Yes! There is no cost to enter Peekaboo slot canyon. However, you will be driving about an hour down a washboard-ridden, bumpy road that has plenty of tire ruts.
Map of Spooky Slot Canyon and Peekaboo Slot Canyon
The trail for Spooky Slot Canyon and Peekaboo Slot Canyon is a lollipop loop. You'll start at a high point at the trailhead and wind your way down to a drainage basin. From here you can see the entrance for Peekaboo Slot Canyon.
The route takes you up Peek a Boo slot canyon, then down Spooky Canyon back to the trail that goes towards the parking lot. Dry Fork canyon is also nearby and worth checking out after you get back to the trail junction.
How to Get to Peekaboo Slot Canyon and Peek a Boo Canyon
Head south on BLM Road 200, more commonly known as Hole in the Rock Road just southeast of Escalante. Now begins the tedious, bumpy romp down about an hour of rocky washboard.
Each year this road erodes more and more and it's gotten quite bad in recent years. It's highly recommended that you drive at least a crossover SUV. Passenger cars will have to plot their route carefully and pay attention to the weather.
I've done this road both in an Acura RDX (dry conditions, not an issue) and a Toyota 4Runner (wet and would have been impassable without a vehicle this capable). Both were suitable, especially in dry conditions. We've even seen a Tesla on this thing (yikes), but I wouldn't recommend it.
What's worse, is if it has rained recently, the road is so eroded it often pools water for several days. The last time I was here it was snowing and the road was like a slip and slide with ruts. Regular 2WD cars were stalled out and it's a remote place, help isn't coming quickly. Tows out here costs around $1,500.
Eventually, you'll reach a signed turnoff for the Spooky Gulch and Peekaboo Canyon trailhead. The road used to be high-clearance only to the upper trailhead, but now it's been smoothed over with gravel. There is ample parking at the trailhead and vault toilets.
Pro Tip: Download navigation maps and your GPS file well in advance – there is no cell service out here. Verizon occasionally has a bar or two, but I wouldn't rely on it.
Are Peekaboo Canyon and Spooky Slot Canyon Kid Friendly?
Overall yes. Plenty of young kids enjoy Spooky gulch and Peek a Boo canyon. However, this route might not be suitable for all children – especially smaller kids who cannot reach up and climb on their own.
There is an 18-foot climb to access Peek a Boo Canyon that will require you to reach upwards and likely isn't suitable for babies or toddlers. It is the toughest section of the hike and it's at the entrance to the canyon.
Also, Spooky canyon has one fixed line with about an 8 to 10-foot drop that requires you to walk down a small boulder and stem (putting your feet on the canyon wall and the boulder) in order to access Spooky canyon. By the time you reach this point, there is no easy return so keep that in mind.
Can I Bring My Dog to Spooky and Peekaboo Slot Canyons?
Technically dogs are allowed in this area. However, this route is absolutely not suitable for pets. The 18-foot climb is not dog friendly, nor is the roped drop. Even if you can fit your dog in a bag, you'll for sure have to hold your pack out in front of you in Spooky slot canyon. The narrowest sections of this canyon are only around 12-18 inches wide and require you to walk sideways with your bag out in front of you.
Do I Need to Hire a Guide?
Hiring a guide for Spooky and Peekaboo slot canyons is not required. In fact, if you're a relatively confident hiker, you understand how to navigate, and you aren't squeamish about a little bit of climbing and scrambling (using your hands for low-angled climbing) you'll be just fine without a guide.
However, if this is your first slot canyon experience and you don't have any climbing experience, then hiring a guide is a great way to still explore this incredible landscape.
How to Reach Peek a Boo Slot Canyon
The hike starts on top of a plateau. The wide, obvious trail slowly winds its way down towards a basin. Eventually, you'll reach a slickrock drainage you'll work your way down. From here you'll spill out onto a small, sandy trail.
Pro Tip: There is no shade at all until you enter the canyons, so plan accordingly.
After walking through a wash you'll reach the main drainage. Now it's time to get oriented.
The canyon to your left with the big boulder in front of it is Dry Fork Canyon. It's a gentle sandy bottom walk that frequently has big puddles. Save this one for the way back.
In front of you is a wash that seems to have not much going on. But just to the right of that you will see a big red rock wall with a small pool (usually has water) in front of it. This is the entrance to Peek a Boo slot canyon and your next destination.
You can see there is a (hopefully) dry drainage that continues to head right or east for a few minutes until a few social trails branch out north. This eventually takes you to the narrows of Spooky Slot Canyon.
Pro Tip: There are a few signs along the way (more keep getting added), but you'll want a GPS route downloaded to navigate.
Navigating Peek a Boo Slot Canyon
The biggest obstacle in Peek a Boo slot canyon is the imposing 18-foot-high climb that is required to enter the canyon. There are a few pockets cut into the rock that make the climbing a little easier, but it's certainly a challenge for the uninitiated.
Pro Tip: Wear hiking shoes or boots with sticky rubber. Tennis or gym shoes don't have the traction to make the climb feel cozy.
Once you're in you're immediately greeted with amazing rock formations, including an archway. This transportation to another world continues, with a few scrambly moves requiring you to stem (use friction to place one foot on each canyon wall) and scramble your way to the top of the canyon.
Once you reach the top of the canyon, you'll be dumped back out into the desert. Your goal is to hike about 10 minutes to the right, following a vague path. Keep in mind, this path comes and goes, making it challenging for newbie hikers.
Here's where the route gets tough. There are social trails and cow paths everywhere. Unfortunately, several people have built cairns (rock piles) just for the sake of it, which actually confuses hikers – please don't do this or let your kiddos do this!
You'll want a GPS to work your way around the never-ending sand and rock behind Peekaboo slot canyon in order to reach Spooky Slot Canyon.
Hiking Spooky Slot Canyon
Eventually, the sand will give way to a narrow canyon entrance. This is Spooky slot canyon (also called Spooky gulch) and boy does it live up to its namesake!
The canyon starts off a little wide and quickly gets more narrow and deeper. You'll for sure be stemming here (walking along the canyon walls with one foot on each wall). There are several steep drops, most of which can be navigated by stemming.
About halfway in you'll reach a very steep drop with a chockstone and a hand line. Simply use the knotted handline to lower yourself into the canyon to the bottom.
There are several spots where this canyon is so narrow, you'll have no room to walk forward. You'll need to side shuffle with your pack. Now, I'm a fairly skinny gal and I had very few issues.
I took my friend on his very first slot canyon hike here. He's a bigger, plus-sized guy. He was able to make the squeezes. If you find yourself getting stuck there is usually a stemming work-around. Simply back up until you have a little more room and send it upwards.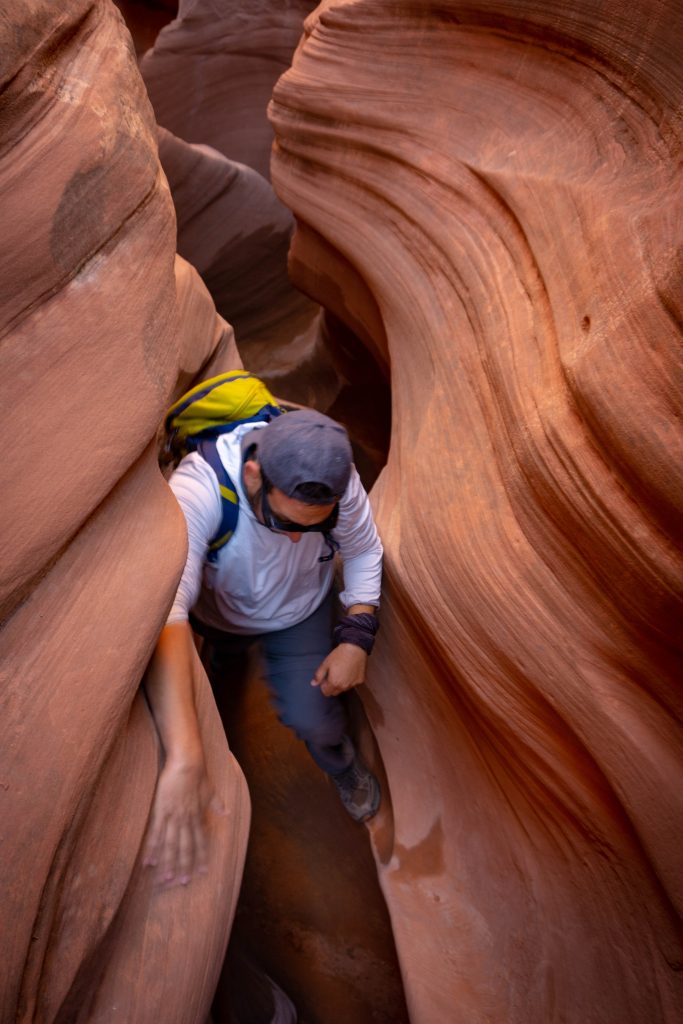 Pro Tip: The first time I did this hike, I actually got so frightened that I had entered the wrong canyon and I wouldn't be able to get out. This is where I learned that GPS devices do not work in narrow canyons. Yes the walls are very steep and yes the canyon squeezes to be almost impossibly narrow, but you're on the right path!
Eventually, Spooky gulch begins to widen again and you'll be dumped into a wash with a couple of social trails. This wash joins up with the main wash you encountered in the beginning at a T-like intersection. Head right back past the entrance to Peek a Boo slot canyon and retrace your steps back to the car.
Dry Fork Slot Canyon
Dry Fork is an optional adventure that's certainly worth checking out if you're here. It's an easy walk down a sandy-bottom narrow section of the canyon. Typically, there are standing pools of water in here, but you can travel down this slot canyon for as long as you would like.
The narrows eventually widen. Simply come back the way you came once you're finished exploring.
Tips for Hiking in Slot Canyons
First and foremost, it's important to note that slot canyons can be dangerous places if you're not prepared. Peekaboo and Spooky slot canyons are in a remote area that's difficult to access. Be prepared to be on your own out here. If you need rescue it's going to take a minute. Here are a few desert hiking safety tips to keep in mind.
Always check the weather. Always. Slot canyons, especially Spooky gulch and Peekaboo canyon, are very prone to deadly flash floods. Never hike in a rainy forecast. I've seen these canyons spit water after a wet snowstorm – it didn't look inviting!
Dress in layers. Slot canyons can be cold places with sometimes up to 40-degree temperature swings inside a canyon. They see little light, so always pack a few extra layers.
Wear pants. The desert has a lot of prickly plants and the rock can be rough on the skin. Pack pants to avoid unwanted scrapes and cuts.
Bring plenty of water and salty snacks. You'll want at least 2 liters of water per person for this hike. Have water in the car too. There are no services for many miles so you'll need to bring in all of your supplies.
Wear sturdy footwear. You will be using your feet to climb up rocks. Sandstone can be particularly slippery, so having footwear with good traction is essential.
Bring sun protection. There is no shade on this hike until you get into the canyon. You'll want ample sun protection (hat, sunscreen, sunglasses, and a sunshirt). Especially if you're hiking in the summer.
Leave no trace. Pack out all trash (this includes human waste like poop and toilet paper). There are vault toilets at the trailhead, but bring the proper equipment to pack it out.
Don't bust the crust. The raised, bumpy, black soil of the desert is a living organism called cryptobiotic soil. It takes a while to grow and is the lynchpin for stopping erosion and giving much-needed nutrients to the ecosystem. hike on sturdy surfaces like rock when possible and walk around cryptobiotic soils.
Wear clothing you don't care about. Sandstone is abrasive and ripping clothing is common. Wear older stuff you don't mind getting torn up.
Safety SOS buttons do not work in canyons. If you go in, be prepared to get yourself out. Safety devices can't send a signal in canyons this narrow.
What to Pack for Peek a Boo and Spooky Slot Canyons
Wondering what to bring on your Peekabo and Spooky slot canyons hike? Here's a list of the essentials:
A small streamlined hiking pack (20L is sufficeint). A big, bulky pack will be in your way and may make Spooky Canyon impassible. I highly recommend the REI Flash.
Small hiking first aid kit
2L of water per person
Sunscreen, sunhat, sunglasses, sunshirt
An extra layer
Extra pair of socks (you can leave these in the car, but it's helpful if the canyon is wet)
salty snacks
GPS with the route downloaded for offline use
Camera
Sturdy footwear
headlamp
Camping Near Spooky and Peekaboo Slot Canyons
There are plenty of dispersed, free camping areas near Peek a Boo gulch. Simply drive down one of the many offshoot roads to find campsites. Note that these sites have zero amenities. You are expected to pack it in and pack it out.
Wanna learn how to find amazing free campsites and camp off the grid? You can check out the free camping mini-course.
Nearby Attractions
Grand Staircase Escalante is an absolute adventurer's paradise. This area features plenty of incredible adventures if you have a 4WD vehicle to reach them. A few notable nearby areas worth checking out include:
Zebra Slot Canyon and Tunnel Slot Canyon
Egypt Canyon (some techinical ability required)
Reflection Canyon on Lake Powell
Coyote Gulch
Other Utah Hiking Resources
Wanna hike in Utah like a pro, not a tourist? These guides are designed to give you the secrets to enjoying the hottest places in Utah without the crowds.
PIN THIS POST