For a stunning into the wonderful and wacky world of slot canyons, look no further than Little Wild Horse Canyon and Bell Canyon. Nestled in the heart of the unbelievably gorgeous San Rafael Swell, this incredible slot canyon duo is worth doing at least once.
Many people compare the over 1.5-mile -long Little Wildhorse Canyon to the beauty of Antelope Canyon in Arizona. Winding and smooth sandstone walls transport you to another world and simply take your breath away.
Combining Little Wild Horse Canyon with Bell Canyon is an amazing half-day hike that offers a great introduction to the San Rafael Swell.
I come to visit the Swell (as those "in the know" call it) at least 3 times a year. I've hiked Little Wild Horse Canyon so many times, I've lost track. In fact, this was the last big hike my dog Nina did with me before she passed away. It was one of her favorites, so we would always make it a point to hike here.
As an outdoor writer, I'm a literal pro when it comes to hiking in the desert. I've written about getting outside in the American Southwest for big-name brands like REI and Backpacker Magazine. So if you're looking to learn how to hike Little Wild Horse Canyon like a pro, not a tourist, then you're in the right spot!
About this Guide to Little Wildhorse Canyon
Inside this guide to Little Wildhorse Canyon and Bell Canyon, you'll find expert advice about…
Where to find the Little Wild Horse Canyon trailhead
The best time to hike the canyon
In-depth info on hiking both Little Wild Horse Canyon and Bell Canyon including info about how long it takes to hike, distance, and features along the way.
Dogs and Little Wild Horse Canyon
Quick safety tips for hiking slot canyons in Utah and beyond
Camping and lodging near Little Wild Horse Canyon
Additional planning resources
Where is Little Wildhorse Canyon and Bell Canyon?
Little Wild Horse Canyon is one of the many incredible slot canyons found in the San Rafael Swell – an ancient reef that erupts from the desert floor just outside of Green River, Utah.
Little Wild Horse Canyon and the San Rafael Swell, in general, are some of the most remote parts of the contiguous US. As you head west on I-70 out of Green River, you'll pass a sign that says, "next services 124 miles." And they aren't kidding!
The drive time to the Little Wild Horse Canyon Trailhead from Green River is about an hour and 10 minutes.
On westbound I-70 head south at the Highway 24 exit toward Goblin Valley/Hanksville. After about 24.2 miles, you'll turn right on Temple Mountain Road – following signs to Goblin Valley State Park.
Continue for a few miles down Temple Mountain Road, then turn left onto Goblin Valley Road. You'll follow this road for about 6 miles, then make a right on Wild Horse Road. From here it's another 5.4 miles to the trailhead, which is clearly marked on the right after a wash.
Pro Tip: There is NO cell phone service anywhere in this area, so come prepared with offline maps downloaded.
The Best Time to Hike Little Wild Horse Canyon
First and foremost, the ONLY time you should hike Little Wild Horse Canyon is with a clear forecast. Even a slight chance of rain can create deadly flash flood hazards in slot canyons. Always check the forecast, especially the day you hike, to ensure that there are no storms around Little Wildhorse Canyon or even up to 30 miles north of the canyon, where the catchment basin is.
Summers tend to be extraordinarily hot and it's the monsoon season in the desert – meaning flash floods are a serious risk. Avoid Little Wild Horse Canyon in the summer.
Fall and spring are the best times to hike. However, spring can bring rains so check the forecast. Spring is also windier in the desert, which can get annoying if you're camping. Fall is generally more pleasant.
Winter is another amazing time to hike Little Wildhorse Canyon if you don't mind the cold (temps are regularly below freezing). The first time I ever hiked the canyon was in January and we had the place to ourselves. A stark contrast from a busy April weekend where there were literal hordes of people everywhere.
Pro Tip: As one of the best hikes in Utah, this trailhead sees a lot of traffic, start by 7 am to beat the crowds.
Practical Hiking Information
Before you head out to Little Wild Horse Canyon, there are a few important things to know before you go.
Distance: 8 miles round-trip if you are also hiking Bell Canyon (recommended)
Elevation gain: 800 feet
Difficulty: One of the easiest slot canyons, requiring no technical gear. In terms of hiking class, it's a class 3 hike that requires the use of your hands and some scrambling.
Estimated Time: 4 to 5 hours
Dog-Friendly: yes, but you'll likely need to help your dog or lift them in a couple of spots.
Red Tape: Pack out all trash and toilet paper. High flash flood hazard. It can get CROWDED so hike up Little Wild Horse and down Bell Canyon to avoid crowds.
Trailhead Conditions: Larger with gravel, but typically fills up by 9 am. Toilets and an info board at the start of the trail.
How Long Does it Take to Hike Little Wild Horse?
The time it takes to hike Little Wild Horse depends on two factors – whether or not you're hiking Bell Canyon too and how fast you hike. Expect the average pace for the full loop to take between 4 and 5 hours. You'll find yourself stopping a lot to take in the dramatic landscape.
If you're a faster hiker, then 2.5 to 3 hours is a good estimate.
How Long is Little Wild Horse Canyon?
The Canyon itself is only about 1.5 miles long – with about a continuous mile of a beautiful winding slot. It's this last part that makes Little Wild Horse Canyon such a popular destination.
Are Dogs Allowed in Little Wild Horse Canyon?
Yes! In fact, this is one of the only dog-friendly slot canyons. My dog has done this hike quite a few times. Just keep in mind there are a few rocky sections where you'll be climbing up and over (and down) boulders. Chances are you'll need to help your pup. Be prepared to carry them over these sections.
I used a Ruffwear harness with a handle to lift up Nina. The hike can be done without a handled harness, but it's a little dicey (speaking from experience)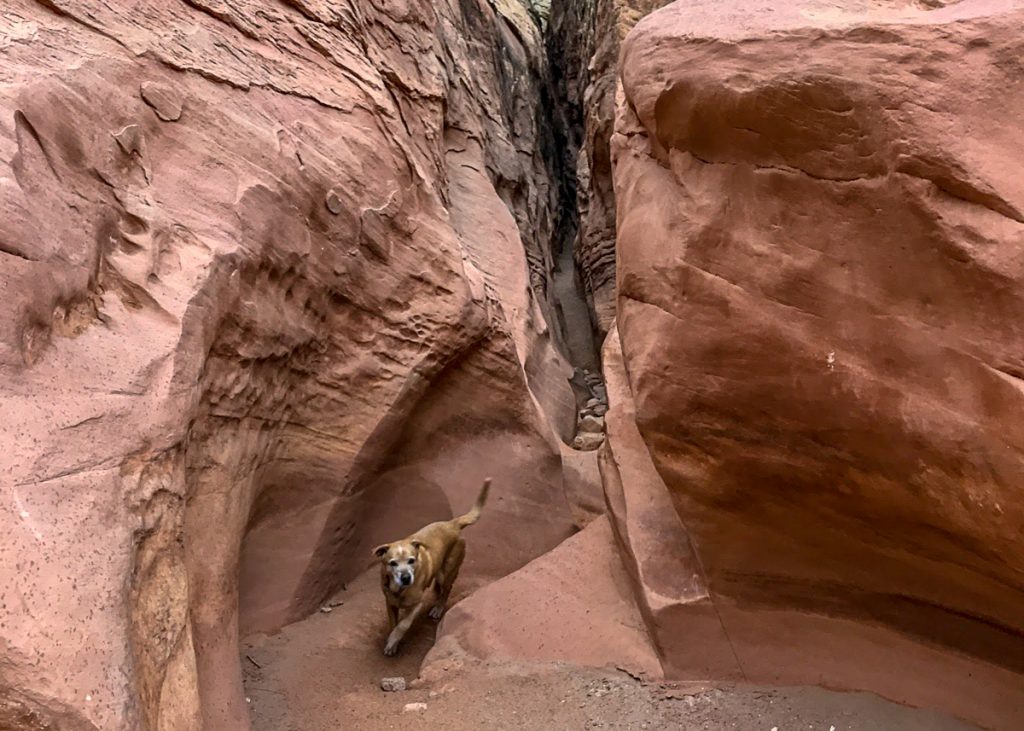 Little Wildhorse Canyon and Bell Canyon Loop
The best way to enjoy Little Wildhorse Canyon is to do the complete loop to Bell Canyon. For starters, it keeps a one-way flow through the narrowest section of the canyon (you won't be able to pass people, it's that narrow). And secondly, Bell is also a beautiful canyon!
Not to mention, the views along Behind the Reef Road are lovely and well worth the easy 1.6-mile hike to get to Bell. The only downside to the loop is that the gravel in Bell gets a little tedious.
Pro Tip: If you have your doggo with you, be sure to keep an eye on their feet. The tough gravel can chew up their paws. Use Musher's Secret Wax to keep your dog's feet in top shape.
Little Wildhorse Out-And-Back
If you don't feel like doing both canyons, you can opt to just hike the narrow section of Little Wildhorse Canyon. The round-trip journey is a little over 3 miles (more if you keep going to the canyon exit). I typically don't recommend this route, because it will create traffic jams in the narrow sections of Little Wild Horse Canyon.
The Approach to Little Wild Horse Canyon
Start your hike in a wash or dried river bed. You'll wind your way around a few bends. The Cottonwood trees offer up some shade and if you arrive early enough you may even spot some antelope-like we did one of our hikes.
After about 15 minutes, the wash narrows and turns to slick rock. You'll need to hike up and out of the slick rock, which may be a little tough for the uninitiated.
After less than 5 minutes, you should see the entrance to Little Wild Horse Canyon on your right. It's a narrow entrance Where the walls gradually get steeper. Today there is a signpost, but it's easy to miss if you aren't paying attention.
Hiking Little Wildhorse Canyon
Now the fun begins! Enter the small squeeze and simply keep going. The canyon quickly cuts into the landscape, getting deeper and deeper. Depending on the last rain, you may have to bridge (putting your feet on one wall, hands on the other, and "walking" yourself across, to navigate obstacles.
Ample photo opportunities exist and lots of fun scrambling options are also around if you're searching for it. Most people spend quite a bit of time here – I know we did on our first romp!
After the narrow section ends, the canyon starts to widen out. Don't worry, your jaw will still be on the floor. You'll see signs pointing towards Bell Canyon out to the left as the canyon exits the Reef.
Behind the Reef Road
Eventually, you'll join up with Behind the Reef Road. Look up to see the big buttress in the distance known as Chute Buttress (Chute and Crack Canyon are also fun hikes). Follow the road north until you reach a sign for Bell Canyon (about 1.6 miles). Head left (east) and continue down the wash towards Bell Canyon.
Hiking Bell Canyon
A different type of Canyon, Bell Canyon is a bit wider than Little Wild Horse Canyon. But it's still really pretty and quite enjoyable. The only obnoxious part is the gravel, which does start to wear on your ankles and your doggo's feet.
Eventually, you'll reach the wash again with the junction to Little Wild horse Canyon and back to the car.
Quick Tips for Hiking in a Slot Canyon
Certainly, come prepared for hiking Little Wild Horse Canyon. Here are a few important safety tips.
Never hike in storms or after rain. Seriously. Two girls recently died in the canyon after getting swept away by flash floods. It's not a joke.
Pack layers. Narrow, steep slot canyons can be quite cold! Even in the middle of summer. Always bring some extra layers.
Be prepared to get wet. Little Wildhorse Canyon doesn't hold permanent water, but if it's rained recently, some of the sections of the canyon may be wet. Bring an extra pair of socks.
Pack sunscreen, salty snacks, and water. The desert can be a brutal place. At least 2 liters of water per person (plus water for your dog is recommended)
Don't bust the crust. Stay to hiking in washes. The raised, black, ridgelike soil patches are alive and essential for preventing erosion in the desert. If you step on this soil, you destroy years of growth.
Nearby Attractions
Looking for other things to do nearby? Check out these awesome hikes and areas:
Goblin Valley State Park
Ding and Dang Canyon
Temple Mountain Road camping
Camping and Lodging Near Little Wild Horse Canyon
The closest hotels to Little Wild Horse Canyon are an hour and 10 minutes away in Green River. Hanksville also has a hotel or two and is about the same distance away.
The best way to enjoy Little Wild Horse Canyon is to camp! Boondocking or dispersed camping is available all over the area. Temple Mountain Road and LWild Horse Road all have plenty of sites. The best part? It's totally free. Just be sure to pack out your trash and toilet paper, pack in your water, and firewood.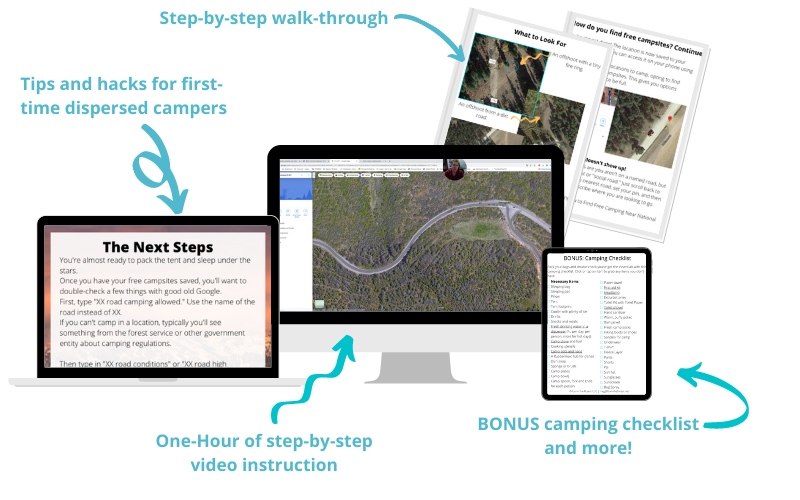 Find Free Camping Anywhere in the US!
Dream of spending the night under the stars without a noisy campground? Learn the secret method to finding picture-perfect FREE camp spots in all of your favorite locations.
This one-hour course gives you a step-by-step proven method to find incredible free camping virtually anywhere in the US. Get it now for just $7.
Additional Utah Slot Canyon Resources
Planning a trip to Utah? I've got you covered with these incredible resources:
PIN THIS POST