An often-overlooked alternative to The Wave, White Pocket, Arizona is a hidden gem in the Vermillion Cliffs Wilderness area. These unassuming lumps of rock hold a tremendously beautiful secret. You'll find unbelievably fragile rock formations, stunning displays of color, and killer views at White Pocket.
Accessing this desert gem takes a little bit of know-how and a high-clearance 4WD vehicle to reach, which makes it a bit of an adventure. However, if you're able to navigate miles of deep-sand driving, White Pocket in Vermillion Cliffs is a spectacular sight.
Looking to explore the desert like a local, not a tourist? Then you're in the right place. I'm a literal pro at outdoor desert adventures. As an expert in exploring places like White Pocket, I've written about desert travel for big-name outdoor companies like REI and Backpacker Magazine.
Every year I spend up to 6 weeks exploring the far reaches of the American Southwest, collecting stories for my work as an outdoor writer and for this amazing blog. You won't find any better info about White Pocket, Arizona anywhere else on the web.
About this Guide to White Pocket, Arizona
As one of the most amazing Arizona hikes, White Pocket is a must-see spot! Inside this comprehensive guide to White Pocket, Arizona, you'll find:
What the heck is White Pocket anyway?
Where to find White Pocket and directions about how to get there.
Hiking White Pocket
Nearby camping
Photographing White Pocket
The best tour of White Pocket
Additional things to do nearby
What to pack
Where to stay
Additional desert planning resources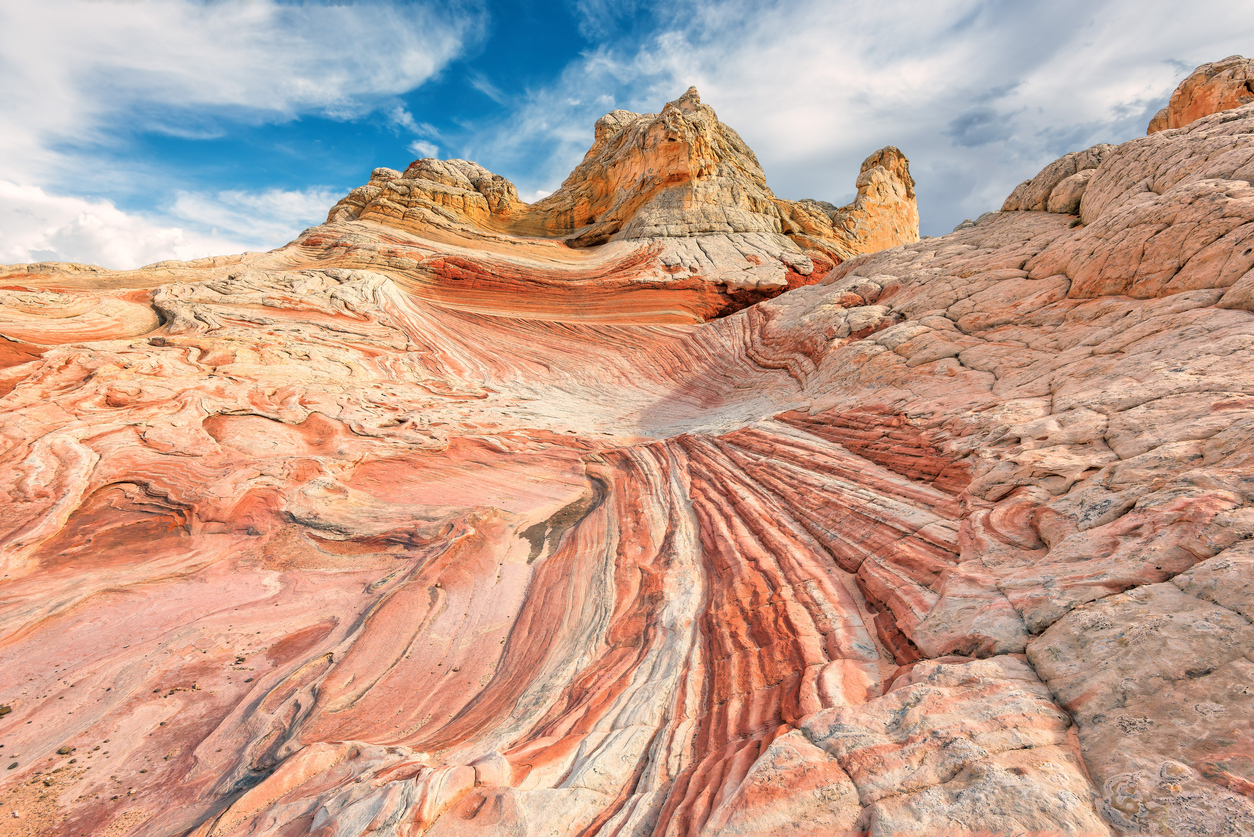 What is White Pocket?
I've gotta admit, when I first heard of White Pocket I thought what in the heck could that be? It turns out, the name White Pocket is pretty descriptive. White Pocket is an obscure (and large) patch of white-capped rock formations found in seemingly the middle of nothing.
Nestled deep in the Vermillion Cliffs Wilderness, this hard-to-reach patch of Navajo sandstone features colorful and unique rock formations. Capped by cauliflower-like white puffs of rock, White Pocket is simply a pocket of white rock in an otherwise unassuming desert landscape.
What makes this place so special is its unexpected nature, large formations, and sherbert-colored rock found throughout the formations.
Where is White Pocket Located?
White Pocket is deep in the Vermillion Cliffs Wilderness in Arizona south of the famous Coyote Buttes. You can find the road to White Pocket, Arizona in between Kanab, Utah and Page, Arizona. Also known as House Rock Valley Road, this is where you'll find other famous attractions such as Buckskin Gulch, Wire Pass slot canyon, and The Wave.
Pro Tip: White Pocket, Utah is not a real place. This area is a bit blurry since the state line between Arizona and Utah is located in the middle of a dirt road where you don't get cell phone service.
To keep it simple, if you've passed the parking lot for Coyote Buttes North (access to the Wave and Wire Pass), you're on Arizona time. But keep in mind, Arizona does not observe Daylight Savings and is typically 1 hour behind Utah. So, remember this when doing top Kanab hikes.
How Do You Get Into White Pocket
There are two primary ways to reach White Pocket. The closest towns are Kanab, Utah, and Page, Arizona respectively. These, as well as the tiny village of Big Water (near Page) make for a great home base.
First, you ABSOLUTELY need a 4WD (read: NOT AWD) vehicle with decent clearance to get to White Pocket. A Subaru won't cut it. You'll be driving for over an hour on deep, rutted sand. Getting stuck is a real possibility.
Pro Tip: My husband and I are very experienced off-road drivers. We had zero issues making it to the trailhead with a stock 4Runner and all-terrains, but again, we drive 4×4 roads all the time. However, we saw many people struggling. You don't need a fancy lifted Jeep, but you'll want at least a stock 4Runner or equivalent.
Getting to White Pocket from Page
If you're coming from Page, it's about a 2 hour and 40-minute drive to White Pocket. Head east on Highway 89 until you reach an unassuming dirt road exit for House Rock Valley Road. Head south on House Rock Valley Road.
You'll drive this road for 34.7 miles (about an hour). Remember, once you pass the South Coyote Buttes parking area, you're in Arizona, so change your clock.
Continue until you reach Pine Tree Road or BLM Road 1017. Follow 1017 until you reach Road 1087 (left hand fork). Take 1087. From here you'll start to see a lot of private property signs and annoying little messages. The road also turns to deep sand for the remainder of the trip.
Head north (left) at the 1086 Junction. You'll pass through some ranching outpost and a gate, then you'll reach White Pocket.
Pro Tip: This is a DIFFERENT way than what Google Maps will tell you to do. Google Maps attempts to take a short cut but it is a bumpy, high-clearance, rough road with plenty of obstacles that will take you forever to navigate.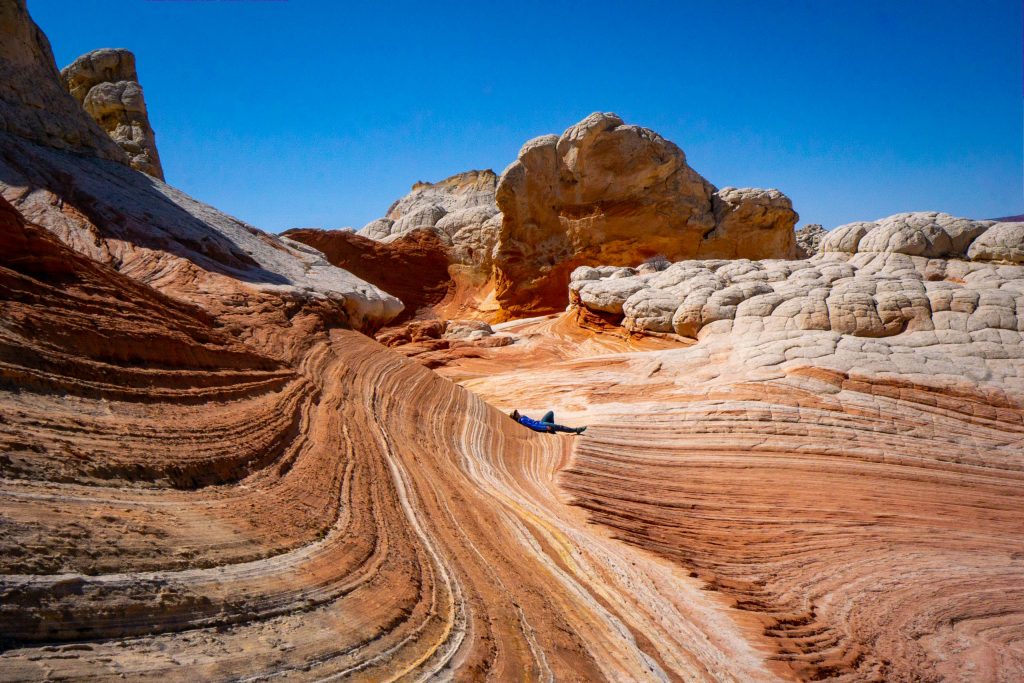 Accessing White Pocket from Kanab, Utah
From Kanab, you'll simply take Highway 89A south out of town and turn left (east) onto BLM 1025. This eventually links up with House Rock Valley Road, about 10 minutes or so from the Pine Tree Road turnoff. Head south on House Rock Valley Road, then follow the instructions above from Page.
When is the Best Time to Visit White Pocket?
First, the roads to White Pocket become completely impassible when wet. So if there are storms in the forecast either the day before or the day of your visit, reschedule. You WILL get stuck and getting a tow out there is going to cost well over $1,000.
So the best time to visit White Pocket is when there isn't any precipitation in the forecast.
Winter can be an excellent time to visit White Pocket if you don't mind the cold and want to avoid the crowds. Spring is excellent as well since the weather is warmer but it's not insane yet. Summers should be avoided. There are not only monsoon storms almost every afternoon (remember what I said about storms), but it's hot and crowded. Fall is like spring, but the wind is less and precipitation chances are even lower.
For photography, dawn, dusk, and overnight during a new moon are great times to shoot this incredible landscape.
Can You Walk to White Pocket?
Visiting White Pocket, Arizona is half about getting there and half about the incredible landscape. There aren't trails at White Pocket, but you can freely hike around the rock for several hours.
Some people who don't want to make the drive claim you can hike from Paw Hole for a 7-mile round-trip hike. However, I haven't done this so I don't know how feasible it is. Not to mention, getting to Paw Hole is much harder than reaching White Pocket so you might as well just drive.
Hiking White Pocket in Vermillion Cliffs
Once you reach the parking lot, you'll see an obvious sandy path that leads towards White Pocket. Take the path until you reach slickrock and you're there. You'll see divots in a walking pattern on the rocks. These are actually from cows coming to White Pocket in search of pooling water. How crazy is that!
From here, it's a choose your own adventure. There are lots of things to discover at White Pocket. You'll find a Wave-like formation, a delicate rock swirl, and so much more here.
In total, you'll probably spend at least 2 hours here, more if you're shooting photography. Total distances will vary but you'll walk anywhere between 2 and 4 miles at White Pocket.
Just remember, there are no facilities (toilet included) so you'll need to be prepared to pack out your human (and dog) waste. You'll also want to pack all of your water and food for the day since the closest services are over 2 hours away.
Is White Pocket Free?
Yes. Visiting this area is completely free and no permits are required. However, given the increase in traffic over the last couple of years, I'd expect to see this area requiring permits in the near future. It's insanely fragile and there is no cell service or services here.
Visiting Responsibly
Here's the thing about White Pocket, it's an extremely fragile place. In fact, some of the rock formations are so delicate that they would easily break if you just touched them. In order to keep White Pocket in Vermillion Cliffs a stunning place for years to come, do your part to be responsible and learn how to be an expert desert hiker. Here are a few ways to do your part.
Don't touch the fragile rock. There's one formation in particular (see photo) you shouldn't touch. If it looks fragile and thin, it is!
Pack out your trash. Pack a trash bag, even for day trips. There are no services here so do your part to pick up dog poop, food wrappers, fruit peels, and other trash. This includes toilet paper and human waste. Carry a WAG bag (human waste disposal bag) for emergencies and go to the bathroom before you visit.
Don't bust the crust. The raised, bumpy, black soil you see is a living thing called cryptobiotic soil.
Pack in your water and snacks. There are no services and the desert is a dry place. Be sure to bring at least 3L of water per person and plenty of snacks for a long day out.
Keep your dog on a leash. White Pocket is dog-friendly (for now), but keep your dog on a leash. Dog's don't know what's fragile and what isn't so definitely be in control of your animal.
Camping Near White Pocket
There are various places for dispersed camping near White Pocket. You'll find quite a few spots along Pine Tree Road and the offshoots. There are also a few camp spots just past the White Pocket Trailhead (high clearance required).
You can also find a few camp spots along House Rock Valley Road – although there are fewer than you would think and they fill up fast (get there early).
These spots are all first-come-first-served and are dispersed, or boondocking style. This means you will have to have your own bathroom kit, bring your own water, and all other supplies.
Related: Camping in the desert is a real treat – especially when it's free. Never pay for camping again. Get the exact method I used to find free camping near White Pocket with my Find Free Camping Anywhere Course.
The Stateline Campground, along House Rock Valley Road, has 8 spots and bathroom facilities (no fresh water). If you're lucky, you can snag one of these spots for the night.
Photographing White Pocket
Photographing the stunning scenes of Vermillion Cliff's White Pocket is a real treat. It's certainly a photographer's dream. There are plenty of ways to get creative here.
You'll want to bring a tripod, all of your lenses, and plenty of cleaning equipment. Wide-angle lenses let you get more landscape but will dwarf some of the rock towers. If you're shooting at night, a low-aperture lens is a must. And if you truly want to take unique shots, there are a surprisingly good amount of areas for macro photography.
Most people opt to camp right near White Pocket for photography, since the spanning views and other-worldly formations are best shot at dawn, dusk, and night.
Tours of White Pocket, Arizona
Don't wanna bother with some white-knuckle driving? You can go on a guided tour of White Pocket. There are several different trips available, from family-friendly day trips to overnight photography trips. I'd highly recommend Dreamland Safari Tours in Kanab.
This woman-owned business delivers top-notch trips to Vermillion Cliffs and beyond. I've personally worked with the owner, Sunny, on several work-related projects. Her enthusiasm for seeing the desert in a responsible, safe way is unmatched. (And no, I don't get any special kickback for recommending them, I just love helping out fellow woman-owned businesses in the outdoors).
Additional Things to Do Nearby
Looking for exciting things to do near White Pocket? There is a whole slew of activities and attractions nearby. A few notable places to check out include:
Wire Pass and Buckskin Gulch. Easy canyon hiking in the world's longest known slot canyon. Advanced $6 day pass is required.
The Wave. A famous rock formation in North Coyote Buttes. Advanced permits are requied and done in a lottery system.
Paw Hole. Unique red rock formations with a bumpy, wild 4×4 drive.
Horseshoe Bend. Located just outside of Page, Arizona. An easy trail leads to an iconic overlook dubbed "the start of the Grand Canyon."
Where to Stay
Page, Arizona has plenty of hotel and lodging options ranging from the uber-luxurious to the usual affordable chains. Kanab has plenty of AirBnBs and smaller lodging options.
However, if you want to stay close to White Pocket, but you don't want to camp, check out Dreamkatchers Lake Powell Bed and Breakfast in Big Water. It's a beautiful place with a stargazing deck and delicious meals.
What to Pack
Here's a look at the essential items you'll want on your trip to White Pocket:
A small hiking bag (I love the REI Flash 22)
sunscreen, sunhat, sunshirt – there is NO shade!
3L of water per person plus extra for the car ride
Snacks or a pack lunch
A trash bag to dispose of all trash
sturdy walking shoes
non-cotton socks
comfortable hiking clothes
a hiking first aid kit with tweezers for cacti encounters
WAG Bag for emergency bathroom stops
Poop Kit: small Shovel, toilet papper, baggie for used toilet paper, and hand sanitizer. For the road in.
Offline navigation – there is NO cell phone service after you leave Highway 89.
Camera
Blanket for the car in case of unplanned emergencies
extra food for unplanned emergencies
dog poop bags (optional)
dog leash (optional)
Water for your dog (optional)
Additional Desert Road Trip Resources
Planning a trip to the desert? Check out these handy resources:
PIN THIS POST