Wire Pass and Buckskin Gulch might be the most beautiful slot canyon you've ever laid eyes on. For an easy, yet gorgeous trip into the beautiful slot canyons of Utah, Wire Pass and Buckskin Gulch should be at the top of your list.
The hike travels through another world of smooth sandstone walls, narrow canyon squeezes, some fun (optional) scrambles, and even has ancient petroglyphs from civilizations past.
The water sculpted walls are utterly captivating, especially in the right light. Red rocks glow and dark, deep canyons give way to eerie shadows that give you a sense of just how powerful nature can be.
Located right near the Arizona and Utah border, this incredible slot canyon hike is easily accessible and suitable for all abilities. That's one of the reasons it's often labeled one of the best hikes in Utah.
I've been traveling through Utah and the American Southwest for the better part of a decade. Every year I spend about six weeks exploring the most amazing slot canyons in Utah. As an expert hiker and a freelance writer for the outdoors, you'll get top-notch advice about how to hike Wire Pass and Buckskin Gulch like a seasoned pro, not a tourist.
About this Guide to the Wire Pass to Buckskin Gulch Hike
Inside this expert guide to hiking Wire Pass and Buckskin Gulch you'll get exclusive information about:
Wire Pass Trailhead Location
Practical information including length, difficulty, time, a map, and permit information
The best time to hike Wire Pass
Backpacking and camping in Buckskin Gulch
Key features about the Wire Pass and Buckskin Gulch hike
Where to stay nearby
Things to do near Wire Pass and Buckskin Gulch
Additional planning info
Where is the Wire Pass Slot Canyon Trailhead?
Wire Pass and Buckskin Gulch slot canyons are right on the edge of the Paria Canyon and Vermillion Cliffs National Monument. In fact, this is the start of the area. To the north lies the Grand Staircase Escalante National Monument.
In order to reach the Wire Pass slot canyon trailhead, you'll need to come from the north. Take Highway 89 (east out of Kanab and west out of Page) for around 34 miles (Page) or 37 miles (Kanab) until you reach House Rock Valley Road.
This unassuming dirt road has no official exit, so be sure to load it into your navigation before you head out. Head south on House Rock Valley Road. Keep in mind, the road is dirt, but a passenger car should be able to make it if the road is dry.
Pro Tip: After rain, desert roads frequently get washed out and become a muddy mess. High clearance, 4WD is strongly recommended if there's been heavy rain.
You'll drive south for about 8 miles, passing a few dirt turn-offs, some dispersed camping, and a sign for Buckskin Gulch – this isn't your stop unless you plan on doing just the entire Buckskin Gulch slot canyon.
Keep going until you reach a large, obvious (and now gravel-paved) parking area for the Wire Pass Slot Canyon. There are signs for Wire Pass and North Coyote Buttes so don't worry. This is also the parking area for the famous Wave hike too.
Pro Tip: There is no cell phone service here, so plan accordingly.
From here, you'll make your way along the obvious Wire Pass Wash, passing the signed trail for South Coyote Buttes (aka the Wave – permit only and always monitored by rangers). Eventually, you'll reach canyon walls and a narrow squeeze, this is the start of the Wire Pass Slot Canyon.
Pro Tip: You'll be right on the edge of the Arizona and Utah border. During certain parts of the year, the time is actually different in Arizona than it is in Utah. Just be sure to watch your times and your location as you travel through the area so you don't get confused (trust me, it's easy to lose track of time!).
Is the Wire Pass to Buckskin Gulch Hike Difficult?
No. In fact, as one of the best slot canyons in Utah, Wire Pass and Buckskin Gulch are easy, accessible hikes with mostly a sandy bottom.
There is one ladder in Wire Pass you'll have to climb down in Wire Pass. If you plan on doing all of Buckskin Gulch, then you may want to bring water booties, a change of socks, and a small hand line for a few bouldery sections.
Buckskin Gulch is considered difficult simply because of the walking distance over sand. It can wear on your ankles after a long time and 26 miles is a REALLY long way to go for just one day. Oh, and you'll need a shuttle because the Buckskin Gulch mileage is one-way.
However, if you're looking for a mellow day hike, you don't have to do the entirety of Buckskin Gulch slot canyon to get a feel for what the scenery is like. Simply access Buckskin Gulch from Wire Pass and explore for as long as you would like.
Practical Information about the Wire Pass Slot Canyon
Before you head out on your epic hike, you'll want to be in the know. First, you'll need to purchase an advanced permit before you hike Wire Pass Slot Canyon. Basically, it's a fee so you don't need to worry about not booking in time to snag a spot. However, as of 2021, you'll need to pay in advance because the BLM offices took away the ability to self-pay at the trailhead.
It's $6 per person (and per dog) to day hike the Wire Pass Slot Canyon and Buckskin Gulch.
Other important info to know includes:
Round Trip Distance: 3.7 miles from the trailhead through Wire Pass Slot Canyon to the confluence with Buckskin Gulch. From here you can head left or right along Buckskin Gulch for even more slot canyon action. It's about 5 miles north to the northern entrance to Buckskin Gulch (along House Rock Road) and another 12 miles south to the confluence with Praia Canyon.
Elevation Gain: 187 feet
Difficulty: Easy walking over a sandy bottom canyon with one 8 – 10 foot ladder.
Estimated Time: 2 hours
Dog Friendly? Dogs are allowed on a leash but there is a ladder to negotiate. Please pick up after your pet and carry dog poop with you.
Highlights: Wonderful winding slot canyons, petroglyphs, and beautiful photography opportunities.
Red Tape: Advanced fee payment required. Pack out all human waste, including toilet paper with human waste disposal bags. Limited privacy. High flash flood hazard. Practice Leave No Trace.
When is the Best Time to Hike Wire Pass the Wire Pass Slot Canyon?
Desert hiking certainly has a season and the Wire Pass Slot Canyon is no exception. The absolute best time to explore both Buckskin Gulch and Wire Pass is during the spring or fall. March through May and October/November are the best months. Fall is typically slightly better since it's the driest season in the desert and it's often not windy.
The weather is typically warm, but not too hot and the flash flood season (the summer) hasn't started yet. Avoid hiking the Wire Pass slot canyon in summers since temperatures soar (even though the canyon can be cold) and there is a strong chance of flash floods.
Winter is another great time to hike Wire Pass if you don't mind bundling up. Crowds are typically thinner and lodging prices are much lower.
We went in mid-March and the weather was perfect – however the day before it was quite cold and there were 60 mph winds!
Never hike any slot canyon when there's rain in the forecast. It's exceptionally dangerous and people die hiking in slot canyons from violent flash floods every year.
In order to track where you should be looking at forecasting, you want to check the area you'll be hiking, and the catchment basin. The catchment basin for Buckskin Gulch is actually 50 miles north – meaning a heavy rain far to the north can cause flash flooding in Buckskin Gulch. Be sure to check the weather in multiple locations, as far as Bryce Canyon for a rainy forecast.
How to Access Buckskin Gulch
So most people who hike Wire Pass are actually trying to get to the very impressive Buckskin Gulch. At over 15 miles long, Buckskin Gulch is the longest-known slot canyon in the world.
And the best part? You can do the entire 15-mile hike (one way) from the inlet of the slot canyon to the confluence – or where the Buckskin Gulch Slot Canyon meets Paria Canyon. However, the one-way distance to the nearest exit is a 26-mile march.
Most people who want the full experience opt to take one of the various backpacking routes over multiple days through Buckskin Gulch and even Paria Canyon all the way to Lee's Ferry – or the somewhat official "start" of the Grand Canyon.
You'll need overnight permits (reserved well in advance) for both Buckskin Gulch and Paria Canyon. So certainly plan ahead. You'll also likely start your journey at the Buckskin Gulch Trailhead unless you want to just jump into the canyon from the Wire Pass slot canyon.
However, if you want to day hike Buckskin Gulch, then accessing the canyon via the Wire Pass slot canyon is your best bet. The short 1.6-mile hike gets you directly to the Wire Pass and Buckskin Gulch junction. From there you can explore both up canyon and down canyon as much as you'd like.
Wire Pass and Buckskin Gulch Map
Getting to Buckskin Gulch via the Wire Pass slot canyon is super fun and relatively easy. The sand walking can get a little old, and after rain, you may find wet areas in the canyon, but with such a short distance and wonderful scenery to distract you. You'll be there in no time.
What I love about this hike is that you can opt to explore either up canyon or downcanyon once you reach Buckskin Gulch. Downcanyon (to the right) was much more interesting while up canyon was far less crowded.
Simply pick a direction and walk until you feel like heading back. We explored a few miles down canyon as well as a mile or so up canyon. Here's a look at a map for reference.
Do I Need Permits for Wire Pass and Buckskin Gulch?
Yes. However, I wouldn't reallllllly call the process a permit. There's no limit to how many people can hike per day. However, the South Coyote Buttes area is a fee area. Basically, this means you need to pay a fee to hike.
Back before COVID, you could simply pay at the trailhead. However, they removed the cash payment system and put in a wifi-kiosk that honestly doesn't work. We saw a lot of people frustrated and struggling when we were there and were very happy to have advanced permits.
Save yourself the headache and just snag your reservations online in advance. It's $6 per person and per dog. Simply put the receipt on your dashboard and hit the trail!
If you're backpacking, you'll need to book permits for overnights well in advance since they only allow 20 people in the canyon per day. There are a lot of regulations for backpacking Buckskin Gulch, so be sure to do your homework.
Permits are available on the 1st of each month at noon for three months in advance. You're required to pick up the permit in person in advance 10 days or sooner before your trip. The permit costs $9 per reservation plus $5 per person and $5 per dog.
Is Wire Pass Dog Friendly?
I would say it depends on your dog. If you are cozy picking up your dog and carrying down about a 10-foot ladder then yes, this is a dog-friendly hike. However, if you've got a squirmish or bigger dog, it might be a challenge to complete the hike.
Backpacking Buckskin Gulch
Backpacking Buckskin Gulch and Paria Canyon is a bucket-list trip for dessert enthusiasts. If you just can't get enough of canyons, then it's worth the 2 to 5-day trek through this incredible area. Trips vary from around 21 miles in length to over 50 (one-way) depending on your exit and entrance.
Permits are highly competitive, especially in the spring and fall. But the Paria Canyon campsites make it worth it. This is a more advanced backpacking route since the sand can get excruciating over multiple days, scrambling is required in a few parts, and you may not have access to water depending on the weather. Not to mention, you'll need to book a shuttle unless you plan on hiking back the way you came.
About the Wire Pass to Buckskin Gulch Hike
The "trail" to the Buckskin Gulch via the Wire Pass slot canyon is pretty straightforward. You'll actually be hiking in a wash. Cross the road and follow the short, obvious trail to a wash. Head north (left) from here towards the rock formations.
This trail shares the start of the Wave Trail. You'll continue along the wash until you cross a junction on the right. There will be signs all over stating you need a permit to continue. The right branch is the Wave trail so simply continue hiking in the wash for a few bends and turns.
Eventually, you'll reach a rocky cliff face with a slot entrance. You've made it to the Wire Pass slot canyon. Enter the slot and be transplanted to another world. From here it's about 0.5 miles to the junction with Buckskin Gulch.
You literally cannot get lost, just follow the narrow, winding canyon. The canyon gets to be around 3-feet narrow as it snakes its way towards Buckskin Gulch. You'll mostly be walking on packed or loose sand.
You'll reach a huge wooden ladder over a drop. Simply make your way down the ladder (maybe 10-ish feet tall) and continue on your way.
Pro Tip: Traffic jams happen here when it's busy, so be aware.
Eventually, the Wire Pass Slot Canyon will widen and dump out into a larger confluence. This is where Wire Pass and Buckskin Gulch meet.
On the right side of the canyon, you'll see petroglyphs from Ancestral Puebloans. Don't be like the asshat tourists who left their handprints on the wall – ruining ancient art. Simply admire the carefully pecked-out images of animals and a giant map of the canyon from a distance.
From here you can opt to explore left or right down Buckskin Gulch. The right side has a few more interesting features and is a little deeper than the left, but the left has fewer people.
You'll find some interesting features like giant trees and debris piles wedged high up in the canyon walls. Try to imagine what it must look like with water rushing through, carving an even deeper landscape.
Pro Tip: Don't carve the canyon walls, stack rocks, or put pebbles in holes. Leave only footprints and admire with your eyes.
To get back out, simply come back the way you came, using the big amphitheater confluence as your waypoint to find Wire Pass.
What to Pack for Buckskin Gulch
Be prepared for your Buckskin Gulch hike. You don't need a ton of gear to hike Buckskin Gulch via Wire Pass, but you will want a few handy items.
First, one thing people don't realize about slot canyons is that they rarely see the sun. This means that it can actually be quite cold in a canyon like Wire Pass, even if the sun is blazing. Be sure to bring a hat, gloves, and a jacket to keep warm.
Never leave for a desert hike without the essentials. You'll also want to be sure to pack water, snacks, a small first aid kit (with tweezers for unwanted cacti encounters), sun protection, and a headlamp just in case.
Also, you'll want to wear sturdy footwear. I wouldn't recommend doing this hike in Chacos or sandals and I'd wear hiking shoes or boots. The water in the canyon will be quite cold, so be prepared. Bring a spare pair of socks in case your feet get wet with standing water.
Lastly, bring a WAG bag for emergencies. It is ILLEGAL to dispose of human waste (ie poop) and toilet paper in Buckskin Gulch and Wire Pass. There is a toilet at the trailhead, so if you think you have to go, use it and pack a WAG bag – or a human waste disposal bag – just in case.
Is Fido coming on your hike? Be sure to bring poop bags and a way to attach a used poop bag to your pack. Do NOT leave your dog poop on the trail. That's littering – even if you plan to pick it up later.
Other Nearby Hikes and Attractions
You can easily spend a day exploring along House Rock Road and the surrounding area. There's a lot to see. Head across the border and scope out some of the best hikes in Arizona (like Antelope Canyon). Or go on 4WD adventure to some of the lesser-known hidden gems in the area.
Other nearby attractions include:
White Pocket hike and drive
Petroglyph Walls: 3 mile hike
Horseshoe Bend
Kanab, Utah
Lake Powell
Camping Near Buckskin Gluch
If you're looking to camp near Wire Pass slot canyon and Buckskin Gulch then you're in luck. You don't need a permit or any reservations since all camping is on BLM land. However, you'll have a primitive site with no freshwater, limited (if any) shade, and no toilets or other facilities.
Plan to arrive at the trailhead early to snag one of the few spots along the way on House Rock Valley Road. There aren't many, but we had a beautiful spot with gorgeous views.
Alternatively, you can try your luck at the Stateline Primitive Campground.
Pro Tip: If you have a 4WD vehicle with some clearance, there are also camp spots along a few of the more primitive roads that branch from School House Rock, expanding your options.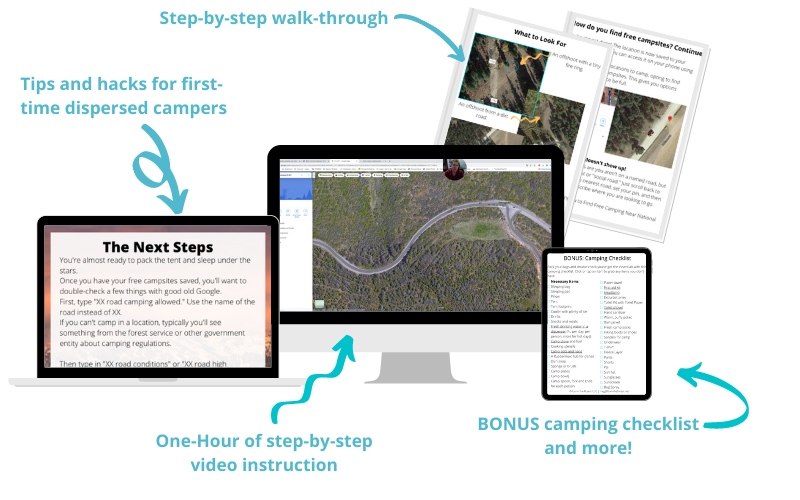 Find Free Camping Anywhere in the US!
Dream of spending the night under the stars without a noisy campground? Learn the secret method to finding picture-perfect FREE camp spots in all of your favorite locations.
This one-hour course gives you a step-by-step proven method to find incredible free camping virtually anywhere in the US. Get it now for just $7.
Where to Stay for Your Wire Pass Hike
Aside from dispersed camping, there are a few places to stay for the Wire Pass hike. Certainly check out Dreamkatchers Bed and Breakfast en-route to Wire Pass from Page, AZ. This place is unbelievable. Quaint, quiet, cute, and with fantastic hosts.
Other options for lodging exist in nearby Page or Kanab – both are between 45 minutes and an hour away.
Additional Utah Hiking Info
Looking to explore the best of the desert? Check out these expert resources:
Stunning Hikes in Escalante (coming soon)
PIN THIS POST