Want to level up your camping game? Then you've got to check out these incredible camping hacks for vans, tents, and RVs. You'll not only be able to make your camping adventure more seamless, but you'll become a camping pro in no time!
These camping tips are designed to help you have a better night's sleep outside. And if you're looking for beginner camping tips, then you've come to the right place.
I've been camping for over 20 years. Not to mention, I professionally write about camping for the outdoor industry. And it's my mission to empower you to camp like a seasoned pro, not a total newb.
These camping hacks are designed to help you make the most of your adventure – whether you camp in an RV, van, or pop up camper (hollar to all my pop up peeps).
Install Cup Hooks and Eyelets
For just a few bucks at Home Depot or Amazon, you can have a variety of different sized eyelets and cup hooks. Hooks work great for items that you don't need readily or that need to hang. Eyelets are helpful to hang everyday items right where you need them (use the carabiners from your climbing gear, or buy non-engineered carabiners) to stash stuff such as RV keys, dog leashes, cups, utensils, shoes, anything really.
Create Space and Stay Organized with Packing Cubes
My little teardrop camper does not have much in the way of storage space, especially when it comes to clothing. One of my favorite RV hacks is to use packing cubes to keep my clothes organized. I'll have one for dirty clothes, one for camp clothes and one for technical clothing. I also have a small, mesh baggie I use for things like undies and sports bras.
Make Your Own "Nightstand"
If there's one think you'll learn from vanlife, it's that getting up at night or having a few essentials handy by the door is absolutely key. I used a small cup hook and a decorative pouch (you can use a tool pouch) to store quick essentials such as a beanie, headlamp, pee funnel, phone, and sunglasses right near my head.
What is stored there changes throughout the day (see the next section), but I always have the same set of items there, so when I need an essential item, it doesn't get lost in the piles of gear from a day out and about.
Any road warrior knows that your house on wheels can quickly descend into chaos if you aren't organized. The same goes for vanlife. One essential vanlife tip is to keep your gear organized in a strategic way throughout your trip. Here's how:
Have a "Road Mode." Stash anything you don't need for your miles on pavement out of the way and keep things like water, snacks, camera and a quick hiking pack handy for your road time.
When you arrive at camp, transition to "home mode." Food and beverages should be easily accessible and any gear should be stowed out of the way. You'll also want any additional layers or sun protection handy.
As the evening falls, take five minutes to prep your "Night mode." This means getting layers handy (I keep mine stashed right under my blanket in the camper. Along with your headlamp, lighter, phone, gloves, and hat. I'll keep those in my "nightstand."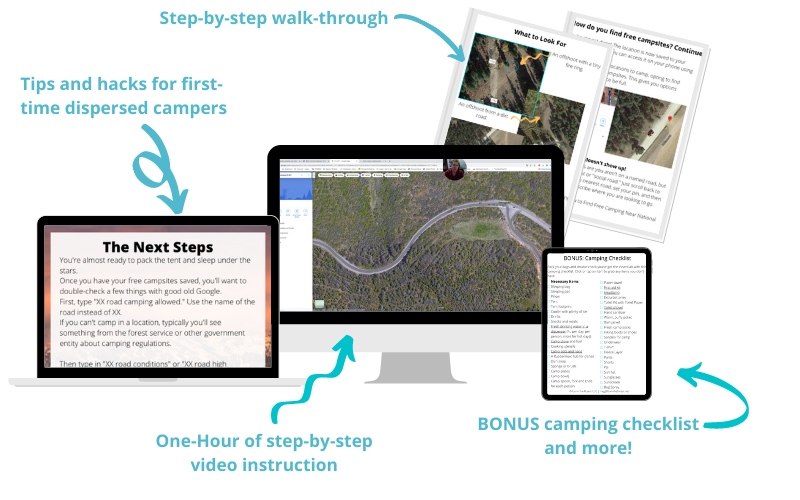 Find Free Camping Anywhere in the US!
Dream of spending the night under the stars without a noisy campground? Learn the secret method to finding picture-perfect FREE camp spots in all of your favorite locations.
This one-hour course gives you a step-by-step proven method to find incredible free camping virtually anywhere in the US. Get it now for just $7.
Embrace the Gear Duffle
I once went on this trip where I multi-pitch climbed, backpacked, hiked and went canyoning. Talk about a GEAR EXPLOSION! Every time we got to camp it was like a bomb went off. So I engineered this RV hack to keep my gear in place.
Since I often travel with a lot of gear, I've learned to rely heavily on this Osprey 95L duffle (if you ever fly and camp or climb, this is a game-changer). I'll keep one with all of my climbing gear (except my pack). I'll also have a separate bag for my camera gear, a small daypack for hiking, and then my larger climbing gear pack for hitting the crag. I keep all the required items for each activity in its respective pack to avoid losing that one essential micro-cam, or that coveted puffy layer.
When I'm transitioning into different "modes" I take time to inventory loose items so the organization doesn't get out of control.
Create a Backcountry Couch
I've got bad knees, and evidently camping chairs do a number on my knees and back. So I've invented the camping couch using a bouldering pad and Grizzly Cooler. It's the perfect vanlife hack to curl up and read a book, or snuggle with your pup!
New to camping? I've got you covered:
Going pee in the middle of the night really sucks, it's made 100 times worse by bad weather. So I carry a pee bottle. Typically, this will be an old juice bottle (never a bottle that could be mistaken for drinking water). I'll use my pee funnel to fill her up on nights where it's extra cold or there's bad weather and I can't stomach getting out of my teardrop.
Stay Squeaky Clean
There are a million and one ways to stay clean without actually showering. Here are a few of my favs:
Heat up some water in a small wash basin and add soap. Use a washcloth and hit the essential bits (face, hands, pits, feet, privates – in that order).
Dab dry shampoo or baby powder to minimize hair grease.
Use eco-friendly baby wipes – but be sure to actually throw these away with your garbage. In a bag. And pack it out!
Baking Soda Wisdom
Use baking soda to get rid of unwanted smells in your trash (or even your footwear). Simply sprinkle some baking soda in the trash or in your shoes to zap away unwanted odors
Use Cut Pieces of Pipe for Utensil Holders
I typically keep my utensils in my handy cowboy mug, but I just love the idea of using 6″ of PVC pipe (1″ diameter will do, but you can go larger if you'd like) to hold cooking utensils. Simply cut 6″ pieces and install a cap on each end with glue. Install in your RV, van or travel trailer using heavy-duty velcro. Attach the hook end of the velcro to your rig, then glue the loop (fuzzy) end in a circle around the pipe. Voila, now you won't lose your spork! You can move these around easily, mix and match sizes, and create several different storage options.
Go as Reusable as Possible
When you strike out on the road, you'll quickly see how much trash you accumulate. Gas station snacks, plastic grocery bags, quick-and-easy meals, it all adds up. I love these gadgets for creating less trash while on a road trip:
Re-usable (and durable as all hell) silicon baggies. You can boil, freeze, and even Sous-Vide these bad boys.
A set of reusable grocery bags. Not just for groceries. Put dirty clothes, muddy shoes or snacks in these.
Bring your own Tupperware from home instead of relying on cling wrap, tin foil, or other disposable products
Save up glass jars (not the best if they will rattle down the road, but work well in a cooler) for storage. Take out plastic Tupperware works well too.
A portable water storage tank system (say buh-bye to buying single-use jugs)
A re-fillable coffee mug. I love my Hydroflask mug. One of those things I didn't know I needed until I bought it. It'll keep a brew warm for 3 to 4 hours
Refillable water bottle. I like this Hydroflask for the car (the straw helps while you're driving) and a standard Nalgene elsewhere.
The Ultimate RV Hack: Know Where to Park it
It turns out I'm the queen of boondocking, or free, dispersed camping. It's pretty much the only thing I do (and you can learn how to find free camping anywhere, here).
However, sometimes you can't make it happen, especially if you have a long-distance to cover in a short amount of time. Understanding where you can park overnight is an important vanlife hack. Here are a few places to think about:
Wal-Mart. Always ask first, or check with the Wal-Mart app
Truckers pullouts. These aren't rest stops, but they are more like dirt lots right on the side of the highway in rural areas. A little unnerving if you're alone, but they are almost always fine.
Truck stops. I try to avoid these since the lights are on all night and trucks are noisy. But sometimes you can score a shower, and you won't have to worry about making coffee (use your reusable cup).
Rest Areas. I'll stay in rest areas that are well lit and well-trafficked. You won't get the best night's rest here, but it'll help.
Bass Pro Shops. Similar to Wal-Marts, you'll have to ask.
Cooking Equipment that Nests
When I first embarked in long journeys with my teardrop camper, I used whatever old pots and pans that were laying around the house. Although this is a great budget-friendly option (since it's free), it doesn't really help you stay organized or efficient on the road.
Purchasing this GSI Bugaboo Basecamp Cookset has been one of my better moves. They nest, they are easy to clean, the lids have built-in strainers, and there is even a cutting board/plate. This quick-and-easy RV hack saves me endless time in the kitchen and avoids an explosion of kitchen gear when I finally park my teardrop in the dirt.
I've spent weeks off the grid. Trust me, things happen out there. We've had to fix a car battery with baling wire, completely re-wire an electrical harness, we even had to zip-tie parts of my car. Here are the items that should be in every RV and vanlifer's toolkit:
Duct tape
Wire nuts
Dykes
Hammer
Ax
Lighter
Rubber mallet
Wire cutters
Baling wire
Extra electrical wire
Electrical tape
Bungee cords of various sizes
Zip ties
Allen wrench
Ratchet set
Spare tire
Spare stove fuel
Gas can
A few heavy-duty and medium-duty screws of various sizes
Doneage – a few pieces of small lengths of 2x4s to use as tire chalks
The Most Compact Coffee Maker
Forget the pesky Aeropress, percolators take too much fuel and leave the instant brew (yuck) at home. All you need for your morning coffee needs is a simple pour over. These handy, low-cost items weigh nothing and take up very little space. All you need is hot water.
Keep Your Bed Clean
Nothing screams dirtbag (or unwanted skin rash) quite like snuggling up into a pile of dried mud, desert sand, or sappy dirt. Keeping the space between your sheets clean is super-important, and (conveniently) next to impossible, especially if you have a dog.
Throw down a towel or old sheet over your bed and comforter and always keep your comforter on top of your sheets – make your bed people! That way if Fido insists on jumping in, you take a seat with muddy pants on, or you're stashing gear on top of your bed, the space between your comforter and bottom sheet stays as clean as possible. Lastly, pack sleepwear, and use it so the dirt from your clothing doesn't infiltrate your pillow fortress.
Bungee Your Paper Towel
Small bungee cords and a few eyelets can go a long way to help keep you organized. I'll use mine to hang up wet dish towels, paper towel, or air dry socks and undies. Simply span the length of a paper towel (with a few inches extra), install two hooks or eyelets and string things up by putting a bungee in between.
Google Maps Vanlife Hack
If you love spending your time off the grid, then you'll love this car camping hack. First, download the Google Map for where you'll be traveling. Do so by inputting a destination you want an offline map of. Then go to the three bars in the upper left-hand corner of the Google Maps app. Go to Offline Maps –> Custom Map. You can zoom in and out of the range. Then hit download. Now you've got a map you can use when you're in airplane mode or out of service.
Simply open up Google Maps wherever you are, regardless of service, you just need to make sure your location services are on. You can always get directions, but you can definitely navigate the good old fashioned way and watch your progress as the little blue dot bumps down the road.