When you first lay eyes on the studded red-rock cirque you'll probably do what I did. Wipe your eyes and look again. Yes. It's real. The good news -there are so many incredible things to do in Bryce Canyon, you'll be stoked to start exploring. Bryce Canyon is ah-mazing my friends.
Seriously, this place is so cool I just can't get over it. And I've seen some things and traveled to 6 continents. Bryce is just stunning.
Okay, so it isn't the most remote place on the planet – everyone knows about it. But it's worth the crowds.
I don't ever say that lightly. Deciding what to see in Bryce Canyon isn't too complicated. The national park is pretty compact. This is great news for anyone who is looking to visit Bryce Canyon, since you can see all of the highlights in just a few days.
This expertly-curated guide of things to do in Bryce Canyon National Park hits all the highlights and some hidden gems.
Did you know that I'm a full-time freelance writer for the outdoors? Yup, I get paid to explore the beautiful corners of this planet, and Bryce Canyon was no exception.
This means I not only understand what to see in Bryce Canyon, but I also know how to do it in a way that brings you the very best experience.
I've made it my life's mission to pass that awesome info on to you. So consider this guide to Bryce as my gift to you.
Thank me later by showing off all of those stellar snaps you take on your Bryce Canyon adventure.
About This Guide On Things To Do In Bryce Canyon
Don't be fooled. For such a small park, Bryce Canyon isn't short on activities. We'll dive into some of the best things to do in and near Bryce Canyon so you can plan the perfect itinerary that fits your travel style. Here's what you'll find:
The best Bryce Canyon things to do
Recommendations for how to beat the crowds at Bryce Canyon
10 Epic Things To Do In Bryce Canyon That You Can't Miss
One of the best aspects of visiting Bryce Canyon is that it has a little something for everyone.
If you're into hiking, you're in for a real treat, but if you'd rather not break a sweat, you can also do a whole lot of exploring in the comfort of a car. Or access plenty of easy, paved walks near the road.
Whatever your travel style is, you're bound to find a whole lot to do here, so let's dive into the things to do in Bryce Canyon that you absolutely cannot miss.
1. Hike The Queen's Garden Trail
Being one of the most popular trails in Bryce Canyon for all the right reasons, this is a hike you must check out!
You can start the day at Sunset Point to catch the sunrise, and continue down to begin hiking the Queen's Garden Trail from there.
Throughout the hike, you'll make your way through staggering vistas of the hoodoos below, with each view being more spectacular than the last. Keep an eye out of natural archways that you can pass under too!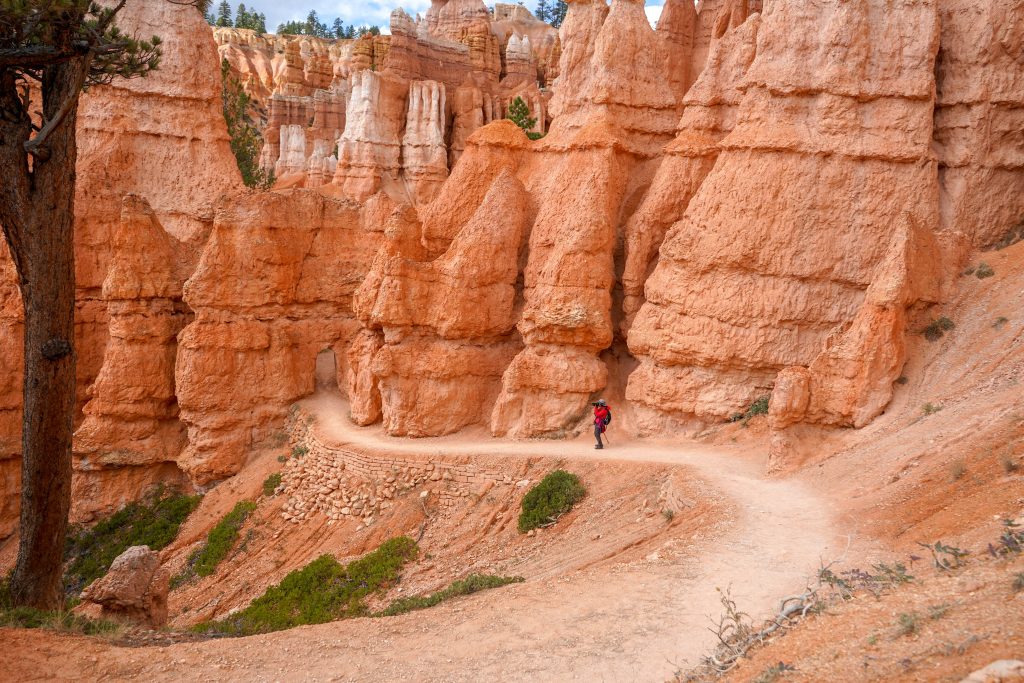 2. Follow the Navajo Loop
The Navajo Loop Trail is one of the best hikes in Bryce Canyon and the perfect choice if you want to get a taste of the hoodoos but you're short on time.
The hike is steep, but because you'll be making lots of stops along the way to take in the views and snap photos, it won't feel too difficult.
Moreover, this trail is excellent for sunset views, so make it your last activity before the sun goes down (bring a headlamp).
Pro tip: You can combine Queen's Garden and Navajo Loop for an epic hiking route! In total, both trails take around 2 and a half hours to complete considering you'll stop to soak in the views and take pictures frequently.
3. Explore the Fairy Land Trail
If you're up for killer views of hoodoos, this is one of Bryce Canyon's most scenic hikes. This 7.4-mile loop is enough to give you an overview of the entire canyon as you make your way through jaw-dropping rock formations.
This trail is much less visited than Queen's Garden and Navajo Loop, which makes it one of the best things to do in Bryce Canyon to avoid the crowds.
4. Catch an Epic Sunrise and Sunset
Few places in the world offer sunrises and sunsets as stunning as those of Bryce Canyon, so make sure to fit in a few in your itinerary.
Sunset Point and Sunrise point are arguably the best spots to catch a sunset or sunrise, but they do get crowded. Imperial Point is another solid option.
Pro Tip: Bryce Canyon is one of the best national parks for winter. It's cold, but you'll have far more solitude.
To make the most of each, here's a little tip: visit them the other way around! Head to Sunrise Point for sunset and vice versa – you'll avoid the crowds but the views are just as grand.
5. Check out the Unbelievable Bryce Canyon Viewpoints
For another other-worldly sunset experience, Inspiration Point is a must. You can reach it through a beautiful hike, but you can also drive to the Inspiration Point Parking Area for a view of the pinnacles that tinkle with color when the sun starts to set.
For a more solitary experience, head to Bryce Point instead. The hoodoos are a bit further away, but the view is great nonetheless. As a bonus, you'll get to avoid the crowds that you're likely to find at the other viewpoints.
6. Go Horseback Riding
What is the American West without a rodeo, after all? If you're up for exploring the park in a unique way, a horseback riding tour might just be what you're after. These guided rides will take you into the Bryce Amphitheater along a dedicated trail.
Guided trail rides typically take place between April 1st and October 31st depending on weather conditions. Make sure to plan accordingly and check availability.
7. Get a Bird's Eye View of the Canyon From a Helicopter
Everything looks different from above, and if you want to get a better idea of the splendor of Bryce Canyon, a helicopter tour is a perfect way to do so.
Not only will you witness the most epic view of the red-rock hoodoos that make Bryce Canyon so special, but you'll also get to soar above the Grand Canyon and Zion national parks as well as Monument Valley!
8. Go on a Scenic Drive
If you've only got one day in Bryce Canyon and you'd like to see as much as possible (or you're just not too keen on hiking), you can tackle most of the park's main attractions on a drive.
The Bryce Canyon Scenic Drive takes around three hours to complete if you stop at all thirteen viewpoints.
The paved road cuts across the park, making it an ideal way to get to see some of the best it has to offer without breaking a sweat.
Most visitors only drive as far out as Bryce Point, but I recommend driving all the way out to the furthermost point (Rainbow Point) for the best view of the hoodoos.
9. Go Stargazing
You're 8,000-plus feet above sea level, with virtually zero large towns or cities nearby. This means that you get an up-close and personal view of the night's sky.
On my first trip to Bryce Canyon, I sat out in the freezing cold stargazing for hours. It was utterly unbelievable.
Adventure-seekers should sneak into the park at night and go for a late-night hike. You don't have to wander far to catch a glimpse of the Milky Way being pierced by the shadows of the hoodoos.
Bundle up and go for a walk. Photographers must bring their cameras, trust me, it'll be worth it.
10. Explore Beyond The Canyon
Even though the canyon itself is the star of the show, there are so many more amazing things to do near Bryce Canyon if you've got some time to spare.
A drive to Devil's Garden, where you'll find unique arches, huge hoodoos, and insane red-rock formations is the perfect inclusion in your itinerary.
Moreover, if you're up for an authentic American West experience, you can check out a live rodeo show up close. The Bryce Canyon Rodeo takes place during the summer months and it's the perfect Bryce Canyon activity if you want to add a little culture into your trip.
Next, head to Kodachrome Basin, a small but beautiful park that features colorful rock formations. This is one of the best things to do near Bryce Canyon, especially if you're traveling with kids and love horseback riding.
Quick Tips for Visiting Bryce Canyon
Be sure to get a lay of the land before visiting Bryce Canyon. Here are a few quick tips to keep in mind:
Always practice Leave No Trace. Pick up trash, stay away from closed areas, and don't bother wildlife.
Plan on arriving early. The lines to enter the park are real.
Do the crowded hikes at sunrise. You'll find more solitude.
Take your time to adjust to the altitude. It's 8,000 feet up so prepare for cooler temperatures.
Consider if an America the Beautiful Pass makes sense for you. If you're visiting multiple US national parks in a year, then this might save you some scratch.
When to Visit Bryce Canyon
The best time to visit Bryce Canyon depends on what you're looking to do. Bryce Canyon stays open year-round, however, the best times to visit are during the spring and fall.
In fact, Bryce Canyon is one of the best national parks to visit for fall. Changing lives glitter and dance across the sweeping sandstone amphitheater.
Summers are smashed with people and the weather can get pretty hot. However, if you don't mind the crowds, this time of year typically has better weather.
Winters are a wonderful time to visit if you're looking to escape the crowds, but popular areas like the Navajo Loop close if the trail is too icy.
When it comes to natural beauty, Bryce Canyon is tough to beat. This park is consistently ranked as one of the most beautiful national parks in the US. This list of the best things to do in Bryce Canyon gives you a real flavor for this utterly unique landscape.
PIN THIS POST