The Red Rock Canyon Scenic Drive is a must-do activity in Las Vegas. Just 30 minutes from the strip, you'll be transported into a wonderful world of desert scenery, red rock mountains, and unbelievable cliff faces.
The Scenic Loop drive sits inside the Red Rock Conservation Area. Here you'll find a break from the glitz and glam of the Strip. Or if you're like me and those sparkly lights don't mean a thing, then the number one reason to come to Las Vegas is to enjoy Red Rock Canyon.
Red Rock Canyon offers a variety of things to do, from epic trad climbs to flowy scenic drives.
As a climber and outdoor freelance writer, I make the trip to Red Rock Canyon once a year. Even if climbing 800-foot-tall walls isn't your thing, you should still check out the Red Rock Scenic Loop Drive.
Having been here countless times, I'll give you the inside scoop on this unbelievable landscape. The best part? You don't even need to leave your car if you don't want to.
About this Guide to the Red Rock Canyon Scenic Drive
The Red Rock Canyon Scenic Drive is a 13-mile, paved, one-way loop that is your gateway to desert dreams.
Seriously. This place will put your jaw on the ground. Here's what you'll find in this guide to the Red Rock Canyon Scenic Drive:
Where to find this amazing slice of tarmac
Fees and reservation requirements for Red Rock Canyon
Tips for self-driving the loop
Things to see and do along the Red Rock Scenic Drive
Additional resources for amazing natural sights near Las Vegas
Where is the Red Rock Canyon Scenic Drive?
Just 30 minutes outside of Vegas you'll find the Red Rock Canyon Conservation Area. These gorgeous sandstone peaks and open desert plains are home to fascinating wildlife (desert tortoise anyone?) and idyllic desert views.
The Red Rock Canyon Drive, officially known as the Scenic Loop Road is a fee area within the Conservation Area.
To get here, simply take Flamingo Road west until you reach the junction with the 215 or Bruce Woodbury Beltway. Next, head west (left) on W Charleston Blvd which turns into Blue Diamond Road after it exits the suburb of Southerlin.
You'll find the entrance to the Red Rock Scenic Loop on the right side of the road, just past the Calico Basin Turnoff. A gate and fee station marks the start of the road.
How Much Does the Red Rock Canyon Scenic Drive Cost?
There is a small fee to enter the Red Rock Canyon Scenic Drive. However, if you have an America The Beautiful National Parks Pass, you don't need to pay. Fees are as follows:
$15 for individual vehicles
$10 for motorcycles
$5 for bikes
Annual Pass: $30
An additional fee of $2 for reservations (more on that below)
Pro Tip: If you're planning on visiting for multiple days, or you want to check out other national parks and recreation areas in the US within a 12-month period, then the America the Beautiful Pass might be a better buy. It's $85 for unlimited park entry for 12 months.
Timed Entry Permits for Red Rock Canyon Scenic Loop
Starting November 3, 2020, Red Rock Canyon is moving to a permanent reservation system. This is to throttle crowds that come into the park during the day – some weekends the line can be over a mile long!
Online reservations in advance will be required if you plan to visit the Scenic Loop Drive between 8 am and 5 pm. You can purchase your permit for $2 up to a month in advance and some additional permits will be released 2 days in advance.
Keep in mind, between June 1 and September 30th you don't need to make advanced reservations.
Also, you need to show up within 30 minutes of your reservation. For example, your 8 am reservation is good for an entry between 7:30 and 8:30 am. You can stay until the park closes (or later with a late-exit permit), so don't worry about being limited in the park.
Attention climbers and sunrise hikers: If your plan is to wait for the gate to open at 6 am to reach your climb, don't fret, you won't need a permit. However, reserving a late-exit permit ($0.50 processing fee) online in advance is recommended to avoid tickets.
Tips for Self-Driving the Red Rock Canyon Scenic Loop
First, it's totally easy to self-drive this loop. It's paved, accessible (with accessible vault toilets), and easy to manage. Here are a few tips for making the most of your visit:
Follow the parking rules. You'll get ticketed if you're parked in illegal places. Parking fills up and it's illegal to park on the side of the road. Just hang out and wait, people come and go quickly so you should be able to snag a spot within 5 minutes or so.
Watch for wildlife in the mornings and evenings. Desert hare love to dart across the road early in the morning.
Beat the crowds and go early. It gets crowded here, so arrive early to avoid heavy crowds. Plus, sunrise here is a must-do activity. Cotton candy skies coupled with gentle light illuminating the peaks (drools….)
Pack it out. Don't litter and clean up after your dog. If you opt to hike or explore, be sure to pack out all of your trash (fruit peels, toilet paper, dog poop, etc) and carry it with you! There are plenty of trash receptacles at trailheads.
Share the road. Bikers use this wide, yet still one-lane road. The maximum speed is 35 mph.
Leave it better than you found it. Don't carve or spray paint the rocks. Stick to marked trails (unless you want to get attacked by aggressive cacti), and do your part to be a good steward.
Bring plenty of water. Even in the winter, the desert sucks the moisture out of you. There are no services in the park for water. Bring at least two liters of water for any hikes. Another handy hack is to keep a cooler of cold drinks like Gatorade, coconut water, ice water, and even a cool snack in the car.
Put on sun protection. The desert sun takes no prisoners. Wear appropriate clothing, sunscreen, sun hat, sunglasses, and consider wearing a UPF sun shirt.
Learn how to hike in the desert. A few handy tips will help you go a long way in this desolate landscape.
Red Rock Canyon Scenic Loop: Things to See and Do
Plan on spending a half-day driving the Red Rock Canyon Loop. You'll stop often and may even feel inspired to explore. Not to mention, there are several hikes and walks along the way.
Visitor Center – Currently Closed
Many folks start their visit here to get a lay of the land, learn about the unique plate tectonic geography at play here, and get info on the first people.
As of 2020 the visitor center is closed, but bathrooms are available.
Calico I, II, and Sandstone Quarry
Three distinct parking areas on the west side of the Calico Basin. There is access to some climbing here (mostly single-pitch sport and trad lines) as well as a few hiking trails. Areas of interest include:
Calico Tanks (2.5 miles, moderate). Calico Tanks parking. A scrambly hike that dips into a natural pool (water is seasonal) called a tank. Views of the Las Vegas Valley.
Turtlehead Peak (5 miles, difficult). Sandstone Quarry Parking. A lollipop loop that splits near the summit of Turtlehead Peak. Challenging (GPS recommended). You'll be using your hands
Moenkopi Trail (2 miles, easy). Calico I parking. Panoramic views of the Calico Hills
Calico Hills 2 (2-6 miles, moderate). Calico I and II parking. An up-close and personal trail in the Calico Hills. Mainly used to access climbing.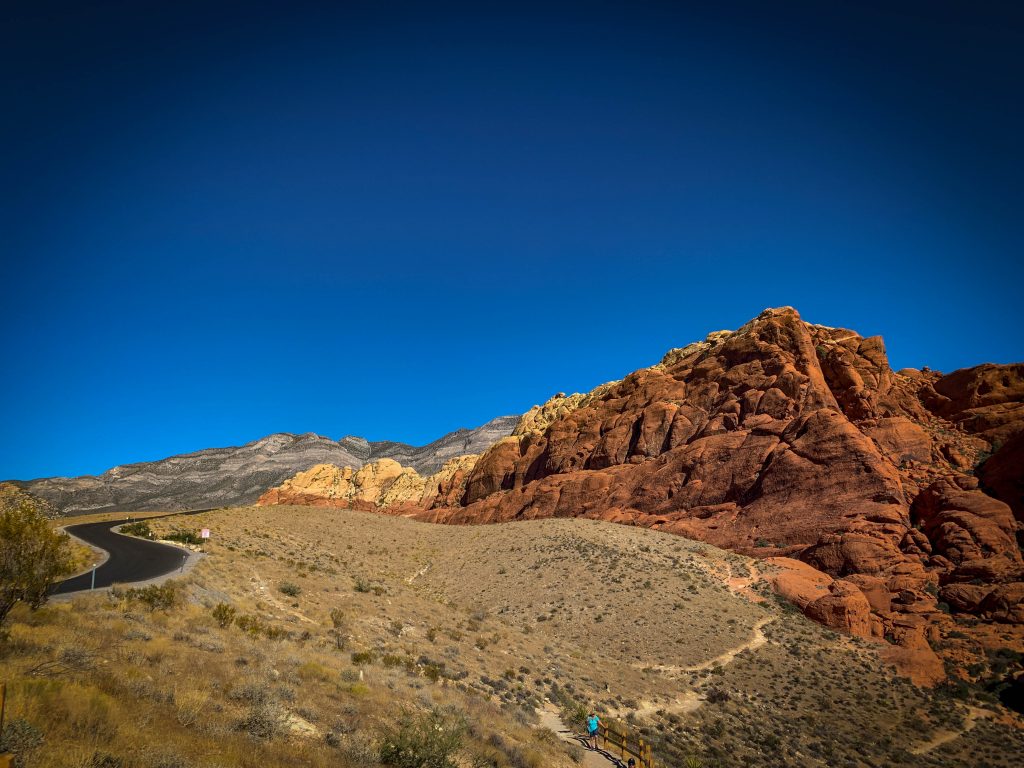 High Point Overlook
Get a spanning view of the massive canyon systems at the High Point Overlook. Admire the impressive sandstone peaks that seem to appear out of nowhere.
It's truly impressive and takes a second to wrap your head around the scale of this place. Get excited, because you're about to get up close to these giants!
This must-see stop is a great sunrise or sunset spot too!
White Rock Spring Trailhead
White Rock Spring Trailhead also has a few awesome trailheads you can hike to. Most of the trails are moderate in difficulty, and none exceed 6 miles.
Keystone Thrust (2.2 miles, moderate). Upper White Rock Parking. A unique geographical area that's significant for the area.
La Madre Spring (3.3 miles, moderate). Upper White Rock or Willow Spring Picnic Area Parking. Walk up part of an old 4×4 road to a natural water spring. Wildlife can be found here – especially ram. Come in the morning or the evening for the best wildlife viewing.
White Rock to Willow Spring (4.4 miles, moderate). Upper White Rock or Willow Spring Picnic Area Parking. An oasis in the desert. Wildlife and water are found here.
Lost Creek Canyon Trail and Willow Springs Picnic Area
There are a few short hikes that take you to the Lost Creek Canyon climbing areas. Even if you aren't a climber you can enjoy the trails and get up close to the rock walls.
The main attraction here is the Petroglyph Trail (0.7 miles, easy). Here you'll spot rock art from the Paiute people.
The picnic area is a great spot for a break but is currently closed. 4×4 lovers can access Rocky Gap Road here.
Icebox Canyon Trailhead
Yet another famous climbing area Icebox Canyon gets its name from its shady aspects. If you're looking to hike, climb, or explore and escape the sun, this is the place for you.
Shade chasers will love hiking Icebox Canyon (2.6 miles, difficult). Climb over tricky boulders and scramble your way around this canyon fortress. After rain or snow, you may even spot a waterfall.
Pro Tip: There are connector trails to nearby Pine Creek Canyon (and continue to Oak Creek Canyon). However, these trails require a return journey and travel over the open desert (no shade) and deep sand. Tackle with care!
Red Rock Wash Overlook
Another excellent overlook that gives you views of both Las Vegas Valley and souther Red Rock Canyon. Worth a quick stop, or a place to relax after you've enjoyed some hikes.
Pine Creek Trailhead
This is arguably the busiest trailhead along the Red Rock Scenic Drive. This is largely due to the big list of mega-classic climbs and access to several different canyon systems from here.
Don't let the packed parking lot fool you, there's plenty of solitude here! In fact, this is my favorite place to watch the sunrise in Red Rock.
You're rewarded with breathtaking sunrise views if you take the Pine Creek Canyon to the Fire Ecology Trail, then take a short climber's trail (at the bend in the fire loop) towards Juniper Canyon.
Other awesome hikes include:
Pine Creek Canyon (3 miles, easy). An easy meandering trail that leads directly into Pine Creek Canyon.
Arnight (2.5 miles, moderate). Mainly used as a climber's trail to short cut to Juniper Canyon.
Knoll Trail (3.5 miles). Access either by Pine Creek (longer) or Oak Creek. Follows along the base of the beautiful sandstone walls. Truly impressive.
Oak Creek Trailhead
Oak Creek has a variety of trails (many of which can be reached from outside the scenic loop). Most people park here if Pine Creek is full, unless they are heading into Oak Creek Canyon (2 miles, easy).
Often one of the quieter areas of the Red Rock Scenic Drive, this trailhead is well worth a visit.
When is the Best Time of Visit Red Rock Canyon?
Red Rock Canyon is open year-round, however, the best time to visit is between October and May. The temperatures are cooler than the dead heat of the summer.
Trust me. You don't want to be wandering around Red Rock in the summer months unless you wanna fry eggs on the street.
Also, avoid Red Rock Canyon in the rain. With flash flood possibilities it isn't safe and you should never climb on wet sandstone since the rock becomes dangerously brittle.
However, going for a scenic drive or hike after the rain passes (or post snow dusting) is a real treat! The canyon comes to life and the contrast of red and white scenery truly takes your breath away.
Packing List for Red Rock Canyon
Be prepared with this awesome packing list for Red Rock Canyon.
Water bladder or water bottle (2L minimum)
Camera with a camera clip for easy access
Sunscreen
Sunhat
Sunglasses
Sturdy walking shoes. Sticky rubber helps if you're scrambling.
Small first aid kit with tweezers
Plenty of salty snacks and a small baggy to use to pack out trash
A GPS with emergency features (optional, helpful if you're traveling off-trail)
Pee funnel
Hand sanitizer
Now you're ready to explore one of Las Vegas's most beautiful landscapes! Spend the day wandering around the monumental canyons and soak in the magic of the Mojave Desert.
Additional Awesome Things to See and Do Near Las Vegas
Skip the strip with these fantastic things to do near Las Vegas: