I'll admit it, the price of hiking clothes is on the rise and that trend doesn't seem to be going anywhere. However, there are a lot of options when it comes to finding the best hiking clothes for women. I developed this guide to give you an array of options from affordable hiking clothes all the way to high-end hiking clothes for women.
Since I'm out and about nearly every week, I've had the opportunity to try out a lot of different hiking clothes. This post is a labor of love, years of testing have culminated into this one moment: the best hiking clothing for women on any budget.
Each genre is broken down to suit your budgetary needs. As with most of my content, this post is a constant work in progress, so give this bad gal a bookmark and check back often for the most up-to-date recommendations.
Please note: This post participates in affiliate linking. That means when you click on an item and purchase it I get a small kickback at no added cost to you. It allows me to keep this site running, and delivering you awesome free content. As always, I never recommend a product I haven't fully vetted. For more, check out my privacy policy.
About this Guide to the Best Hiking Clothes for Women
When it comes to finding affordable hiking clothes, it's all about balancing your budget with your needs. There are a few items you simply don't need, they may enhance your hike, but if you're looking for budget-friendly hiking clothes, you don't need it.
In this guide to the best hiking clothes for women we'll cover:
How to find affordable hiking clothes, including a guide to scoring big discounts on pricey brands
Alternatives to brand names
What hiking clothes do you really need?
An in-depth look at the best hiking clothes for women
Additional hiking resources
Plus-Sized Hiking Clothes for the Outdoorsy Lady
Okay, so I'm sure you've noticed, I've got skinny white girl syndrome, so I'm not going to pretend I know what the heck I'm talking about when it comes to plus-sized outdoor clothing for ladies.
So I decided to turn it over to Jenny Bruso, the incredible plus-sized, kick-ass woman behind UnlikelyHikers. She lays down all the juicy recs and gives a real, honest outlook on plus-sized activewear.
This incredible post by Jenny is a tell-all, no-holds-barred exemplary piece of writing we need more of in the outdoors. She check out Jenny's comprehensive post about plus-sized activewear for all of your outdoorsy needs.
Related: Plus Size Camping Gear and Hiking Essentials from a Pro Gear Tester
How to Find Affordable Hiking Clothes
With a little bit of legwork, you can easily score a good deal on top-of-the-line hiking clothes. Keep a running list of what you want and sign up for brand emails. Although sales emails are annoying, you'll be the first to know about sales (ahem, Patagonia's 50% off sales, ahem).
Another alternative is to shop at thrift stores and used gear stores. Many gear stores run gear swaps throughout the year and some even have consignment sections. My favorite online gear hub is Geartrade. It's a great way to find gently used gear for virtually any outdoor pursuit.
If you're lucky, a nearby gear shop may specialize in selling samples. These are the things that marketers and gear testers get before a product hits the shelves. Oftentimes, these pieces of clothing have awesome colors and prints that aren't offered anywhere else.
Alternatives to Brand-Name Hiking Clothes
Hiking-specific clothing is expensive, period. One of the major issues that the outdoor industry has is the cost to enter. However, there are plenty of ways to work around this issue.
First, use what you've got. I have no shame in admitting I would go for hikes (even backpack) in a cotton tee-shirt, cotton shorts, and steel-toed boots (it was all I had).
Do I recommend this? No, cotton can kill, but have I done it just to get outside? Yes. I survived and didn't start buying outdoor-specific clothing until I had been hiking consistently for over a year.
Synthetic gym wear such as leggings/sweatpants and a synthetic tank are far better options than my irresponsible cotton choices. If you find yourself hiking more weekends than not, then it's probably time to invest in a few key pieces to get you started.
For tees, socks, and layering, just avoid cotton completely. Merino wool is queen (but has a price tag to match her flossy lifestyle). Synthetics are great and places like Target have a full line of synthetic workout clothing, including socks, that will work just fine in the outdoors.
Affordable Hiking Clothes to Buy if Your Short on Cash
Remember, a hiker doesn't need to be decked head-to-toe in Arc'teryx in order to get outside. If you're working with a limited budget, I would recommend investing your hard-earned dollar in footwear and socks. Your feet are your lifeline in the outdoors. Unhappy feet lead to unhappy hikers. Treat your feet first and the rest will follow.
Here's a quick look at what affordable hiking clothes you should buy.
Synthetic hiking socks
A mid-layer jacket (synthetic and fleece work great)
Down or synthetic puffy (if you hike in variable climates only)
Hiking Gear to Avoid if You're on a Budget
Rain gear is uber-expensive and I honestly didn't bother updating my rain gear until last year (cuz who wants to pay tons of money for a glorified piece of plastic?), hell, I've even punched holes through a trash bag to stay dry on hikes.
Things like gloves, hats, and beanies don't need to be super high-tech, use what you've got until you find that it isn't serving you anymore.
The Best Hiking Clothes for Women
Alright, let's dive into the best hiking clothes for women. Here you'll find recommendations starting with the most expensive option, the mid-range choice, and the best affordable hiking clothes option. We'll cover:
The best hiking socks for women
Base layers you'll love
The best women's hiking tees
Amazing hiking pants for women
The only mid-layer hiking jackets you'll ever need
Puffy jackets for hiking
Raingear for under $100
Other women's hiking accessories
The Best Blister-Free Socks
Shoes may be a custom item, but socks will make or break your day. I typically opt for a sock that offers a medium to a heavy cushion. Typically, since I'm wearing boots or traveling over tougher terrain, I'll opt for a crew cut, but that is a matter of personal preference.
The important thing about socks is your feet are covered so your shoes don't rub and you aren't wearing any cotton. Cotton allows for sweat to build up in the sock. The result is soggy feet with socks that rub and create friction, ultimately causing blisters.
High End: Darn Tough Hiker Micro Crew Cushion ($21) Review
I've been a fan of Darn Tough for years and here's why. Their socks come with a lifetime guarantee. If the sock wears out, they replace it. Darn Tough may have a high initial price, but since you can get a lifetime of socks for only $21 is a steal. Darn Tough is one of the best affordable hiking clothes brands for this reason.
Pros: These never smell, last forever, and come in fun colors.
Cons: Price
Mid-Range: Smartwool Men's Hike Medium Crew Socks ($18.95) Review
Pros: They last forever and keep their fluffy loft. I wore these socks every day for 11-straight days in Nepal. Yes, they smelled after that, but they were still just as comfortable as day one. I pretty much solely wear Smartwool socks, even for every day. I couldn't recommend these enough.
Cons: I can never seem to find the women's version in a pinch. Maybe it's because they are literally that popular. As a result, I confuse them with my boyfriend's pairs quite a bit.
Budget-Friendly: REI Coolmax Midweight Hiking Crew ($13.95) Review
If you've got a limite budget but want a sock that will last several seasons, then this is it. Pro Tip: Air dry your socks for even more life!
Pros: They perform well for the price point. Also super-durable
Cons: They don't offer as much cushion as the Smartwool's.
Bonus: REI Silk One Liners Review
These are a game-changer if you have issues with blisters. Since I started wearing silk liners, which is pretty much always, I have yet to get even a hot spot on my feet, even in rental ski boots. I'm not kidding folks, these will change your life.
Long-Sleeved Base Layers for Warmth in a Pinch
Below you'll find a few options for base layers, I primarily wear Patagonia base layers. They aren't cheap, but I'll snag them during their annual 50% off sale. I've dabbled with a few other brands, but I keep coming back to Patagonia.
Best Long-Sleeved Base Layer: Patagonia Capilene Midweight ($59)
Pros: These lightweight base layers work in all sorts of conditions. The elastic is built to last and Patagonia stands by their product. My pairs are pushing four years old and still look just as good as new.
They provide ample warmth and their checkered, Polartec Power Grid lets them balance between warmth and breathability. Not to mention, they use recycled material in their synthetic material.
Cons: Price. Honestly, I haven't bothered with anything else for years. I'd love to compare the Capilene to the 150 Merino by Smartwool.
Runner-Up: REI Merino Midweight Half-Zip ($43.99)
REI makes a competitive baselayer to the Patagonia counterpart with the REI Merino Midweight Half Zip. I find them to be slightly itchier than Patagonia but they work wonderfully.
Pros: The Merino will keep you warm and snug.
Cons: I found that this layer is a tad itchy, I wouldn't want to wear it without a bra.
Affordable Base Layers: Under Armour ColdGear Mock ($25.00)
The Under Armour ColdGear Mock is great if you need a warm layer that won't break the bank. Plus, they always have colors available that are on sale. However, these don't fit a tee underneath for variable weather days.
Pros: A cheaper synthetic base layer that holds up against abuse.
Cons: Not t-shirt compatible
Best Hiking Tee's for Women
I've been frustrated at the lack of options for women's hiking tees. Why is it so hard to put a graphic on there? Or account for boobs? All of a sudden it's $20 more if even one of those criteria is met?!? Outrageous. Needless to say, here are my favorite affordable hiking tees for women.
High-End: Phoenix Tank by Title Nine ($55)
Pros: The Phoneix Tank by Title Nine fits comfortably, breathes well, and is extra lightweight. Unique fabric tech keeps stinky sweat at bay and the thicker tank top straps protect you from the sun. The pleats in the back don't get in the way of a hiking pack and give a little bit of style.
Cons: It's a little pricey. Some people may not like the boxier fit.
Mid-Range: The REI Sahara ($29)
Pros: These REI synthetic tees have been re-designed to be less tight, allowing for better movement. Also, REI did away with the seam in the center of the back, which I appreciate. They also now come in plus sizes!
Cons: They are still on the pricey side for what they are, but if you watch closely, they do go on sale for half off. I also wish they had a few more color offerings, this season's colors are uninspiring.
Recover Brands: the Eco-Friendly, Affordable Hiking Tee ($19)
Pros: Recover Brands offers a wide variety of tees with fun graphics that won't break the bank. They are also made out of recycled plastic and synthetic fibers. These tees are a fantastic way to be eco-friendly without breaking the bank! For more eco-friendly gear, check out my eco-friendly hiking gear guide.
Cons: Some of the tees fit a little snug so if you're into a looser fit or have broad shoulders (like me) order a size up or reach out to the manufacturer for more info on fit.
Best Bottoms for Hiking: Shorts and Pants that Function and Make You Look Fabulous
Whether you hike in shorts, pants, or convertibles, pants always seem to be a nightmare. It took several hours in a dressing room to find a pant that delivers function, fit, and durability. Therefore, I only have two items for each listed here.
Maybe one day, the pant goddesses will smite the outdoor industry to creating a more flattering look for females on the trail.
Oh and I should mention I hate hiking in leggings, I'm not in yoga class and I always feel colder in leggings. I want something with deep pockets that will actually keep me comfortable. If it's your jam though, your options are endless and your price point lowers substantially.
High-End: Title Nine Clamberista Jogger Pant ($89)
Pros: Mobility everywhere you need it and then some. The Title Nine Clamberista Jogger Pants are literally my new favorite pant. I practically live in these both on and off the trail.
They stretch where you need it, don't lose their shape, and the soft elastic waistband is cozy with a backpack on. The best part? The pockets are actually useful. There is even a side zip that will actually fit your phone AND a snack.
Cons: Aside from the cost, I have zero complaints. I suppose if I'm being picky, the waistband adds some weight, but I'll happily take it if it means I won't chafe.
Mid Range: REI Sahara Convertibles ($70)
Pros: Don't be fooled by the cheesy photo on the REI website. The features on the REI Sahara Coverntibles blew me away, you can get them off without taking off your boots, the pockets hold (most) phones – a rarity these days, there is a built-in belt that doesn't get in the way of your pack, and they repel water like a champ.
These come in a wide variety of sizes (petite to plus, along with multiple inseams). Not to mention they fit great. Whatever REI did this year to re-design this pant, it works.
Cons: None really, they didn't fit my boyfriend's Google Pixel phone in the pocket. But overall these pants are a solid buy. REI would be smart to offer more colors.
Budget-Friendly: Colombia Saturday Trail Paint ($60)
I am not shy about admitting that these do not fit my stickly body type at all. However, if you've got curvy hips and some loveable junk in the trunk, the Saturday Trail Pants are PERFECT. My curvier friends LOVE these pants.
Pros: Price and flexibility. They also come in Short and Tall sizes.
Cons: I have yet to find a pocket on a pair of leggings that I like.
Best Hiking Shorts: PrAna Kanab Short ($59)
The PrAna Kanab Shorts are a short unicorn – if you can find them! They sell out almost instantly, but I'm so obsessed, I own them in every color. The deep pockets hold your phone and then some without ever letting things slip out. The cozy waistband doesn't chafe while wearing a backpack. Quick-dry material makes adventurous outings a breeze. And if that wasn't enough, they look good too. All of my friends wear them and we all have different bodies, but still look freakin' fab.
Pros: I can wear my PrAna Kanab Shorts anywhere and you'd never know that I use them for hiking. They are cute and not too short, which is great on the trail when you don't want your junk hanging out and you need to use your pockets.
Cons: I wish they kept them in stock! You've got to religiously check in spring if you want to snag these.
Budget-Friendly: A Pair of Cheap Running Shorts
I don't have a particular product in mind here since I don't hike in shorts very often. But a cheap pair of runners from Target is a great way to have a moisture-wicking pair of hiking shorts. Seriously, it doesn't need to be fancy, just wear something that doesn't rub when you walk.
Insulate with These Hiking Mid-Layers
Mid-layers or a fleece, offer added protection from the cold. This is a great layer to stash in your bag on a summer day.
Sounds crazy, but if you're in the high-alpine and you sweat, you'll want something to cover up with when you stop for a break. If you're a three-season hiker, a fleecy mid-layer is one of the best hiking clothes purchases you can make.
High End: The Outdoor Research Vigor Hybrid Hoodie ($135)
Pros: The OR Vigor Hybrid Hoodie is a catch-all jacket that I can't take off. It's part fleece, part synthetic puffy. It packs down quickly, has a hood, and works well in any layering system. There's also a thin, water-resistant layer which is super helpful.
Cons: The price. But I feel this jacket serves many purposes and is well worth the splurge if you're worried about weight, packability, and function.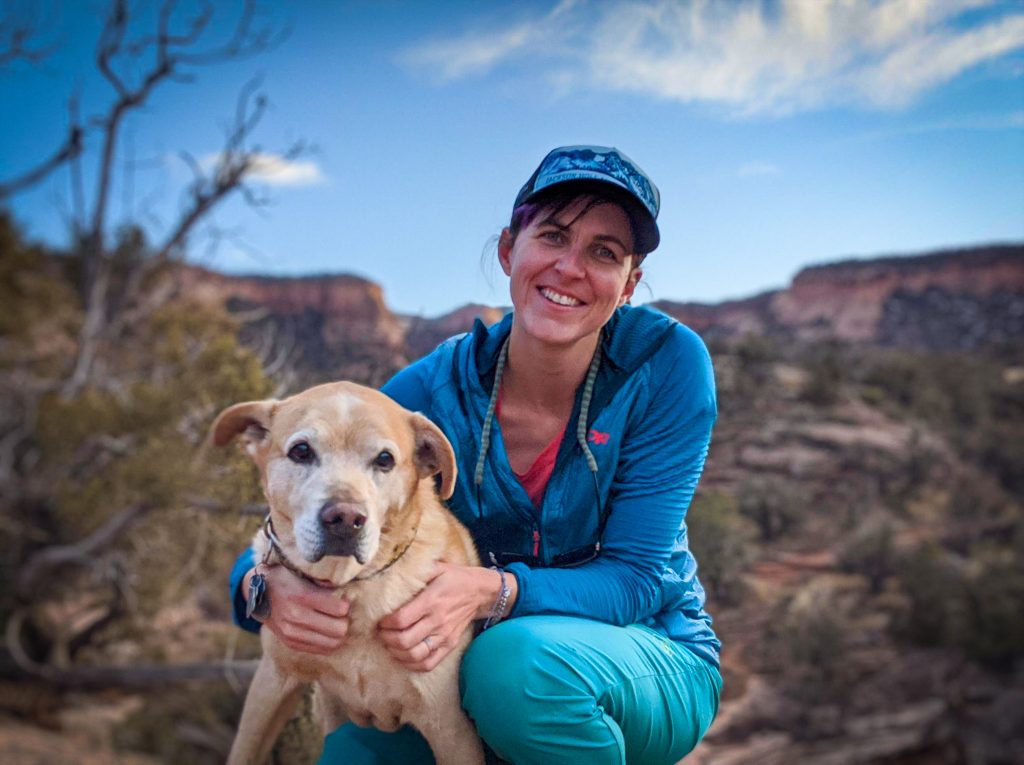 Mid Range: Patagonia R1 Half-Zip Up ($79-$159)
Pros: The Patagonia R1 layer has always been a breathable fleece layer that I love. The checkered fleece pattern regulates your body temperature as you build up a sweat.
Cons: Doesn't pack down well and is pretty expensive. They also recently got rid of the full-zip version, which was a real shame.
Affordable Fleece for Hiking: Columbia Glacial V Half Zip
Pros: The price for the Columbia Glacial V Half Zip can't be beaten. It's lightweight, excellent quality, and super packable. It also comes in plus sizes.
Cons: Doesn't fully zip and they may be discontinuing it.
Pro Tip for Finding Affordable Hiking Clothes: Hit a Thrift Store
Fleeces are a dime a dozen these days. Thrift stores in an outdoorsy (or cold) area have TONS of fleeces to choose from. These stores often don't understand how much that gear is worth and you'll pay pennies on the dollar.
Alternatively, if you search by brand name (Northface, Patagonia, LaSportiva, Columbia, etc) head over to ThreadUp.com. This second-hand online shop has a bucketload of outdoor gear, it just isn't presented that way. Look for "active wear" instead.
Finding the Perfect Puffy Layer
Puffies are life. They are versatile, provide a ton of warmth for your dollar, and are an essential layer in the mountains. With that being said, they are not cheap. But this item is designed to last you a long time, making these recommendations some of the best hiking clothes that money can buy.
High-End: Rab Microlight Alpine Down Jacket ($280)
Pros: The Rab Microlight Alpine Down Jacket gives so much warmth for so little weight. It comes with a stuff sack that has come in handy more than once. The cuffs have a great design (don't chafe and finish nicely). A down jacket at this price with a hood is also pretty spectacular. RDS (responsible and sustainable) down. I take my RAB everywhere from the crag to the trail and beyond.
Cons: I'm being a little picky, but a bit better pack down would be excellent.
Mid-Range: Mountain Hardwear Women's Stretch Down Jacket ($260)
Pros: The Mountain Hardwear Women's Stretch Down Jacket allows for great movement in the jacket, no pinching at the neck or shoulders. Overall great fit for an athletic, broad-shouldered lady, a tough find with down jackets. 750 down fill bounces back to life instantly. Packs down like a champ.
Cons: No hood, but you can pay a little more for one with a hood.
Budget-Friendly: The North Face Ventrix Hoodie ($220)
Pros: Light, breathable, budget-friendly alternative to a down puffy, the North Face Ventrix is where it's at! John lives in his (he wears it on the couch folks…). It's saved me a few times when I forget my jacket. Definitely warm and gives plenty of mobility.
Cons: Doesn't pack down well. John has noticed some piling on the material after constant wear for a couple of months.
Rain, Rain Go Away Solutions to Keep You Dry
I have to admit, I DESPISE rain gear. I do not understand why a rain jacket needs to cost so darn much and be so unflattering. I think it's criminal. With that being said, if you hike often in rainy climates, you may want to pick up a rain jacket that is built for activity. Otherwise, any city-slicker rain jacket will do.
Black Diamond FineLine Stretch Rain Shell ($101 – $135)
Pros: For high-quality rain gear, the Black Diamond FineLine Stretch Rain Shell is priced well. It's stretchy, it breathes, and it's really lightweight.
Cons: This might be the last wave of FineLine's around – it's currently on closeout. No pit zips.
Budget-Friendly: The North Face Venture 2
Pros: A reasonable price rain jacket for hiking that functions well. The North Face Venture 2 offers an affordable hiking clothes solution to overpriced rain gear. It also comes in plus sizes.
Cons: This might be the last wave of FineLine's around – it's currently on closeout. No pit zips.
Accessorize with These Must-Have Hiking Accessories
Below are a few extra items to consider when updating your hiking wardrobe. Most of these items are personal preference and each mini-review includes why I put them here.
Gloves Best in Show: Hestra Gloves' Army Leather Patrol Insulated Glove ($130)
Wow. I finally found them. After over three years of searching for the perfect glove, I finally found a pair that will keep me warm and dry while also allowing me to actually use my hands.
The Hestra Army Leather Patrol Insulated Glove offers tons of warmth without sacrificing dexterity. The gloves fit perfectly and have a removable fleece layer. The leather is ultra-durable and they pack down nicely for such a warm glove.
Pros: These ACTUALLY keep my hands warm in cold conditions. I retain enough dexterity to hold an ax, hiking poles and even belay a climber.
Cons: Leather gloves aren't cheap, but I'm never going back. I wish they had a touch more
The Great Glove Liners Debate
This is more in-line with what you need in the summer. I have a pair of North Face Etip liners that I tolerate. They are useless to me below 45 degrees and but they come in handy in a pinch and don't break the bank.
Why Everyone Needs a BUFF (varies, but most run about $20)
A BUFF is one of those things that you don't know how great they are until you have one. Mine goes with me everywhere, regardless of the environment. It adds some warmth, keeps my hair out of my face, soaks up sweat and converts to a handy pillow.
I've had knock-off brands, but nothing performs quite as well as the BUFF brand. Especially when it comes to the thing freezing from condensation.
How to Find Eco-Friendly Hiking Clothing
You'd be surprised how eco-unfriendly your favorite outdoor activities can be. One way to offset this is to purchase eco-friendly clothing. Unfortunately, eco-friendly and budget-friendly don't always align. Typically, you will pay more for sustainably made clothing, although that's slowly beginning to change
If you're looking for sustainable solutions to hiking clothes, consider looking for BlueSign products, clothing in compliance with the Responsible Down Standard, products made from natural materials such as down and wool, or products made from recycled material. A few of my favorite companies doing great things with sustainability are:
Upgrading your hiking wardrobe can be an expensive challenge, even with budget-friendly options. The gear I've provided here has been tested over the course of several years and I am confident that these are the best hiking clothes on the market for women.
It's durable and meant to last, meaning your expensive purchase will last longer. Hit the trails with some performance gear this year and see what a difference it makes.
Additional Hiking Gear Resources for Women
Pin It!