When it comes to finding the best hiking shirts for women and female-figured bodies, you need expert advice from an actual woman. This list of the best hiking shirts for women is born out of years of testing and research.
It isn't something I just slapped together overnight. As a freelance writer for the outdoors, I've been working with brands both large and small for years. This keeps me on the pulse of outdoor clothing.
Not to mention, I went to Google around on this subject and nearly every article landing on the first page was about men's clothing first. BARF!
Don't get me wrong, you can certainly wear men's clothing while hiking. But if you're looking for women's specific hiking shirts, then this post is for you.
About this Guide to the Best Hiking Shirts for Women
Before I kick things off, I want to point out the obvious: outdoor clothing has a long way to go. Most of the clothes are built for skinnier women.
I'm not going to beat around the bush here. I'm skinny with an athletic build. However, as a climber, I've got very broad shoulders and a small bust, so finding clothing that makes me look and feel like a woman has been my challenge.
I understand that everyone has a different body and a different set of challenges when looking for hiking clothes. I've done my best to research the hell out of every product and talk to as many different people as possible to give you the best information about each of these hiking shirts.
In this review of the best hiking shirts for women you'll find:
Expert buying advice for hiking shirts
A list of the best hiking shirts for women that includes price, pros, cons, and sizing information.
Quick tips for scoring a deal on a hiking shirt
Additional hiking gear resources
How Much Should I Spend on a Hiking Shirt?
Just like any other piece of outdoor clothing, you can really go nuts on spending money on a women's hiking shirt. But fear not, there are a few budget-friendly(-ish) options out there.
The shirts on this list cost anywhere from $25 to $75 dollars, with the upper end reserved for shirts that have a bit more features. For a basic hiking tee-shirt for women, the $25 to $30 range is pretty standard.
If you're looking for a shirt that has bug proofing, odor-proof technology, and long sleeves, you're going to pay a bit more.
What Features Do I Need in a Hiking Shirt for Women?
This largely depends on where you are hiking. Think about what conditions are like during the majority of your hikes and select something that works.
For the most part, you want to avoid cotton. This is because cotton takes forever to dry which can actually keep you hotter in humid climates, cause chaffing, or even cause hypothermia in alpine environments.
Instead, look for synthetic (cheaper) or Marino wool (more expensive) alternatives.
Next, think about the color. Pit stains are real and in order to get the most life out of your shirt, you might want to select a color that doesn't show stains as easily.
Lastly, think about durability. Look for a shirt that has a nice balance of thinner, lightweight fabric, but enough bulk to feel durable.
Here are a few quick tips for selecting a hiking shirt for different environments:
Desert. UPF or sun protection. Lightweight and long-sleeved (short sleeves at a minimum). You can even get away with cotton here and only here!
Humid climates. Moisture-wicking, lightweight merino wool or synthetic fabrics. Short sleeves or tank tops are okay as long as you are conscious about sun protection.
Buggy and muggy. Lightweight, long-sleeved, breathable synthetic fabric. Consider if it's worth forking over the extra cash for a bug-repellent product.
Mountains. Synthetic or wool. Short sleeve UPF in the summer, baselayer in the winter. Consider purchasing a separate, ultra-lightweight sun hoody for longer journeys.
The Best Hiking Shirts for Women
Alright, let's dive into the best hiking shirts for women. This shortlist of amazing hiking clothes offer a durable, functional, and sometimes even cute options for hikers.
**Please note: This post uses affiliate linking. Meaning if you click through and buy a product, I get a small kickback at no added cost to you. It's how I can afford to continue to bring you amazing, non-biased hiking shirt recommendations. For more, check out my privacy policy.
The Phoenix Pleat Back Tank Top
If you're looking for a hiking shirt that's got a little bit of style and a whole lot of fun features, look no further than the Phoenix Pleat Back Tank Top from Title Nine. Title Nine always seems to be coming up with great clothing that suits an active woman, and I love the Phoenix lineup. You can wear this shirt virtually anywhere from a burly backpacking trip to the yoga studio.
The sleeveless look gives enough coverage that you don't have to worry about applying too much sun protection. The featherweight, stink-proof fabric makes it an ideal companion on a backpacking trip but it's fashionable enough to feel just as good as it functions. I've climbed, hiked, and biked in this badass tank – I just can't seem to take it off.
Sizes from XS to XL.
Price: $55
Pros: super lightweight, smell-proof, nice design.
Cons: The fit is a little boxy (if you don't like that), and it's pricey.
Best for: The overall active woman. If you want a shirt that does it all while giving you a stylish flair, then the Phoenixix is it.
The REI Sahara T-Shirt for Women
This tech-tee is one of my absolute favorite hiking shirts for women. I've had many different variations of the REI Sahara tee over the years, and it just keeps getting better. The soft, durable fabric offers quick-drying properties but feels like cotton.
The shirt comes in many colors, fits a little baggy so it can accommodate a range of body types, and comes in sizes ranging from XXS through 3XL. Although some plus-size wearers complain that the 3X isn't as big as other 3X's.
Price: $29.95
Pros: Lightweight, durable, fits nearly every body type
Cons: the XL sizes run slightly small, these shirts do wear out after excessive use.
Best for: Any hiker. This is a great all-around shirt that you can also layer underneath street clothes.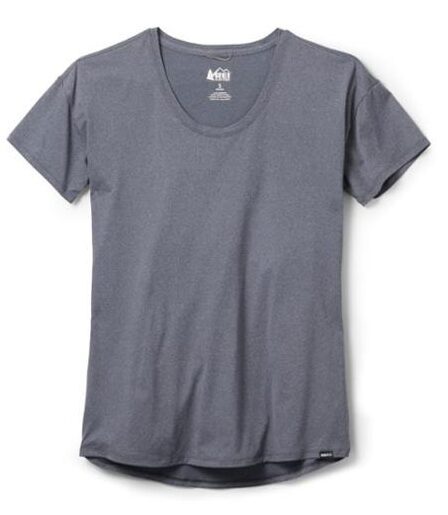 The Patagonia Capilene Cool Trail Shirt
Another great all-around hiking shirt for women is the Patagonia Capilene Cool Trail Shirt. These scoop-neck tees feel like cotton but have both moisture-wicking and odor repelling technologies. I never leave the country without my Capilene shirt, since you can wear it for days and not have to worry about the stink.
Sizes run from XS to XL and I find that Patagonia fits true to size.
Price: $39.99
Pros: Extremely durable. Can be worn over and over again without smelling.
Cons: Pricey. These are great items to snag on sale. Not many sizing options.
Best for: All-around hikes and traveling.
Recover Brands Women's Sport V Neck
Recover Brands is doing some really awesome stuff with recycled plastic and the Women's Sport V-Neck is a great example. Made from recycled plastic bottles, the fabric is surprisingly breathable. The looser fit of the new V-Neck is an awesome upgrade from the tighter-fitting originals. You can even order a bulk order and put a design on it.
Sizes from XS to XL.
Price: $25
Pros: Eco-friendly, really breathable
Cons: Can have a slightly tighter fit for women with wider shoulders.
Best for: All-around hiking and working out.
Black Diamond Six Shooter Tank
With a built-in bra and a cute back, the Black Diamond Six Shooter tank is a great athletic tank. As the only tank top on this list, I'm recommending it simply because you don't have to wear a bra. I typically avoid tank tops while hiking, to avoid chaffing and sunburn, but if you love to hike in a tank and you want to carry less, then this is a great option.
Sizes XS to XL
Price: $65.00
Pros: Looser fit, built-in bra with removable cups, durable, cozy shoulder straps
Cons: really pricey. Some people complain that the bust rides up, but I did not encounter this problem
Best for: casual day hikes or a multi-purpose sports tank with some style.
Columbia Bryce Canyon Stretch Shirt for Women
If you're looking for a super-soft, durable, and breathable button-up hiking shirt, look no further than the Columbia Bryce Canyon Stretch Shirt for Women. This shirt has it all. It's soft, it's got UPF 50 protection, it wicks away sweat and breathes like a charm. You can roll up the sleeves and the plus sizes are actually flattering.
Sizes XS through 3XL
Price: $75.00
Pros: UPF protection, soft, breathable, long-sleeve to short-sleeve roll-up conversion. Cute patterns don't hurt either.
Cons: Pricey
Best for: Hikers who want a long-sleeve option. Great for town-to-trail adventures.
ExOfficio BugsAway Palotina Shirt
If you hike in a buggy area, then the ExOfficio BugsAway Palotina Shirt is for you. In fact, any of the ExOfficio BugsAway shirts are the best hiking shirts for women who hike in areas with lots of biting bugs.
Bonus points for the ExOfficio lineup of BugsAway shirts for also making amazing travel companions.
Sized XS to 2XL
Price: $75.00
Pros: Bug repelling technology keeps mosquitos at bay. Built-in pocket!!! UPF 50, odor-resistant, moisture-wicking.
Cons: Expensive.
Best for: Hikers in buggy areas, travel to buggy areas, and fishing or water sports.
GoLite ReAct T-Shirt for Women
GoLite is back and better than ever with their ReAct T-Shirt for Women. The fit is loose but not too loose and the fabric provides UPF 25 protection and quick-drying technology. The striped details are a nice touch too.
GoLite does some impactful work. This shirt is not only 92% recycled polyester, but a portion of their profits go towards funding their GoAid program, which provides functional uniformed clothing to local health organizations in rural communities across the globe.
Sizes come in XS to XL
Price: $48.00
Pros: Lightweight, breathable, eco-friendly, mission-driven.
Cons: A little pricey, limited color selection.
Best for: All-around hiking and working out
The REI Co-Op Sahara Patterned Shirt for Women
If you're looking for the perfect town-to-trail shirt, then check out the lineup of REI Co-Op Sahara Patterened shirts. I love that the patterns aren't overtly feminine, allowing me to explore my more non-binary side of me. But they also provide the right silhouette to fit a more female body. Don't worry though, they aren't too curvy but don't have the boxy look that a shirt designed for males would have.
Bonus points for having a UPF 35 rating, being lightweight, soft as ever, and moisture-wicking. You can snag a long-sleeved version too!
Price: $54.95 for the short sleeve, $64.95 for the long sleeve, but they almost always have colors and patterns on sale.
Pros: light-weight, not overtly feminine, durable, breathable, UPF rating, a nice variation of patterns and colors.
Cons: A little pricey, tend to wrinkle easily.
Best for: Those who want a less feminine look with some style. Town-to-trail hikers, thru-hikers, and those who love adventure travel.
Mountain Hardwear Echo Hoody Women's
If you hike a lot in sunny environments where shade is scarce, having a sun shirt is an essential hiking item. The Mountain Hardwear Echo Hoody is a great addition to the alpine, beach or desert hiker's arsenal. You can wear this shirt with nothing underneath, but it's ultra-breathable (the most breathable on this list), and can feel cold, so depending on what I'm doing I'll pack a t-shirt too.
This shirt is designed to keep you covered with odor-controlled, AirVent technology that's also UPF 15. The hood is what makes the Echo Hoody stand out. You can quickly cover your head and neck without adding too much bulk. The hood is helmet-friendly.
Sized XXS to XL.
Price: $65
Pros: Lightweight, SUPER breathable, optimal sun protection with a hood and sleeves that fold over.
Cons: Pricey. If you don't run ultra-hot you may want a lightweight shirt underneath, especially in the alpine.
Best for: Hikers who climb and scramble in the mountains, desert hiking, hiking along un-shaded shorelines. Excellent backpacking layer.
That Amazing, Non-Cotton Thrift-Store Find
I get it – hiking clothing is expensive – and it isn't always accessible to everyone. But here's a trick, checking out a thrift store's activewear area usually reveals some amazing finds for a fraction of the price. Just look for a non-cotton shirt that still has some life in it.
Price: Varies, but generally less than $10
Pros: Affordable, eco-friendly (always better to buy used), and you can find some excellent-quality stuff.
Cons: Might not last as long as buying new and finding your size can be challenging.
Best for: Hikers on a budget or those who want to lessen their overall impact.
Quick Tips for Scoring a Deal on Women's Hiking Shirts
Being on the inside of the outdoor industry means I'm privileged to a little bargaining know-how. I would be doing a disservice if I didn't share easy ways to score a discount on outdoor gear. Here are a few quick tips when it comes to saving some cash on your next hiking shirt:
Sign up for brand mailing lists. Sometimes you get a 10 to 20% discount.
Shop in the off-season. A lot of hiking clothes goe on sale in the winter and spring as gear shops make room for the new season.
Go to a sample store or outdoor consignment shop. Gear shops that sell samples, or the leftover products from testing, offer the chance to pick up brand new hiking shirts at a deeply discounted price. You'll also get access to unique colors too!
It's time to hit the trails with this list of the best hiking shirts for women. So get out there and hike your heart out this summer!
Additional Hiking Gear Resources for Women
As a part-time gear nerd and full-time feminist, I'm geared up to give you the best advice for hiking gear for women. Check out these expertly-curated articles about everything you need to hit the trail this year.