Taking a tour along Death Valley's Artist's Drive is an absolute must-do. The beautiful winding tarmac delights with colorful hillsides that give this landmark its namesake.
As one of the best things to do in Death Valley, Artist's Drive features scenic driving and plenty of drool-worthy photo ops.
However, there are a few secrets to visiting this fantastic landscape. Lucky for you, you've come to the right place.
Visit Death Valley like a pro, not a tourist. I'm a freelance writer for the outdoors – meaning I'm a literal outdoor travel pro. From hiking burly trails to scenic photography ops, I've done it all.
My specialty lies in beating the crowds and making your adventure dreams a reality.
When it comes to visiting Artist's Drive in Death Valley, you'll get exclusive insider tips you just can't find anywhere else on the web. I know, I've checked. 😉
So sit back and tune in. Visit Artist's Drive and Artist's Pallet like a pro. Here's how.
About this Guide to Artist's Drive and Artist's Palette
Alright, so Artist's Drive is a must-see on any Death Valley itinerary. Before we dive into all the juicy details about Artist's Drive in Death Valley, you'll want to get a little organized. Here's what you'll find in the article:
A map of Artist's Drive
Practical information
Reaching Artist's Palette
Nearby Death Valley attractions
Quick tips for visiting
Additional Death Valley National Park resources
Where is Artist's Drive?
Artist's Drive is a one-way, paved driving loop inside of Death Valley National Park.
If you haven't looked at a map, Death Valley National Park is HUGE. Like mega-status. It's almost overwhelming.
Considering there are very few services around the park (it's pretty much in the middle of nowhere) you'll want to be prepared before you set out.
You'll find the start to Artist's Drive in the southeast corner of the park, just south of Furnace Creek.
From Furnace Creek, head south until you hit Badwater Road. From here, continue 8.6 miles along Badwater Road until you reach the start of Artist's drive on the east side of the road (you'll pass the exit first).
You'll find this scenic drive in Death Valley about 20-ish minutes from the Furnace Creek Visitor's Center.
Pro Tip: Be sure to download a map of the park to your Google Maps. Simply tap the bubble icon (might have your photo on it) in the upper right of the screen and select "offline maps." Then download a map that includes Death Valley National Park. Voila! Now you've got a map to navigate with that doesn't require cell service.
Practical Information for Visiting Artist's Drive in Death Valley
This colorfully scenic drive features rocky hillsides splashed in purples, yellows, greens, and more. The unique color of Artist's Drive in Death Valley comes from oxidation (adding oxygen) to the different metals found in the dirt.
Copper and mica produce green hues, manganese the purples, and irons the fiery reds.
These unique colors are remnants from ancient volcanoes erupting (like Ubehebe Crater). Many of these debris fields are 5,000 feet thick and thousands of years old – WOWZA.
Talk about geological time being now. (Yeah, I'm a nerd for rocks *shrugs*)
Plan ahead before you set out along Artist's Drive. Here are a few handy pieces of practical information about the route.
GPS Coordinates: 36.32995, -116.82995 (36° 19′ 47.8″N 116° 49′ 47.8″W)
Driving Distance: 9 miles, one-way loop
Approximate Time: 1 to 2 hours depending on how long you choose to hike and stop.
Fee: $30 for 7 days and 1 vehicle to enter the park. Free with an America the Beautiful Park's Pass. Pay at fee kiosks throughout the park (Furnace Creek, Zabriskie Point, Badwater Basin, and the Death Valley Pay Station along Highway 190 are the closets fee stations)
Dog-Friendly?: Yes. However, dogs are NOT allowed outside of vehicles. Never leave your dog in the car, unattended if the temperature is above 65 degrees. Overall, Death Valley is NOT dog friendly.
Accessibility: Accessible with vault toilets at Artist's Palette.
Red Tape: Vehicles over 25 feet and trailers are not allowed on Artist's Drive
Highlights: Windy scenic driving, Artist's Palette viewpoint, several pull-offs for scenic views along the way.
When is the Best Time to Visit Artist's Drive?
A lot of people complain that Artist's Drive really isn't as colorful as it looks in photographs.
Here's the secret: They aren't visiting this scenic area at the right time.
The colors are their brightest and most vibrant in the middle of the day, with a high sun. Cloudy days, sunrise, and sunset have dull colors, making it a less ideal time to visit.
The best time to visit Death Valley really depends on what you'd like to do. We didn't see too many crowds at Artist's Drive or Artist's Palette while visiting on a Sunday during a sunny October day.
However, visiting during the high-season spring months might not grant you much solitude. But, you'll get a chance to see the wonderful desert wildflowers.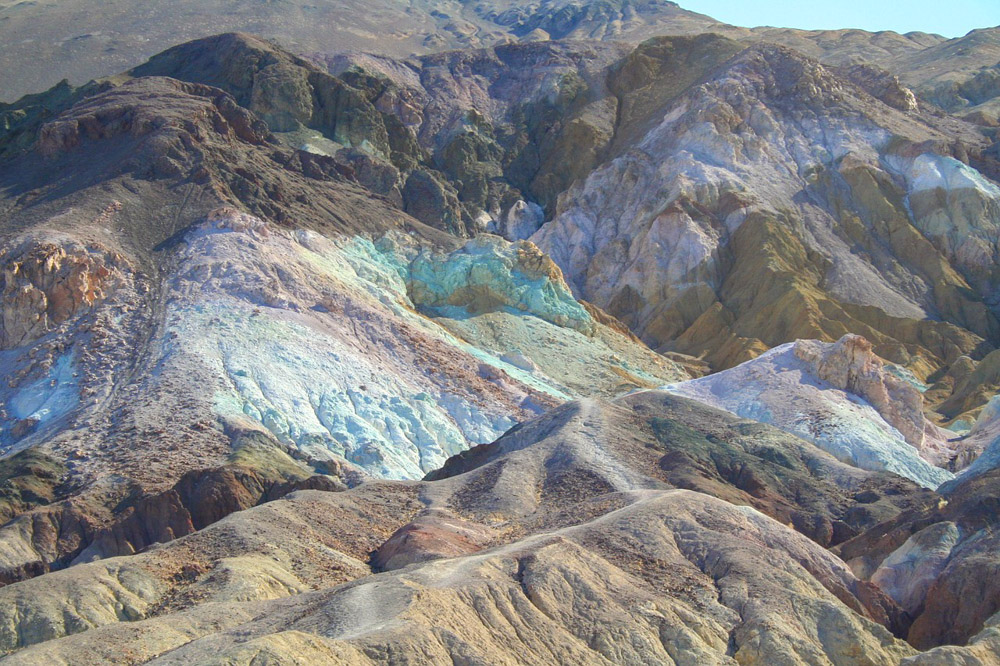 Reaching Artist's Palette and Driving
As you begin your drive you're immediately face-to-face with stunning views of the hillside and Death Valley.
The winding stretch of black tarmac road winds its way like a ribbon through the landscape.
The first half of the drive features expansive views of painted hillsides to your right and the larger Death Valley sprawling to the left.
You'll slowly climb upwards, giving you beautiful views in every direction.
There are several dirt pullouts for photos, including one rather obvious pullout between mile 3 and 4.5 that you can wander around to soak in the views.
Pro Tip: Even a few minutes outside the car can be scorching – bring sun protection!
Reaching Artist's Palette in Death Valley
After about 4 miles you'll slowly start to inch closer to the colorful hillsides. At mile 5 there is an obvious paved parking area with the signature view of Artist's Palette.
From here you can get out and wander around the winding canyons to your heart's content.
Get up close and personal to the beautiful colors or enjoy the views from the paved walkway right near the parking area.
There isn't an official trail but stick to the previously-established walking "paths" within the canyon. Don't try to climb the hills, they are fragile and will crumble, ruining the scene for everyone else.
Plan to spend 30 minutes to an hour here – depending on how much walking you'd like to do.
Finishing the Drive
From here, the landscape changes and the road gets very windy and very tight.
You'll dive right into a wash system that puts the stunning colors of Artist's Drive right in your face. In fact, it's quite narrow in spots, so slow down and take your time.
Adventurous drivers will enjoy the dips, twists, and turns of this section of the road. It's mesmerizing, but with so many blind corners, very difficult to stop for photos safely.
Use a pullout if you find one, otherwise, hang your head out the window and get the full experience!
After 4 more miles, you'll spill out back onto Badwater Road. Don't forget to look back at the end to see where you came from!
Pro tip: Larger vehicles (RVs) and trailers will not be able to make the tight turns. Definitely head the 25-foot, no trailer warnings on this one!
Nearby Attractions
With so many unique attractions nearby, there's plenty to explore in Death Valley National Park.
A few must-see nearby attractions include:
Zabriksie Point
Golden Canyon
Desolation Canyon
Furnace Creek
Badwater Basin
Devil's Golf Course
Quick Tips for Visiting Death Valley National Park
When it comes to visiting Death Valley National Park, you'll want to be prepared. Here are a few quick tips to make the most of your visit.
Fuel up and bring in all of your food and water. There are very limited services in the park, so you'll want to be prepared.
Make any lodging reservations (including camping) in advance during the busy fall and spring months.
Download maps that can be used for offline navigation when there is no cell service.
Always practice Leave No Trace. Trash here doesn't decompose and no one is picking up after you. Bring a small baggy to put your trash in and dispose of it properly. This includes fruit peels, wrappers, and toilet paper.
Don't forget the sunscreen! Protect yourself from the harsh sun (even in winter). Consider wearing lightweight long-sleeves, sunglasses, a hat, and sunscreen.
More Death Valley Resources
Visit Death Valley like a pro, not a tourist with these expert resources.
Visiting Zabriskie Point (coming soon)
Sunrise at Dante's View (coming soon)
PIN THIS POST