When you think of the hottest place ever, the last thing you think about is hikes in Death Valley. But that's a mistake! There are plenty of amazing hiking trails in Death Valley that are worth the effort.
In fact, many of the best hikes in Death Valley fall into the easy category and are highly accessible.
This park is MASSIVE and Death Valley truly surprised me. We visited while taking a day off of climbing in Red Rock Canyon.
It made for a more-than-worthwhile day trip from Las Vegas.
As many of you know, I am a full-time writer for the outdoors and this blog is ALL about hiking and kick-ass outdoor adventures.
But I've got a confession to make.
When I visited Death Valley, I had 13 quarter-sized festering blisters on my feet. Thanks to my feet literally melting off in my climbing shoes a few days earlier.
Needless to say, I had to take my aggressive hiking itinerary down a notch. We didn't get to do all of the Death Valley hikes we had on our itinerary.
So in order to bring you the BEST recommendations on the interwebs, I turned to a few expert adventure bloggers to fill in the details for the best hikes in Death Valley.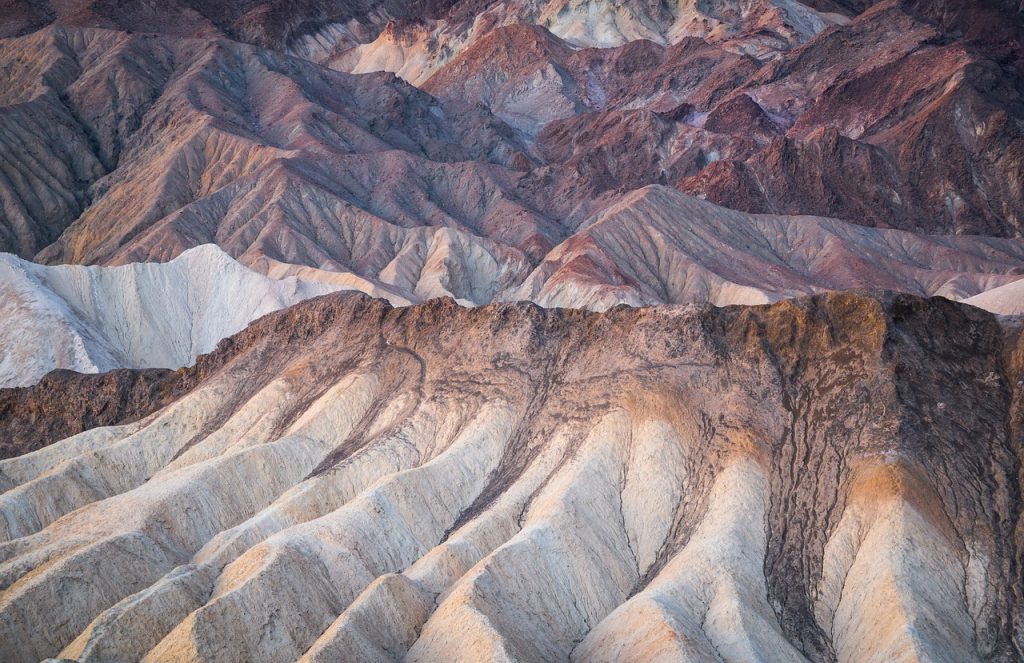 About this Guide to Hikes in Death Valley
As an expert hiker and life-long adventurer, you'll always get expert advice on hiking in Death Valley. Inside this guide you'll find:
A comprehensive list of the best hikes in Death Valley
Info about difficulty, mileage, time, elevation gain, and details for each hike
nearby attractions in Death Valley
All hikes in Death Valley worth visiting sorted from easiest to hardest.
Info on when to visit Death Valley
Quick tips for hiking in Death Valley
The Best Hikes in Death Valley
Alright, let's dive into the creme-de-la-creme of Death Valley hikes. Add these trails to your hiking list to get the most of your visit to this stellar national park.
Easy Hikes in Death Valley
Most of the hikes in Death Valley fall into the "easy" category. Thanks to the oppressive heat and intense conditions, it doesn't take long to get worn out. Check out these simple trails for a quick adventure with big rewards.
1. Head to the Lowest Point in the USA at Badwater Basin
By Allison G. of California Crossroads
One of the best easy hikes, if you're staying in Death Valley, is the Badwater Basin Salt Flats Trail.
It's short, at only 1.8 miles, but you'll get to walk in the lowest point of all of North America (282 feet below sea level) while admiring the massive rock formations and cliffs above you, which emphasize just how low you are!
This has to be one of the most amazing hikes in Death Valley thanks to the unique opportunity to get up close to the wild salt flats of the park.
It can be a bit crowded, and it's totally exposed to the sunlight with zero shade or tree cover, so it's definitely a hike that benefits from being started around sunrise or sunset.
The sunrise and sunset hours have the added benefit of making the brilliant white of the salt flats reflect some of the beautiful colors of the sky.
Start at sunrise during the summer, when temperatures are the hottest.
In the winter it makes a great sunset hike as the temperatures won't be too high and the colors are just a tad bit better than sunrise colors.
The white salt flats reflect the sunlight, so it can be even hotter during the day — which is why it's best avoided during the day!
INsider tip: most of the path is wheelchair and stroller accessible, making it a great hike for the whole family.
Mileage: 1.8 miles
Elevation Gain: 10 feet
Difficulty: Easy
Estimated time: 1 hour
Nearby attractions: Salt Flats, Dante's View
Highlights: Lowest place in the US, the salt is an intriguing landscape
2. Admire the Colors of Artist's Drive
Named after the fantastic spread of colorful dirt-ladened hills, Artist's Drive is one of the best things to do in Death Valley.
Although the route starts as a one-way scenic drive, there are ample hiking opportunities at the midway point – Artist's Pallet.
Here you'll find a toilet and a chance to walk right up into this inspiring landscape.
The official trail is 0.4 miles long to the overlook, which makes for a simple walk. However, avid hikers can explore virtually any valley embedded into the hills.
Pro Tip: The colors are best here during the middle of a sunny day. So plan accordingly, as the sun will get unbearably hot!
Mileage: 0.4 miles
Elevation Gain: 118 feet
Difficulty: Easy
Estimated time: half hour
Nearby attractions: Salt Flats, Devil's Garden, Golden Canyon/Natural Bridge, Badwater Basin
Highlights: mineral stained hillsides look like a painting, scenic driving, unique canyon formations
3. Sunset at Zabriskie Point
See the unbelievable eroded hills of the park basking in the glow of the setting sun.
The easy, paved uphill jaunt offers easy access to a breathtaking viewpoint of Death Valley. Suitable for children and those who may need more assistance, this is the perfect easy hike in Death Valley.
As one of the most accessible hikes in Death Valley, don't expect to get this place to yourself.
There are opportunities to hike out a ways and enjoy more solitude to enjoy the sunset from this unique perch.
Mileage: 0.4 miles
Elevation Gain: 52 feet
Difficulty: Easy
Estimated time: 15 minutes to a half-hour
Nearby attractions: Dante's View, Twenty Mule Team Canyon, Furnace Creek
Highlights: colorful eroded hillsides, excellent photography options, astrophotography, sunset hotspot, accessible.
4. The Best Sand Dune Hike in Death Valley at Mesquite Flats
By Ketki of Dotted Globe
Death Valley National Park is one of the best places to visit in the USA for its diverse landscapes and unique geological formations.
Nowhere is this beauty more apparent than on the Mesquite Flats Sand Dunes Trail.
This 2.8 miles long trail leads you straight into the heart of the dunes field. As one of the favorite hikes in Death Valley, it is very popular with visitors.
The trail is easy and good for all skill levels. The trail is a hit with families as kids can sandboard over the dunes and slide down to the bottom.
In the spring, you can even spot beautiful wildflowers blooming over the dunes. The vast dunes look especially beautiful at sunset, making this spot popular with photographers.
The tallest dune here is at least 125 feet tall. Walking over the dunes is challenging but fun. The best time to hike this trail is in the morning or at sunset since the sand gets very hot during the day.
Mileage: 2.8 miles
Elevation Gain: 206 ft
Difficulty: Easy
Estimated Time: 1.5 hours
Nearby Attractions: Stovepipe Wells, Fall Canyon
Highlights: Dune walking, sandboarding/sledding, kid-friendly
5. Make a Splash at Darwin Falls
Located a bit outside of the main park area, Darwin Falls gives you a break from the heat.
As one of the best hikes in Death Valley, it's worth the side trip, especially if you're based in Panamint Springs.
Be prepared for a little bit of rock hopping and scrambling (you may need to use your hands). However, it's worth it if you're looking for a little oasis in the desert.
The falls aren't the most impressive, but compared to the dry, desolate feel to the rest of the park, it's certainly inspiring.
Insider Tip: Many people recommend a high clearance SUV, but the road can usually be passible with a regular SUV.
Mileage: 1.9 miles
Elevation Gain: 226 ft
Difficulty: Easy
Estimated Time: 1 hour
Nearby Attractions: Panamint Springs, Panamint Dunes
Highlights: A desert waterfall, solitude.
6. Explore History at Harmony Borax Works Trail
By Kay of Enchanting Texas
Located near the Furnace Creek Visitor Center of Death Valley National Park, Harmony Borax Works Trail is one of the best hikes in Death Valley.
It also happens to be one of the most interesting trails and leads visitors to a now-abandoned borax extraction plant in the park.
The plant was built here after the discovery of borax in the valley and the mineral was extracted here till 1889.
The borax plant is now on the National Register of Historic Places and visitors can learn all about it on the trail. Visitors can also see the 20 mule team wagons used to transport the borax.
While hiking the Harmony Borax Works Trail, visitors can see informative plaques and see historic mining equipment used to extract the mineral.
The trail is short and steep but has a lot of information about the history of the area and is a must-visit attraction.
Mileage: 0.4 miles
Elevation Gain: 22 feet
Difficulty: Easy
Estimated Time: 20 mins
Nearby Attractions: Mustard Canyon Drive, Furnace Creek Visitor Center
Highlights: Mining history, ruins
7. Enjoy the Natural Bridge
By Noel M. of Travel Discovery
One of the most fabulous hikes in Death Valley is the Natural Bridge. This simple, flat hike takes you directly under a natural bridge.
As a worthy addition to any Eastern Sierra road trip, put Natural Bridge on your itinerary.
To access the Natural Bridge, head to the south entrance area and drive down a gravel/sand road for about a mile to the parking area.
The hike travels over gravel and sand through a cnayon with beautiful cliff areas. You'll end up at a narrow gulch with colorful sandstone formations.
You'll be at the bridge before you know it. Don't forget to take a camera to capture the different views of the bridge.
Walk through it and look up for a better sense of scale at this wonderful rock formation.
Mileage: 1.4 miles
Elevation Gain: 300 feet
Difficulty: Easy
Estimated Time: 45 mins
Nearby Attractions: Artist's Point, Badwater Basin, Devil's Golf Course
Highlights: unique natural bridge made of rock, canyon. rock formations.
The Best Hikes in Death Valley for Moderate Hikers
Looking to bump up the difficulty? Check out these moderate hikes in Death Valley.
8. Wander the Ridge at Dante's View
Dante's View is a must-visit on any Death Valley Itinerary. The viewpoint itself is highly accessible, with plenty of opportunities for short jaunts to get away from the crowds.
If you're looking for something more, check out the Ridge Trail. This 8-mile hike features all of the awesome views you can find at Dante's Point, but without the carfuls of people.
Make your way north along the ridge and follow the primitive trails. You'll get unique photo ops that you don't find at the main viewpoint.
Keep in mind, there are no guardrails so take care. Also, pack a jacket, it's much colder up here than down in the basin
Mileage: 8 miles
Elevation Gain: 1,212 feet
Difficulty: moderate
Estimated Time: 4 hours
Nearby Attractions: Dante's View, Twenty Mule Team Canyon, Zabriskie Point
Highlights: bird's eye view of the Death Valley Basin, great sunrise opportunities, Steller landscape photography.
9. Climb and Play in Mosaic Canyon
by Dhara from Roadtripping California
The Mosaic Canyon hike is one of the best hikes in Death Valley. The trailhead is accessed from Mosaic Canyon Road, which is close to Stovepipe Wells Village.
Mosaic Canyon features beautiful marble walls and natural mosaic formed by waters flooding through the canyon over millennia.
The hike takes you from the mouth of the canyon by the parking lot through several exciting sets of narrows, some of which require climbing or scrambling to get past, and ends at an amphitheater with a dry fall.
The marble walls and mosaic come up relatively at the start of the trail, so you can view and photograph them even if you are time-constrained or feel the entire trail is too challenging for you.
Insider Tip: This hike is best done early or late in the day when the canyon is relatively shaded. In the middle of the day, the sun is directly overhead and the light is harsh. Whatever time of day you hike, drink adequate water.
Mileage: 3.8 miles
Elevation Gain: 934 feet
Difficulty: moderate
Estimated Time: 2 hours
Nearby Attractions: Stovepipe Wells, Mesquite Flat Sand Dunes
Highlights: Scrambling, unique rock colors and formations, shade
10. One of the Best Hikes in Death Valley for Solitude: Desolation Canyon
Unlike most of the hikes in Death Valley, there is no official trail in Desolation Canyon.
Start by parking at the Desolation Canyon Road parking area (off of Badwater Road).
However, it's easy to follow the "trail" as it just goes through a sandy canyon bottom. You'll have to navigate a few rocky areas that require some scrambling so be prepared to use your hands.
As you wander further up the canyon, you'll be treated to the interesting colorations of nearby Artist's Pallete. Further out, you'll find awesome views of the salt flats and the inspiring Panamint Range.
Mileage: 3.9 miles
Elevation Gain: 775 feet
Difficulty: moderate
Estimated Time: 2 hours
Nearby Attractions: Badwater Basin, Devil's Golf Course, Artist's Drive
Highlights: Scrambling, colorful views of oxidizing rock, panoramic views of the rest of the park.
11. Tip Toe Along Ubehebe Crater
The ancient volcanic Ubehebe Crater is popular for good reason – it's impressive!
Of course, you can see the crater from the parking area. However, to really get a sense of scale, it makes sense to hike out to the "Little Ubehebe" and get a wider view of the great crater.
This hike is far better than the trail leading down into the crater since you'll get a panoramic view of the massive, ancient volcano.
After 0.5 miles you'll reach Little Ubehebe, but if you keep going you can get even better views.
Mileage: 1.5 miles
Elevation Gain: 500 feet
Difficulty: easy to moderate
Estimated Time: 1.5 hours
Nearby Attractions: Racetrack Playa, Mesquite Flat Sand Dunes
Highlights: awesome crater views, great sunset opportunities
12. Transport to Another Planet in Golden Canyon
Known for its shimmery golden hues, this famous hike in Death Valley brings the wild and weird landscape directly under your hiking boots.
Overall, the hike winds its way through Golden Canyon and Gower Gulch. There are plenty of educational signs and an obvious canyon path to guide your way.
As one of the best hikes in Death Valley National Park, it delivers at the end with a beautiful view of the famous Red Cathedral.
From here, you can choose your own adventure with a few cool side canyons to explore or head back the way you came.
Mileage: 4 miles
Elevation Gain: 675 feet
Difficulty: moderate
Estimated Time: 2 hours
Nearby Attractions: Mosaic Canyon, Artist's Drive, Devil's Golf Course, Badwater Basin
Highlights: Scrambling, unique rock colors, and formations, shade
Challenging Hiking Trails in Death Valley
These are some of the toughest Death Valley hiking trails. Be prepared and understand how to hike in the desert. Always tell someone where you're going and only attempt these hikes in ideal conditions.
13. Tackle Telescope Peak, The Highest Point in Death Valley
By Allison of She Dreams of Alpine
For one of the most strenuous but awesome hikes in Death Valley, take the trail up Telescope Peak, the tallest peak in the park.
From the summit, you can see both the lowest and highest points in the contiguous United States – Badwater Basin and Mount Whitney. Bonus points for also being one of the toughest hikes in California.
Hiking Telescope Peak will take you through the diverse landscape of Death Valley, including forests of pinyon pine and mountain mahogany, as well as groves of ancient bristlecone pine trees.
Most of the hike is out in the open though, providing plenty of spectacular views along the way.
The trail starts at the Mahogany Flats campground at an elevation of 8,133 feet and eventually winds through several switchbacks up to the summit at 11,049 feet. It's a difficult hike, but very doable in a day.
Insider tip: The weather can change fairly drastically throughout the hike from the trailhead to the summit, so be prepared and bring plenty of layers.
Mileage: ~13 miles
Elevation Gain: ~3,300 feet
Difficulty: Difficult
Estimated Time: 7-9 hours
Nearby Attractions: The Charcoal Kilns in Wildrose Canyon are about 1.5 miles away. It's a cool experience to explore the unique beehive-shaped kilns which were built in 1877.
Highlights: the tallest point in the park, views of Badwater Basin and Mt Whitney.
14. Scale the Panamint Dunes
There are four distinct sand dunes in Death Valley. Most people opt to skip Panamint Dunes, mostly because it's quite far from many of the park's other attractions.
However, if you like cross-country hiking over deep sand, then you'll be right at home at Panamint Dunes.
Choose your own adventure and path across these silky sand dunes. You'll have a sandy desert at the start of the dunes.
From here it's time for a gradual uphill hike. If it weren't for the deep (obvious) sand, this would be an easy hike.
Insider Tip: Sunset brings along beautiful shadows that dot the dunes.
Mileage: 7 miles
Elevation Gain: 859 feet
Difficulty: moderate to challenging
Estimated Time: 3.5 hours
Nearby Attractions: Darwin Falls, Panamint Springs
Highlights: untouched sand dunes and basin views.
15. Go on a Rugged Adventure at Bighorn Gorge
By Alissa of Exploring Wild
Bighorn Gorge is an exciting and challenging off-trail hike in northern Death Valley.
The 20 mile out-and-back includes cross-country route finding, remote canyon exploration, and easy rock scrambling as you make your way up the gorge.
Though doable as a long day hike, most people backpack in and set up camp near the canyon entrance.
To hike Bighorn Gorge, park on Scotty's Castle Road 13 miles north of Titus Canyon Road and set off across the open desert. At 4.5 miles you'll reach the opening, which gradually narrows into a canyon with several small dry waterfalls to climb along the way.
Scrambling up the dry falls is fun, but don't climb up anything you don't feel comfortable climbing down.
Turn around whenever you want, or once you've bypassed the final dry waterfall on the right side for views of the mountains beyond.
Insider tips: Crowds won't be a problem on this adventurous hike; prepare for remoteness instead.
Insider Tip: There is NO water anywhere on the route, so carry in everything you plan to drink.
A GPS navigation app is recommended, especially for the cross-country portion.
mileage: 20 miles
Elevation gain: 4,000 feet
Difficulty: challenging
Estimated time: 10-13 hours, or turn back sooner for a shorter day hike. Can also be done as an overnight backpacking trip.
Nearby attractions: Stovepipe Wells Campground, Scotty's Castle
Highlights: Scrambly dryfall, challenging navigation, backpacking opportunities
When to Visit Death Valley
Death Valley is open year-round. However, the best time to visit Death Valley for hiking is between late October through March. Making Death Valley one of the best national parks for winter.
The temperatures are much cooler – making hiking a tolerable experience. If you find yourself here during a sweltering day, get an early start or hike in the evening (don't forget your headlamp)!
Quick Tips for Visiting Death Valley
Don't get caught off guard. Use these expert tips to help plan your Death Valley hiking adventure.
Start early or late to beat the heat of the day. The desert here can KILL. Pack plenty of water, sun protection, and salty snacks. Bring extra water for post-hike rehydration. Also come prepared with some of the best hiking gear for women.
Death Valley is HUGE! Plan hikes in clusters or plan on spending a few days here to hit all the trails.
Pack in your supplies. There are no freshwater sources and gasoline is hard to come by (and expensive). Plan your trip with stops in either Pahrump, Panamint Springs (expensive), or Furnace Creek (expensive)
Now you're ready to hike all of the best trails in Death Valley. This expert guide gives you the info you need to tackle Death Valley's trails like a pro, not a tourist.
PIN THIS POST