Pristine snowy landscapes give way to dramatic mountain cirques. The light twinkles through pines dusted in white. It's pure winter bliss. But your hair is frozen, you're pretty sure you lost a toe, you're tired, and frustrated at your lack of progress. Yup, that sounds like winter. Maybe it scares you, maybe it excites you. Either way, here are a few badass tips for hiking in the snow that can keep you enjoying those picture-perfect snowy landscapes longer and more comfortably this season.
Start Small for Your First Winter Hike
Winter hiking is much different than summer conditions. The ground is often your biggest enemy. Snow drifts pile up and cause you to suddenly posthole up to your thighs. Grinding uphill on snowshoes feels like wearing fully-loaded sandbags on your feet, and trails become a smattering of footprints scattered across the landscape. Oh, and did I mention the ground can move without warning under your feet and cause you to be buried alive?
These factors mean that traveling in winter can be time-consuming and frustrating. Don't expect to get out there and smash miles like a boss and be back to the car in a jiffy. Plan accordingly. Choose a route that's half the distance you usually tackle. Learn just how long it takes you and your group to move in winter.
Plan Your Route and Check Conditions
Understanding how to plan, check and execute in winter takes a bit of practice. Start with overlaying your planned trail on a website like Hillmap or CalTopo. Hillmap is a free website that allows you to overlay slope gradients to a topo map. Translation, the map will tell you if you are traveling in or around avalanche terrain. The yellow to blue gradients should be taken seriously, and you should steer clear of trails that go near those areas if you aren't trained to analyze avalanche hazards.
Want to learn about avalanche hazards? Consider taking a free avalanche awareness clinic to get started. For more on avalanche education, see my post about what to expect at an avalanche safety course.
Make sure you understand if any crummy weather is headed your way. There's nothing worse than arriving at the trailhead and finding out that the winds are blowing at 30 mph and the temps are well below freezing.
Know How to Read a Map
You know how they say that women don't have a sense of direction? Although I partly agree, it's certainly something we can learn. A quick confession. About a year ago, I had no clue how to navigate. My partner, Squirrel would stop on the trail and ask me to point north, I was lucky if I even pointed east! Understanding how to observe your surroundings and orient yourself both using a good old paper map/compass and GPS will take you further.
Trails in winter often aren't trails at all. There comes a point where you will be surrounded by haphazard footprints in the snow. How do you know where to go? Which way did you come from? Which way is right? Arm yourself with some compass knowledge. Nothing is more satisfying than correcting a dude on the correct route while out on the trail!
Have the Right Winter Hiking Gear
Back when I worked construction I was constantly told: "have the right tool for the job." Same goes for winter hiking. Make sure you have the following winter hiking gear before you head out:
Puffy insulated jacket. My Patagonia Nano-Air Hoody is my go-to.
Wind layer. I prefer Gore-Tex, but make sure it's a suitable jacket for snowy conditions.
Waterproof boots with some insulation. I love my Lowa Lady Light GTX's. It doesn't need to be a mountaineering boot, but it should certainly be a boot built to keep your toes warm.

Trail traction:

For all intents and purposes, invest in a pair of microspikes for snowy trails. These are NOT crampons and should not be used in terrain where crampons are required such as glaciers, couloirs, or snow climbs.

Snowshoes

: Snowshoes are sized by your weight, so don't forget to consider your pack and clothing. Ya sure, it sucks to move the scale upwards, but think about all the strength you gain with that heavy pack!

Proper base layers and clothing for winter hiking. This includes a hat, gloves, warm socks, and extra layers. Remember: Avoid cotton at all costs!
Hiking poles. They help over slippery terrain and definitely carry the load when snowshoeing.

A solid hiking backpack. This doesn't have to be a mountaineering pack or anything crazy, but you want enough to store those extra layers, food, and water.

30 liters will serve you well.
I spent the better part of four years testing women's outdoor clothing. Here are the best layers for women on any budget.
Learn to Potty in the Snow: Squat Like a Champion
Let's face it: dudes just have an easier time using the bathroom on the trail. It's totally unfair, and I love to tell people about it. For women, our needs are simply different. Mastering the art of squatting in the snow, while wearing snowshoes takes a bit of practice. Plus, there is nothing worse than using an icy bit of snow to clean yourself.
I am a fan of the pee-rag. Basically, you use an old bandana to clean up after you pee. It's simple, easy, and store it on the outside of your pack to air dry and sterilize in the sun. For those pesky number twos, you should still bury it, even if it's in the snow. Bring a plastic baggy to pack out any toilet paper waste. If you're put off by the look, cover your baggy with duct tape. Remember, it's your body, be proud, not grossed out by it.
Keep the Blood Flowing and Stay Warm
I run cold. Women, in general, run cold, but I can promise you I run colder. My biggest trick to staying warm? Not thinking about it. Yup, it's that simple. I put thoughts of cold out of my head and focus on something positive instead. Forcing your mind to switch subjects won't get you stuck in a freezy-pop loop of icicles and blue lips.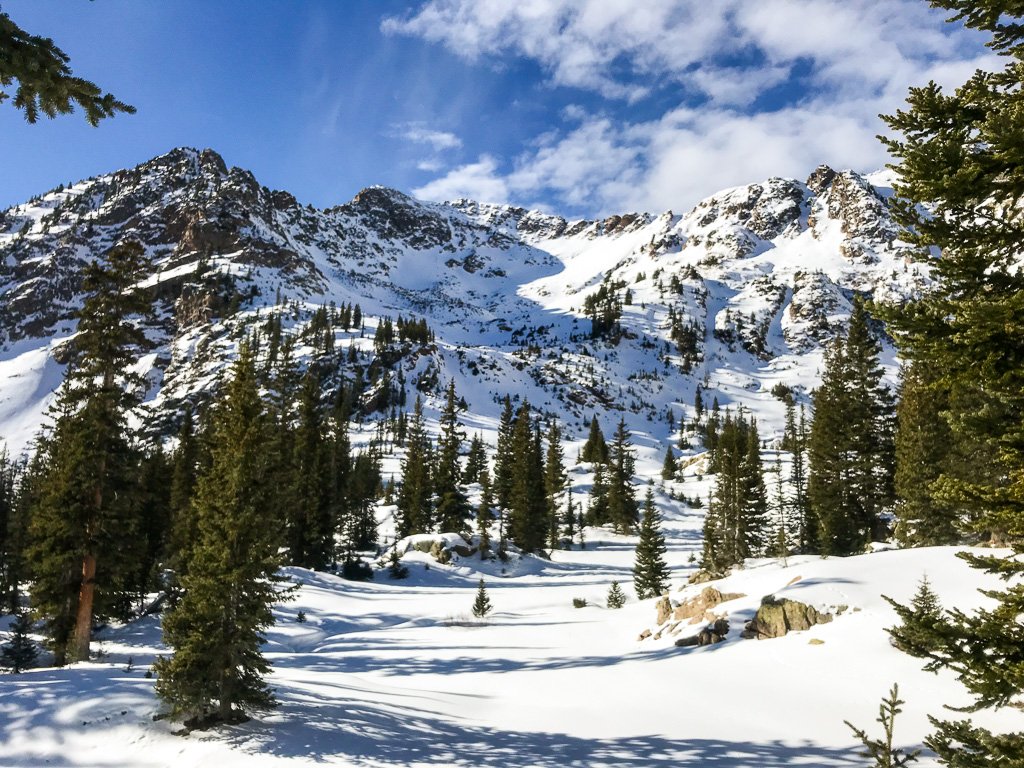 Don't Let Your Water Freeze
In the summer, we take our handy water bladders for granted. They are so convenient and nice. In winter, they turn into hellish demons that freeze, crack, and break. I stopped traveling with one in winter and I simply use a Nalgene. The problem is that I usually have it stowed away in my pack. The result is not drinking enough because no one wants to take off their pack every time you need a drink. Consider getting an insulated sleeve, or using a pack that has an easy access water bottle storage.
Although it can be cold and difficult, the magic of winter outweighs the struggle. Now that you're armed with insider knowledge on winter travel, get out there and slay the trails this winter.
Want more out of winter? Check out these posts:
Winter hiking gear (coming soon)