Everest Base Camp sits at roughly 17,600 feet and getting there is no small feat. Training for trekking, or long-distance hiking, regardless of the elevation feels like a daunting task, especially if it's a new endeavor for you. Luckily, I specialize in grueling hikes and mountaineering so here are a few of my favorite tips to training for Everest Base Camp.
How Long Before My Trip Should I Start Training for Everest Base Camp?
That depends. If you regularly hike and have a steady workout routine, you likely won't have to ramp up your exercise amount all that much. But if you are just starting your hiking journey, you may want to build up your stamina over the course of three months.
Regardless of what shape you are in, you'll want to keep a steady Everest Base Camp training routine for at least 6 weeks. Don't forget to take a mellow week leading up to your trip. This will help your body rest up for the big event!
Planning a trip to Nepal? Here are a few helpful resources to get you started:
Things to Do in Kathmandu (coming soon)
The Best Cardio Training for Everest Base Camp
Well, duh! Cardio strength is what's going to get you up a steep mountain. So let's start with the best cardio training for Everest Base Camp trekking. Before you go slamming miles on the treadmill, remember, you aren't trying to RUN to basecamp. Let's focus on building up cardio endurance
There are two types of cardio aerobic and anaerobic. Anaerobic cardio refers to cardio without oxygen (think sprinting). Aerobic cardio focuses more on endurance or low-grade cardio with oxygen. Despite the light air, you want to focus on building endurance, not speed.
The best cardio training for Everest Base Camp is to simply get on a treadmill, bike, or (gasp) go outside and move at a brisk pace. A good rule of thumb is to keep the intensity high enough that you feel the workout, but you can still carry a conversation. If you're breathing too heavy to talk, slow down until you reach a moderate pace.
You want to build endurance over long distances so focus on time and distance over intensity. It's better to walk five miles than sprint one. Over time, you'll build up that aerobic endurance to sustain you over multiple days of hiking. Start training around three months before your big trip, focusing on aerobic cardio two to three times a week.
How to Train High When You Live Low
17,600 feet feels insurmountably high, especially if you live at sea level. How do you prepare your body for life at altitude when you're surrounded by sweet, sweet oxygen? Well, it turns out there are several tips for training for a trek at high altitude. Here are a few quick ways to prep for that pesky thin air:
Use stadium stairs. If you live in a flat environment, stadium stairs are an essential resource to practice going up and down hills. Run or jog sets of stairs. You can even take your pack with you.
Get down with a VIIT workout. Variable Intensity Interval Workouts, or VIITs, help you build that aerobic strength while also training your body to operate at a fast-paced level. This fast-pace mimics the over-drive your body goes into at altitude
Hike your state high point. Get some real-world training by hiking up your state's high point.
Altitude sickness worries most people, even those of us who live in the alpine. Remember, that it can strike even the best of us, so the best way to prepare for life at altitude is to get in the habit of staying hydrated. Ascend to higher elevations slowly (only gain 1,500 feet per day for the best results) and build a few rest days.
Work Your Mind as Much as Your Muscles
Climbing mountains and undergoing big hikes is 80 percent mental. Your body will carry you much further than you think, but your mind may stop it from doing so. When you start training for Everest Base Camp learn how to set small goals, such as a rock just a few feet ahead. Reach that rock, thank yourself and find a new one. Play tricks on your mind during tough parts of the climb by simply counting to yourself. If you try to tackle everything in one go, you'll get overwhelmed. Take time to enjoy the journey, not the destination.
Trekking involves a lot of factors that are beyond your control. You can get sick from eating different foods, your body might decide that the altitude is too much, bad weather might move in. These are all factors that no one (not even Trump's Twitter account) can influence. Prepare your mind to NOT make it. Understand that it's okay to turn around if conditions don't permit you to move forward. Some of my best travel experiences are when everything goes to hell, so remember to allow the journey to unfold the way it was intended.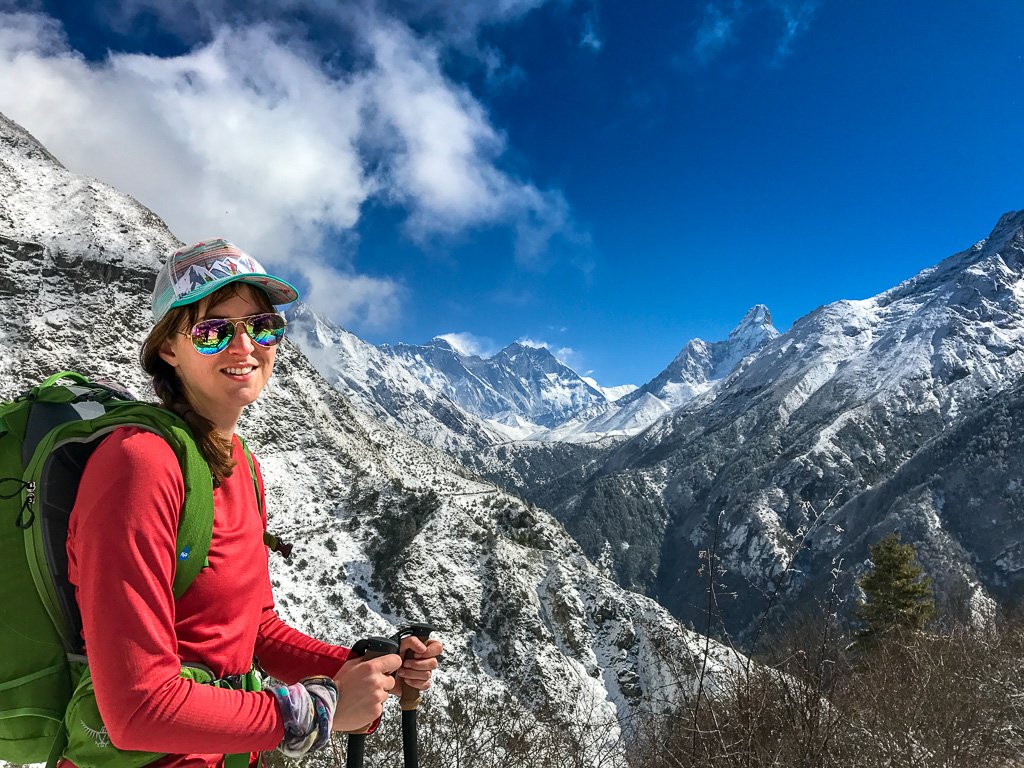 Don't Forget About the Downhill
One of the most important things you can do to train for a trek at high altitude is to remember one simple rule: What goes up, must come down.
I'll let you in on a fun little story that still plagues me today. I used to train for strength, in particular, uphill strength. Eventually, I got to the point where I could smash up 2,000 vertical feet in a mere half-hour. However, my knees paid for it dearly. As a result of overtraining, I have a permanent stress injury in my knees. Don't be like me, train for the downhill too!
Exercises such as squats, lunges, side steps with resistance bands and walking down hills or stairs strengthen your hips and glutes. These muscle groups keep you moving on the downhill grind. Both your hips and butt help with knee stability, since these muscle groups, control your IT Band, a tendon that wraps all the way down from the meaty-est part of your butt to your knees. Strengthen your hips and glutes and save your knees. You can thank me later.
Keep it Fun
Everest Base Camp training doesn't have to suck. Gyms get boring, trust me, so opt to switch things up. Go on a long walk or hike, take a new exercise class, learn to rock climb, do anything that will get you motivated to keep active. As long as your body and mind are used to exercising regularly, you have a more enjoyable trek. Remember, it isn't a race to the top. It doesn't matter if you hike slow, just stay active and you'll be ready for your trek.
Come up with creative ways to keep training exciting for you. Some people have the ability to head to the gym, file in line with all the other treadmills, shove their earbuds in and move. I'm not one of those people. I vary my workouts between the gym, getting outdoors and climbing (both inside and out). Find the magic formula that works best for you and stick with it.
Pack it on
No, I'm not talking about stuffing an entire bag of Oreos in your face (although, that sounds fun…), I'm talking about your daypack. It helps to train with a little bit of weight on your back.
Put a few weights in your day pack and hit the treadmill. Let your shoulders and back get used to the weight while on the move. If something doesn't feel right (your arms go numb or your back freaks out) consider getting properly fitted for a proper hiking pack.
No Time, No Problem
Life tends to get in the way when it comes to exercise, but that isn't an excuse not to train. You can do squats while watching TV or take your dog on an extra lap around the park with your pack on to train for Everest Base Camp. Squeeze in exercise time whenever you can to get the most out of training. Sometimes this means getting a little creative with how you work out.
Learn to Breathe
The final part of your training, young padawan, is learning to breathe. In the mountains where the air is thin, breathing often feels like sucking through a straw. For many, this new sensation can produce panic. While trekking through a particularly tough section of trail, time your breaths with your feet. This tried and true mountaineering trick helps even the burliest of alpinists get to the top. Take one step, breathe. Take another step, breathe. Remember, it's not a race by slowing down, your body can adjust to the thin air.
Now you're ready to train for Everest Base Camp like a pro. Work out three times a week three months before your trek to EBC and you'll be ready for life in the thin air.