Arguably one of the most stunning views of the Grand Canyon, Toroweap Overlook offers up a unique chance to stand right on the edge of a dizzying cliff and stare directly down on the Colorado River. The remote and rugged nature of accessing the Toroweap Overlook and Tuweep Campground certainly adds to the inspiring nature of this place.
I've been embarking on adventures in the Grand Canyon for the past 6 years. My mission is to explore the lesser-known corners of the canyon. Forget bustling, paved overlooks and the Rim to Rim hike – let's dive into the quieter sections of The Ditch.
One of my favorite pastimes is taking remote trips into the canyon and being utterly inspired by what I find. From the tiniest catci bloom to breathtaking vistas, there's a lifetime of exploring to do in the Grand Canyon. So if you're looking to experience the Grand Canyon like a seasoned pro and not a tourist, then you're in the right place.
About this Guide to the Toroweap Overlook
Inside this pro guide to the Toroweap Overlook and Tuweep Campground you'll find:
Info about how to get to Toroweap Overlook
Hot tips for scoring a permit to the exclusive Tuweep Campground
Practical information about visiting Toroweap
Camping at the Tuweep Campground
Photographing Toroweap
Things to do nearby
Additional Grand Canyon trip planning resources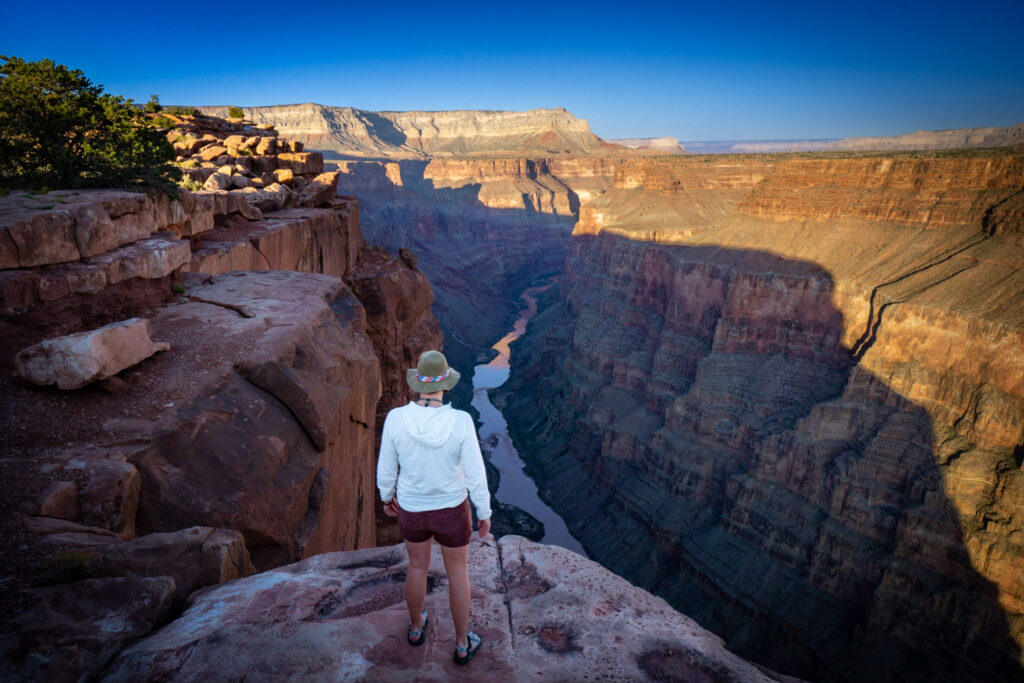 Where is the Toroweap Overlook?
You can find the Toroweap Overlook along the north rim of the Grand Canyon, pretty much in the middle of nowhere. This tiny outpost is run and managed by the National Parks system. There is a ranger station at the park entrance to check for permits and payment, but otherwise, there's not much around for miles and miles.
The nearest town is Fredonia, although many people opt to base themselves in Kanab for day trips. In order to get to Toroweap, you'll be traveling down 60 miles of washboard, dirt road. The last 3 to 5 miles (depending on recent rains) are down a more rugged 4×4 road.
Pro Tip: The map below shows how to get to Toroweap from the Sunshine Route (the easiest, most maintained route). You can get the full map here.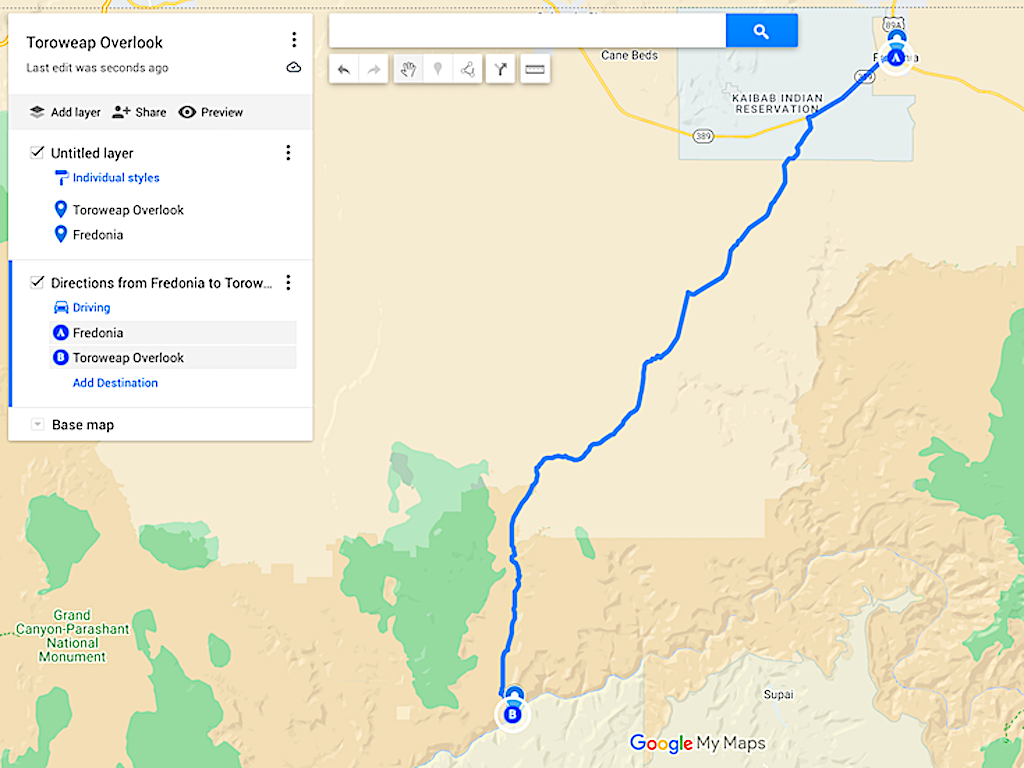 Do I Need a High Clearance Vehicle to Reach Toroweap?
In short, yes. The road past the ranger station is pretty rutted out and from there it only gets more rugged. The last 3 miles to the overlook are particularly brutal, with big sharp rock steps, deep ruts, and other obstacles.
Pro Tip: The road to the campground is similar in nature – you'll need high clearance to camp.
With that being said, you don't need a lifted rig to make it. I would recommend a stock 4Runner, Wrangler, or equivalent to make the journey. You'll need 4WD with low gears coming back from the overlook, but you certainly don't need lockers, a lift kit, or anything like that.
If you've got 4×4 experience in the desert, this is an easy journey. Just pay attention. However, if you're new to 4×4 driving, certainly consider hiring a guide simply because this area is remote.
There are no services for many hours and not being prepared will cost you a minimum of $1,500 for a tow. So certainly take this trip seriously. Bring a spare tire, tool kit, tow kit, extra water, extra layers, extra food, and an emergency communication device.
Pro Tip: Do not attempt this drive if there is rain in the forecast or if it's recently rained. Poor drainage, flash flooding, and mud can make this a treacherous journey in a hurry. You can also get stuck for days if it rains. Call the ranger station to get up-to-date info about road conditions and weather.
How to Get to Toroweap Overlook
There are three main routes to the Toroweap Overlook. The simplest, and the most maintained way is the Sunshine Route. Ideally, this is the way to go since the road to the park boundary is in the best shape.
Practical Info
Assuming you'll be coming from the Sunshine Route, here's a look at a few helpful tips
Cost: $2 day permit plus $35 park entry fee. Or $2 day permit and free with an America the Beautiful Pass
Permit Required? Yes. Both for day use and overnights.
Dog-friendly?: No dogs allowed
Miles: 75.5 miles from Kanab, UT – the nearest gas station is in Fredonia, 69 miles away.
Approximate time: 1.25 to 3.25 hours one-way depending on road conditions and driving ability.
Keep in mind, that most of the drive is down a washboard-ridden dirt road. There are patches of limestone in the road, so keep your head on a swivel. There are no services after Fredonia.
Sunshine Route
This is the easiest and most maintained route to the Toroweap Overlook and Tuweep Campground. Take 395 southeast out of Fredonia, AZ. From there, you'll jump on CR 109 for 61 miles.
Remember, the last 3-6 miles of this road are rugged and require 4WD with high clearance.
Clayhole Route
From Colorado City, Arizona Take AZ 389 to County Road 5. From here it's a long 56 miles to Toroweap, with a lot more rugged terrain. This road will be completely impassable when wet or snowy.
Main Street Route
From St. George, Utah head out on BLM Road 1069 towards County Road 5. This is the longest route – at 90 miles. It's more scenic than the other two but more rugged. In winter or after monsoon rains, the road is impassible for quite some time due to mud.
When is the Best Time to Visit Toroweap Overlook?
As one of the best views of the Grand Canyon, Toroweap certainly is worth a visit, but you'll want to time your trip just right.
Spring (March through May) and fall (end of September through November) are the best times to visit Toroweap and Tuweep Campground. Personally, I prefer fall since it's typically drier and less windy. However, late spring delivers stunning cacti blooms.
Since you're lower in elevation than other parts of the north rim, and technically inside the Grand Canyon, summer temperatures can soar to uncomfortable levels. There is very little shade and no water, meaning you'll probably be too hot in summer. Not to mention, pesky monsoon rains can make the journey impossible.
It can (and does) snow in the Grand Canyon in winter. Although winter visits are still possible, overnight lows make camping a little daunting.
Pro Tip: We were here in mid-October, just after the North Rim of the Grand Canyon closed for the season. We had the place to ourselves! There were only three other groups camping and we only saw 2 groups of day trippers.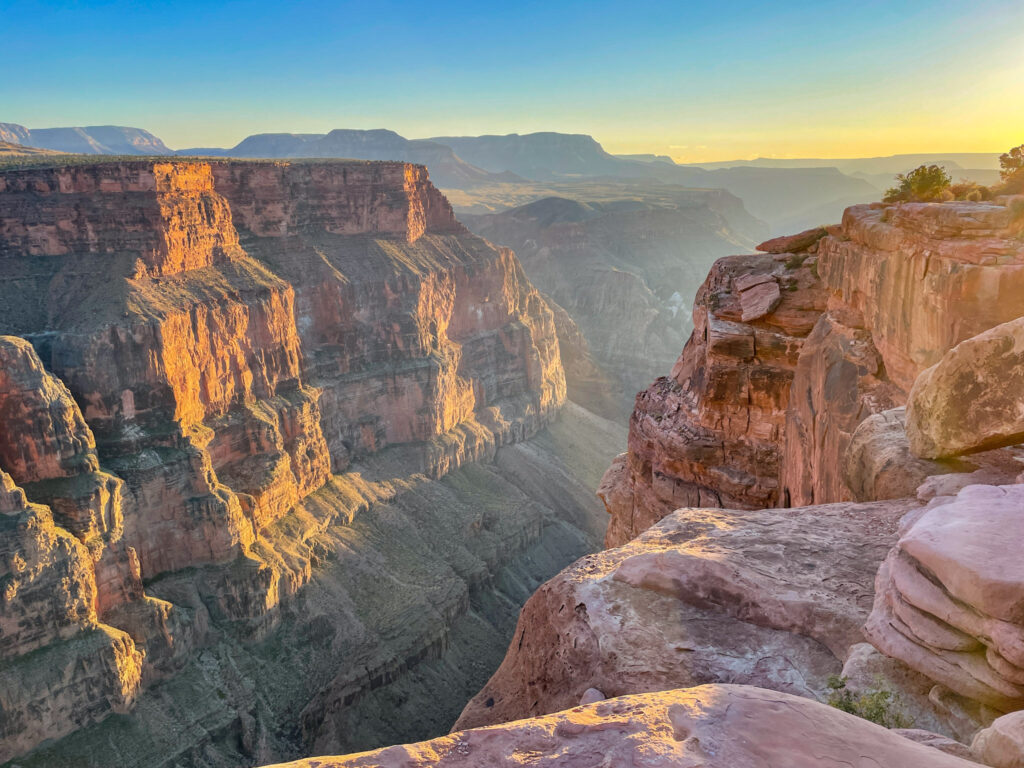 2023 Day-Use Permits for the Toroweap Overlook
Thanks to the rise in popularity, day-use permits are now in effect to visit the Toroweap Overlook.
Permits are available 120 days in advance at 8 am Arizona time. A small portion of permits are released at 8 am 2 days in advance. There are 20 day permits each day, 18 are for private vehicles, while 2 are for tours. You can book at recreation.gov.
Pro Tip: Have multiple days in mind if you're dead set on coming here. Day permits do fill up quite quickly during the busy summer months.
The gate to the Toroweap Overlook is open for day use from sunrise to sunset.
Pro Tip: There are no places to pull over and camp in your car on the way to Toroweap.
Camping at the Tuweep Campground
Personally, I recommend spending at least one night at the Tuweep Campground. The campground is stunning, and it's the only place where you can car camp inside of the Grand Canyon, giving you amazing views and a great opportunity to experience the canyon in a whole different way.
In fact, Tuweep is one of my favorite national park campgrounds. It's quiet, well-maintained, and basic. It feels a lot like dispersed camping in the desert, which is one of my favorite things.
You don't camp right on the overlook, but about 1.5 miles away, in the Tuweep layer of the canyon. Sites are nestled against a rock outcropping and provide for some beautiful views of the area. There are also a couple of hikes nearby, which let you get out into the desert landscape and gain an appreciation for the area.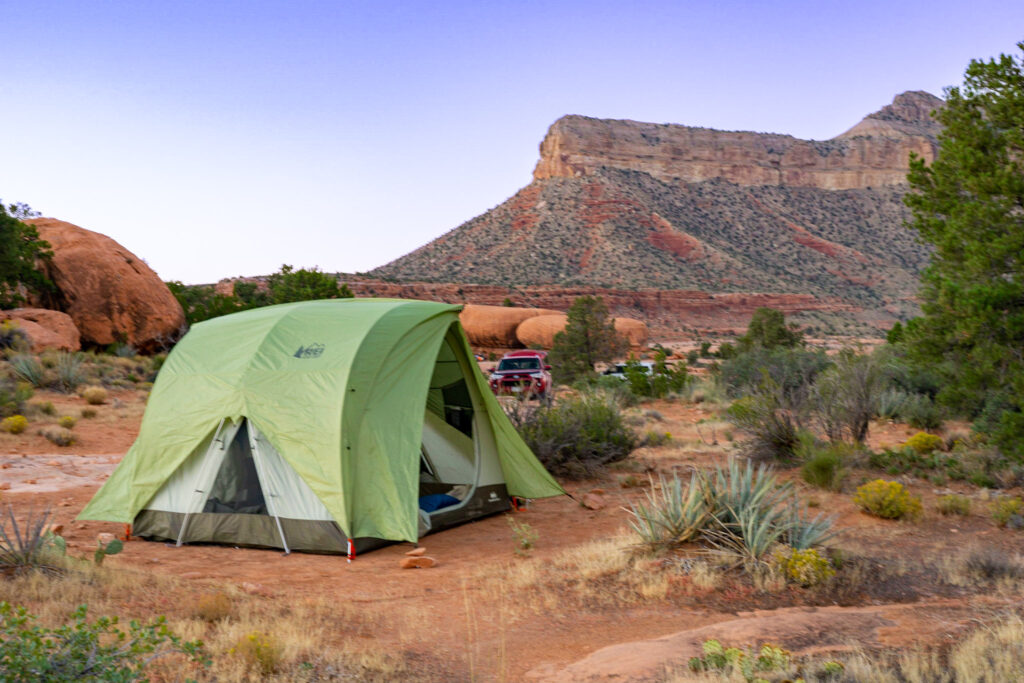 Campground Rules
There are a few things to know about the Tuweep Campground before you go. First, there are no services out here. The only amenities at the campground are a couple of composting vault toilets and picnic tables.
You are expected to bring in all of your own food and water. Also, you must pack out all of your trash – there are no trash services out here.
Other rules include:
No campfires or charcoal fires. Only fossil fuel stoves
No water – bring in all of your own water.
No dogs.
Pack out all trash.
No trailers/vehicles with a combined length of over 20 feet.
Permits for the Tuweep Campground
Now for the good stuff! Spending the night at the Tuweep Campground with my 3-month-old is something I'll never forget. I've camped all over the desert, and the Tuweep Campground is hands down my favorite established campground.
You can nestle up against the rocks, or snag one of the few sites with mesa views. But you'll need a permit to go.
Permits are available 4 months in advance during an open permit window. You will have to mail your permit in (old school, but I like it) and be entered into a lottery. Then the NPS will email you if you snag a spot!
The best way to better your chances for a Tuweep camping permit is to select a range of days that will work for you. Other helpful tips include opting for a weekday visit or going during a quieter time (such as late fall or early spring).
Permits are not issued at the ranger station checkpoint, so have your permit reserved in advance. Keep in mind that they will check for permits every night.
Pro Tip: We were one of 4 groups camped on a Tuesday night at Tuweep. It was so lovely! So I'd highly recommend mid-week.
Toroweap Tours
If all of this sounds just too tedious, you can arrange a tour to take care of all the logistics for you. This is an excellent option if you don't have a lot of experience driving 4×4 roads or you want some local knowledge.
My completely non-sponsored opinion of the best tour operator in the area is Dreamland Tours. Locally owned and operated for over 20 years, they are an excellent tour company in the area.
I've worked with Sunny, the owner, on various projects. She's passionate about the land, and history, and recreating responsibly.
Best Times to Photograph the Toroweap Overlook
Photographing the overlook isn't for the faint of heart – you'll be perched right on the edge of a 600-foot cliff! I'm a climber, and standing there with my tripod, feeling the gentle breeze definitely gave me vertigo!
Photographing the canyon takes a little bit of practice. I'm not insanely happy with how my photos came out – but I was also working on a baby's schedule, so I took what I could get!
Evenings will give you beautiful light on the opposite side of the canyon, while sunrise will give you that iconic sunburst shot, and light up the wall closest to you.
I highly recommend visiting the site at different times of the day to choose your shot. The middle of the day makes the canyon look a bit drab, so opt for early or late morning light. I enjoyed shooting later in the morning, once the sun had risen just a bit.
Pro Tip: If you're not camped at the Tuweep Campground, photographing this spot is going to be a challenge since the gates are closed from sunset to sunrise.
Hiking Near Toroweap
There are two main hikes at the Toroweap Overlook, the rugged Tuckup Trail and the Saddle Horse Loop.
Saddle Horse Loop Trail
This trail is a 45-minute loop trail that is about a mile and a half long. It's an easy trail, but there's no shade and plenty of cacti to keep your head on a swivel.
You'll get awesome views of the mesa and plenty of opportunities to spot canyon wildlife in solitude.
Tuckup Trail
The Tuckup Trail is a rugged and remote canyon route that winds its way along the Grand Canyon. This trail used to be used by ranchers, so it's well established, although not well-traveled.
It's 20 miles one-way and many parts of the trail are lightly traveled. Be prepared to find your way!
The first 3 miles from the Tuweep Campground are well-traveled and the trail is easy to follow. After that, it starts to get a bit difficult.
Water is completely unreliable, so pack what you'll need. Do not underestimate the difficulties of hiking in the Grand Canyon, even if you aren't clamoring up and down the canyon walls!
Kids and Toroweap
Okay, so a lot of people would say I was a bit crazy to take a 3-month-old out here – and yes, for the average person, I would not recommend it. The end of the road was rugged and not many people would be cozy having their baby that far away from anything. However, I'm well-seasoned when it comes to desert travel, hiking, and rugged adventures.
We were approached by our neighbors, who were curious about baby M. They were impressed and happy to see a young one out in the remote wilderness. It was nice to get some encouragement because despite being seasoned pros, it took a lot of guts to get out to Tuweep and give it ago!
Camping with a baby isn't always easy, but baby M slept better than we did! She loved napping under the junipers and playing in the tent.
She was not a fan of the bumpy road. We actually had to hold her so she didn't get knocked around too hard in the car seat – this made multiple visits to the overlook as a family pretty tough. She managed to get out there once though!
This type of experience is pretty easy for us, but having a baby took it up a few levels.
We both know how to fix basic problems in a broken-down vehicle. We carried tools, a spare tire, and a tow strap. Lastly, we had 3 extra days of water and plenty of food as well as a GPS device.
This area is pretty rough for young kids – especially those that walk and touch everything. There are cacti everywhere so if you come don't forget tweezers and a first aid kit capable of handling cactus needles!
Older kids that enjoy the outdoors will love it. There are a few rocks to scamper around on, interesting critters running around (think lizards and mice), and plenty of space to roam.
Pro Tips for Visiting the Toroweap Overlook
Here are a few quick tips to keep in mind if you're visiting Toroweap.
There are no services. Zilch. Nadda. Nothing. No cell service, no gas, no food, no water. Just a ranger station. Come well prepared with plenty of extra food and water. Keep in mind a tow can easily cost you $2,000. Bring a GPS with an emergency beacon.
Shade is very limited – even at the Tuweep Campground. Come prepared to sweat it out. Bring lots of extra water, sunscreen, sunglasses, a sun hat, and even a sun shirt (my favorite accessory for desert hiking). There's some shade from juniper trees, but it's limited mid-day.
Pack it out. Again, no services mean no trashcans. You'll have to pack out your trash.
Bring tweezers. The cacti are everywhere. Sure they are pretty, but they do bite back! Consider wearing pants or high socks if you plan on going hiking.
Pack layers. The desert can get just as cold as it is hot during the night. Be sure to pack plenty of layers to stay warm.
See the overlook more than once! It's a long drive out here, so definitely be sure to check out the overlook a few times throughout the day. It changes character and it's pretty neat to see.
Where to Stay if You're Not Camping at the Tuweep Campground
Your best bet for lodging near the Toroweap Overlook is in Kanab, Utah (Fredonia doesn't have much going on). There isn't anything in the way of dispersed camping along the way, so you'll either be staying in town or staying pretty far from the overlook.
Kanab is an excellent home base for other awesome activities, such as White Pocket or the famous Buckskin Gulch. So if you're spending a few days in the area, Kanab is an awesome spot.
What Happened at Toroweap Point – How it Formed
Toroweap Overlook is a bit of a crazy place in the Grand Canyon. You'll notice as you drive in that you're slowly driving down into the Grand Canyon. The draw formed when there was a lava flow from the Uinkaret Volcani Field.
You can see Volcan's Throne – the remaining cinder cone – nearby. West of the overlook there is a geographic feature called the lava falls – where the eruption (caused by the Toroweap Fault) spilled into the canyon many centuries ago.
Is Erosion Still Happening at the Grand Canyon?
Geological time is now my friends! This means that the Grand Canyon is still eroding each and every day. The Colorado River is slowly gouging out the canyon just as it has for thousands of years!
Nearby Attractions
Looking for adventures nearby? There's plenty to do! A few of my favorites include:
convertkit form=2688351
Additional Grand Canyon Resources
Ready to visit the Grand Canyon like a seasoned pro, not a tourist? Here are some kick-ass resources for you.