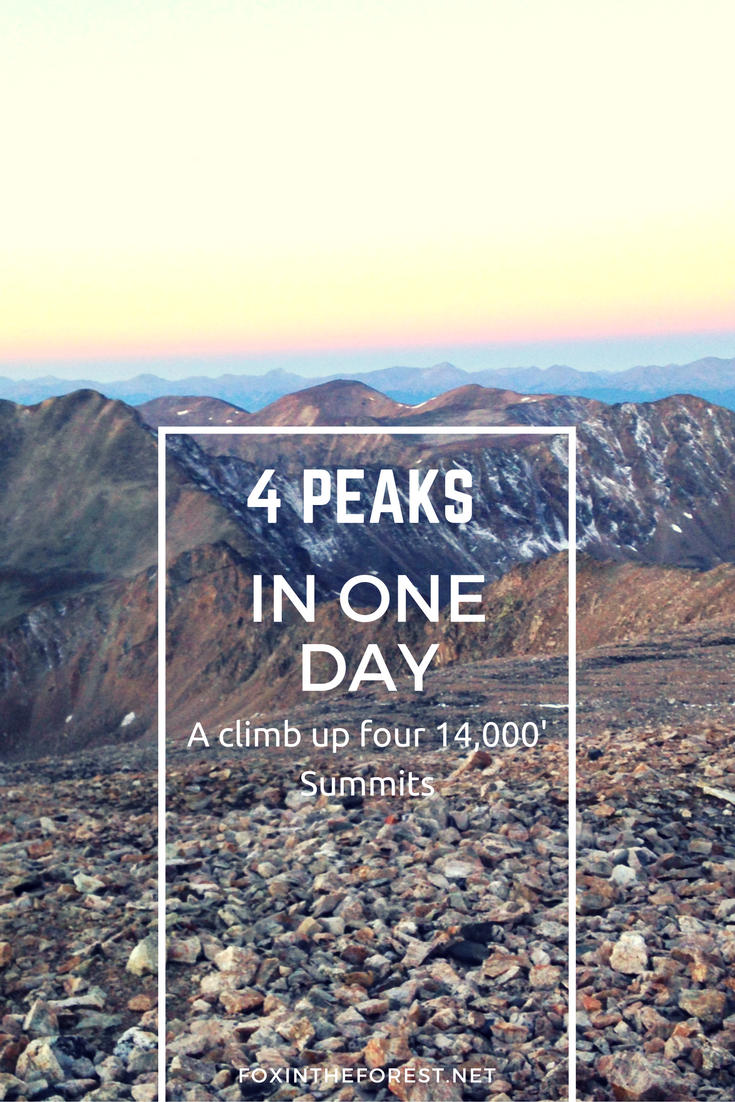 Another weekend up before the sun. Another wind-whipped cold morning. A real high-altitude struggle. Another summit sunrise. Another smile. A day well spent in the mountains.
Squirrel and I set out to achieve a pretty ambitious goal: climb three (four named) 14,000'+ peaks in one morning. That alone is a pretty tall order, but it doesn't stop there. Only in Colorado can you go and do something like that, then see a show at a natural amphitheatre (Red Rocks) that night. It was exhausting, exhilarating, and totally worth it. The promise of a full moon and good weather, this was an opportunity that couldn't be passed up.
The Route
First off, the route covered approximately 7.25 miles and roughly 3,700 feet of elevation gain, most of which is done in the first 2 miles up Mt Democrat. A full moon lit the way and we ditched our headlamps shortly after setting out. We reached the top of Mt Democrat just after sunrise. It was incredible to see the full moon set over the shadow of the peak while the sun rose behind us. One of the Oh-my-God-Nature-I-can't-even kind of moments.
Next, you drop down about a third of the elevation gain only to climb it steeply yet again to Mt. Cameron. Although it does have a name, Mount Cameron isn't technically a peak. However, I count it only from the standpoint that I stood on the top of that windswept summit only to carry on to Mt Lincoln – the highest of the three peaks at 14,286′.
The wind was absolutely relentless the entire climb. Skirting the shaded, windward side of the mountain for most of the hike kept it pretty cold. I would never (again) hike up a mountain in Colorado without something to cover your face, a hat, and gloves. My Buff kept my face surprisingly warm and wind-whipped free.
Mt Lincoln to Mt Bross
The trail from Lincoln to Bross is quite easy. Although the summit trail to Bross is technically "closed" because it is privately owned. I'll leave my thoughts on the concept of owning an entire mountain to myself. However, when I climb mountains or head into any wilderness for that matter, I take on the risks associated with doing so. If I get hurt or worse, that's on me. I was still feeling good, and since the trail to the top is only a 15 min hike up a few switchbacks from the actual trail, we went for it.
The battle with the wind continued and we took shelter against some rocks, ate the rest of our snacks and looked over what we had hiked that day.
The Descent
The usually reliable 14ers.com website grossly underestimated the route down the peaks. Quickly, the trail gets very steep. From here I'd say the terrain pushes difficult class II, especially if you were to head up it. With that being said, I could not imagine doing this section without hiking poles. It is very steep and the rock is very, very loose. When you are not stepping into scree mush you're navigating your way through tricky steps or gripping hard against sheer, steep angled rocks. After climbing all those peaks I was thankful to have enough energy to navigate the terrain and the mental toughness to go slow and think about my steps.
I would never recommend anyone bring a dog to do this route. 95% of the trail is sharp rock and they will easily cut up their feet. It's cruel to bring them, and it can easily leave you in a sticky situation if a dog were to tear a paw or claw up there. Even with my paw first aid kit, I was glad we left Nina at home.
Arriving back in the valley and below the scree the trail was gentle back to the trailhead. Where are all the cars? I thought, usually, it's jam-packed this time of day. What was more surprising was running into a moose! Unfortunately, due to weight, I had left my telephoto lens at home, but this bad boy was big, just hiding amongst the bushes, or at least attempting too!
The drive back out to the main road gave us one last tease – nature showing her true fall colors. I'm ready for some fall camping! Stay tuned!