Whether you've never spent a night outside or you stake your tent somewhere new every weekend, you can learn some new tricks from these camping tips. From staying warm to keeping clean to eating well, we cover everything you need to know to have the best night out under the stars.
I've developed these camping tips and tricks after camping for decades. In fact, my day job (outdoor freelance writer) means I'm frequently living on the road.
These camping hacks help me get through even the most complicated of camping trips, from desert camping tips to staying warm during cold-weather camping, I've got you covered.
Learn from my mistakes and use these camping tips for beginners to enhance your night's sleep.
About This Guide to the Best Camping Tips
This juicy post gives you some stellar camping tips that even the most expert campers may not have considered. Go from beginner car camper to pro with these camping hacks. Here's what you'll find in the post:
28 amazingly easy camping tips
A quick look at camping essentials
Tips for staying warm while camping
Camping tips for beginners
Expert camping tips
Additional camping resources
28 of the Best Camping Tips
Ah at last. A list of camping tips you can use that are actually applicable to camping.
I've read through tons of these lists, only to find that 90% of the camping tips found on blogs just aren't realistic. I've tried. It's like one of those Pinterest fails – you can't look away, but you want to.
Don't worry. I've done the hard work for you. This list only includes the absolute best camping tips and tricks that make sense in real-world situations.
1. Bring the Comforts of Home to Camp
If you're car camping, there's no reason to rough it! Bring what you need to be more comfortable, whether that be your favorite memory foam pillow or your coziest wool blanket. A few handy items are:
Pillow from home
extra blankets
slippers with a sole
E-reader or even a hand-held game console (great for bad weather)
2. But Make Sure You Pack Out What You Bring
All of your trash needs to leave with you, so pack a bag to collect it, and one for recycling, too.
And if you bring toilet paper or baby wipes, you can't just bury it – you have to carry it out. Ziploc bags are handy for this kind of trash that you really want to keep contained.
Put a dash of baking soda in ziplock baggies to contain the smell. If you menstruate, then learn how to handle your period while camping.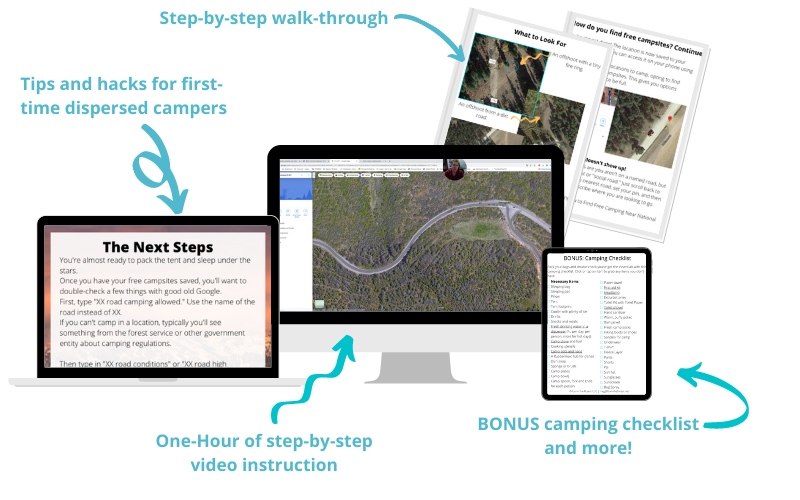 Find Free Camping Anywhere in the US!
Dream of spending the night under the stars without a noisy campground? Learn the secret method to finding picture-perfect FREE camp spots in all of your favorite locations.
This one-hour course gives you a step-by-step proven method to find incredible free camping virtually anywhere in the US. Get it now for just $7.
3. Keep Your Trash Away From Critters
While it might be trash to you, bears and other critters will be tempted by anything that smells like food. One of the biggest camping tips is properly storing your trash – especially at night or while you're away.
So don't forget to put your trash bags in your car (or a bear locker, if available) during the night, unless you want to wake up to an unpleasant surprise.
4. Spice It Up
Camp food doesn't have to be bland! Elevate your camp cooking by bringing little containers of salt, pepper, seasoning salt, hot sauce, and your other favorite condiments. Your tastebuds will thank you!
5. DIY Heating Pad
Stay toast at night by filling a water bottle with boiling water, then sticking it in your sleeping bag. A Nalgene works best since an insulated bottle won't conduct the heat.
6. Fast Food
If the first thing you want to do when you get to camp is eat, keep your camp cooking super simple by meal prepping at home. Then all you have to do is heat up your dinner once you arrive at camp, so you can eat right away.
Meal prep might be the best camping tip for beginners, since you literally just heat up food.
7. Throw It in the Pot
Mmmm…food. See a trend here?
Another way to cook quickly – and make clean up a snap – is to make a one pot meal. Stews and chilis are great for this, and will provide a warm and hearty dinner, which is especially nice if you're camping in the cold.
8. Spark a Flame
If you struggle to light the campfire, bring a homemade fire started to get the flames going. Cotton balls soaked in petroleum jelly or dryer lint coated in wax will light up in a flash.
9. Fireball
Hand sanitizer is not only good for killing germs, but the alcohol content comes in handy in other ways. Squirt a little on your kindling to help feed the flames of your fire.
10. Let It Glow
While headlamps work great to illuminate what's in front of you, sometimes you want a little ambiance for everyone. Stick your headlamp in an empty Nalgene (or point the light inwards towards a full one).
Wrap the head strap around your Nalgene for quick-and-easy set up. You'll have a glowing lantern instead of a harsh spotlight.
11. Keep the Charge
If your electronics are always dying at camp, it could be because the batteries are cold. Help keep the charge by putting any batteries (and your phone itself) inside your sleeping bag at night to keep them warm.
12. Double Duty
When you're backpacking, you might not have space in your pack for a pillow. But you can still support your head at night, by stuffing clothes in a pack and using that instead.
Learn more about backpacking basics and get into the backcountry this season!
13. Don't Fog Up the Windows
Sleeping in your vehicle is a great way to stay warm, but you'll often get condensation on the windows which can get uncomfortable. If you crack the windows just a tiny bit, you'll prevent that by allowing the air to circulate.
14. Strip Down
Though it might seem counterintuitive, you can actually stay warmer at night by wearing less clothes. Your sleeping bag is designed to trap heat from your body, and more heat will get through to your sleeping bag if you aren't wearing too many layers.
15. Plan in Advance
Nothing takes away the fun of camping like driving around searching for a place to set up camp when everything is full.
In some popular places (especially if you're camping in Colorado!), you need to plan way ahead to be sure you get a campsite.
Making advanced reservations will take away the anxiety of showing up to a popular campground and hoping you get lucky enough to get a spot.
16. Expand Your Search
If you do decide to be spontaneous, look for dispersed camping available near developed campgrounds.
While they might not have all the amenities, these spots are free and convenient. And if you're close enough to an actual campground, you can even take advantage of the toilets available there when nature calls.
17. Cowboy Cooking
Your campfire can be used for more than just toasting marshmallows! Some campsites will have a grate you can grill meat or veggies on.
Bring along your own portable grate (be sure to bring an oven mitt, too). You can also cook canned food in the coals of the fire – vent the can by poking a hole in the top to prevent it from exploding.
18. Clean Your Plate
Washing dishes at camp is never fun, but you can make it less terrible by bringing a plastic tub to use as a makeshift sink. And if you're dealing with super stuck on food, boil some water to help loosen it before you start scrubbing.
19. Right on Red
Be considerate to your fellow campers, and learn how to use the red light function on your headlamp. Whether around the campfire or in your tent, the red light allows you to see without blinding your campmates.
20. Toasty Toes
Bring an extra pair of thick wool socks for camp, especially if you're hiking during the day. Nothing beats getting off your feet and slipping on a dry, warm pair of socks for the night.
21. DIY Clothes Dryer
If your clothes get damp from sweat or rain, dry them off at night by stuffing them in the bottom of your sleeping bag. When you wake up, they'll be ready to go, and nice and warm to put on!
22. Flip It & Reverse It
Camping chairs are awesome when you're sitting in them, but don't forget about them when you get up. If it's windy or raining, remember to turn your chair upside down when you leave it.
This will prevent it from blowing away or accumulating water, which would definitely be an unpleasant surprise when you go to sit back down.
23. Throw in the Tarp
When it's raining, you might be tempted to turn into your tent early. But if you bring along a tarp and some cord, you don't have to let a little water ruin your night. Hang the tarp up in a tree, and you'll be sheltered from a sprinkle or even a shower.
24. Protect Your Pack
Not only do you want to protect yourself from the rain, you also want to make sure your pack and the clothes inside it stay dry. A simple way to do this is to line your empty pack with a large garbage before you fill it up with all your gear.
25. Pound It Down
While a rock is a great natural tool to pound in your tent stakes, if you camp a lot, it's worth getting a rubber mallet. The mallet makes it more comfortable and quicker to secure your stakes, and you don't need to worry about finding a rock that doesn't crumble.
26. Blow Hot Air
A campfire needs air to grow, but getting down to blow on it can be uncomfortable. You can buy a long metal straw designed to easily blow air into the fire without getting your face in it, or you can even improvise – a frisbee provides a great game of catch and also is useful to fan the flames.
27. Humpty Dumpty
If you prefer eggs for breakfast, there are a few ways to bring them camping without breaking the shells. You can buy a plastic egg storage carton designed for camping, or you can crack eggs into a Nalgene or other sealable plastic container to transport them.
You could even hard boil some eggs ahead of time and bring those so you don't have to deal with cooking the eggs at camp.
28. Box Yourself In
To make sure you never forget any of your camp cooking supplies, designate a plastic storage container as your camp kitchen box.
Use it to stash your camp stove, pots and pans, dishes, utensils, paper towels, garbage bags, dish soap, and anything else you need for cooking (including spices and shelf-stable condiments). When it's time to head out to camp for the weekend, just grab your box, and you're good to go!
Quick Camping Essentials Every Car Camper Needs
Don't leave home without the basics. This list of car camping essentials gives you a look at what you'll want to keep in that handy camp box of yours:
PSST…for an in-depth look at the best car camping gear read my guide to car camping essentials (coming soon).
Sleeping pad
Sleeping bag
Pillow
Stove
Fuel
Cooler with all of your food
Pot
Pan
Spatula
Cooking spoon
Knife
Cutlery
Plates and bowls
Coffee maker (pour-over or french press)
mugs
water jugs filled
Washbasin
Dish soap
Sponge
Tea towels or paper towels
Trash bag
Reusable grocery bags with non-refrigerated foods
Headlamp
Ax
Firewood
Lighter
Camping Chairs
Tent
Footprint
Daybag
Additional Camping Resources
Car camping is simply the best. Don't miss out on camping with these excellent resource guides:
Tips for Solo Campers (coming soon)