Sedona, Arizona is a desert lover's dream. Full of mystic charm, history, and unparalleled beauty, this destination has been on my bucket list since I could remember. Today, I'm turning the mic over to Timothy of Hike the Planet. He's an Arizona local who's giving us the inside scoop on the best Sedona hikes for your bucket list.
If you've never been to Sedona, it's time to pack your bags. No self-respecting hiker should miss out on the fun, challenging, and unique hiking trails of Arizona's Red Rock country. Here, geologic forces have cut deep rifts into the southern edge of the Colorado Plateau. The resulting landscape is one of towering desert spires, verdant river canyons, and a maze-like network of slot canyons, arches, mesas, and buttes. All is abutted by a bustling tourist industry, allowing 24/7 access to groceries, dining, shopping, lodging, and camping.
In short, Sedona is an outdoor lover's playground; a day hiker's paradise. Outdoor enthusiasts will love Sedona's hiking trails. There is a hike for every ability level. With so many fantastic options to choose from, picking just one Sedona trail can be overwhelming.
It's hard to go wrong picking a Sedona hike. They all have something nice to offer. I've used my local expertise to narrow down the best hikes in Sedona.
What to Know Before Hike in Sedona
Maybe you've heard of Sedona's unique reputation. There are many faces to this town from outdoor enthusiasts to mystics. Tourists, hikers, rock climbers, artists, and spiritual seekers co-mingle in the town of red rocks.
Sedona is the New Age capital of the world. In Sedona, you can't chuck a crystal without realigning someone's chakras. Something about the brilliant red rock canyons draws in believers of anything remotely magical, spiritual, dharmic, mystical, or esoteric. Sedona is home to Vortexes, and is said to be a popular spot for UFO sightings.
If you're into this kind of stuff, then Sedona is the place for you. However, if the mystical and magical doesn't call to you, don't get caught off guard by all the magic shops and dreadlocks.
Spiritual strength aside, Sedona hiking trails offer some of the most spectacular desert scenery in the world. So let's dive into hiking in Sedona.
The Best Time to Hike in Sedona
In my opinion, Sedona is worth visiting any time of year. The rock formations are quite a sight to behold, and there is always something to do, even in the dead of summer. However, if you intend to spend your time hiking in Sedona, then the shoulder seasons are best. Fall and spring generally see comfortable daytime temperatures, fair weather conditions, and blue skies. This is tee-shirt weather.
Despite being located in the Arizona Desert, Sedona winters can be rainy, snowy, and downright cold. At night, the thermometer will regularly dip below zero. Don't let this deter you, however. A fresh coat of snow on the Sedona Red Rocks is a truly unique, enchanting environment. However, keep in mind that climbing this time of year tends to be dangerous since wet sandstone can easily break.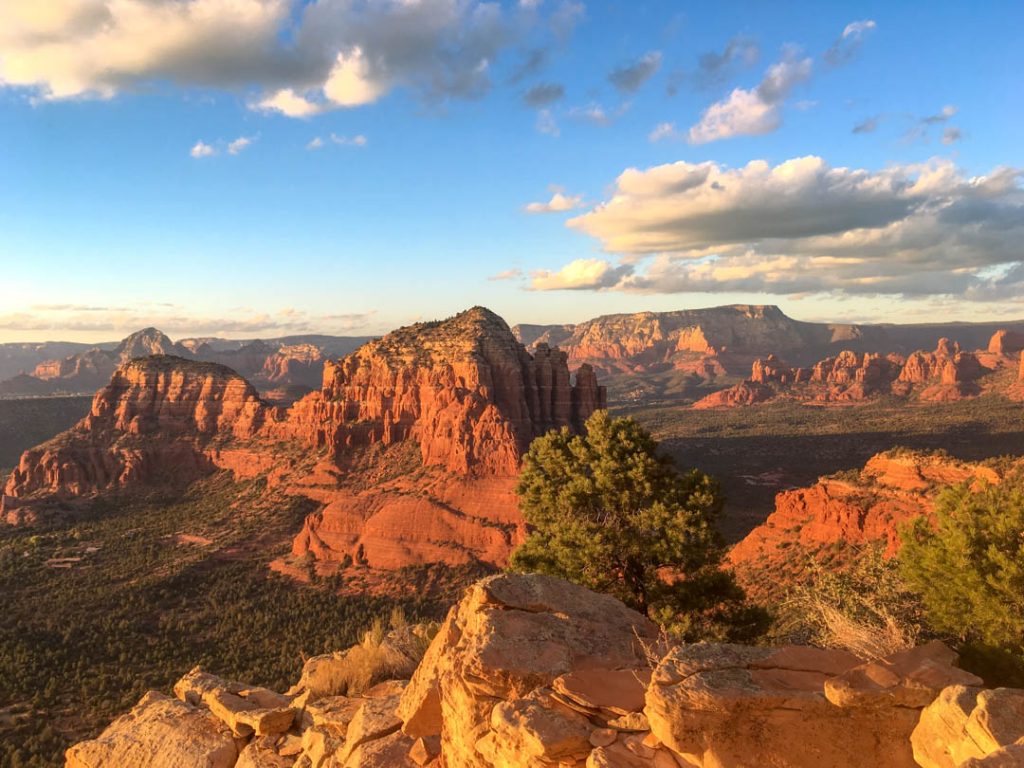 Hiking in Sedona During Summer
Summers in Sedona are butt-kicking hot. Triple-digit temperature readings often leave many visitors dehydrated and sunburned, with a hearty side of heat exhaustion. Right around the Fourth of July weekend, Sedona sees the arrival of the Southwest Monsoon.
Like clockwork, menacing monsoon clouds materialize out of a blue, afternoon sky. Suddenly, there is thunder, lightning, and intense cloudbursts.
We don't recommend hopping on Sedona's hiking trails during the monsoon. In minutes, the unprepared hiker will be soaked to their wool socks, and lightning will threaten to zap them off of the red rocks. But as soon as the storm started, it suddenly ends. You'll once again find yourself in the middle of a dry desert. It's strange, often unpleasant, and sometimes dangerous. My advice: save your Sedona hiking adventures for a more tranquil time of year.
If you must hike in the summer, there are many good swimming holes situated along Oak Creek that you can cool off in. Otherwise, I recommend driving 45 minutes up the road to Flagstaff, Arizona. Situated at a high elevation, in a huge pine forest, Flagstaff touts plenty of summertime hiking trails to scratch your itch.
Sedona Hiking Considerations
Before you strike out to chase down UFOs and Vortexes, there are a few things you need to take into consideration. I've bulleted them for your convenience:
Share the trail. Sedona is not only popular with hikers, but also mountain bikers, equestrians, rock climbers, yogis, lizard people, children, the elderly, Buddhists, Pink Jeeps, and more. Be mindful of others. Sedona's trails can get crowded. To avoid the crowds on Sedona trails, start early. The temperatures are often cooler, desert sunrises are a sight to behold, and you'll likely have the trail all to yourself.
Don't step on the Cryptobiotic Soil. Cryptobiotic Soil makes up a vital part of the desert ecosystem. Damaged "Crypto" can take hundreds of years to regrow. Hike only on established trails. If you must go off trail, minimize your impact. As they say, "Tiptoe through the Crypto."
Beware of wildlife. Sedona is home to some mean, potentially harmful wildlife. Snakes, scorpions, mountain lions, and Javalinas all like to hang out in Sedona. Most of the time, these critters won't bother you. Just be aware, and never stick your hand in spots where you can't see.
Buy a Red Rock Pass. Most trailheads, campground, and picnic areas require the use of a Red Rocks Pass. Rangers can and will hand out tickets. Daily and yearly passes are available and can be purchased at Ranger stations. Kiosks are also available at many trailheads, selling day passes for $5. This small fee will help you to avoid a hefty fine.
Psst. Want more tips on desert travel? Check out these resources:
The Most Amazing Sedona Hikes
Bell Rock Trail for the Best Sunset in Sedona
Distance: 1-1.5-ish miles
Elevation Gain: About 700 feet
Difficulty: Moderate
Dog Friendly: Yes! But keep em' on a leash.
The Bell Rock Trail, located in the southern portion of Sedona near the Village of Oak Creek, beckons hikers from all around. Its distinctive bell shape (the formation's namesake) offers an appealing hike up its flanks. The Bell Rock is one of the best hikes in Sedona.
From the parking lot, a short hike takes you up to a flat rock bench, allowing hikers a stunning view of the Red Rock country. This Sedona trail is best done near sunset. The whole of Sedona is lit up in bright, glowing orange, and the summit bench of the Bell Rock is the perfect spot to bask in all of its beauty.
Hikers beware: the final portion of this hike can be technically challenging. It becomes less a hike, and more a scramble. Like many other trails in Sedona, a sturdy pair of footwear and/or a pair of trekking poles might come in handy.
Alternatively, a network of trails circumnavigates and climb Bell Rock. Hikers and mountain bikers can choose to wrap around the formation or connect to the nearby Courthouse Butte Loop Trail. Adventurous hikers can choose to ascend to the top of Bell Rock. If you feel confident in your scrambling abilities, then a west facing gully will take you up to a wide, flat spot. The views from here rival anywhere else in Sedona. I don't recommend climbing any higher from this spot. Climbing up is dangerous, exposed, and requires proper rock climbing gear and knowledge to both ascend and descend.
Bell Rock is one of the most popular Sedona hikes. You'll be sharing the trails with many other visitors. Please be mindful, share the trail, and take care not to rush others during challenging sections. The parking lot is located right off of Highway 179. It will be hard to miss the distinctive Bell shape from the road. As always, a Red Rocks Pass is required to park at the Bell Rock Trailhead.
Get Your Free Hiking Gear List and Hiking Planner!
Stay organized with this easy-to-use hiking planner and checklist. Complete with planning info, hiking packing list, emergency contact and more! Simply fill it out and send along to a trusted friend.
Experience History Along the Boynton Canyon Trail
Distance: 2.9 miles, one way
Elevation Gain: 500 Feet
Difficulty: Easy as Pie
Dog-Friendly?: Yeah, but they gotta be leashed up.
The Boynton Canyon trail is a personal favorite Sedona trail. A gentle, ambling trail takes you through a pleasant canyon. Between a backdrop of high sandstone buttresses and Dali-esque rock formations, the Boynton Canyon Trail offers incredible Sedona views, with a low cost of sweat-equity.
If all you wanted was an Instagram-worthy vista, then you could find that on any other Sedona hike. Rather, my favorite part of this hike can best be found with a careful, observant eye. Take a moment to scan the cliffside, and you'll see what I mean.
Boynton Canyon is one of Sedona's most historical hiking trails. Perched up high, in shadowy little caves and overhangs are the ancient remains from Sedona's past. Here and there, peering from rock faces are cliff dwellings. These ancient stone homes and granaries were constructed by The Sinagua ancient inhabitants of Northern Arizona. From Flagstaff to Cottonwood, the Sinagua built, farmed, and traded.
Boynton Canyon seems an obvious choice for an ancient indigenous culture to make its home. The people here built their homes on the sunny side of the canyon, and they probably farmed in the canyon bottom. From up high, they could see invaders, and wild game movements.
I'm a bit of an amateur archaeology nerd (learn more about Hovenweap National Monument). If you share that same interest, then you'll love Boynton Canyon. Just be sure to leave it as you found it. It is illegal (and disrespectful) to remove ruins or play in archaeological sites.
Further into the canyon, the trail curves west, and the canyon walls narrow. To me, it almost feels like a miniature Yosemite Valley, right in the middle of Sedona. There's even a very tall (albeit seasonal) waterfall.
Planning a Desert Adventure? Here's a look at a few other drool-worthy desert destinations:
Experience the Awe-Inspiring Cathedral Rock Trail
Distance: .60 miles one way.
Elevation Gain: 600 feet.
Difficulty: Strenuous
Dog-Friendly?: Yes, but keep in mind scrambling is required.
One of my favorite Sedona hikes, the impressive, prominent buttes, and spires that compose Cathedral Rock are hard to miss. Cathedral Rock sits smack dab in the middle of Sedona, hosting a whole network of scenic, fun, and challenging hiking trails.
Local legend has it that Cathedral Rock is the location of one of Sedona's famed "Vortexes". Funnily enough, so are Boynton Canyon and Bell Rock-two other popular hikes I've listed.
The parking area and trailhead at Cathedral Rock can be found just off of Back O' Beyond Road. From here, hikers can choose to hike the main Cathedral Rock Trail or opt to take the Baldwin Loop Trail. The former ascends to a bench straddling the middle of the formation, while the latter is a longer, but less technical loop that dips down to the banks of Oak Creek. Both show off great views of Cathedral Rock, and you'd be hard pressed to pick a bad Sedona hiking trail.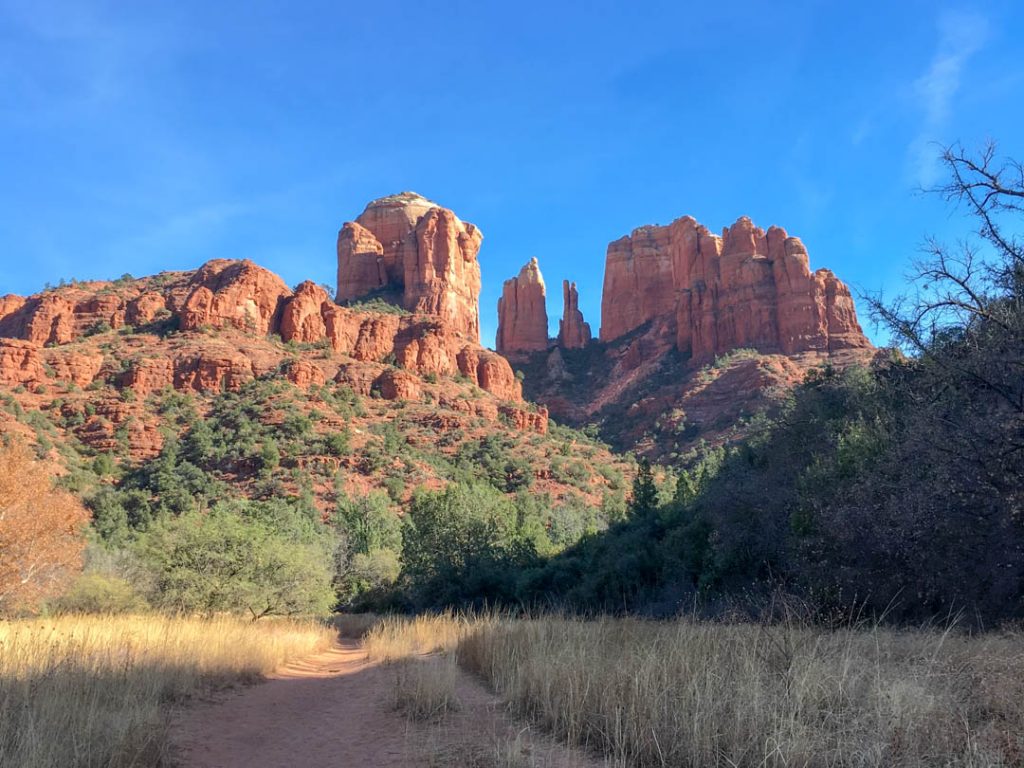 If you're short on time, then I'd highly suggest the main Cathedral Rock trail. At only 1.2 miles out-and-back, this trail is short, yet more technically and physically challenging than most other Sedona hikes. Over the course of the 0.6 miles to the bench, the elevation rises nearly 600 feet. I use the term "trail" loosely here. At times, it more closely resembles a 3rd class, slabby scramble. Trekking poles and grippy, sturdy shoes come highly recommended. Keep in mind, some dogs don't like scrambling, so if you take this route, perhaps keep Fido at home.
For all the scrambly, calf burning climbing, the Cathedral Rock Trail ends at a large, sturdy bench. The hiker is rewarded with an impressive view, framed by huge sandstone walls.
Take a while to soak in the view. It is easy to see why this awe-inspiring spot is one of the best hikes in Sedona. Pack a picnic and bring your camera.
As a side note, I'd like to point out a few curiosities featured at Cathedral Rock. First, looking from the main bench southwest, between the formation, you'll see a huge, house-sized chunk of dark rock. It stands in stark contrast to the surrounding Red Rock. Where Sedona red rock is composed of a variety of sedimentary units, this oddity is a huge chunk of volcanic stone. I'm told that this is an exposed top volcanic dike. How and why it is here has puzzled geologists, but it speaks to the tumultuous geologic history of Arizona.
Second, if you enjoy rock climbing, then Cathedral Rock is a great spot. It hosts The Mace, one of the oldest climbing routes in Sedona. This route is famous for its daring jump across. At the very top of the route, climbers have the option of jumping from the top of one spire to another. Talk about adrenaline-inducing fun!
For more on rock climbing outside, check out these posts:
Relax and Soak in the Views at Submarine Rock
Distance: 3 Miles Round Trip
Elevation Gain: 100 feet
Difficulty: Easy
Dog-Friendly?: Yes, but they must be kept on a leash.
Rounding out this list of Sedona hikes is Submarine Rock. Submarine Rock is a cool little formation that can easily be reached by taking the Broken Arrow Trail. Veer off at the intersection with the Submarine Rock Trail. An easy trip past Jeep Trails and thick vegetation leads you to your destination.
As soon as you arrive, it becomes apparent as to how the rock gets its name. It's long, cigar shape is eerily reminiscent of a submarine. Cresting a small hill, Submarine Rock catches you by surprise. Like a submersible breaching the surface, you don't notice it until you're right up on it. Getting on top is easy. Just follow a well-worn path to surmount.
Have some lunch. Maybe do some yoga, or meditate a bit. Sunbathe if you'd like. The big, orange stage atop submarine rock practically begs you to take it easy and soak in the sights. You're in the middle of a Sedona. It's flippin' beautiful, and you are one mellow hiker.
Before you hike back to your car, considering rejoining the Broken Arrow Trail for a short hike to Chicken Point. Chicken Point is a cool overlook with sweeping views. It's a popular stop for the Pink Jeep Tours – if you're nice, maybe you can hitch a ride back with them.
While you're out here, don't miss the Devil's Dining Room. No, it's not a real dining room, and the Devil doesn't hang out here (at least not that I've seen). It's actually a sinkhole-one of many that can be found in Northern Arizona. The underlying geology of the area is Karst Limestone. Karst is prone to weathering into big underground caverns, which frequently collapse to form sinkholes. This example is 90 feet deep and can be found right off of the Broken Arrow Trail. Another sinkhole, the Devil's Kitchen, is located near the beginning of Soldier's Pass trail.
These Sedona hiking trails are guaranteed to blow you away with their incredible views, gravity-defying rock formations, and unique features. The next time you're planning a desert getaway, be sure to put Sedona on your itinerary.
https://winning-pioneer-969.ck.page/9ed1eb9a08
Meet Timothy of Hike the Planet
Timmy Carlson is a hiker, rock climber, and blogger living in beautiful Flagstaff, Arizona. He loves wilderness medicine, photography, and black coffee. Previously, Timmy worked as a wilderness guide, leading backpacking and river trips throughout the American Southwest. These days, he runs the blog Hike The Planet!, where he writes trail reports, gear reviews, technical tips, and the occasional humor piece. In the future, he hopes to pursue a career in travel nursing, where he can be allowed to climb and hike wherever the road takes him.