I never thought I'd be that person who had more than one sleeping bag, a backpack for any occasion, a trad rack, and two snowboard setups. But alas, it happened and hey, I'm pretty happy about it. However, it was time to get organized. So how do you keep all of your outdoor gear organized? Build a gear storage area of course! This tutorial will help you build an outdoor gear area for all of your climbing, hiking and camping storage needs.
About the Best Gear Room Storage System
This DIY is a great way to keep all of your outdoor gear organized. It works especially well as a climbing gear storage solution, as the boards allow everything to be up so you can quickly grab what you need. For other outdoor activities such as hiking and camping, the gear storage wall lets you customize the organization scheme for the wall to suit your needs. The peg boards allow for a great plug and play storage solution that can change as your gear changes over time.
This outdoor gear storage solution works anywhere. Simply adjust the measurements for your space needs. Peg boards and DIY shelves are easy to install in a garage storage system, empty gear closet or even a complete outdoor gear room.
Lastly, don't let a DIY with power tools intimidate you. This is something that with a little pre-planning anyone can do. I used to work as a construction worker framing small metal buildings and I'm pretty accident prone. I once broke a window with a forklift – so if I can do this, so can you. Don't be shy, get those tool belts on and get to work!
How Much Space Do I Need for Outdoor Gear Storage?
Well, the answer largely depends on how much outdoor gear you have. First, go through all of your outdoor gear. Is there anything you can donate, sell or give away? Here is a list of things you can do with gently used gear:
Sell it. List it on GearTrader, Facebook or Craigslist (never sell old safety gear such as ropes, helmets, harnesses or any beat up climbing protection)
Donate it. Give it to youth groups that aim to get kids outside, donate it to under-served communities
Bring it to a used gear shop. Sell it on consignment
Now that you have all of your current outdoor gear in a pile, take stock of how much gear there is. Do you have a lot of packs (packs work well on shelves, stacked like books)? Climbing gear? Heavy items? Think about how much pegboard you need versus how much shelving you will need. Don't stress if you can't quite figure it out, just a rough idea of wall area will go a long way in planning your homemade outdoor gear storage space.
How to Plan Your Outdoor Gear Storage Solution
First measure the space you'll be working with. Note approximately what needs to go on shelving (think packs, ropes, chairs, tents, and other bigger, heavier items) and what can be hung up (climbing gear, helmets, axes, snowshoes, headlamps, etc.). Keep in mind that you can also purchase baskets that hang on the pegboard for smaller items.
For the legs, a good rule of thumb is to support the shelves every four feet. Four feet is also the length of a half sheet of OSB, so this will make screwing the shelves together easier. Also, remember for the height you should account for the thickness of the 2×4 (actually 1-1/2 x 3-1/2).
Write down your measurements – be sure to measure twice and cut once. Since the concrete in my basement is pushing 100 years old it was really uneven, so we custom measured each leg to fit. When in doubt try to make it so the shelf tilts back towards the wall just a touch, so stuff doesn't roll off.
What You'll Need to Build Your Own Gear Closet
Everyone will have a different space to work with so I haven't given lengths of material required. Use your measurements to fill in the blanks. Assembly instructions are after the materials list
Tape Measure
Pencil or sharpie
Level
Chalk line – not required but handy for making a straight cut line quickly.
1-5/8″ screws – a box of 120 or so should more than enough for 19 linear feet of shelving
Impact driver – if you don't have one of these I'd highly recommend picking one up. The bits that come with the drill should work great with the screws
Skill saw (optional) – with a little pre-planning you can take your measurements into a lumber yard or Home Depot and get them to cut everything for you – granted if you screw up your measurements it's not going to be a fun time, but if you aren't comfortable operating a saw, this is still doable!
2 x 4's – the number will vary depending on your shelving
1 x 2's – these will be used if you're planning on screwing the shelves directly onto the wall – if not then just use 2 x 4s to make shelves that are movable
OSB – get the 2′ x 4′ sheets – makes life easier
Peg Board – we used one sheet and cut it up to our liking
Pegboard accessories – GO NUTS! We got various different hooks, baskets, hangers just to play around and see what we liked. This allows for complete gear storage customization. It's all about you!
Build Away!
To build the shelves you first want to put up the 1 x 2 against the wall. Use the level and a helping hand to get the 1 x 2 level. Screw it to each stud in the wall. You can probably get away with every other stud, but we did each just for fun. If you're attaching it to a drywalled wall, mark your studs on the wall with a pencil using the stud finder first.
Next, you'll want to attach the 2 x 4 to the OSB with screws. This should be done on a hard surface, place an extra 2 x 4 on the side that the 1 x 2 will sit on to keep it level. Do this first then add the legs. Pictures are better at describing this than words.
Next, align the assembly with the 1 x 2 and secure the OSB top to the of the 1 x 2 and voila you've got shelves! The last thing to do is to screw the pegboard up along the studs – screws every 12 inches should suffice.
Organize and Accessorize
This is the fun part! I chose to organize by activity and use. It took a little trial and error, but we got everything all organized just the way we like it. To be honest with you, we change it all the time – we've about trippled our climbing gear in the past couple of years, and we simply added more peg board to get the job done. Wow, does an outdoor gear closet make a world of difference! I was amazed to see how much I've got and how much space I have for the few wishlist items I've still yet to pick up.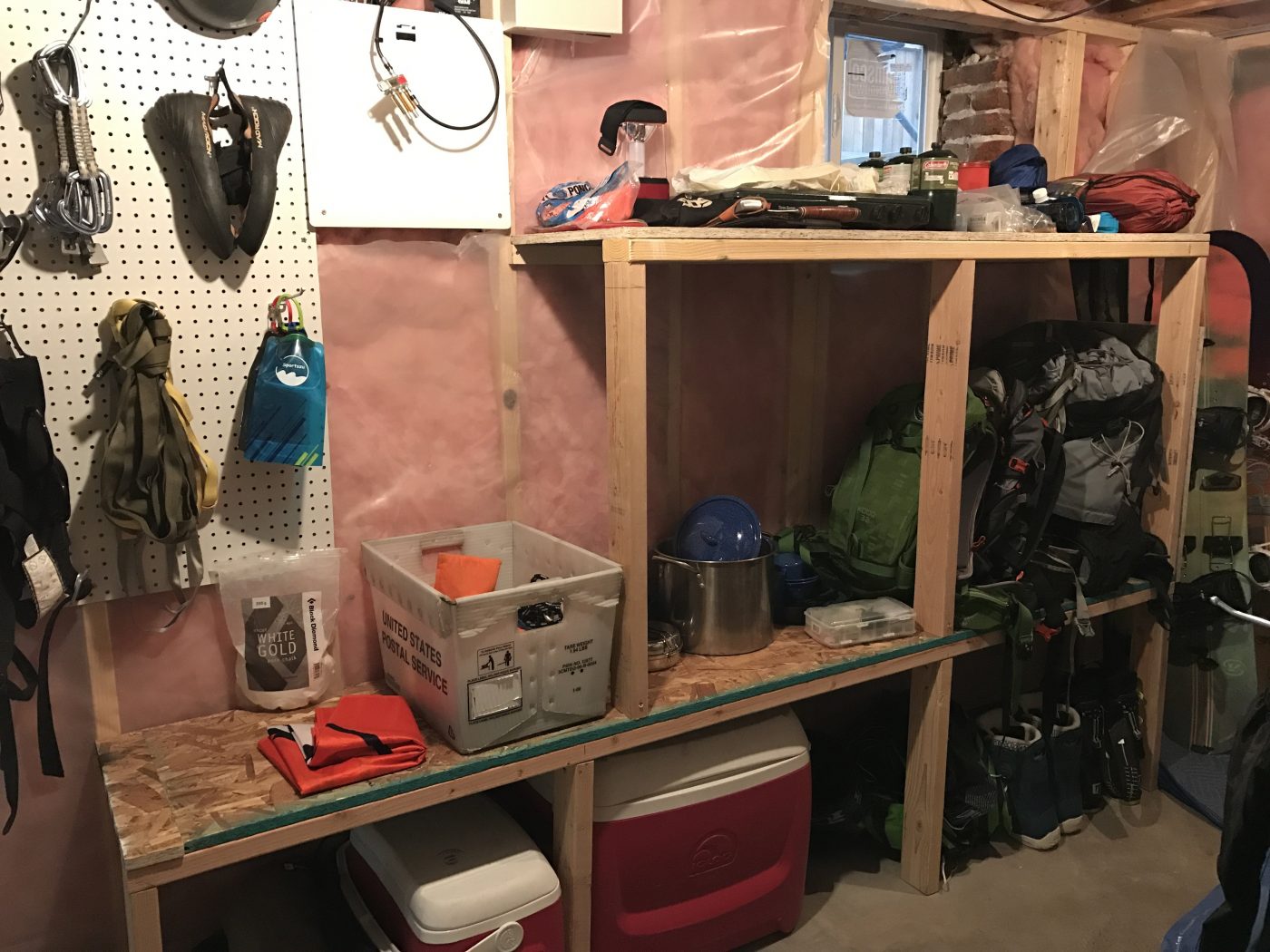 Voila! Gear organized! I hope you enjoyed this build your own outdoor gear closet tutorial. With a little elbow grease, it's simple to create the DIY gear closet of your dreams.