Finding the perfect pair of women's climbing pants doesn't need to be a royal headache. I've searched high and low for the optimal pair of climbing pants for women. Sharing is caring, so I'm passing on my list of the best climbing pants for women directly to you.
As an expert gear tester, I know a thing or two about finding the perfect pair of climbing pants for women. This is a round-up list of amazing, functional (can you say usable pockets?) pants that will have you looking and feeling your best.
Note: This post uses affiliate linking. That means when you click on a link and buy something, I get a small kick back at no added cost to you. It's a win-win for both of us. You can get full reviews you trust and I can continue to bring you the best gear recommendations on the web.
About This Guide to the Best Women's Climbing Pants
Each of these products has been put through the wringer. I've whipped, hiked burly approaches and sent pitch after pitch in each of these pants. I've even tested these pants with my pee funnel while wearing a harness, and each pair passed with flying colors. In this guide to the best climbing pants for women you'll find:
Expert buying advice
The best women's climbing pants
Tips for scoring a deal on women's climbing pants
What to Look for in a Pair of Women's Climbing Pants
Throughout the years I've climbed in everything from stretchy jeans to full on alpine-ready pants. When it comes to buying a pair of women's climbing pants, you'll want to think about what kind of climbing you like to do.
If you tend to stick to single-pitch cragging, look for a durable pant that can withstand some abuse. Gym climbers can use virtually anything – including alpine pants so if you double up on climbs, choose the pant that fits the most extreme environment.
Multi-pitch is all about staying comfortable, so look for women's rock climbing pants that have zippered pockets and breathe well. Alpine climbers need protection from the elements. Water resistance, zippered pockets, and a cozy waistband are a must.
A few handy features to look for when choosing a climbing pant are:
A comfy waistband. Look for a thicker waistband that stretches. This protects against pinching while you're wearing a harness loaded down with gear.
Zippered leg pockets. For those who like to alpine climb or multi-pitch a zippered leg pocket lets you stash a few essentials like a snack, walkie-talkie, and your phone without having to worry about dropping stuff.
Durability. All women's climbing pants take abuse and some fabrics handle it better than others. Read reviews. Those with bigger objectives should balance durability with weight.
Breathability. Climbing on a sunny wall can feel like climbing on the side of an oven in certain climates. Make sure your pants breathe.
Mobility. Features such as two-way stretch fabrics, cinched ankles, gusseted crotch, and articulated knees all aid in mobility. This is a must-have for ANY climbing pant.
The 6 Best Women's Climbing Pants
Now that you've got some know-how on what to look for in a climbing pant, we'll dive into a few excellent women's climbing pants you'll actually want to wear.
I personally wear each of these pants, and most of them are in regular rotation for hiking pants too. Not to mention, some styles are suitable for camping and even wearing around town.
So let's get sendy with this list of the best climbing pants for women.
Best Pants for the Alpine: La Sportiva TX Evo ($119 on sale for $42)
I've been wearing my La Sportiva TX Evo pants for years. These make for an excellent all-around pant that can handle 18-plus hour days in the alpine. I've been all over the world with these bad gals.
They can handle any terrain including rugged sandstone splitters and gnarly granite spires. Oh, did I mention they also excel for hiking and scrambling too?
Pros: Durable. Stretchy and comfortable waistband for all-day wear. Roomy zippered pockets. Zippered side pocket. Comes in fun colors. Water-resistant. Maximum mobility. Articulated and reinforced knees. Gusseted crotch.
Cons: They are a little on the pricey side. I wish that you could cinch the ankles.
Amazing Tights for All-Day Craggin': Permagumby Leggings ($115 or $85)
Permagumby is my new favorite small business that's whipping out excellent quality climbing leggings for the feminist climber (raises hand enthusiastically). The funky designs of these leggings combined with a function where you need it to make these women's climbing leggings worth every penny.
Oh, their femme-focused mission means that every product is not only sustainably made, but Permagumby donates 5% of their profits to Queer Nature, Native Women's Wilderness, The Rising Hearts Coalition, and more. Now you can send your project and uplift the climbing community too.
Pros: Leggings actually stay put. TOTAL flexibility. Durable material stands up to burly rock. Gusseted crotch. Kick-ass graphics. Some leggings come with a super-useful side pocket to hold a phone, snack or walkie-talkie. Chalk bag loop is a nice touch.
Cons: Price. I want to own all of these, but my wallet gets upset with me. Le sigh.
Multipitch Mayhem with Title Nine Clamberista Jogger Pants ($89)
Alright. So I tried on the Title Nine Claberista Jogger Pants and I simply never took them off. I don't know if it's the ultra-cozy waistband, functional pockets, or rad colors that seem to go with everything, but I'm virtually always wearing these.
Perfect for a day scrounging around your favorite local crag or relaxing by a campfire, these multi-sport pants are suited for a variety of activities. They even make the cut for the best hiking clothes for women.
Pros: Soft cotton waistband. Relaxed fit offers plenty of mobility. Gusseted crotch. Articulated knees. Ankle cinch. Usable, fleece-lined, pockets. Zippered side pockets. Multi-sport.
Cons: The waistband has cotton, so not the ideal choice for a day in the alpine.
Boulder Up with Black Diamond Notion SP ($85 currently on sale for $64)
Although I don't boulder too often, the Black Diamond Notion SP is an awesome pair of women's climbing pants that's suitable for that pebble life. I've been spotted wearing these by the campfire after a long day in the Creek, at the gym, or even while I chill on the couch.
They are cozy, have deep pockets, reinforced and articulated knees, making this jogger-style pant an ideal choice for complicated bouldery moves. I may be a trad rat, but that doesn't mean I won't get funky on a boulder or two with the BD Notions.
Pros: Very durable. Cute and cozy fit. Deep pockets. Great range of motion. Reinforced knees. Gusseted crotch.
Cons: Cotton. They are a bit on the heavy side (to enhance durability).
The Sport Rat: La Sportiva Mantra Pant ($99)
The La Sportiva Mantra Pant has been in my arsenal for ages. Each year these women's rock climbing pants just get better and better. As one of the best women's climbing pants for a single pitch day at let's say, Shelf Road Colorado, I simply cannot wear these enough.
They are as durable as ever. In fact, when I took a deck fall and got into a climbing accident, these pants saved my hiney, literally. Sure they ripped and tore virtually everywhere (no avoiding that when you're tumbling down a boulder field), but they protected my body. I am thankful to have a few less scars because of these bad gals.
Pros: Ultra cozy waistband. Awesome, funky colors. Elastic ankles. Durable. Articulated knees. Gusseted crotch.
Cons: The cotton blend makes them heavy and not ideal for bigger objectives. Also, if you tear 'em Tenacious Tape won't work. I wish the pockets closed somehow, they don't feel that protected.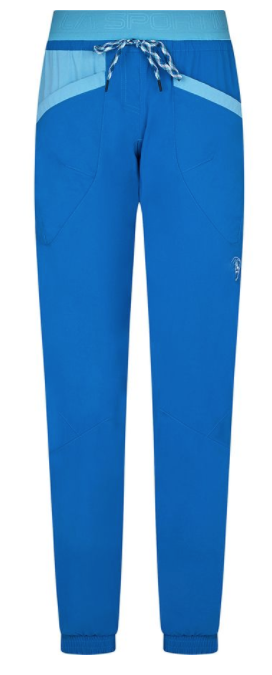 Gym Rat's Delight the PrAna Kanab Pant ($79 on sale for $60)
I've been ranting and raving about the PrAna Kanab Shorts. Seriously, this design is so popular the shorts sold out in a matter of months. The Kanab Pant is no different. Featuring deep pockets that even bump out a little for extra storage, a cozy waistband, and a lightweight, yet durable material. I love these pants.
Perfect for the gym or a weekend camping at the crag, these are a great all-around buy. The jogger style is cute and can even be worn around town. A win-win for me! Not to mention, PrAna has always been at the forefront of garmet sustainability (both socially and ecologically).
Pros: Amazing pockets. Cute styling. Large waistband that's elastic and quick-drying. Quick-dry, breathable material. Cinched ankles. Gusseted crotch. Reinforced knees.
Cons: Size down with these. I'd like to see some zippered pockets too.
How to Find a Deal on Women's Climbing Pants
Climbing is one of the least accessible sports of all-time. I totally get that. Honestly, you don't need fancy clothing to climb, but as you get into it you may find you want to level up your wardrobe.
In order to score a great deal on climbing gear, utilize these handy tips:
Sign up for emails. Sometimes you'll nab a discount just for signing up.
Join a climbing org. A few organizations have access to pro deals with memberships.
Buy in the off-season. Usually you can snag an end-of-season-deal.
Buy used. Used is more sustainable and far less money.
Send it with These Additional Climbing Resources
Looking to up your climbing game? I've got you covered with these incredible climbing resources just for you:
Say goodbye to squirming in uncomfortable clothing this season with this list of the best climbing pants for women. As an avid rock rat and climbing dirtbag, I've got you covered with amazing climbing pants for women you'll love.
PIN THIS POST