Layers upon layers of endlessly steeper and higher peaks surround you. You've been walking for days, but each rotation of the earth is more astonishingly beautiful than the last. Every village you stop in you're immediately treated like family. Your guide has been coming to this region for nearly 15 years, he knows everyone like a brother and you, by default, are extended family. Taking a break on the trail you share a snack with your team and a stranger. Open arms, open hearts, and breathtaking scenery. None of this would have been possible without the experienced and community-oriented team at Trekking Planner Nepal (a TAAN Member). 
**Please note this is sponsored content. I received a small discount on my trek for writing this review. However, I would have written it anyway. This was the experience of a lifetime. As always, all opinions are my own.
Many of you know that I've dreamed of seeing Mount Everest since I was 10 years old. At the age of 30 I finally got around to making that dream a reality (read about my preparations). I opted to trek up to the top of Gokyo Ri 5,400m (17,716'). This route boasts the best panorama in the entire Khumbu region offering fantastic views of Everest, Lotse, Makalu, Cho Oyu, and the Ngozumpa Glacier – the largest in the Himalaya.

Above and beyond what I could have possibly imagined, the entire experience has left me speechless. Selecting the proper trekking company is paramount. Trekking Planner Nepal delivered above and beyond even my wildest expectations. 
Curious about how we found Trekking Planner? This guide helps you find the perfect guide for your Nepalese adventure.
Attention to Detail
Trekking Planner Nepal has a knack for detail making it the best trekking company in Nepal. From the very beginning of the planning stages all the way to the final departure the owner, Dipak, ensures you are prepared for your adventure. Squirrel and I had arrived in Dubai for a 40-hour layover only to discover that our bags, with all of our trekking gear, had not made the journey. We were headed to the highest peaks of the Himalaya with nothing more than a toothbrush and some desert clothing.
We contacted Dipak to let him know the situation and that our plan was to carry on. After all, we had traveled across the world for this. He told us that although it is most certainly not a good situation, we would be able to find everything we needed in Kathmandu and he would help get us situated if our bags didn't end up making it to Dubai. In the 11th hour, thanks to a bit of luck and a few stern phone calls our bags made it to Dubai. Crisis averted, but Dipak was still there to go above and beyond to help out.
The Heart of Trekking Planner Nepal – Exceptional Guides
A guide will make or break your experience in Nepal. A highly knowledgeable quality guide is exactly what Trekking Planner delivers. The guides set Trekking Planner Nepal apart as the best trekking agency in Nepal. Dipak himself was a guide for many years. He knows what makes a great guide and employs trusted colleagues like our guide Krishna. Krishna is hands down the best guide I've ever had in all of the 31 countries I've visited. His knowledge, sense of humor, encouragement, and flexibility are simply unmatched.
Other guides would leave their clients alone the second they got the chance. Krishna would hang out with us, play cards, take us on acclimatization hikes around the villages, even help us bargain for a few items we needed in town. It wasn't uncommon for other trekkers to lean in close when we were all hanging out in the teahouse while Krishna told a story. He enjoyed learning from us, just as much as we enjoyed learning from him.
I'll never forget our day in Gokyo. We worked hard to make our way to one of the highest settlements in the world. Krishna rallied us to hike a little higher after arriving at the teahouse to get a view of the magnificent Ngozumpa Glacier. To ensure you are properly acclimatized and sleep better, it's a good idea to hike higher than where you sleep. We got to the top of the hill and sat down on a couple of rocks. As we watched the clouds roar through the valley and the peaks beyond peak-a-boo through the fluffy white we chatted about life in our respective worlds. This simple moment reminded us that we were with someone who didn't see us as just a paycheck, but genuinely cared about who we were.
We started our journey through the Himalaya with a guide, and left with a close friend. It's people like Krishna that truly make travel special.
Stay in the Best Teahouses with Trekking Planner Nepal
The places we stayed throughout the trek were all top-notch. There are seemingly endless amounts of options for places to eat and teahouses to stay in. Trekking Planner Nepal consistently provided us with wonderful rooms in places with the best views and excellent home cooking. For example, it is quite common to stay in a teahouse with an outdoor bathroom. The thought of having to use the restroom in the middle of the night where temps dropped well below -11c (12F) is pretty unbearable. We were never in that situation. In fact, we had a bathroom in our room all the way from Lukla to Namche and beyond that it was just a short trip down the hall. Trust me, it's the small details such as these that make a world of difference high in the Himalaya.
Often times we spent the day relaxing in a quiet, cozy space after a hard day trekking. Other tour groups crammed onto tourist-ridden patios while we relaxed in a Himalayan garden oasis sipping tea chatting up the owners about life in Nepal.
Where most groups stayed…
Where we stayed.
Looking for a Custom Trekking Itinerary? No Problem for Trekking Planner
Altitude is a funny thing. It can knock you down before you've even stood up and it will strike at any time it deems fit. After summiting Gokyo Ri I started to feel extremely nauseous. I'm familiar with how my body behaves at altitude, dizziness and a headache are nothing new to me above  3,800m (12,500'). Nausea however, is new. I've had AMS before and I knew I needed to get lower. With a little encouragement from Krishna and Squirrel, we decided to deviate from the itinerary and head down.
Train up for your trek here.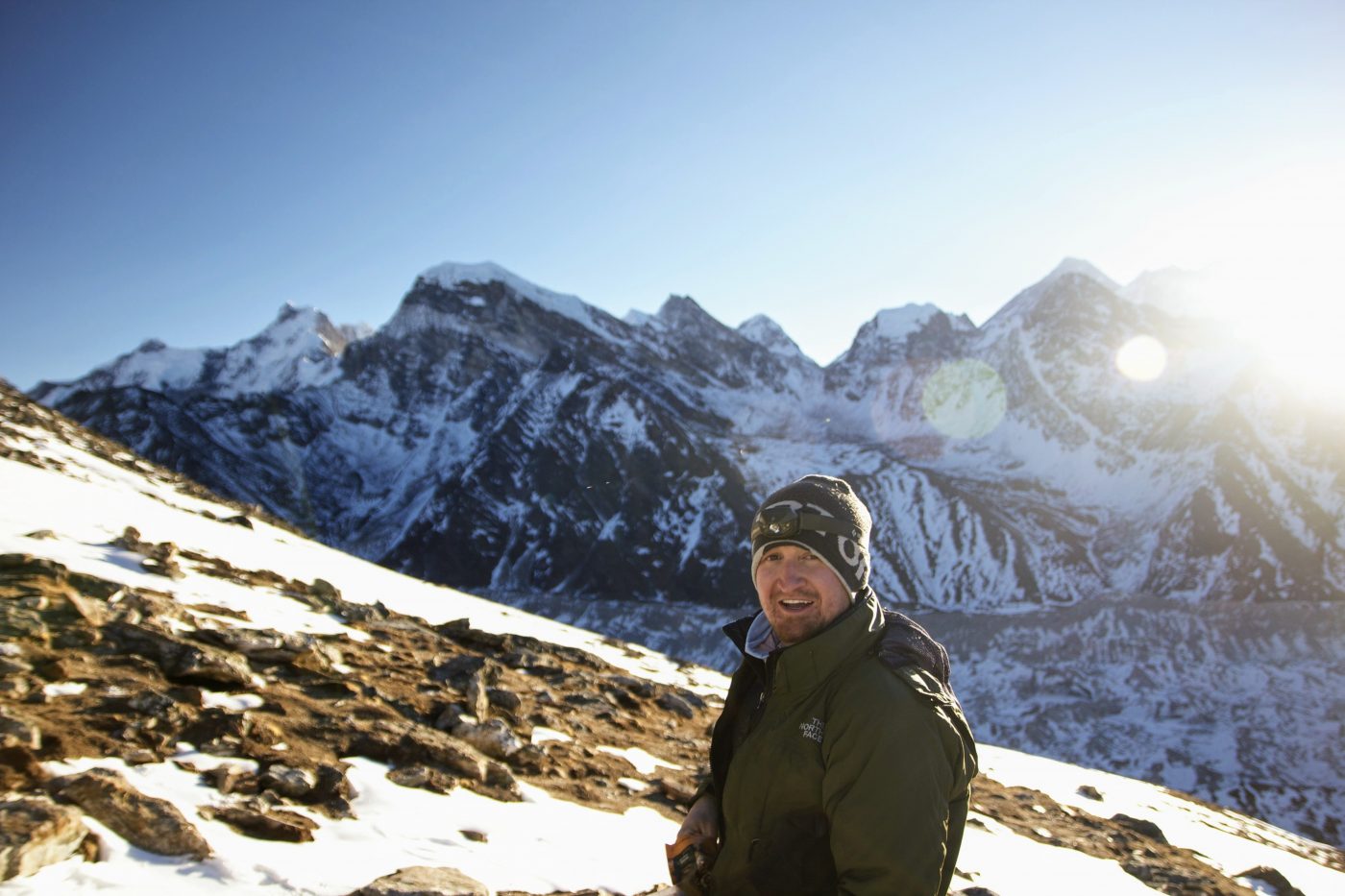 The more I walked the better I felt, so we continued even further down into the valley. Before I knew it we had been walking for nearly 9 1/2 hours and were a day ahead of schedule. We spent the night in Dole that evening happy to have air to breathe. This also opened up our itinerary to stay in Jorsale which allowed us to do some much-needed laundry and have a hot shower.
An Honest Business Isn't a Cheap Business
As with anything you are going to get what you pay for – however buyer beware. I sat down with Dipak before embarking on my trek and he told me that often times, the companies offering the lowest price for a trek will use you to make money from helicopter evacuations.
We were talking to a group where this had happened to one of the members. They were trekking with a cheaper company which had a rushed itinerary causing someone in the group to get sick and need rescue. Don't let this be you. Trekking Planner builds in an additional day into each trek for extra acclimatization. There is no pressure to be rescued and Trekking Planner does not bother you about avoiding medication (another thing we saw quite frequently). Instead, you are encouraged to live day by day and step by step at your own pace. Worth every single rupee you pay.
Prepare for an Experience of a Lifetime
I've got about a million stories from my time in Nepal. I met some amazing Nepali people who welcomed me into their world. Dipak took exceptional care of us before we even arrived in Nepal, until he was tying good luck scarves around our necks at the airport. We blended right in with the locals (okay….almost…).
If anyone asks me how they should see Nepal, my answer would immediately be with Trekking Planner. Dipak and his team are my premier recommendation for trekking in Nepal. If your plan is to head to the mountains, ask for Krishna.