If you love the outdoors, you'll never be out of things to do in the South Island of New Zealand. Touted as the adventure capital of the world, New Zealand is an outdoor lover's paradise.
You don't need to be a world-class outdoor athlete to enjoy the best outdoor activities in the South Island of New Zealand either. There's plenty of amazing New Zealand adventures to have no matter what your skill level. These incredible things to do in the South Island of New Zealand offer the perfect adventure for any traveler.
About this Guide to the Best Things to Do in the South Island of New Zealand
This is the bucket list of things to do in the South Island. We'll cover everything from thrilling boat rides to scenic drives. Multi-day New Zealand hiking adventure to adrenaline-pumping thrill rides the South Island of New Zealand has it all. Here's what to expect:
A look at what to do in the South Island of New Zealand for outdoor enthusiasts
The most Instagrammable scenery in New Zealand
Family-friendly adventures in New Zealand
The adrenaline-junkies guide to New Zealand
A few quick tips about travel to New Zealand
Whale Watching in Kaikoura
by Something of Freedom
Without a doubt, whale-watching boat trips are one of the most exciting activites South Island of New Zealand As a result, the charming coastal town of Kaikoura is one of the top places to visit in New Zealand!
These trips offer the chance to see sperm whales, many other whale species, dolphins, seals and more! How often is it that you get the chance to witness such majestic marine life up close in their natural habitat? It's an opportunity not to be missed!
It's not only marine life that you'll have the chance to see. The area is home to approximately 75% of the world's pelagic seabird species, the wandering and royal albatross, shearwaters, gannets, terns and more!
The whale watching trips last around 2 hours in total, so if you get motion sick it's best to take some Dramamine or other seasickness medication before departing. Booking in advance is recommended, as these tours are one of the most popular things to do in Kaikoura.
Take A Scenic Flight over the Franz Josef Glacier
By Sarah Sees the World
Taking a scenic flight over Franz Josef Glacier is arguably one of the best things to do in the South Island of New Zealand. When the weather is safe for flying, heli-hiking up on the glaciers is an option, but just landing on the fresh snow atop the glacier is an amazing experience.
Franz Josef is a small town in New Zealand's South Island with beautiful mountain views, a Kiwi Conservation Centre, some hot pools and a range of adventure activities on offer.
In the mountains nearby lies the Franz Josef glacier, which comes down to within 300m of sea level (you can take a short walk up through the rainforest to view it). Sadly, due to climate change, it's receding rapidly.
The Helicopter Line offers a 20-minute helicopter experience of the glacier. You can book the day of, but advanced bookings are recommended during the busy season. Opt for a window seat and snap unbelievable photos of the sky-high, scenic views.
While this is an adventure activity the most strenuous part is walking in the soft snow which your feet can really sink into. However, overall this activity is suitable for most people.
Kayak in Milford Sound
By Destinationless Travel
Milford Sound is one of the most popular places to visit in New Zealand. For many, a scenic cruise through this glacier carver fiord will do, but for the true adventurer at heart, nothing beats kayaking in Milford Sound. From a kayak, you're as close as possible to the sheer cliffs that dwarf anything below. It's truly a memorable experience you simply won't forget.
In Milford Sound, there are a few different kayaking tours to suit all levels of experience and fitness. From the one-hour kayaking trip in the calm Harrison Cove that actually has a lift to lower kayakers into the water, to the harder 6-hour adventures that takes you to the deepest parts of the fiord, there's something for everyone.
Bookings aren't always essential in Milford Sound but if you're traveling between the months of December and March (the busiest time of year) then to secure your spot be sure to book before you go!
Kayaking in Milford Sound is one of the best ways to enjoy this unofficial "8th wonder of the world", definitely an adventure well-worth it!!
Hike the Hooker Valley Trail at Mount Cook
By CK Travels
The Hooker Valley Track in Mount Cook National Park is one of the most beautiful hikes in the South Island, due to its easy access along the Hooker River and incredible scenery. The trail is approximately 5 kilometers long, starting from the White Horse Hill Campsite, and is around 3 to 4 hours return (add 1 hour extra if starting the walk from Mount Cook village). The trail gains only 100 metres in elevation which makes it suitable for all levels of fitness.
The walk has several viewpoints along the way and if the weather is clear, you will see Mount Cook in the distance. The trail takes you over three swing bridges, but don't worry, these aren't too scary! Your reward at the end is the beautiful Hooker Valley glacier lake, with several floating icebergs, having broken away from the nearby glacier.
The weather can change quickly in this area so you are best to take layers of clothing just in case. The trail can also be quite busy during the summer months so you might want to start early to avoid the crowds.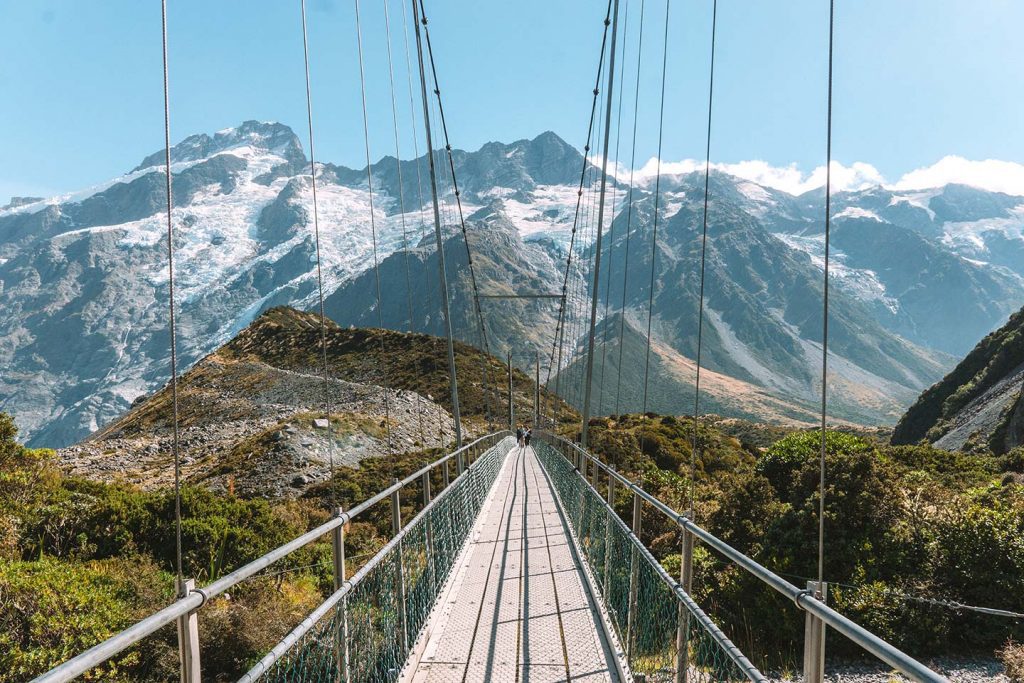 Visit the Scenic Cathedral Caves in Catlins
By ZigZag on Earth
One of the most impressive coastal adventures you can have in South Island is visiting the Cathedral Caves in the Catlins Region (not to be mixed up with Cathedral cove in North Island). This can't miss South Island of New Zealand activity offers up beautiful coastal scenery.
Imagine this: two sea-carved tunnels reaching 30m in height and 200m in length, which are connected at the back!
But it is not just the tunnels that are fascinating, the whole experience is worth it:
The short unpaved road to reach the carpark
The fact that it is a protected Maori land
The walk to the beach through the fairy-like coastal forest (one of my favorite patches of forest in NZ)
The limited access only at low tide
The reflections in the caves and on the beach
To plan your visit, you need to check the tide time and head there before low tide, to have plenty of time to explore. The walk through the forest takes around 20min (and will be uphill when you return) and then you still need to walk an additional 5 to 10min along the sand to reach the caves.
For the whole adventure, plan to spend 1 hour and 30 minutes. It costs a small fee at the carpark (cash only).
Cycle the Stunning Otago Rail Trail
by Travels of a Bookpacker
f you love the outdoors, you'll be spoilt for choice in New Zealand and it can be a little overwhelming choosing which experiences to take part in. Lots of areas of the South Island can get really busy during the summer season and while it's not hard to find some solitude, the most popular hikes and adventures can get overrun.
A great adventure a little off the beaten path is the Otago rail trail. A 5-day cycling route taking you through some of New Zealand's most historic little towns located in the Central Otago region. It's not only a sustainable way to see New Zealand, but it's stunning too!
The trail follows a former railway line and passes through incredible valleys, quaint towns as well as bridges and tunnels. The ride is mostly flat with a few inclines and is suitable for children with cycling experience.
There is accommodation in most towns along the way so you can organize how far you want to ride each day. There are many bike rental services who will drop and pick you up from any point along the way so it is easy to customize your trip. It is even possible just to stay in one of the towns and do a day trip. The most interesting and scenic part of the journey is between Omakau and Oturehua so if you're short on time consider basing yourself in this area.

Spend a Night at the Breathtaking Mueller Hut
by Where in the World is Nina
Of all of the best things to do while you're road tripping New Zealand, Mount Cook National Park can not be missed. Not only does it hold the country's highest mountain but it boasts incredible scenery. The area has a bunch of great hikes that nearly anyone can do!
If you want to challenge yourself, opt to hike to the Mueller hut. At only five miles round trip it isn't too tough. However, keep in mind it's a steep stair climb for the first half of the trail. The stairs end at the Sealy Tarns overlook which offers some pretty stellar views of Hooker Valley and Mueller Lake but it's nothing compared to what you'll get at the top.
You'll have to work for those last few miles by rock scrambling and at some points too! Once you make it to the top you come face to face with some glittering glaciers on the mountains opposite of you, Listen for avalanche and glacier echoes in the background. Luckily you're safe at the Mueller hut, but you do see and hear them in the distance.
The Mueller Hut pops out from behind the rocks at the very last second of your hike and beacons you with its red facade and warm walls.
Staying overnight is a treat as nothing beats sunset and sunrise here. The masterpiece is setting your eyes on Mount Cook while sipping your terrible instant camping coffee as the sun rises over Hooker Valley.
Just be sure to book your bed ahead of time as they do fill up fast as with any hike, wear good shoes, and make sure you can hike in all of your supplies. The hut is bare bones.
Visit the Unique Moeraki Boulders At Koekohe Beach
by Budget Travel Talk
Like spherical marbles standing up to two meters tall and weighing in at a couple of tonnes, the Moeraki Boulders lie scattered across Koekohe Beach north of Moeraki in New Zealand's South Island.
To get there take a picturesque drive 37 km or 30 minutes south from the historical Victorian Heritage town of Oamaru or a one hour 75 km drive north from the town of Dunedin.
The scientific name for the boulders is septarian concretions. They get their round appearance from calcite-cemented mud with angular cracks or Septaria. It is possible to look down into the cracks when you are close enough.
They started forming 60 million years ago and are excavated today from the mud cliffs behind Koekohe Beach by wave action.
It's the seeming randomness of the whole thing that is so appealing. If you're lucky, you may even see a boulder rolling from a cliff to lay there in new-born glory at the top of the beach.
The boulders are quite captivating, so don't forget your camera! A towel is handy too, in case you get wet.
The beach is always open and free. Time your visit for low tide when the boulders are exposed. Your visit should only take half an hour or so.
A visit to Moeraki Boulders is a fun day out for everyone. There is a café on the shore above Koekohe Beach and the small fishing town of Moeraki across the bay is well worth a visit.
Lunch at the Moeraki Hotel is always good and I personally recommend the chowder.
Take a Family-Friendly Hike to Peak Hill in Canterbury
by Backyard Travel Family
If off the beaten track and hidden gems is your style, then this epic walk has remoteness for you in spades. Just 80 minutes from Christchurch Airport, but hidden deep in the Lake Coleridge area is the beautiful Peak Hill. This 3 to 4-hour return hike will see hike up the rocky ridge to the summit where you will get amazing views over the Southern Alps, the Rakaia River, the large and majestically blue Lake Coleridge as well as the iconic Canterbury Plains.

The hike is similar to walk to the famous Roys Peak in Wanaka, except you won't have a line to take the photo and it won't take as long. It is a strenuous walk, but the first hour to the first viewpoint is the hardest. Once you make it there, the second half isn't nearly as bad.
Do be aware that this walk is completely exposed to the elements and there is no shelter. It often gets windy here in the afternoon so our top tip is to head up first thing in the morning. There is very little cellphone reception here either (ie. GoogleMaps) but you can get a few bars at the summit.

How to get here: From Christchurch Airport, head towards Lake Coleridge Village. Once on Coleridge Road, turn right onto Homestead Road (signs for Lake Coleridge) then left into Algidus Road. This road becomes gravel and Peak Hill is about 11km down this road on the right. There is only a small DOC sign and no real carpark, so keep your eye out for a big hill to climb near the road.
Go for a Paddle in Punakaiki
When thinking of Punakaiki, many will think about the famous pancake rocks. But there is more to do in this small community on the west coast! Just a mile north of the iconic rocks lays the Porarari river, an emerald green stream that winds through a steep gorge and lush vegetation. A hiking trail follows the riverbed, but if you are up for a little adventure, rent a canoe!
You can find a canoe rental right at the river mouth – just a few steps away from Highway 6. They can provide you with everything you need – a canoe, water shoes, life vest, and even some waterproof boxes to keep your valuables dry. If you're not comfortable to paddle in a canoe on your own, you also can rent out a double canoe.
Without experience you easily can paddle up the Porarari river for an hour, the waters are shallow and there are no real rapids. Depending on the time of your paddling experience, you might catch the incoming high tides on your way back, hence getting back can become a bit sportier.
Hike to the Top of Rocky Mountain in Wanaka
by Time Travel Turtle
If you're spending some time in Wanaka, one of the easiest adventures nearby is the hike up to the top of Rocky Mountain. It's still relatively strenuous but you can do with no preparation and limited time.
It takes about 30 minutes to drive from Wanaka to the start of the Rocky Mountain hike. From there it's about a two-hour walk.
What I particularly like about the route is that it's a loop, going up the mountain on one side and then down the other, so you will get a range of different views.
It's the views that make this hike so spectacular. On the way up, you get the bright blue Lake Wanaka spreading out in front of you, with little islands dotted through the water. Then, on the way down, you get a wonderful vista of the snow-capped mountains in the distance. And at the peak, you can see it all – plus extra features like the beaches and rivers below.
Once you've finished the walk, it's only a short drive to the nearest beach, which is a great place for a swim to cool off on a warm day, before heading back to the wonderfully friendly city of Wanaka.
Zip Down the Queenstown Luge
by Two Wandering Soles
Perched on a hill that overlooks Queenstown, the Skyline Luge is a fun outdoor activity for travelers of all ages. Just picture it: You're behind the wheel and before you is a jaw-dropping view of Queenstown, Lake Wakatipu, and the snowcapped Remarkables Mountains. Wind rushes through your hair as you veer around curves and bends on this downhill (aka super fun!) track.
One lap on the luge track takes roughly 5 minutes. However, Skyline Luge's tagline is "one time is never enough", so be sure to budget a bit more time if you want to do more than one lap (highly recommended!). Plus, you'll want some time to take in the views and enjoy a coffee or ice cream cone at the hilltop's cafe.
The Skyline Luge is fun for adventure seekers, but it's also a unique activity for those who aren't keen on the token adrenaline-junkie experiences, like bungee jumping and skydiving. Also, starting at just $14 NZD for a single ride, it's very affordable compared to most activities in New Zealand. There are two ways to reach the luge track at top of the hill; either by hiking (which is free) or by purchasing tickets for the gondola, which can be accessed downtown on Brecon Street.
If you're traveling in New Zealand and are looking for a fun, cheap and low-key adventure outside, the Skyline Luge ticks all your boxes.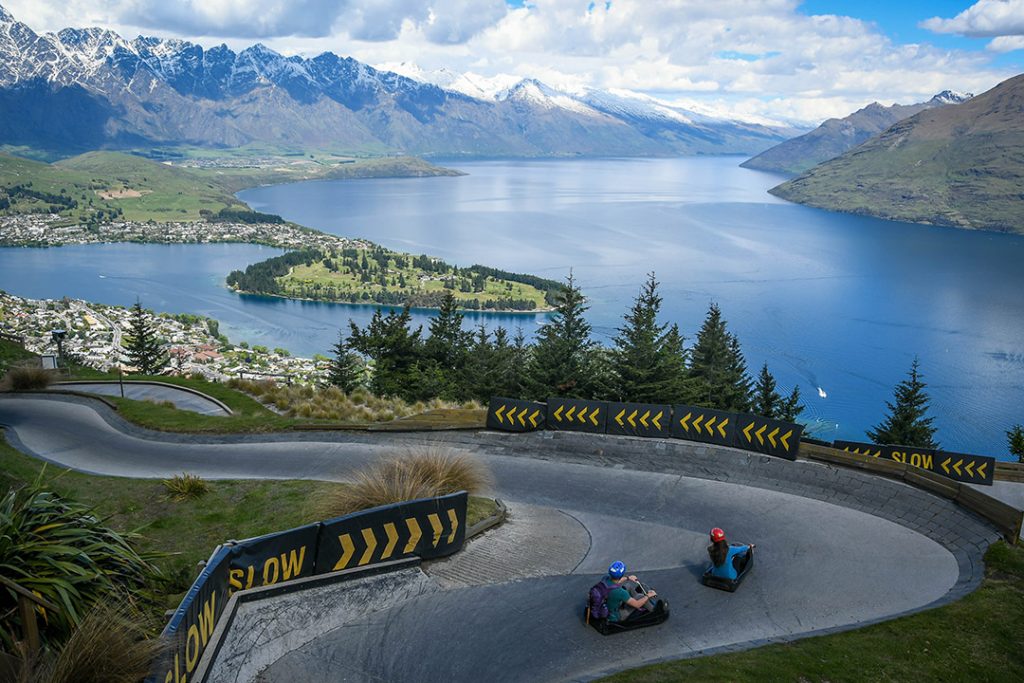 Soak in the Views at Katiki Point Reserve
by Four Around the World
One of the highlights of our recent South Island campervan road trip was an afternoon detour to Katiki Point Reserve. The best part of this experience was the fact that it is completely free!
Katiki Point Reserve is located behind the Katiki Lighthouse. Take a short walk along the path that follows the cliff edge and you will find yourself face to face with some incredible wildlife.
We thought ourselves pretty lucky when we spotted 2 penguins and a fur seal below. Little did we know a few minutes further we would be standing right beside a colony of over 50 fur seals.
While you are advised to keep a distance of at least 5 meters, you could easily take a seat and watch them go about their business for hours on end. We arrived an hour or so before sunset, which is a time of day when you will have a lot of seals and usually start to see the penguins coming back for the night too.
The reserve is private property. While it is free, they do have a box for donations. Be sure to follow the signs advising on safety precautions. The walk itself requires some fitness as there are a few inclines and narrow areas along the path, but it was fine for us and our two children under 7.
Give yourself at least an hour to enjoy the experience. Katiki Point Reserve is close to the Moeraki Boulders so you can easily visit both in an afternoon.
Take a Self-Guided Tour of the Cave Stream Scenic Reserve
The Cave Stream Scenic Reserve is a self-guided cave tour in Castle Hill which makes it a perfect activity for those driving between Arthurs Pass and Christchurch. What makes exploring this cave so worthwhile is the fact that it's self-guided. However, there are definitely some nerves as you venture into the cave (the deepest part is at the start). You'll get an adrenaline rush as you head inside. While the walk only takes 45-60 minutes, it's pitch black the entire time as you walk against the river flow surrounded by the cave walls. Pack a headlamp if you want to see.
It's not for the faint-hearted (or claustrophobic) and you do need to be somewhat fit with a few small (1 to 1.5 meter climbs up ledges throughout the walk and there's the ladder at the end.
While you can get through the cave with a head torch and regular clothing, avoid going through the cave in the winter (and solo) unless you've got super warm waterproof gear and have some experience as the waters are going to be very, very cold. No bookings are required, but make sure you begin at least an hour before the sun is due to set.
Go Bungee Jumping Near Queenstown
For an adrenaline-pumping activity, jump off something high! AJ Hackett Bungee New Zealand offers three bungee jumping options near Queenstown. There's the Ledge Bungee which allows you to run and jump out of a hut for a 47m dive. Head to Kawarau Bridge for the classic bungee jumping experience, where the sport originated (43m)!
For those who want added thrills, go to the Nevis area where you can jump from a vertigo-inducing 1375m! WOWZA! Bungee jumping isn't for the faint of heart and once you pay, there are no refunds. The best way to jump is to just go for it.
You can sign up for any of these jumps right in the heart of Queenstown at the AJ Hackett office. Advanced bookings are recommended, but it is sometimes possible to jump as a walk-in.
Go for a Scenic Drive to Glenorchy
by See the South Island
The drive from Queenstown to Glenorchy takes you along one of the most scenic roads in New Zealand. There are plenty of places to pull over and enjoy the views, as well as some nice short hikes, and once you get to Glenorchy you can relax by the waterfront area (and see the famous red boat shed) or do the easy (and very scenic) Glenorchy Walkway.
After exploring Glenorchy it's a good idea to keep driving to Paradise. I wouldn't call it a town (it's much too small for that) but it has a sign — surely one of the most photographed signs in New Zealand — and also a hiking track which takes you to several viewpoints overlooking some spectacular Lord of the Rings scenery. It's a great day out and is right up there with the best things to do in the Queenstown area.
Walk on the Tasman Glacier Near Mount Cook
by Red Around the World
The Blue Lakes and Tasman Glacier Walks are one of the best easy walks in New Zealand. There are some stairs, but it's still pretty simple. On the way up to the glacier view, you'll pass the Blue Lakes which are actually greenish now because they are filled with rainwater instead of glacial water.
This is the perfect addition to a visit to Mount Cook. It's just a short drive from Aoraki/Mount Cook Village so you could see it on your way in or out. While you won't be right in front of the glacier, you will have a primo view of the longest glacier in New Zealand, a stunning glacial lake, and maybe even some icebergs floating around.
An hour should be enough time to hike to Tasman Lake, but maybe plan two hours if you take a lot of pictures or just want to hang out. No permits are needed, so if you have time and are close, it's the perfect option!
Explore the Adventure Capital of Queenstown, New Zealand
Famous as the adventure capital of the world, Queenstown has countless year-round attractions that will more than satisfy your adventure bucket list.
Located on the northern shore of Lake Wakatipu, a crystal-clear lake formed by a glacier more than 15,000 years ago and New Zealand's third-largest lake, Queenstown offers dramatic views everywhere you go. The scenic backdrop makes it the perfect location for the adrenaline-pumping activities you can do here.
If you're short on time, it's a good idea to start with the five most popular adventures that make Queenstown what it is: bungy jumping, skydiving, jet boating, mountain biking, and if you're there in the wintertime, snowboarding.
Perhaps the activity that put Queenstown on the adventure map is bungy jumping, having been invented here in 1988 with the first-ever commercial Bungy operation. Since then, it not only took off in popularity worldwide but also inspired other awesome activities in Queenstown like canyon swinging and zip riding (ziplining).
Queenstown is also the birthplace of tandem paragliding (1990) and has the best scenery backdrop for trying kite skiing, parasailing, white-water rafting, underwater diving, river surfing or abseiling. If you prefer to maintain contact with the ground, you can try dirt biking, rock climbing, via Ferrata or hiking. There are numerous walking and hiking trails you can take from the center of Queenstown that each reward you with unique views over mountain peaks and surrounding lakes.
Don't miss the panoramic views from the Skyline gondola, which is also an adventure in itself as it's the steepest gondola ride in the Southern Hemisphere. At the top, you'll have a breathtaking 360-degree view over the entire area.
Ski and Surf in the Same Day!
by Parenting Passports and Profits
Skiing or snowboarding in New Zealand's South Island is unlike any other snowsports experience I've ever had in Europe or the USA. Mainly because the adventure starts long before you get on the snow! As one of the more unique activities in the South Island of New Zealand, it's a skiing experience unlike any other.
Unlike other 'resorts' around the world with their 'ski-in, ski-out' type facilities, NZ's snow scene revolves around ski 'fields' where, depending on the size of the ski-field, you may need a 4-wheel drive just to access it! And some of the smaller 'club' fields have tow ropes that require you to master a "nut-cracker" to get up the mountain! Exciting indeed.
The South Island has five larger, 'commercial' fields where you can expect facilities such as chair-lifts, on-mountain facilities and terrain for all skill levels; Mt Hutt, Cardrona, Treble Cone, Coronet Peak and The Remarkables. Mt Hutt is the only one easily accessible from Christchurch, with the other four being much nearer to Queenstown and Wanaka.
On the other hand, you can access around 12-13 'club' fields all within 2-4 hours drive of Christchurch. Most of them in Canterbury. These are much smaller fields, usually run by members, and invariably you can expect much more basic facilities. But also cheaper passes.
The Southern hemisphere winter runs from June to August and I've enjoyed spring skiing well into October on the commercial fields. July/August is the peak season and note the 'club' field seasons are often very short.
Wherever you choose you can expect relatively empty slopes, stunning scenery and to have a lot of fun
Kayaking in Abel Tasman National Park
by Stuart Fahy
When it comes to outdoor activities New Zealand has so many incredible options, especially in the South Island. When it comes to what to do in the South Island of New Zealand, Abel Tasman National Park is at the top of the list. The park is located on the northern tip of the island, close to the town of Motueka.
Not only is it filled with stunning views of incredible natural beauty but there are also lots of activities to try. The best of which is kayaking. Paddling your way through the various water routes and stopping off at random beaches to admire the local flora and fauna is something of a spectacle.
There are many kayaking tours available in Abel Tasman that will take you to the various islands and coves of the national park, covering half-day, full-day or multiday excursions (which you can also combine with a hike along some of the trails). The scenery is incredible wherever you go so it's difficult to be disappointed. From glorious golden sandy beaches to secluded bays and dense forest areas.
The kayaking itself is relatively easy as there are no great currents to deal with, although this could change on the day depending on the conditions. With a decent level of fitness and previous kayaking experience, you should have no difficulties. The tours themselves are easy to book, either through your accommodation in Motueka (around 20km away) or on the various internet sites offering tours.
Take a Thrilling Jet Boat Ride then Relax in Hot Pools at Hanmer Springs
by Le Long Weekend
Hanmer Springs is an easy day trip or weekend break destination from Christchurch City and the small resort town makes an excellent base for nature lovers! Spend your days in the outdoors by enjoying the walking trails or riding the many mountain biking tracks, or, for those looking for an action-packed afternoon, a Hanmer Springs jet boating experience delivers all the thrills!
Zoom down the Waiau Uwha River, and hold on tight as the driver expertly navigates 360-degree spins and hugs the cliffs on hair-raising bends. It's most definitely a New Zealand experience to remember!
And of course, no visit to Hanmer Springs would be complete without a visit to the iconic hot pools that rose the town to fame in the first place. Relax in the adult-only pools, or watch the kids have fun riding the lazy river – the whole family will enjoy splashing around in the naturally heated hot springs.
Quick Tips for Visiting the South Island of New Zealand
Travel in New Zealand is generally easy and straight forward. The best way to see the country is definitely by campervan, where you drive from one location to the next and sleep in a converted van. Keep in mind while you're traveling around:
New Zealand has a problem with tourist drivers, so remember to look both ways and follow traffic laws.
During the summer months (the winter in the Northern Hemisphere) advanced bookings for activities are recommended.
Bringing in dirty camping gear is illegal in New Zealand. Clean any gear before you come.
Additional Planning Resources for Travel to New Zealand
The Ultimate 2-Week Road Trip Itinerary to New Zealand (coming soon)
The Only New Zealand Packing List You'll Ever Need (coming soon)
Overall, the South Island of New Zealand is riddled with adventure and fun-filled activities for everyone. So pack your bags and head to the South Island for an unforgettable Kiwi experience.