Go slow. That's the motto on the tiny island about an hour off the coast of Belize. This sleepy island offers (relatively) budget-friendly destination will have you unplugged in an instant. When it comes to what to do in Caye Caulker, the answer is often to just sit back and relax or add a dash of adventure to your day. Let's dive into the most satisfying things to do in Caye Caulker, Belize.
How Long to Stay in Caye Caulker?
We spent three full days on this sleepy island. I ended up catching a horrible stomach bug and was sick for one of the days, so I felt a bit cheated. However three to four full days is about all you need to explore Caye Caulker. If you're all about that RnR, then perhaps a few extra days couldn't hurt.
If you're exploring the rest of Belize, be sure to check out this guide to planning a trip to Belize.
Where to Stay in Caye Caulker
The island of Caye Caulker is actually split into two smaller islands. There is no road between the two islands. Instead, there is a small straight you must cross either by swimming, by boat or SUPing across. The northern island is much less developed and mostly contains private homes, AirBnBs, and one resort.
The action and the town proper is all on the south side of the island. If you're looking for a party, this is more your place. Solitude seakers will love the isolated feel of the north side of the island. Getting from one island to another isn't too complicated if you don't mind swimming, but certainly, make sure that wherever you are has a boat that can transport you back and forth.
For awesome hotel, hostel, and guest house deals, check out these listings.
How to Get to Caye Caulker, Belize
Getting to this colorful island getaway is relatively easy. You can take a ferry ($15 US return) out of Belize City. The ride takes around an hour depending on which size ferry you jump on.
Your second option involves a 15-minute scenic flight from Belize City International. My brother took the flight on the way out to save some time. Cruising just a few hundred feet above the brilliant blue waters was totally worth it.
How to Get Around Caye Caulker
Once you've arrived on the island, the motto is: go slow. Most people navigate Caye Caulker on foot. It is possible to rent pushbikes or even a golf cart for a marginal fee, but we found that unless you're toting a lot of stuff around (or small children), by foot is the way to go.
It's easy to hire water taxis to take you across The Split to the north island. Most rides cost around $5. Another option to travel by sea is to rent a SUP or kayak. Prices vary but are generally between $10-$20 dollars. You can easily dock up at a beach resort and stop in to relax.
What to Pack for Caye Caulker
Caye Caulker is a super-laid back destination so be prepared to take things slow and unwind. You'll want to pack plenty of sun protection and bathing suits. Here's a quick-and-easy packing list for Caye Caulker
Sun protection. Think sunscreen, bathing suit cover-ups, hats, the works. The sun is brutal here, so be sure to plan accordingly.
A water purifier. You can't drink the tap water in Belize, but you can certainly purify it and save the earth one less plastic bottle at a time. Just be sure you are purifying your water from a freshwater source – many of the bars (like The Split) use saltwater in the bathrooms.
Bug spray. Chiggers, mosquitos and biting flies are quite common (and aggressive).
Lightweight long-sleeves and pants (for the bugs!).
A book
A quick-dry shammy towel for beach days
Any prescription medications and over-the-counter stomach medication. There is a doctor and pharmacy in town, but the hours are somewhat limited and the selection is expensive since everything has to be brought in by boat. Montezuma's Revenge is alive and well here (both John and I got sick), so be prepared in case you get caught off-gaurd.
For a comprehensive look at what to pack for your beach getaway, see this beach day packing list.
What to Budget in Caye Caulker
Caye Caulker (And Belize in general) doesn't live up to the budget-friendly hype. Prices are more on par with cheaper destinations in the US or Costa Rica. Expect to pay for booze, food, and beer.
A restaurant charges anywhere between $15-$25 US for food and about $3.50 for a beer. We ended up cooking the majority of our meals. Our Airbnb came with a local guide who bought us the freshest catch and prepared an amazing grilled seafood feast. For the 8 of us, this service cost $45 total.
Buying and cooking food is substantially cheaper. Opt to get a case of beer instead of buying buckets (this will save you $10s of dollars over the case). Remember to return the case for your $6 refund once they are empty.
Activities range from uber-expensive (a scenic flight over the Blue Hole will run around $300) to absolutely free. I've listed prices for each of the activities I have listed here. Our group spent about an average of $110 a day ($50 a night for accommodation with a private pool, beach, boat driver, SUPS and Kayaks) for all activities, drinks, food, and transport.

The Bucket List of Things to Do in Caye Caulker
Relaxing is the top priority here on Caye Caulker. There are no cars, no paved roads and opening times for establishments are rough guesses. Take your time, relax, and go slow. Here's an in-depth look at what to do in Caye Caulker.
1. SUP the Shoreline
Our group of eight rented an Airbnb on the north side of the island that came with a few SUPs and kayaks. Renting these items typically costs around $5 US for a few hours. Cruise the shoreline and keep an eye out for fish as you paddle through crystal clear waters. Stop at one of the many beach-side establishments for a quick bite or a brew.
Cost: $5US for the day.
Where to find it: Anywhere, ask your accommodation on where to rent
2. Eco-Friendly Snorkel at Ho Chan Marine Reserve
One of my favorite things to do in Caye Caulker, Belize was snorkel. The Ho Chan Marine Reserve is world-class and bursting with life. Stressless Tours offers the only eco-friendly snorkel operation on the island. Snorkeling and diving is the premier thing to do on Caye Caulker. A trip to the reef is a MUST on any itinerary. We booked a private, full-day tour for $100 US per person (non-private is $75).
I would recommend the full-day tour if you want to get away from the crowded parts of the Ho Chan Marine Reserve. We visited shark and ray alley (no feeding of the animals), Coral Gardens (beautiful), a shipwreck and even free dove through a cave 30 feet underwater.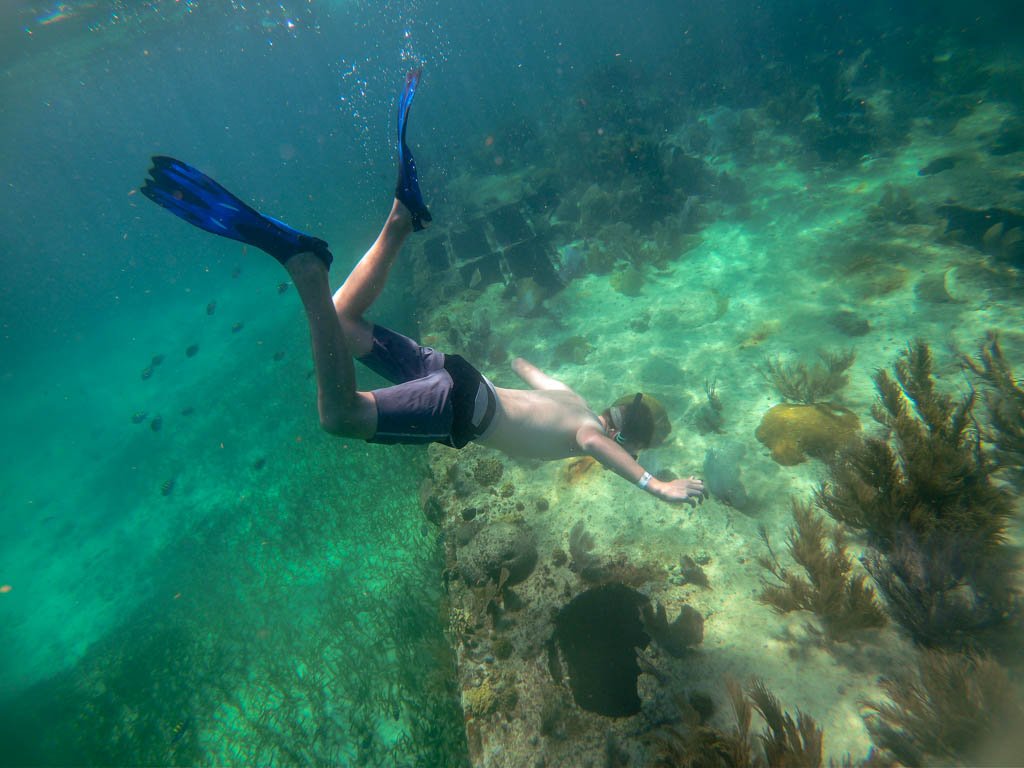 Beware: There are a lot of tour operators who will rip you off here. Go with a reputable company that believes in safe reef practices. Stressless provides you with reef-safe sunscreen, doesn't harm or feed the animals and has an excellent safety record.
Cost: $100 for a 5-hour private tour or $75 for a group tour.
Location: On the east side of the north island on the corner of Playa Asuncion and Calle del Sol
3. Relax at the Split
Back in the day, a hurricane split Caye Caulker into two separate islands, north and south. Now there is a small channel running between them with a bar and beach perched right at the water's edge. It's a lovely spot, even though food and drinks are expensive.
You can jump off a 15-foot dive platform, swim, watch the fish or relax at a table right in the water. This is the day-time jam spot. I rarely drink and I was even inspired to sip on a cold Belkin while soaking in the warm water.
Cost: Varies. This isn't the cheapest place to eat, but order an app or a bucket of beers to secure your space.
Where is it: At the far end of the south island, all roads that lead south will eventually lead you to The Split.
4. Post up with a Bucket of Beers on the Best Beach in Caye Caulker
Koko King is hands-down the best beach on Caye Caulker, it's also one of the most relaxing things to do in Caye Caulker, Belize so come prepared to unwind. Located on the lesser-developed North Island, Koko King has innertubes to float in, swings over the water and plenty of white sand. Most of the island is either inundated with nasty smelling seagrass washing ashore or mangroves, making beach space a premium. Despite its luxury appearance, food and drink are cheaper here than The Split.
Cost: Varies, but a bucket of beers costs around $20 US
Where to find it: Take a water taxi to the north side of Caye Caulker, you can get dropped off right at Koking King. Or swim the split and head north, walking on the only road on the north side until you see signs for Koko King. It's maybe a 10-minute walk from the Split
5. Swim to the North Island
Bring a dry bag for your belongings and do as the locals do, swim across the split. Unfortunately, I was too sick to partake in this activity, but a few of my friends swam the split. Beware of boats and if the current is strong, simply let it take you towards the other end. You can use your dry bag for floatation.
Cost: Free
Where to find it: Once you're at The Split, you can't miss it! Just swim to the other side, but always ask locals which way the currents are running first!
6. Sit in a Hammock and Wait for the Wildlife
One of the best free things to do in Caye Caulker, Belize is simply sitting and watching the wildlife. This island teems with wildlife. We saw tons of crabs, iguanas, birds, fish, you name it. Simply find a quiet place to sit and wait for the landscape to reveal the wildlife all around you. This activity is best enjoyed in a hammock (with bug spray!) and a cool drink in hand.
Cost: Free
Where to find it: Anywhere you can find a hammock to relax in
7. Spend time with the animals
During the day, the town becomes a windless sweatbox and it can be a bit hard to bear if you aren't into stifling heat. Break up the sweat with a visit to the animal shelter. Pet some kitties, play with some puppies and forget about the beating sun. If you don't have time to visit the shelter, doggos also love to hang out near the Sports Bar, by the ferry docks.
Cost: Free
Where to find it: On Date Lane a few blocks north of the ferry docks and one street inland. If you've reached De Real Macaw, you've gone to far.
8. Catch a Sunset Near the Beach
Get a bird's eye view of a sunset along this lovely island. Even sitting just three stories up you'll have a near-360-degree view of the ocean. Simply. Perfect. Catch a sunset on the west side of the island. Go by boat, by SUP, on a balcony, or relax at the beach (my recommendation is Koko King).
Cost: Free
Where to find it: Caye Caulker is so small, it's easy to simply walk to the shore and watch a sunset.
9. Catch a Scenic Flight Over the Blue Hole
Unless you're a skilled SCUBA diver, with plenty of dives under your belth, the best way to lay eyes on this beautiful wonder is by air. Take a scenic flight and fly over the Blue Hole, a unique natural feature that is exactly what it says it is, a giant sink-hole in the ocean. Flights will set you back about $300 for an hour ride so be prepared to fork out some cash.
Also, even though you're only about an hour and a half by boat at Caye Caulker, most flights take off from the Belize City airport, which means that you'll have to make the shlep back to the mainland for this one.
Cost: $300 and up
Where to find it: Tropic Air offers scenic flights to the Blue Hole
10 – Bonus! Eat Fryjacks and Grilled Seafood Galore
Overall I found the food in Belize to be a bit greasy for my pallet – but still delicious! However, the seafood doesn't come any fresher and is well worth a splurge. Grilled lobster galore (I think I ate six), fresh-caught fish and conch are all regular menu items.
Tastier treats from the land include fryjacks (fried bread with eggs and breakfast meat), jerk chicken (grilled fresh along the road just south of the Split). Street food costs slightly less than food in a restaurant, but always be sure to ask for the price in Belize dollars first. There are a lot of caterers that will try to scam you into a larger bill. Keep tabs on your drinks as well.
Cost: $8 for lobster and $4 for fryjacks.
Where to find them: Everywhere. Ask your accommodation for the closest spot.
All of this talk of crystal clear waters and sunny weather has me jonesing to go back to Belize (it's currently snowing here). This list of things to do in Caye Caulker will have you relaxing and getting into island life in no time.
Want more tropical travel inspo? Check out a few of my favorite destinations:
Island escape to Perhentian Islands, Malaysia (coming soon)