Touted as one of Sri Lanka's premier attractions and arguably one of the most beautiful train rides in the world, the Kandy to Ella train is a must-do on any Sri Lankan itinerary. However, before you get too excited, I want to let you in on a little secret: this is one of Sri Lanka's most over-rated attractions. Why? Because so many people simply do it wrong. Rule one: take a few days to indulge in one of the many Kandy to Ella train stops. Don't worry, I've got your back with this comprehensive guide to making the most of your Kandy to Ella train journey.
Know Before You Go: Kandy to Ella by Train Facts
This train isn't like riding the New York Subway, or perhaps in some ways, it is. This is a train in a developing nation that slowly lumbers it's way up through the mountains. The ride is bumpy, long, and at times very frustrating.
It isn't uncommon for the train to stop unexpectedly for 20 minutes or so. This is because there is one track through the mountains and sometimes trains need to wait for other trains to pass coming the other way. Understand that a straight shot on the Kandy to Ella train is over seven and a half hours long. That's quite a long ways for a single-day journey.
Kandy to Ella Train Times
Typically the Kandy to Ella train times depart four times daily. One leaves early in the morning, then there are two others sprinkled throughout the day, and one in the evening. For the best chance at scoring a seat, take the earliest train out of Kandy. Although the train will still be quite crowded, leaving early will give you more time to enjoy the best Kandy to Ella train stops. It will also give you the best chance of the train leaving on time. For an up-to-date Kandy to Ella train times, check out the official Sri Lanka Railway website.
How to Book a Ticket on the Kandy to Ella Train
It is possible to reserve your seat in advance for certain classes on the Kandy to Ella train. Reserved second class tickets are available and sell out almost immediately up to 3 months in advance. First class Kandy to Ella train tickets are also available to reserve in advance, but you can often snag a first-class ticket several days before you leave.
Reserving your Kandy to Ella train ticket in advance costs around $10-$15USD. There are booking agencies that will do this for you. We reserved our first class ticket three days in advance at the Kandy railway station and it cost us around $11US for the first leg of our journey (which would be the same had we taken the train all the way to Ella).
However, unless you are traveling first class, you can easily buy your Kandy to Ella train tickets day-of – regardless of where you jump on the line. Essentially, the Sri Lanka train system works in the following way. The ticket counter opens and sells first through third class tickets.
First class requires a seat reservation, so those tickets sell out. Second and third class then get packed with no quota. Meaning, they will simply continue to sell the tickets for second and third class regardless of how full the train is. You've been warned. This can lead to some seriously crowded trains – although from Kandy to Ella, the crowds were never as bad as they can be on anything heading to Colombo (the capital) at rush hour.
The Different Kandy to Ella Train Tickets: Fare Classes Explained
We had the opportunity to take every class of train from Kandy to Ella. Each fare class has its own set of pluses and minuses. Overall, the second class is the most cost-effective, although you're not likely to get an actual seat on the train. Here's a break down of the fare classes on the Kandy to Ella or Ella to Kandy train.
First Class Trains in Sri Lanka
We took the first class train from Kandy to Hatton (the stop for Adam's Peak). This train is privately owned and all of the cars were first class. It's the first train in the morning out of Kandy. We did see some other trains with first-class cars, I am assuming these cars are privately owned as well.
In first class, you'll have an assigned seat, air con, a dining cabin, and closed windows. The real bummer here is that the windows don't open and they don't recommend you open the doors (but you can, no one will say anything). The windows are scratched so the photos out of the train won't be quite as nice, but you'll save yourself some of the hassles of riding in second or third class.
However, if you plan on making the entire journey in one day (which I don't recommend since you will miss the best areas of Sri Lanka's hill country) then I would recommend going first class. Also, if you don't want to risk standing for the entire journey, then certainly reserve a first class ticket. This class is primarily tourists.
Second Class Cars in Sri Lanka
The second class train has two seats per row, fans, and a few locals (although it's mostly tourists). This is where most of the backpackers, bloggers, Instagram stars, and other digital content specialists take. The cost of a ticket is around $1.80. You will have a bit more breathing room than the third class train, but don't expect to sit down.
We found second class to be comical. Tourists spend most of their time running around and jockeying for door space, sticking selfie sticks out the window, and generally acting quite disgusting. The entire ordeal really put me off, and I create digital content for brands for a living. Overall it was relatively disappointing – the Kandy to Ella train has become yet another thing ruined by social media.
We stood for the three-hour journey from Hatton to Haputale (another one of our favorite stops). We stumbled off of this train after summiting Adam's Peak for sunrise, then standing on a jostling train for three hours. It was intense. This is the best class if you want some space, but we actually found it easier to get door space in third class.
Third Class Cars from Kandy to Ella
The third class compartment ticket costs around $0.80. It's where you will find most of the locals. It's slightly more crowded than second class, but not by much. We found that there were far less cameras and nonsense here and we actually scored a place by the door for the one and half hour journey from Haputale to Ella.
The fans don't work as well and there is bench seating if you're lucky. We had the luxury of utilizing the luggage rack in the second class train, and John sat on our bags on the third class train. The differences between second and third class were relatively minor since we stood for both.
The Best Kandy to Ella Train Stops
The best tip I can give regarding Kandy to Ella by train is to get off and stop along the way! Ella is an extremely disappointing town (more on that later), and its lower elevation means you'll miss some of the best views and scenery. Sure, the train is pretty, but being able to walk and drive through endless fields of tea and rolling countryside is an incredible experience. Do yourself a favor and stop at these amazing places along the Kandy to Ella railway.
Adam's Peak or Sri Pada
Arguably the most ambitious activities, Adam's Peak is also one of the best Kandy to Ella train stops. Make your way to Hatton and hop off the train for a once-in-a-lifetime stop. Take the bus or hire a tuk tuk ($12 round trip) to take you to the town of Nallathanniya. This is the most beautiful drive in all of Sri Lanka. Taking a tuk tuk allows you to stop and admire the view. The winding roads give way to spanning vistas of lakes and tea.
The town of Nallthanniya will do for an evening, since your objective is to climb Sri Lanka's holiest mountain, Adam's Peak, for sunrise. Make the 5,500-step climb to the top of this amazing mountain and experience on of the best sunrises in the world. This event isn't just for tourists, it's considered a birth rite of all Sri Lankans, regardless of religious beliefs, to have morning prayers at the top of the mountain.
Pro tip: If you have time to kill in Nallthanniya, wander back down the main road to the tiny village of Laxapana. There is a small trail just outside the village that goes right to the water's edge of the lake.
Haputale
Haputale or the town in the sky, is a beautiful place to unwind for a few days. Located along the route to Kandy to Ella by train, you can Hike Horton Plains, swim at Bambarakanda Falls (the tallest in Sri Lanka), or take a scenic drive to Lipton's Seat and wander through the tea plantations. Haputale was our favorite town in Sri Lanka. It's welcoming, quiet, and not over-run by tourists.
Nuwara Eliya
If tea is your thing, hop off the Kandy to Ella Train at the Nanu Oya stop and take the bus to Nuwara Eliya. Tea is queen here and there are plenty of opportunities to wander plantations, go on tours, and indulge in tea tastings.
Tips for Riding the Kandy to Ella Train
Get the most out of your trip to Sri Lanka with these quick tips on riding the Kandy to Ella train.
Get off the Train!
I can't stress this enough, do not do the entire Kandy to Ella train ride in one day. Get off the train and explore one of the many Kandy to Ella train stops. We found far better views and could actually stand out in nature and enjoy it! Even if you only have a short amount of time in Sri Lanka, it is well worth it to spend at least one night in a village along the rail route.
Ride on the Right
This is by far the most beautiful side of the train throughout most of the journey, however, it won't quite seem that way as you crawl out of Kandy. Be patient, the right-hand views really do pay off. If you are stuck on the left side, the second half of the train ride gives way to spanning vistas and some pretty epic waterfalls, so don't fret too much.
Prepare to Fight Insta-hungry Travelers
We heard a few horror stories about people pushing other travelers, throwing their belongings on seats as the train arrived in Kandy, and general rudeness towards fellow travelers. We didn't experience too much of this but seeing the professional cameras hanging from gimbals, women dressed inappropriately for a conservative country and other shameful behavior really put some things in perspective for me. Prepare yourself mentally to see some of the worst in travel.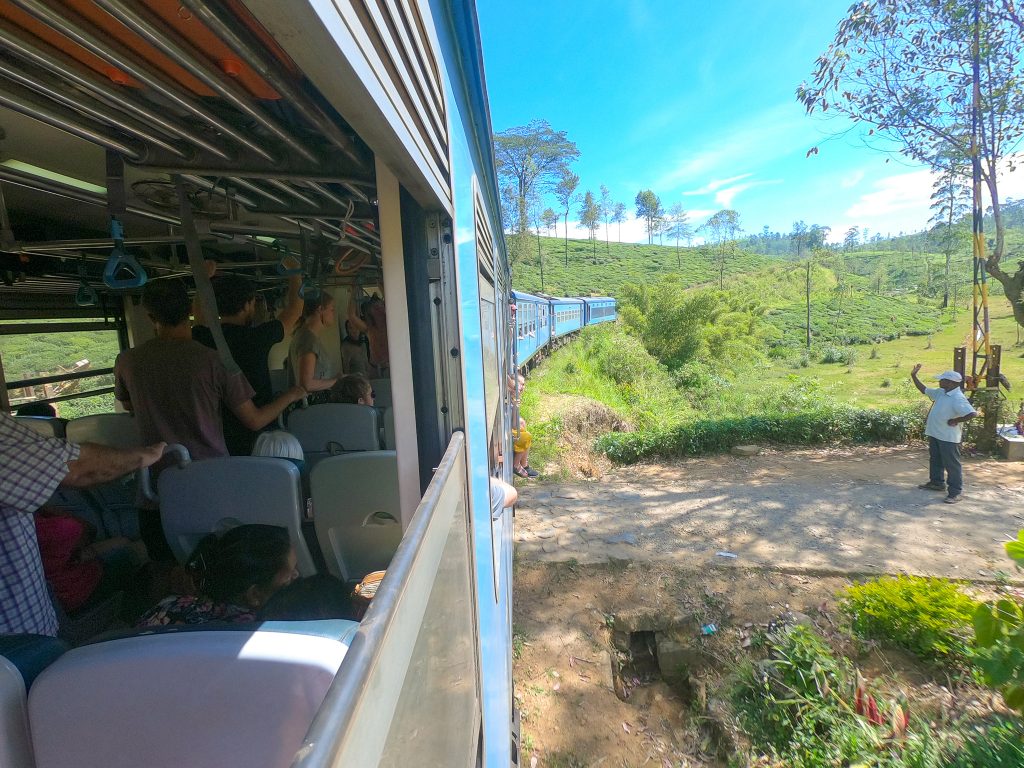 Take the Earliest Train
Due to our schedule, we didn't always have the opportunity for this, but the early trains are typically less crowded. Not to mention the lighting is far prettier. This also leaves you time to explore other places.
Ride in Reverse
We noticed that the train from Ella to Kandy was far less crowded than the other direction. If I had to do it again, I would consider a reverse itinerary that goes in the opposite direction.
Set Your Expectations Low for Ella
Ella was our least favorite town. It is entirely built for tourists at this point and it shows. Although it offered a nice change of pace from the tiny villages and local towns we were accustomed to, it felt really fake (similar to Ubud if you have ever been to Bali). Prices are well inflated to reflect the tourist dollar. The immediate activities around Ella weren't nearly as impressive as other parts of hill country (with the exception of the hike to Ella Rock). Ellas actually sits quite lower down in the hill country and there is not nearly the impressive amount of tea plantations that you see elsewhere.
Expect to Stand for Hours
We took the train on three separate occasions and only had a seat once, which was a first-class assigned seat. I was lucky enough to be able to squeeze in-between the back row of seats and get near a window, but most of the time we were in a position where we really couldn't see all that much. This made the ride generally uncomfortable.
Photography is Extremely Challenging
If your plan is to snap constantly and snag that perfect IG shot, best of luck to you. 90% of this train is doing the same thing you are (even the locals). I am a pro at snapping photos on the go, and this place presented a challenge (as you can tell by the shots I did snag). My recommendation? Let go of the lens and enjoy the ride. I think I only took a handful of photos and decided to be a little different and just let the moment sweep over me.
Buy Some Snacks
I always need something to nosh on. Luckily there are a wide variety of vendors coming through the second and third class trains selling their wares. We bought samosas and they were utterly delicious (around 3 for $1). Although the prices are a bit inflated, it isn't too bad considering the treats are tasty.
Don't Litter
We saw a few people throw trash out the train windows. It should go without saying, but don't be that asshole.
Ladies, Use a She-Wee
The train tends to bounce about like crazy, this makes the bathroom situation interesting, and certainly less than ideal for women who need to squat. If you can, use the eastern-style toilet. However, I always carry a pee funnel just in case, so I don't have to worry about it.
The Train Doesn't Ever Leave on Time
The latest train we encountered was the 11am train from Hatton to Ella. It arrived around 1:30 pm. Since there's only one track, it can be quite easy to get behind schedule. Don't panic, the train will get there when it gets there.
The best way to see Sri Lankas hill country is to take the Kandy to Ella train journey. The views are spectacular and it's a great way to get a different perspective on the country. However, it's worth your time to go about it the right way in order to make the most out of the experience by exploring some of the best Kandy to Ella train stops.