South America is one of the best places on the planet to take a hike. Get high on mountains in the mighty Andes, feel the pulse of life in the lowland jungles, and even go on an urban hiking adventure in one of the biggest cities in the world. Hiking in South America is a real treat and today we are breaking down the best hikes in South America and how to travel there.
When to Hike in South America
South America is a long continent, spanning nearly half the globe! Due to its size, you can trek in South America almost year-round. Keep in mind, if you're coming from the northern hemisphere, the seasons are opposite. This makes areas like Patagonia, Torres del Paine and other southern hiking destinations an ideal choice for a winter getaway.
The lowland jungles of the Amazon Basin and coastal regions to the north rely on wet and dry seasons. Although the rainy season (mid-December through mid-May) offers a unique chance to explore the jungle by boat, it isn't an ideal time to trek. Instead opt to hike in South America's jungles from August through November, when the jungle is, just slightly, drier.
How to Choose Where to Hike in South America
With nearly every type of ecosystem, from dry, hot deserts to steamy jungles, it can be tough to decide where to go. Areas such as Peru, Argentina, and Chile are well developed for tourism. This means you'll find more travel-friendly infrastructure, tour options, and English.
More remote areas such as Colombia, parts of Ecuador, and other lesser-known travel destinations in South America offer a bit more adventure. Be sure to have some Spanish (or French depending on where you are) under your belt. These destinations are ideal for those looking to hike in more remote areas where you'll have no choice but to be a little more self-reliant.
Also, think about what type of environment you'd like to trek in. Are you looking for jungles or mountains? Lowlands or high altitude? Cultural sites or big views? Do you want to mountaineer? Each of these activities will point you towards a particular region within South America.
Tips for Multi-Day Hiking in South America
If you're going on a multi-day hike or trek in South America, there are a few handy tips to keep in mind:
Bookend a hotel or hostel stay before and after your hike. Trust me, you'll want an evening to pack appropriately before your trek and a chance to shower afterward. Ideally, you'll stay in the same accommodation so you can leave extra travel items behind in a safe place.
Get traveler's insurance. Don't be like me and have to learn this the hard way. Trekking and hiking in South America is a slightly dangerous activity. Always check that you are covered for the max altitude you plan to travel at.
Consider carrying on your hiking gear. I was almost SOL in Nepal when the airline lost my luggage. Luckily, things worked out, but I've since started carrying essential items for trekking with me on the plane.
The Best Hikes in South America
With so many different options to choose from it can be hard to choose the best hiking in South America. Here's a look at a few note-worthy hiking trails for your bucket list.
Hike the Historical Inca Trail in Peru
By Rhonda from Travel? Yes Please!
The Inca Trail in Peru is South America's most famous hiking route and with good reason. This 4 day, 44 km journey follows in the footsteps of the Incas, who built the ancient trail leading from the Sacred Valley, across high Andean passes, to Machu Picchu.
As one of the best hikes in South America, this trek is a challenging but rewarding endeavor, as it climbs up into high altitude terrain then descends down hundreds of stone steps. At its highest point, the trail reaches 4200 m above sea level at Dead Woman's Pass.
The stunning scenery and Inca ruins along the trail are the perfect motivation to persevere. Views of snow-capped peaks, cloud forests, and distant rivers are interspersed with several well-preserved pre-Columbian ruins. Notable sites include the cliff-hugging Inca town of Sayacmarca and the agricultural terraces of Winay Wayna.
You are required to hire a guide for this trek. The Peruvian government put this law into action in order to protect the historic sites, surrounding environment, and safety of hikers. Trekking agencies deal with permits (only 500 are given out each day) and provide tents, food, and cooking equipment, as well as guides and porters.
May to September is the best time to do the hike, as that's when conditions are driest. It's recommended to spend 2-3 days in Cusco before the hike to give your body time to adjust to the high altitude.
The Iconic W Trek in Argentina
One of the most famous South American treks is the Torres Del Paine W Trek, located in Southern Chile near the city of Puerto Natales. It is a wonder of the world that is filled with glaciers, tall grandiose mountains, and beautiful lakes.
What makes this South American trek unique is the remote nature of the countryside. It takes days to get to Torres Del Paine National Park. If you can make it to this park, you can trek for about 3-4 days from hostel to hostel. There are a few hostels sprinkled all around the trail where they have rooms, campsites, and food.
Get Your Free Hiking Gear List and Hiking Planner!
The most famous trail in the park, where the name is derived, is Las Torres. The beautiful tall standing towers with the glistening glacial green lake right below, it is truly a sight to behold. Another favorite site is Los Cuernos mountains, which resemble mountains with horns. The brown mountain captures excellent photos with lakes.
One of the best parts of the W trek is hand down the Valle Del Frances. The mountains are breathtaking and colossal. It is a section of the trek that doesn't get talked about as much, but it is probably the most impressive part of the hike. The last but not least highlight of the trek is the Glacier Grey. This massive glacier stands over 30 meters high and 6 kilometers wide. It undoubtedly cannot be missed!
Done in a Day: The Two Brothers Hike in Rio
By Bailey of Destinationless Travel.
Not all of the best hikes in South America are high up in the mountains or through jungles, you can hike in cities too! Rio de Janeiro is easily one of the most amazing cities in Latin America. Take time to hike up to a viewpoint is the best way to see how incredible it is really is!
The Two Brothers Hike (also called Dois Irmaos) is a great hike to do in Rio taking you up above the city offering views of Ipanema beach. The view is postcard perfect and if you get a chance to go for surise you will be even more impressed.
But it isn't just the view at the end of the hike that makes it so special. The trail begins in the favela Vidigal which means you must walk through the favela to get to the start of the trail. This is itself is an interesting experience as you wander the alleyways and see graffiti.
In order to stay safe as a solo traveler, opt to join a tour. Sometimes travel through the favela is dangerous and confusing.That being said, tours are easy to find and they are very affordable. For those who don't want to go with a guide, go with a friend during daylight hours. If you get lost, ask the locals for directions, they will be able to help you no worries!
The Two Brothers Hike is also suitable for everyone as it only takes 2 to 3 hours for a round trip. In fact, you can actually take a motorbike taxi up the first half of the hike through the favela to the start of the hike.
It's cool to be new! Check out these awesome hiking resources for newbies:
Your Guide to the Best Hiking Gear
The Huayhuash Trek in Northern Peru
by Clare of Travels in Peru
Located in the Cordillera Huayhuash near the city of Huaraz in northern Peru, the Huayhuash trek offers incredible hiking in South America. Huaraz is around 8 hours north of Lima by bus. This area is well known for its great hiking, with the Huayhuash trek being one of the best hikes in Huaraz.
The Huayhuash trek can be done over 8, 10 or 12 days. Keep in mind most of the treks offered by the tour companies are 8 days. It can also be done independently, which means carrying all your belongings, camping gear, and food for 8 days.
The trek is a circuit around the snow-covered peaks of the Huayhuash mountain range. Nearly all of the trek is between 4,100 meters and 5,100 meters above sea level. Be prepared to acclimatize properly before heading out. Keep in mind that the added altitude makes this a difficult South American trek.
The views though are amazing and each day as you climb a pass you'll face epic beauty and jaw-dropping views. Expect to hike between 7 and nine hours each day. There are also opportunities for additional viewpoints.
I personally loved the 2nd campsite which has unbeatable views. We all sat high up on the edge of a lake watching the sunset over the snow-covered mountains. Throughout the trek, there are endless opportunities to take in spanning vistas, even on the last night!
Even though this is a difficult hike, you'll have plenty of spectacular views to distract you from all of the butt-busting elevation.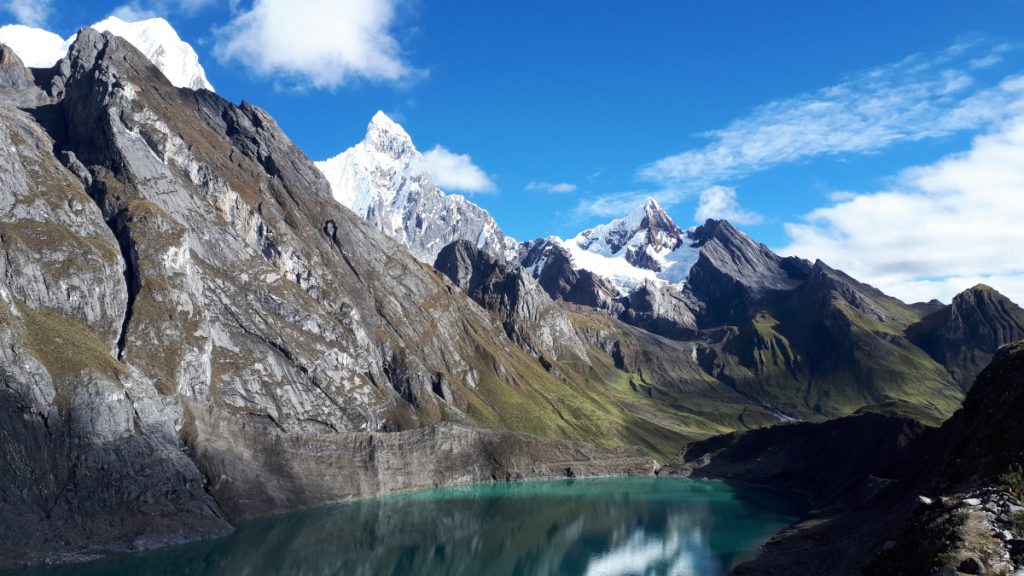 Spend the Night on the Tropical Coast of Tayrona National Park, Colombia
If you're looking for a quick jungle adventure, look no further than Tayrona National Park in Colombia. Hike through the jungle on this amazing hiking in South America.
Follow the jungle-laden coastline for several hours until you reach the end of the trail. Here you'll bump right into Cabo San Juan, a basic jungle camp where you can rent a hammock and swim. There are a few other amenities such as bathrooms, showers, a small restaurant, and backpack storage.
Opt to take many side trails such as the 9 Piedras and Pueblito trails. Venture out first thing in the morning to hear the sounds of the jungle and watch for wildlife such as howler monkeys, wild boar, and even the elusive jaguar.
It's worth it to spend at least two full days here, with one overnight, but you can opt to stay longer if you enjoy a more relaxing approach to hiking in South America.
The Choquerquirao Trek in Cusco, Peru
by Campell and Alya of Stingy Nomads
Choquequirao trek near Cusco, Peru is a great route for those who are interested in the mountains, nature and Inca ruins. It's a 4-day trek that takes hikers to the Choquequirao ruins, one of the few ruins in Cusco that aren't accessible by road. The trek to Choquequirao is a 58 km return route. It's possible to extend it and instead of walking back the same way, from Choquequirao ruins take the route that leads to Aguas Calientes from where you can walk to Machu Picchu. In this case, the total distance will be about 136 km.
The hike can be done independently. However, it's possible to hire a guide/porter or to join a tour. You don't need any special permits and you pay the entrance fee to ruins along the way.
Choquequirao ruins are called "the little sister of Machu Picchu", but unlike Machu Picchu, these ruins are significantly less crowded, you can explore it without being surrounded by hundreds of other tourists.
The trek to the ruins starts and finishes in Cachora, a small village about 3 hours bus drive from Cusco. Choquequirao is a moderate altitude hike, between 1550m and 3000m above sea level, which is lower than Cusco, no special acclimatization is needed. The most challenging part of the trek is a very steep and long descent to the bottom of the canyon with a subsequent ascent, about 1500m. The ascent can be done in two days, with an overnight stay in one of the campsites along the way.
The scenery on the Choquequirao trek is amazing; lush green mountains, rivers, canyons, waterfalls, flowers, many butterflies and hummingbirds.
Get Your Coffee Fix on the Cocora Valley Hike in Colombia
By Carrie of Trains, Planes and Tuk Tuks
Hiking in South America isn't all about long treks. Some of the best hikes can be done in a single day — like the Cocora Valley in Colombia's Coffee Axis.
The Cocora Valley is home to the wax palm, the world's tallest palm tree. These trees can grow up to 60 meters tall. On this hike, you'll find groves of these totally unique trees — often shrouded in mist, which only adds to their mystique.
You can see the wax palms on an easy 1-2 hour out-and-back hike. But for a bigger adventure taking you through a diversity of ecosystems, try the five-hour loop. Start in the jungle, walk through local farms, climb up through the cloud forest, cross rickety suspension bridges, and summit a 2,800-meter mountain. Then, at the very end, you'll walk down through the palm groves for one of the most unique and spectacular views in all of South America.
About halfway up, you can also detour to a hummingbird farm. If you want to see the birds, go as early as possible — they get shy after about 11 am.
The whole loop hike takes about five hours. There's some up and down throughout but only one truly steep section, so it's accessible to novice hikers.
You can reach the Cocora Valley by taking a public Jeep (yes, they use Jeeps to get around here) from Salento. Pack a picnic lunch from Brunch de Salento and enjoy!
With such a wide variety of landscapes, culture, and terrain it's tough to choose the absolute best hike in South America. However, this continent offers infinite miles of trails perfectly suited for everyone from experts to beginners.