After spending three weeks in Sri Lanka, hopping from one small town to another, I realized something, sitting for hours on end along a sandy beach just isn't for me. I get bored, restless, and need some action. Thankfully, Sri Lanka is home to a variety of seaside fun for the adventurous traveler. Here's a look at the best beaches in Sri Lanka for those that seek more than just a suntan.
The Best Time to Visit the Best Beaches in Southern Sri Lanka
Sri Lanka is a magical place in that there is a good beach spot year round. However, half of the island is always in a monsoon. The dry season for Sri Lanka's southern and western coasts is from November through March. You'll want to visit when the weather is dry and the surf is prime, so be sure to plan your trip around those times. However, if you can't make it to Sri Lanka's southern coast during the dry months, consider visiting the eastern coast of Sri Lanka, where the dry season runs from April through October.
How Much Time Should I Spend in Southern Sri Lanka?
That's all dependent on you. We felt that four days was more than enough around the area of Dikewella, Hiriketiya, and Tangalle. You can also opt to beach hop, taking the train or bus from pristine beach to pristine beach. Either way, you'll have plenty of time to enjoy the beautiful coastline of Sri Lanka and have plenty of time for adventure.
Water Sports Mayhem in Bentota
Bentota is a family-friendly beach town that offers several resort options. The beach comes alive with locals in the evening and is truly a site to see. Bentota is home to several different water sports, including tubing, speedboating and more.
Opt to go on a thrilling boat ride, or see Bentota from the air in one of the many fan-powered aircraft. If you love wildlife, head up river on the Bentota Ganga and spot cayman, water lilies, snakes, bats, monkeys and more.
Whale Watching in Mirissa
Head out on an adventure-worthy sea journey to spot the whales in Mirssa. This activity is advertised all around the tiny village and there are countless boats that organize trips scattered around this southern Sri Lanka hot spot.
The best season for whale watching in Sri Lanka is November to May, outside the monsoon period. Unlike the wildlife safari tour operators, most whale watching tours in Mirissa follow wildlife viewing. However, it's always best to select a tour company that complies with the criteria set by the WDC. Ideally, choose one that is not overly crowded, as some carry over 60-70 people.
The whale watching tours usually depart around 6:30 in the morning and the whole trip lasts a few hours. While whale watching should be an awesome experience, make sure you have the right expectations. Whales are wild creatures and their habitat is very large. So don't expect the tour organizers to know the blue whales' exact location at all times and accept that you might not see the blue whale, but you're likely to spot false-killer whales, dolphins or turtles. Some of the tour companies offer a partial refund or reschedule your trip if no whales are encountered. Either way, Mirissa is one of best south coast beaches in Sri Lanka, and the whales certainly make a splash on any adventurer's itinerary.
Image courtesy of Alina at Happy Kid.
Heading to Sri Lanka? Plan the perfect vacay with these handy posts:
Surf's Up at Hiriketiya Beach
Hiriketiya has become one of the best beaches along the Southern coast of Sri Lanka. It also happens to be a perfect place to learn how to surf. This horseshoe-shaped beach is a surfer and backpacker's paradise. The palm-tree lined beach offers a variety of surf breaks, varying in difficulty.
The peak season of December to February offers a great swell (waves) for beginners, while the waves are at their best from August to December for the intermediate/experienced surfers.
This top-rated Sri Lanka beach offers several different options for surfing and board rentals. Surplus surf schools lining the beach offer lessons for 3400 LKR ($20) an hour and there are cheap surfboards rentals as well.
The beach gets very busy from mid-morning to sunset, so for an uncrowded break, start surfing just after sunrise. Hiriketiya is the perfect place to spend a few days riding the blue waves irrespective your surf skill level. Just be sure to heed the local's warnings, there are plenty of sea urchins lurking in the water here and some spots are not safe for surfing.
Image courtesy of Going Places with Anwesha.
Motorbike and Beach Hop the Southern Coast
When John stepped on a sea urchin day one of our four days on the southern coast of Sri Lanka, we were pretty devastated. It was unbelievably hot, and John couldn't swim. To beat the hit we rented a motorbike and hit the road, hopping from small village beaches to big towns.
Start by heading out of Dikwella Beach towards Tangalle. Stop along the way wherever your heart may pull you. Parking is typically free and there is always the shade of a palm tree. If you're looking for a truly authentic experience, wander the streets of Nilwella. Start near Blue Beach and make your way beyond the fishing harbor towards White Peacock Hostel. Locals greeted us with warm smiles, a welcomed feeling after being cramped in the touristy hole of Hiriketiya. We were offered tea on several occasions, although the sweltering temperatures made hot tea sound uninviting.
The beaches here are vacant and vast, even though the waves are a bit rough, you can still manage to enjoy a swim (sorry John, it was simply too hot!). Continue on towards Tangalle, tasting the flavors of the different Sri Lankan beaches along the way. Wrap up the day back in Dikwella, where you can experience an unbelievable sunset across the spanning horizon.
The view along the seaside road
Scuba Dive at Unawatuna Beach
Kick back at one of the most popular beaches in South Sri Lanka, Unawatuna. Everything in the area is tourist-friendly and Unawatuna has many amazing shacks and restaurants with sunbeds placed on the beach for everyone to enjoy without any charge.
Aside from working on your tan, you can also get SCUBA certified at Unawatuna. Unawatuna offers many SCUBA diving schools here where you can either learn how to dive and get certified (takes three days). Alternatively, you can take the Discover Dive and discover the miracles of ocean life. As one of Sri Lanka's best beaches, Unawatuna is home to many amazing corals, colorful fish, and other marine wildlife. There is even a shipwreck or two, offering the unique chance to discover how the ocean slowly takes over a boat.
So, if you are looking for one of the best beaches in Sri Lanka and want to discover the magic of an underwater world then spend a few days at Unawatuna.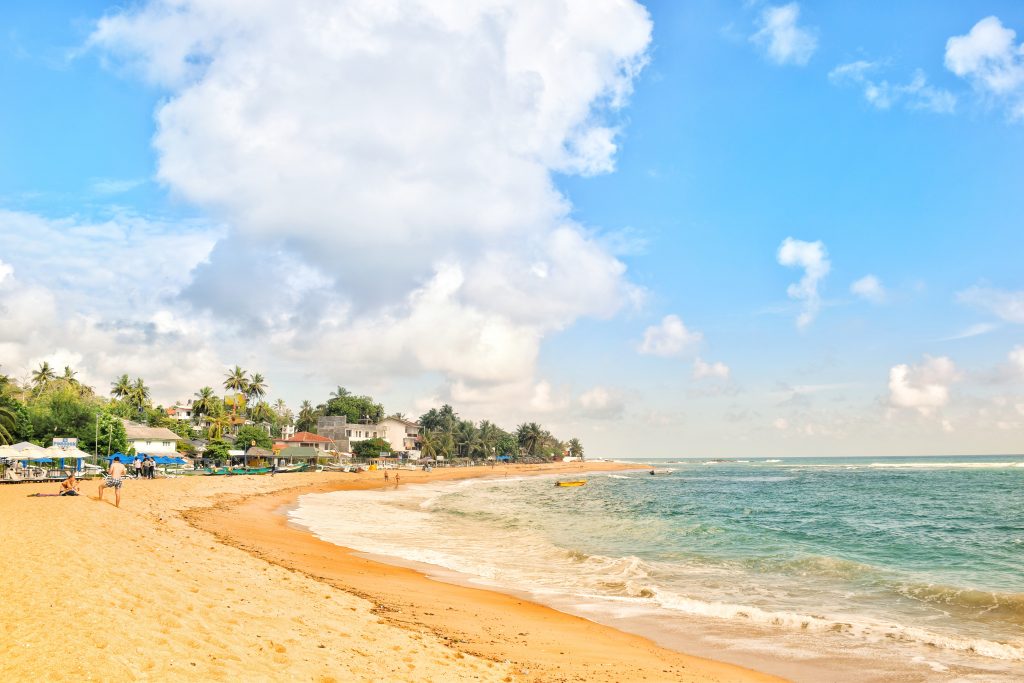 Image courtesy of Rachita at Nomllers.
Sri Lanka is home to many world-class beaches. The southern coast of Sri Lanka is a prime spot to mix in a little adventure with your beach getaway. These adventure-filled beach destinations in Sri Lanka will get your adrenaline pumping and give you more than one reason to work on your tan.